10 Best Chicken Breast Recipes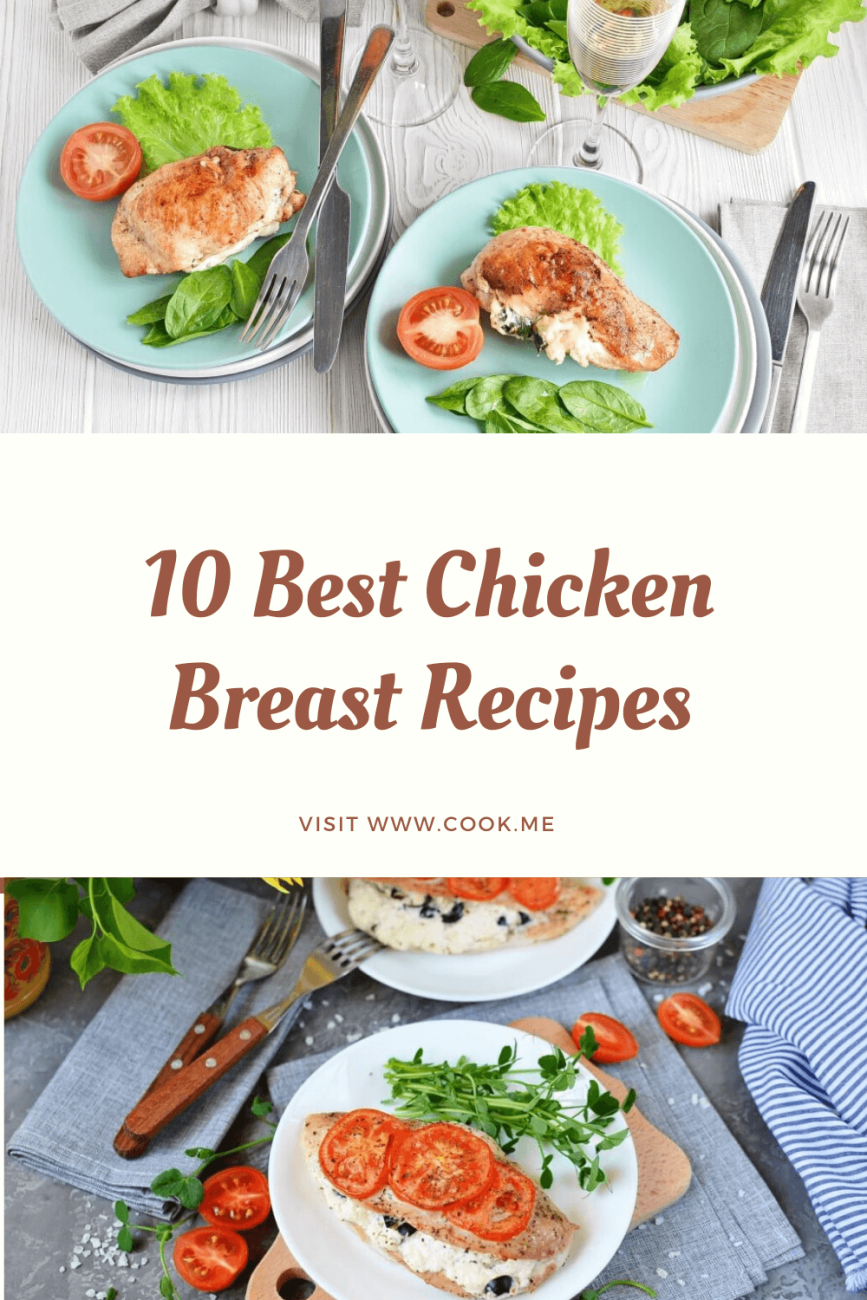 My sweet and hot Spicy Baked Chicken recipe is one I keep coming back to. It's such an easy dish to pull together for a mid-week dinner but has a complex blend of spicy and sugary notes that make it really tasty.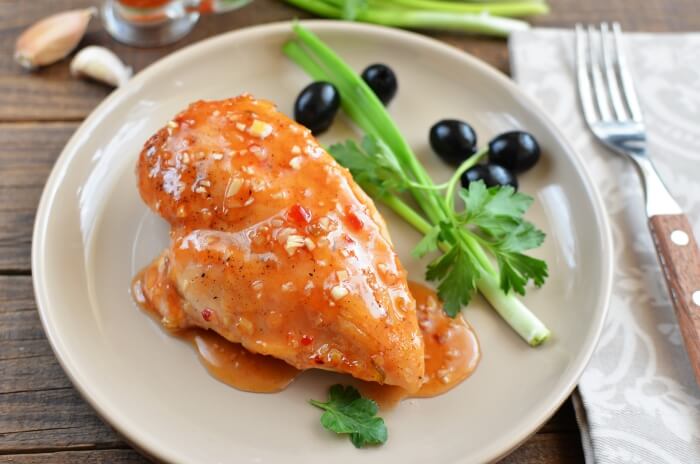 Ingredients for Spicy Baked Chicken:
4 Chicken Breast
2/3 cup Brown sugar
2 tsp Garlic
2-4 tbsp Hot sauce
1 tbsp White wine vinegar
1/3 cup Water
1 tsp Salt
1 pinch Black pepper
This picture perfect Thyme Roasted Chicken with Grapes and Burrata recipe serves up the most beautiful roast chicken, yet. Not only gorgeous to picture but filled with herbal, fruity and sweet flavors balanced with the burrata cheese and chopped bits of crispy bacon to bring your table the best chicken dinner it's ever hosted!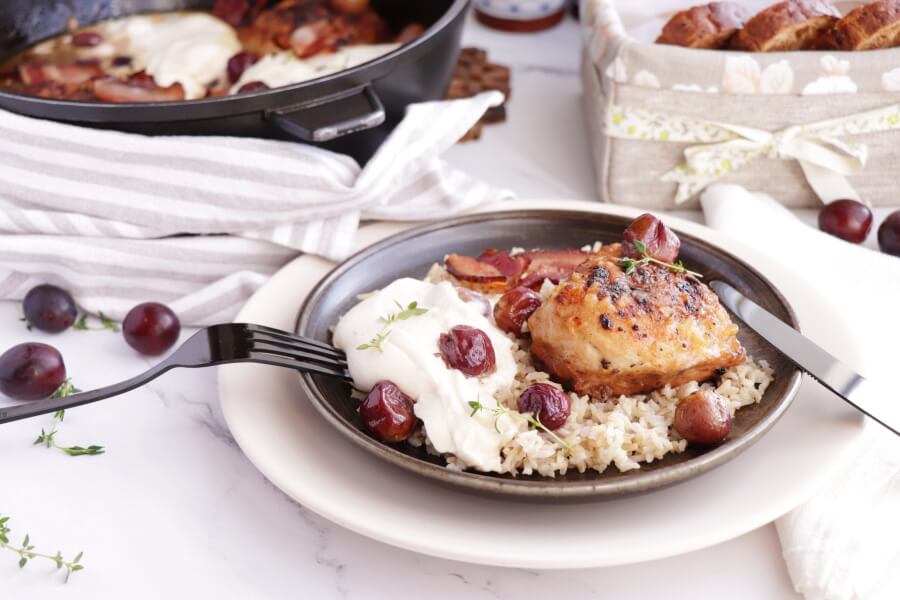 Ingredients for Thyme Roasted Chicken with Grapes and Burrata:
1½ pounds Chicken Breast
2 tbsp Fresh thyme
2 cups Red Grapes
2 balls Burrata cheese
2 tbsp extra virgin Olive oil
½ tsp Cayenne pepper
Kosher Salt
Black pepper
¼ cup All-purpose flour
4 slices thick cut Bacon
2 small Shallots
½ cup Balsamic vinegar
½ cup Apple cider vinegar
1 tbsp Honey
This Moroccan Chicken Bowl is a healthy and nutritious lunchtime salad that is flavorsome and filling and does the job, whether it be in an office or a work from home environment! With an arugula salad base, topped with Moroccan spiced chicken breasts, a cherry tomato and scallion salad, a sweet…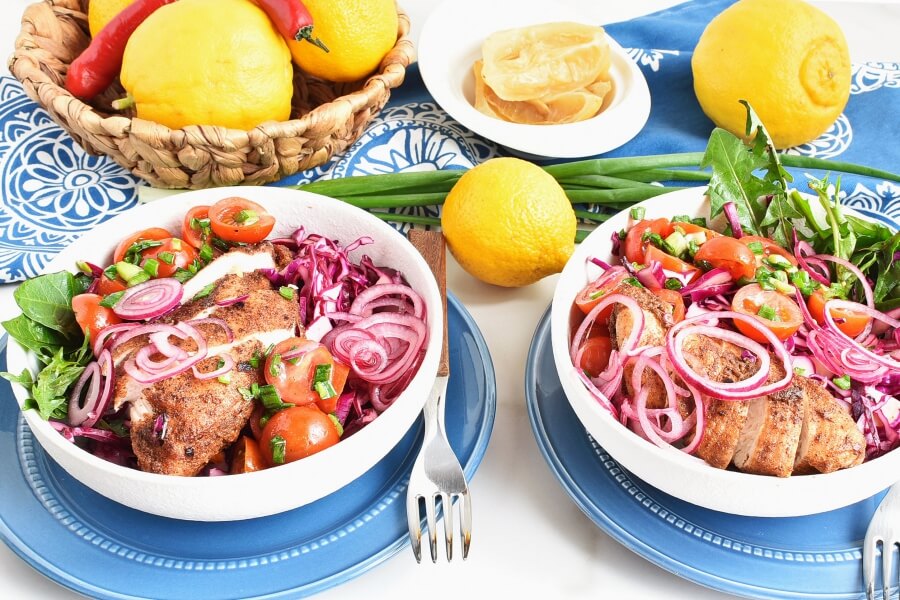 Ingredients for Moroccan Chicken Bowl:
FOR THE BASE:
FOR THE MOROCCAN CHICKEN:
1 tsp Sweet paprika
½ tsp Cumin
½ tsp Cinnamon
¼ tsp Salt
¼ tsp Black pepper
pinch Red pepper flakes
4 (5-ounce) Chicken Breast
1 tbsp Olive oil
FOR THE TOMATO SALAD:
1 pt Cherry tomatoes
1 tbsp Olive oil
1 Scallions
pinch Salt
pinch Black pepper
FOR THE SLAW:
1 tbsp Cider vinegar
2 tbsp Honey
¼ tsp Salt
¼ tsp Black pepper
½ head Red cabbage
FOR PICKLED ONIONS:
1 tbsp Red wine vinegar
pinch Salt
pinch Sugar
1 Red onion
These Sweet and Spicy Stuffed Chicken Breasts are a new and exciting way to stuff chicken breasts with delicious Indian flavors combining onions, garlic, fresh root ginger, cinnamon, garam masala, bulgur wheat, sultanas, freshly chopped parsley and toasted almond flakes.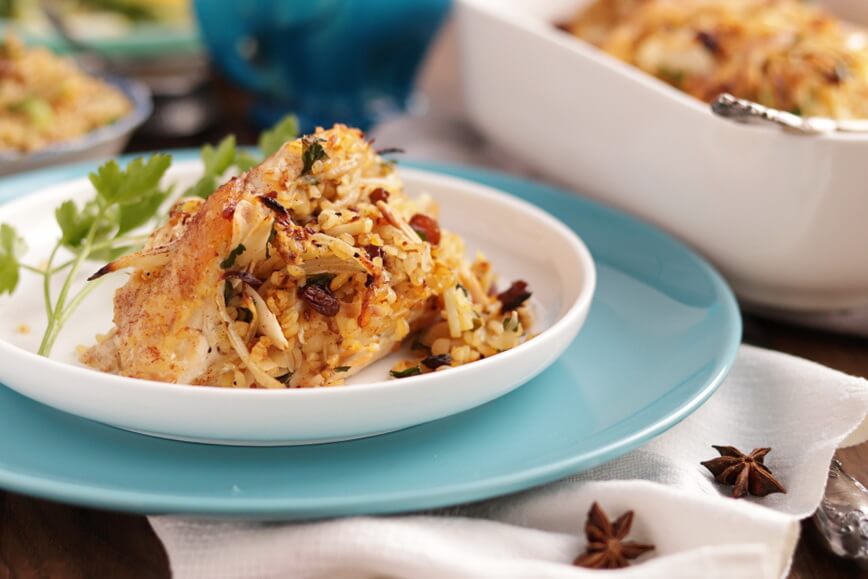 Ingredients for Sweet and Spicy Stuffed Chicken Breasts:
2 tbsp Olive oil
1 Onion
2 cloves Garlic
1 knob Fresh ginger
Salt
1 tsp Cinnamon
1 tsp Garam masala
100 g Bulgur
25 g Sultanas
20 g Parsley
50 g Flaked almonds
4 Chicken Breast
This Grilled Ancho Chicken Breasts with Apricot Salsa recipe is full of flavor with a combination of hot and spicy from the ancho chili chicken breasts and topped with a sweet apricot salsa, bringing the two tastes together, beautifully.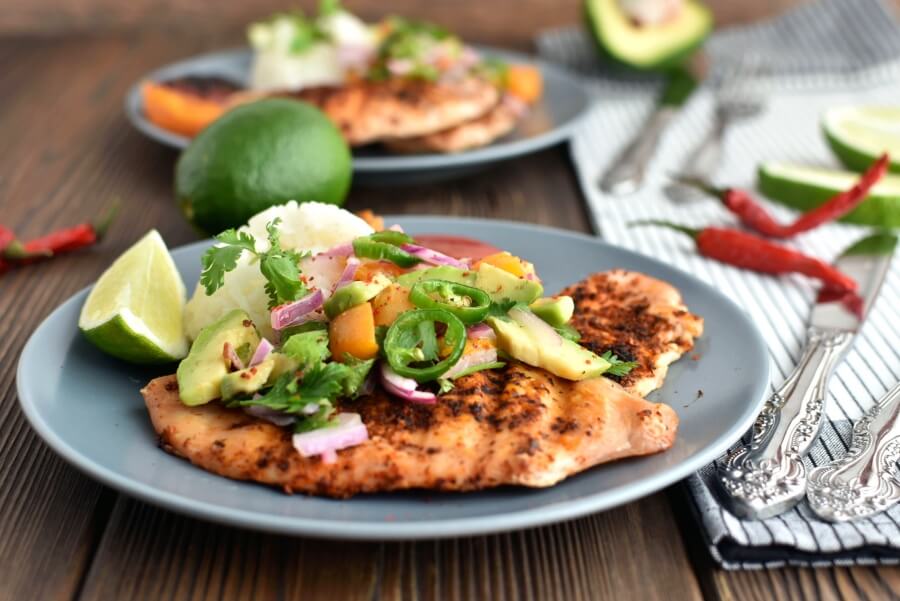 Ingredients for Grilled Ancho Chicken Breasts with Apricot Salsa:
4 Chicken breast cutlets
2 tsp Chili powder
4 Apricots
1 ripe Avocado
¼ cup fresh Cilantro
3 tbsp Red onion
1 Jalapeño pepper
1 tbsp Lime juice
4 wedges Lime
2 tbsp Olive oil
½ tsp Garlic powder
½ tsp Salt
This Jalapeño Popper Stuffed Chicken is a delicious creamy filled chicken dish with a spicy kick. I regularly make this jalapeño popper stuffed chicken on our Saturday movie nights. Now that the kids are older, they are open to trying new dishes and this chicken went down a treat…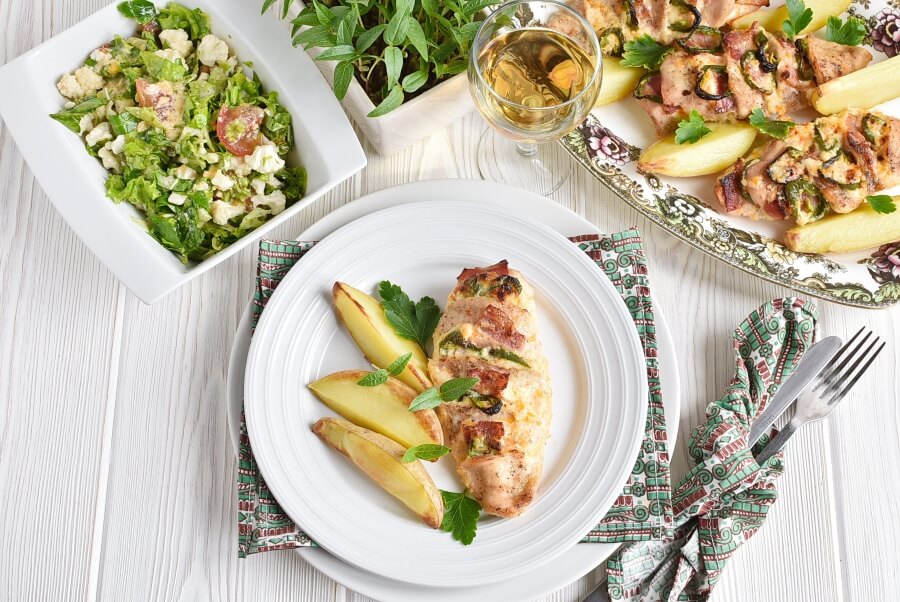 Ingredients for Jalapeño Popper Stuffed Chicken:
4 Chicken Breast
Kosher Salt
Black pepper
6 oz Cream Cheese
½ cup Mozzarella
½ cup Cheddar cheese
2 cloves Garlic
4 slices Bacon
3 Jalapeño pepper
Everyone has a good stuffed chicken recipe but I really love this Italian Stuffed Chicken recipe. With bold ingredients of chopped olives and/or sundried tomatoes combined with crushed garlic, mixed herbs and soft cheese that gives a smooth and creamy texture.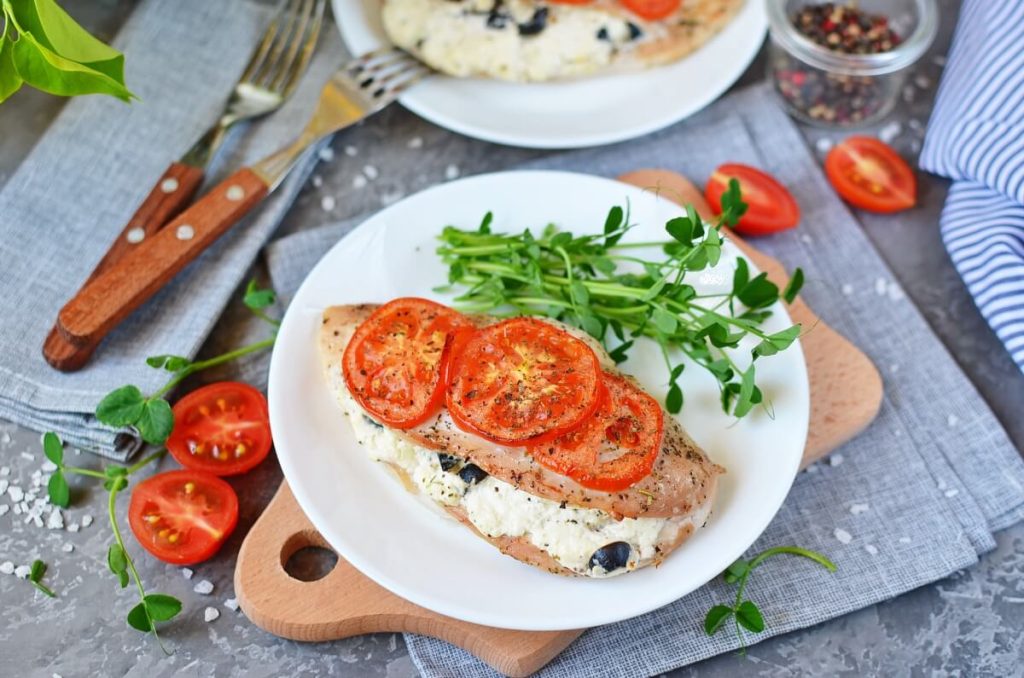 Ingredients for Italian Stuffed Chicken:
1 tbsp Olives
1 clove Garlic
½ tsp Dried herbs
100 g Cheese
2 Chicken Breast
2 Tomatoes
Olive oil
This The Best Greek Stuffed Chicken really is the best I have ever tasted and it's keto friendly too, which is always an added pleasure. Chicken breasts stuffed with Greek style ingredients such as sliced zucchini, tomatoes and red onions and topped with crumbled feta and shredded mozzarella.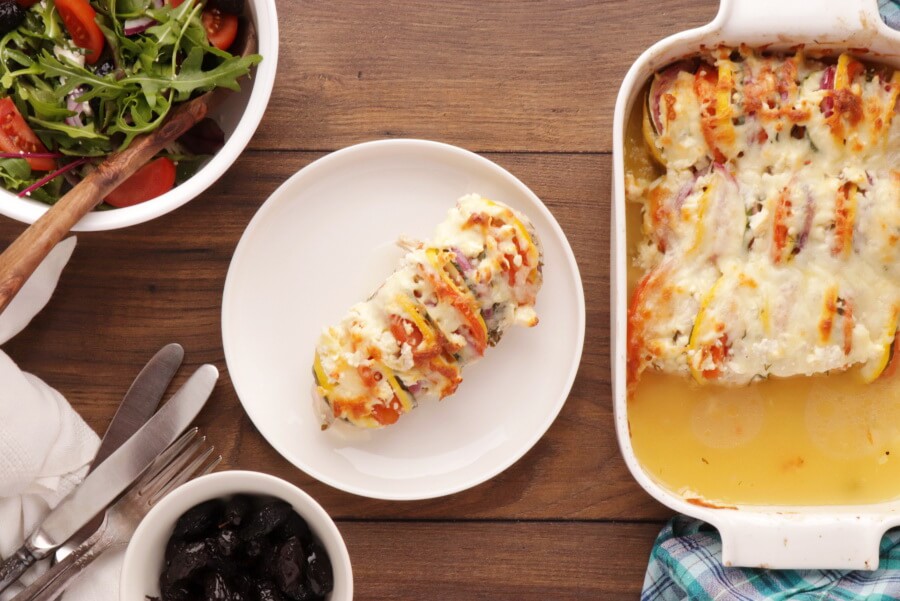 Ingredients for The Best Greek Stuffed Chicken:
4 Chicken Breast
3 tbsp Olive oil
1 tbsp Lemon juice
1 tbsp Dill
1 tbsp Parsley
2 cloves Garlic
Kosher Salt
Black pepper
1 Zucchini
2 Tomatoes
½ Red onion
2 Lemon
1 cup Feta cheese
1 cup Mozzarella
Take your chicken dinner to the next level with this Sun-Dried Tomato, Spinach, and Cheese Stuffed Chicken. Say goodbye to dry, bland chicken with this delicious recipe bursting with Mediterranean flavor. The recipe serves two as it's written here, but it is easy to double or triple if you are feeding a crowd!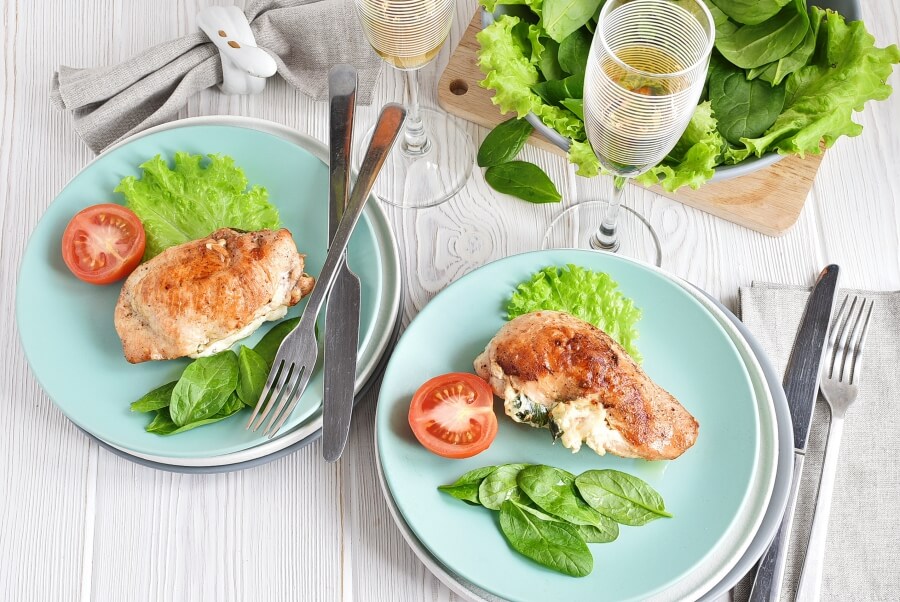 Ingredients for Sun-Dried Tomato and Cheese Stuffed Chicken:
2 Chicken Breast
1 tbsp Olive oil
Salt
Black pepper
½ cup Sun-dried tomatoes
½ cup Spinach
½ cup Feta cheese
½ cup Mozzarella
I call this 5 Ingredient Lemon Chicken with Asparagus my "Spring Chicken" dish because I always serve it with the most beloved spring vegetable: green asparagus. I love green asparagus because it's a delicious and healthy veggie. When it's in season and available at the market or grocery store, I use it regularly.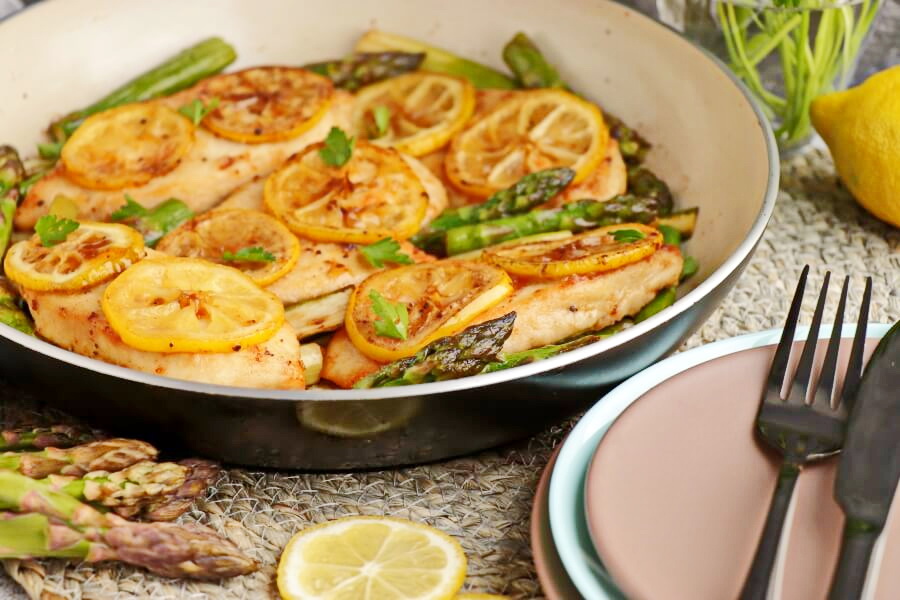 Ingredients for 5 Ingredient Lemon Chicken with Asparagus:
1 lb Chicken Breast
1/4 cup All-purpose flour
1/2 tsp Salt
to taste Bell pepper
2 tbsp Butter
1 tsp Lemon pepper seasoning
1–2 cups Asparagus
2 Lemon