10 Best Cookie Recipes
All your highly rated Cookie recipes in one place!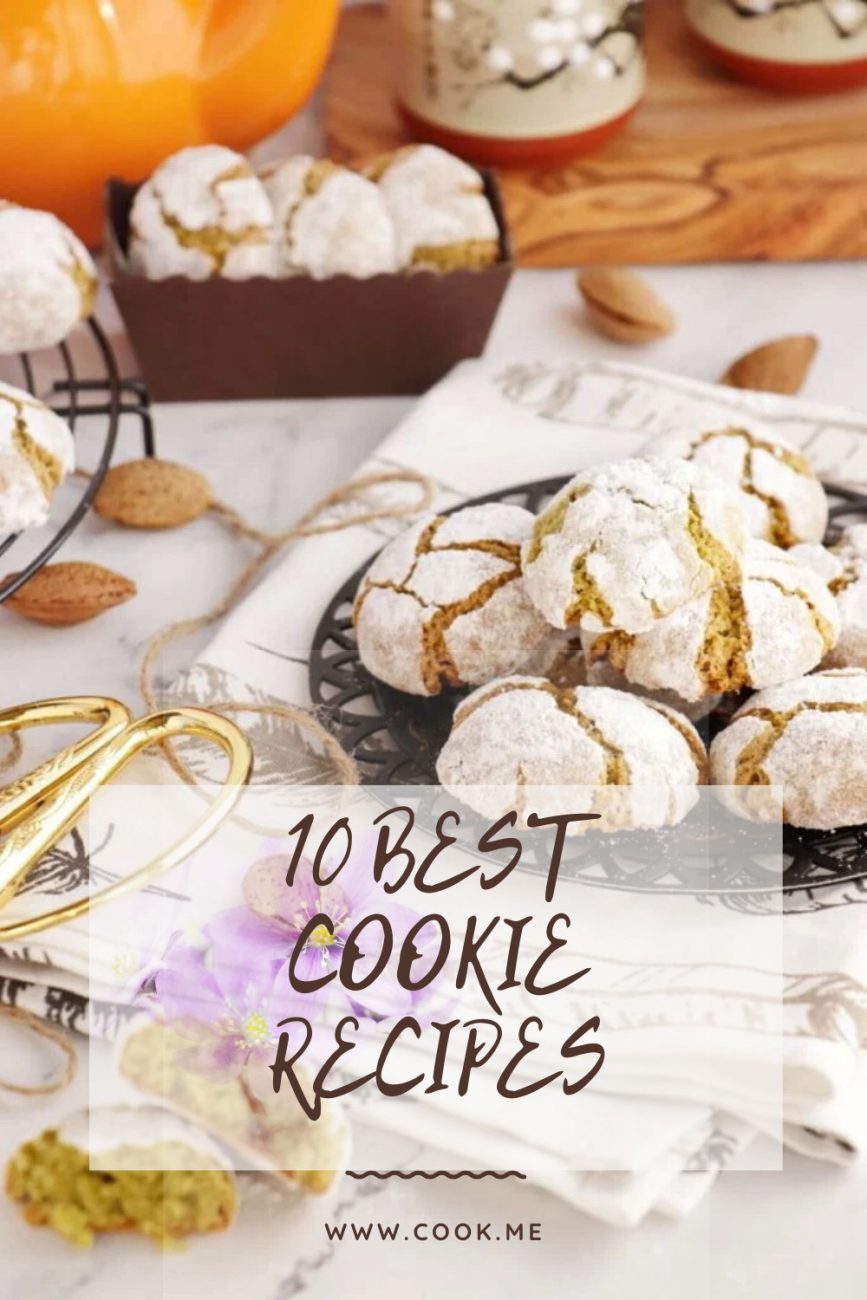 For a yummy lunchbox snack or afternoon sweet treat, try my Easy Chocolate Crinkles recipe! I guess almost everyone will have tried a chocolate crinkles at some point in their life. I remember always hoping there would be one tucked inside when I opened my lunchbox a school!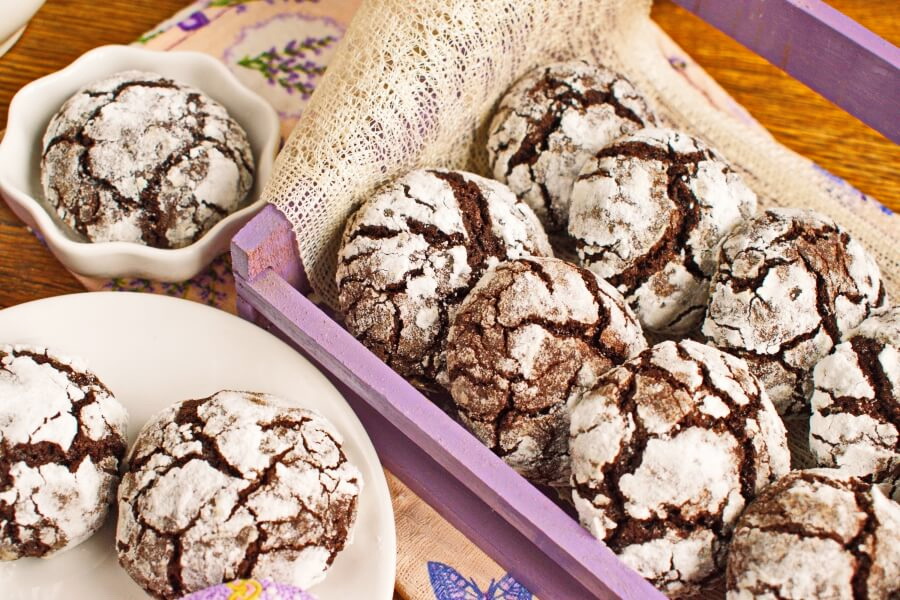 Ingredients for Easy Chocolate Crinkles:
2 cups All-purpose flour
1/2 cup Shortening
1 1/2 cups Sugar
4 Eggs
1 cup Powdered sugar
1 cup Walnuts
1 cup Cocoa powder
2 tsp Vanilla extract
2 tsp Baking powder
1/3 tsp Salt
This is such a fun recipe to make. Delicate Mint Thins are a crunchy mint flavored cookie dipped in chocolate. I make a batch of these any time I am invited to a dinner party and I put them in a cute box for the host. They are the perfect accompaniment for an after dinner coffee.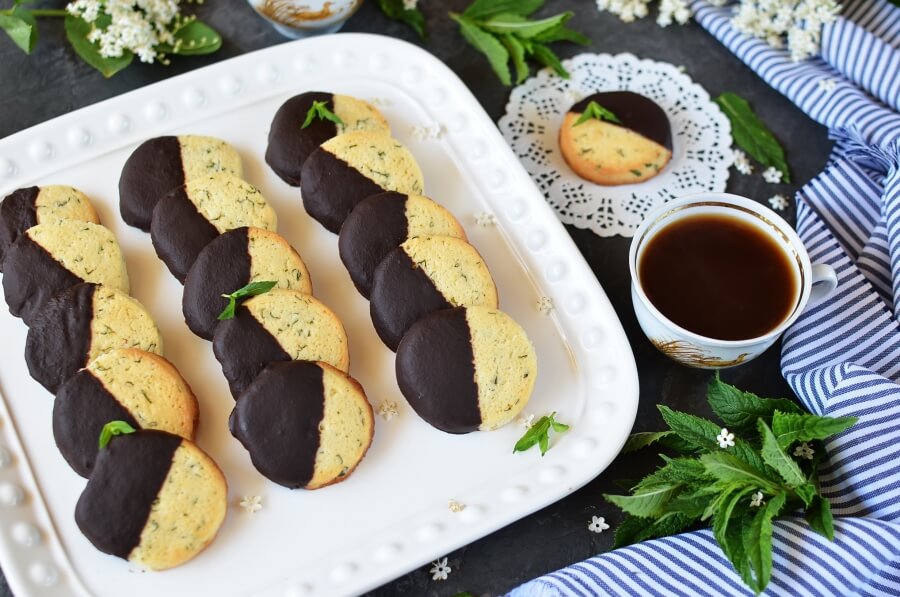 Ingredients for Delicate Mint Thins:
1/2 cup Butter
1/2 cup Sugar
1 Egg yolks
1/2 tsp Vanilla extract
1-1/2 cups All-purpose flour
1-1/2 tsp Baking powder
1/8 tsp Salt
3 tbsp Milk
1 cup Fresh mint
1-2/3 cups Chocolate chips
1 tbsp Shortening
What is the difference between Finnish Meringue Cookies and other meringue that we know and love? These cookies have a soft dough-like texture as a base then filled and wrapped between swirls of soft meringue that when baked in the oven are super sweet with a chunky and chewy bite.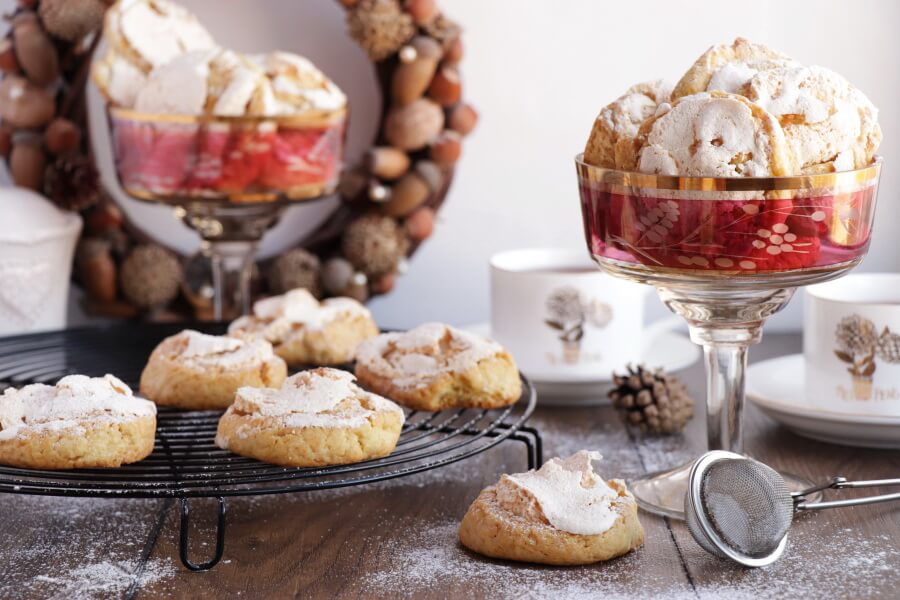 Ingredients for Finnish Meringue Cookies:
14 tbsp Unsalted butter
2 tbsp Sugar
2 cups All-purpose flour
1 tsp Baking soda
2 Egg yolks
2 tbsp Sour cream

FOR THE FINNISH MERINGUE
2 Egg whites
¾ cup Sugar
Confectioners' sugar
These Glazed Hibiscus Shortbread Cookies will quickly become your new favorite cookie treat, this springtime. Cookie dough spiced with ground cinnamon, vanilla extract and dried hibiscus flowers for the perfect shortbread cookie and decorated with drizzles of dips of a set glaze, infused with hibiscus tea…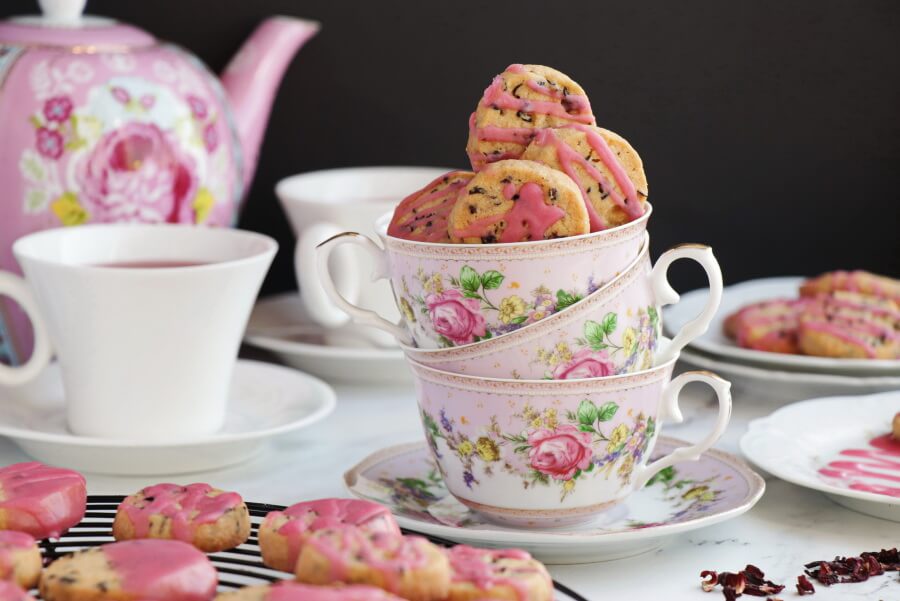 Ingredients for Glazed Hibiscus Shortbread Cookies:
FOR THE HIBISCUS SHORTBREAD COOKIES
2 cups All-purpose flour
1 tsp Sea salt
1 tsp Cinnamon
1 cup Unsalted butter
½ cup Granulated sugar
1 tsp Vanilla extract
½ cup Dried hibiscus flowers

FOR THE HIBISCUS TEA GLAZE
1½ cups Powdered sugar
2 tbsp Dried hibiscus flowers
½ cup Water
These Lemon Kisses are a little pop of sweet biscuit and lemon-sour drizzle in a cute round cookie design. Perfect for dessert or as a side cookie for tea time, this recipe works really well with so many things.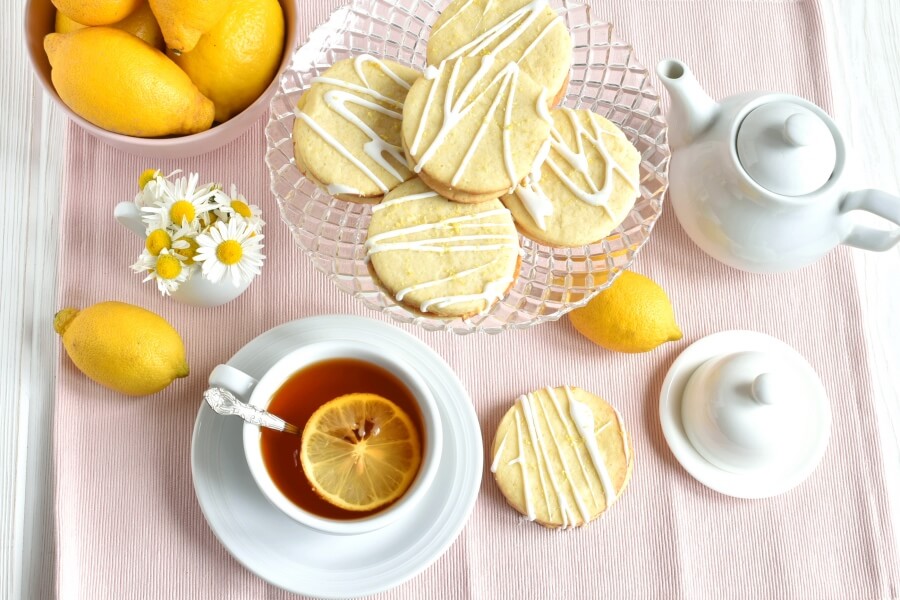 Ingredients for Lemon Kisses:
½ jar Lemon curd
1 tsp Vanilla extract
Lemon zest
Lemon juice
200g Butter
140g Caster sugar
1 Egg yolks
280g Plain flour
140g Icing sugar
Almond Shortbread Owls are super cute Fall treats. I love to make these owl cookies when my kids friends come for a playdate. I serve them up with glasses of milk and they always go down a treat. What is it about owls that everyone loves I wonder? They're just the cutest!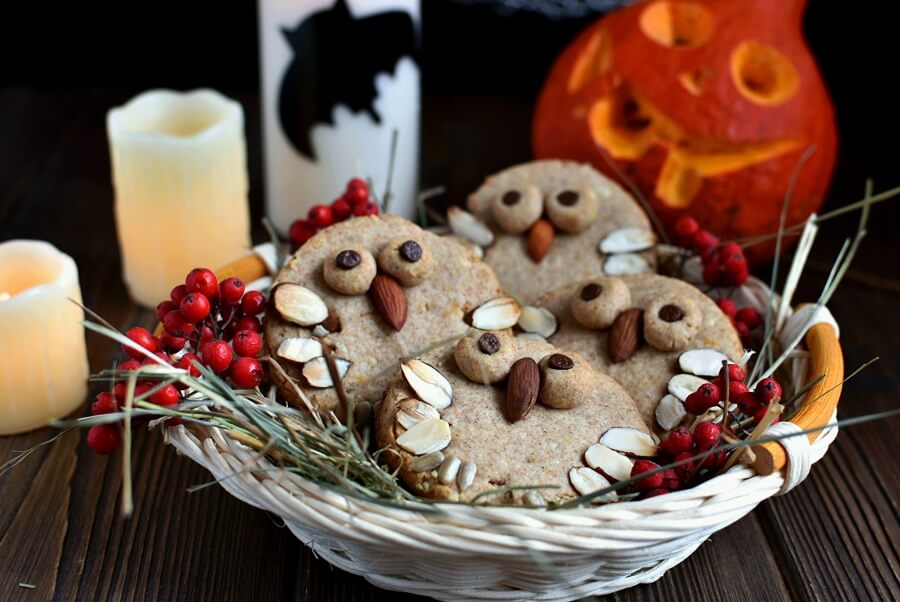 Ingredients for Almond Shortbread Owls:
1 ½ cup Almonds
2 cups All-purpose flour
Lemon zest
½ tsp Sea salt
1 cup Butter
1 cup Confectioners' sugar
¾ tsp Almond extract
¼ cup Chocolate chips
¼ cup Almonds
2 tbsp Sunflower seeds
I love this recipe of Spring Lime Tea Cookies for the perfect buttery, light and fluffy cookie. Accompanied with a cup of traditional Chinese jasmine tea, this citrus bursting cookie is a great tea time snack that is not too heavy.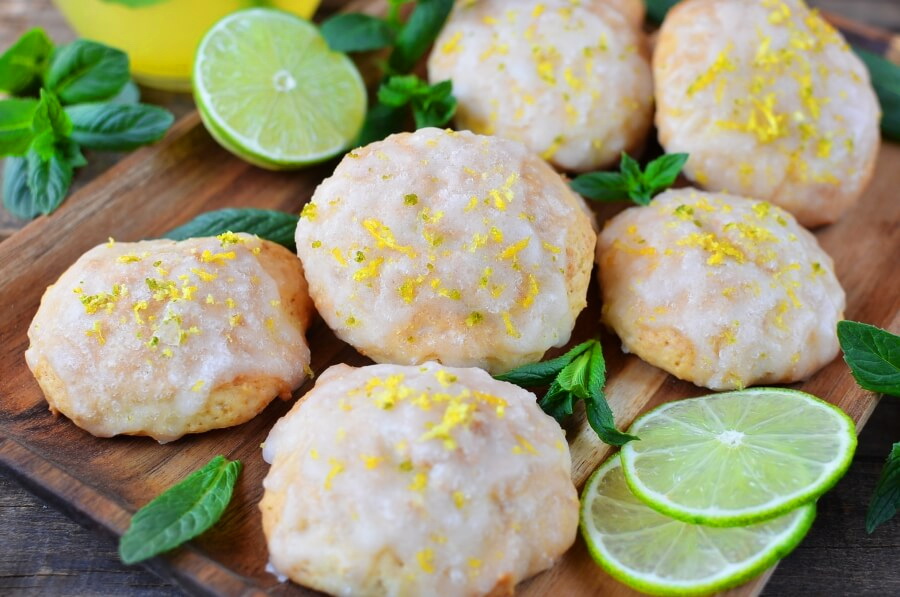 Ingredients for Spring Lime Tea Cookies:
2 tsp Lime juice
2 tbsp Lime juice
2 tsp Lemon zest
⅓ cup Milk
½ Butter
1 Eggs
¾ cup Sugar
¼ cup Sugar
1 ¾ cups All-purpose flour
1 tsp Baking powder
¼ tsp Baking soda
These Spiced Chocolate Chestnut Cookies are the perfect dunking treat. With already one half of the cookie dunked in melted chocolate, the other half is waiting to be dunked in your tea or coffee! Using a healthier alternative to white flour, I chose to use spelt flour instead with almond butter …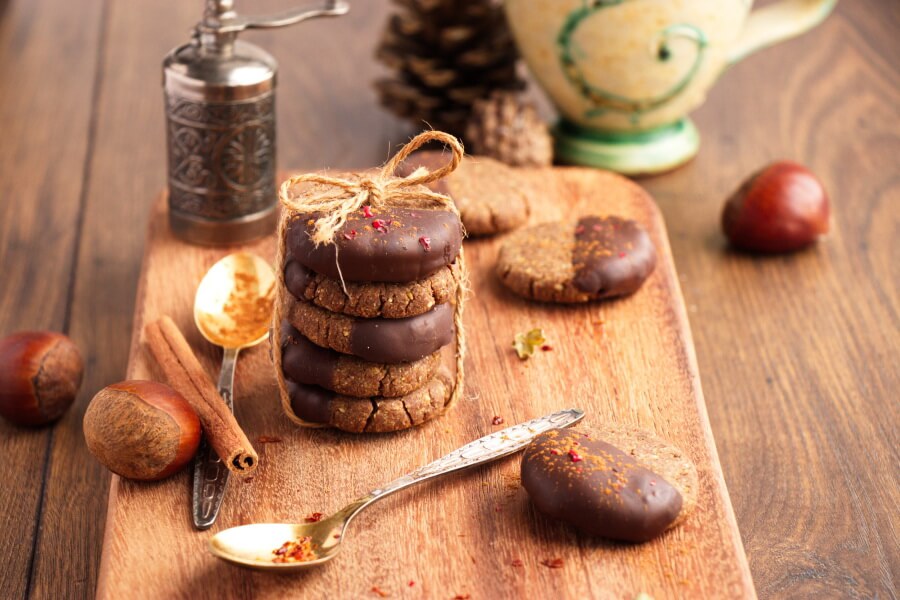 Ingredients for Spiced Chocolate Chestnut Cookies:
1 cup cooked Chestnuts
⅓ cup Spelt flour
1 tbsp ground Chia seeds
1 tsp ground Cinnamon
1 tsp Instant coffee powder
¼ tsp Ground cardamon
¼ tsp Ground ginger
⅛ tsp Ground cloves
pinch Cayenne pepper
pinch Salt
3 tbsp Almond butter
2 tbsp Maple syrup
6 squares of vegan Dark chocolate
These Meringue Shell Cookies are crunchy, light and sweet, like little pillows of deliciousness that pop in your mouth quickly becoming your new favorite dessert treat.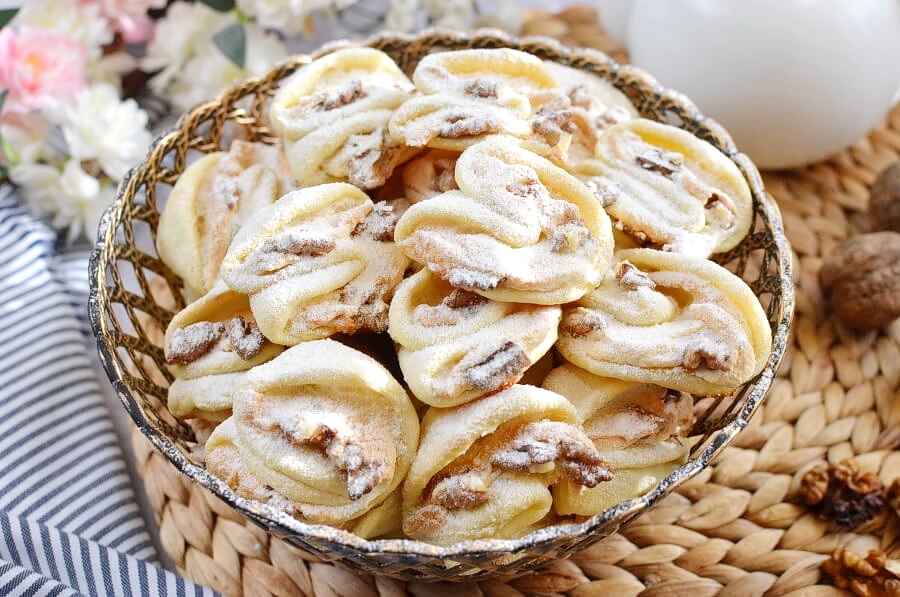 Ingredients for Meringue Shell Cookies (Rakushki):
1 cup Unsalted butter
½ cup Sour cream
3 Egg yolks
2 ½ cups All-purpose flour

FOR THE MERINGUE COOKIE FILLING:
3 Egg whites
¾ cup Granulated sugar
1 ½ cups Walnuts
Crisp and sugary, these Sand Tarts are a lovely little baked treat I recommend you try next time you're in the kitchen. Sunday afternoon is baking time in my house! I keep an eye out for new recipes during the week and save up the most interesting ones for the weekend. After Sunday lunch, when the kids are out …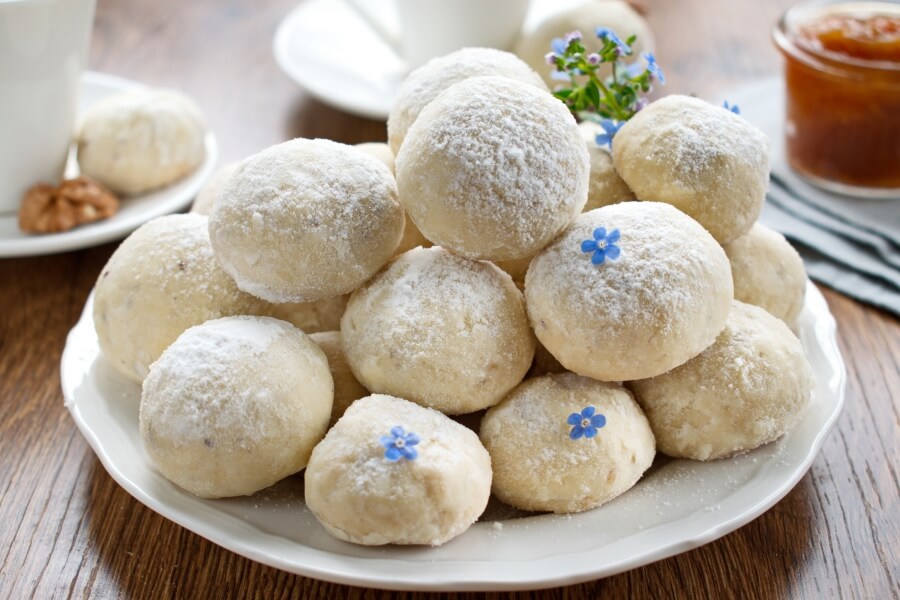 Ingredients for Easy Sand Tarts:
2 cups Plain flour
1 cup Butter
3/4 cup Powdered sugar
1 cup Walnuts
1 tsp Vanilla extract