10 Best Strawberry Recipes
Juicy Strawberry Recipes to Make All Summer Long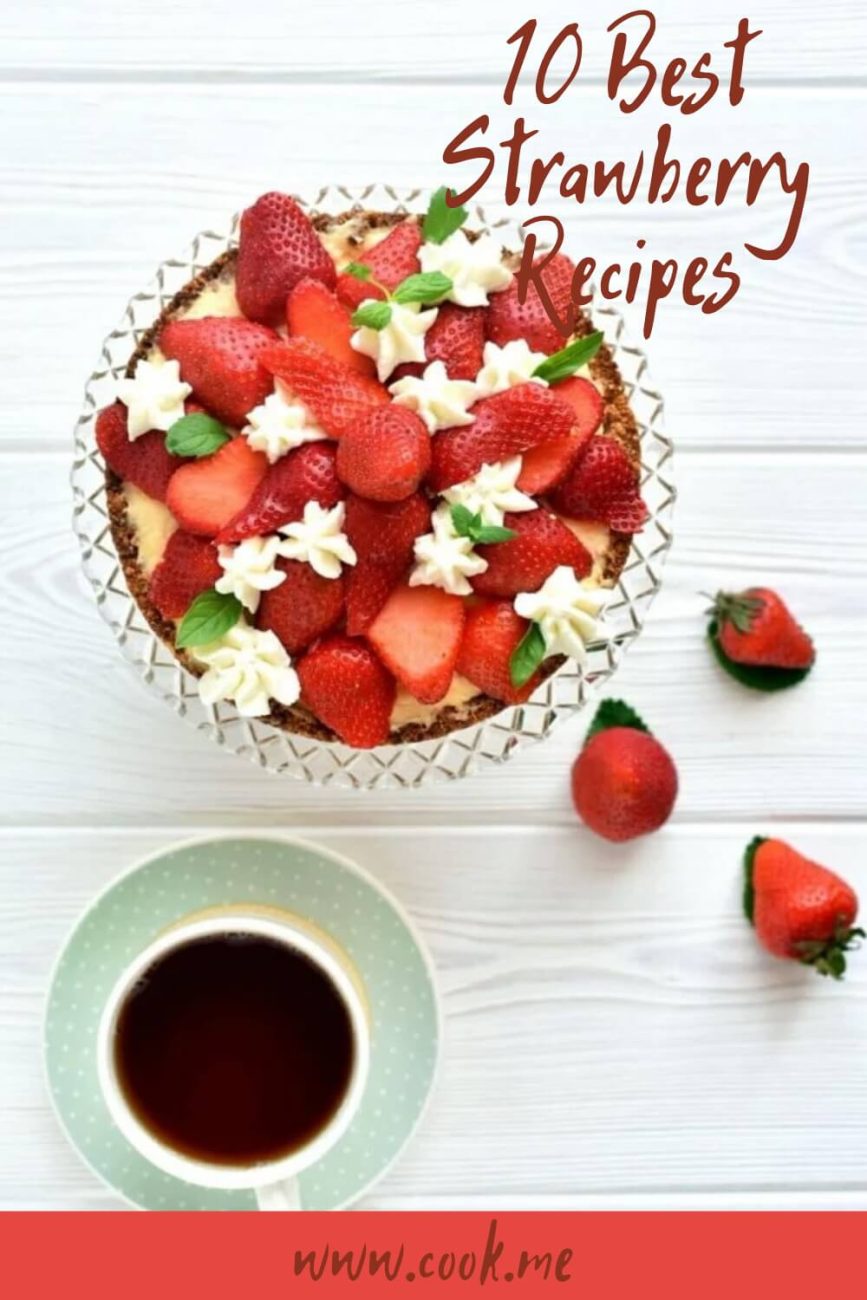 Isn't Dutch Baby with Strawberries and Pistachios such a funny name for a recipe! A Dutch baby is like a large fluffy pancake which is a bit like a Yorkshire pudding. Unlike a pancake, Dutch babies are cooked in a hot skillet in the oven. The batter expands and puffs up when it is cooking and it deflates …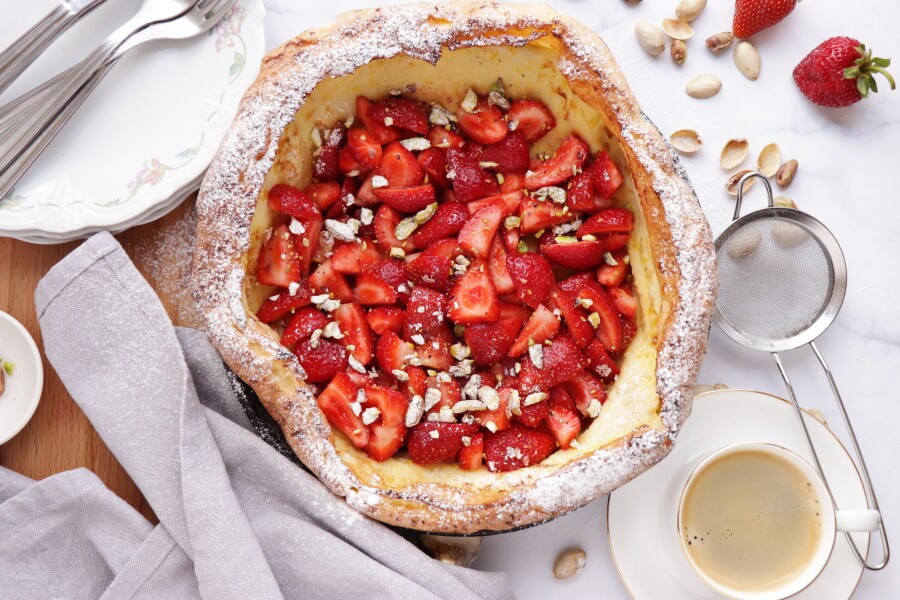 Ingredients for Dutch Baby with Strawberries and Pistachios:
1 qt Strawberries
2 tsp Powdered sugar
2 tsp Lemon rind
2 tbsp Lemon juice
Cooking spray
1 tbsp Cornstarch
10 tbsp Milk
½ cup All-purpose flour
2 Large eggs
1 Egg whites
2 ½ tbsp Butter
2 tbsp Pistachio nuts
These Chia, Acai and Strawberry Layered Breakfast Jar puddings make a nutritious vegan breakfast that will keep you going all the way to lunchtime. They contain almond butter for an energy boost, chia seeds which are a fantastic source of fiber and acai powder which contains antioxidants and the fresh flavors …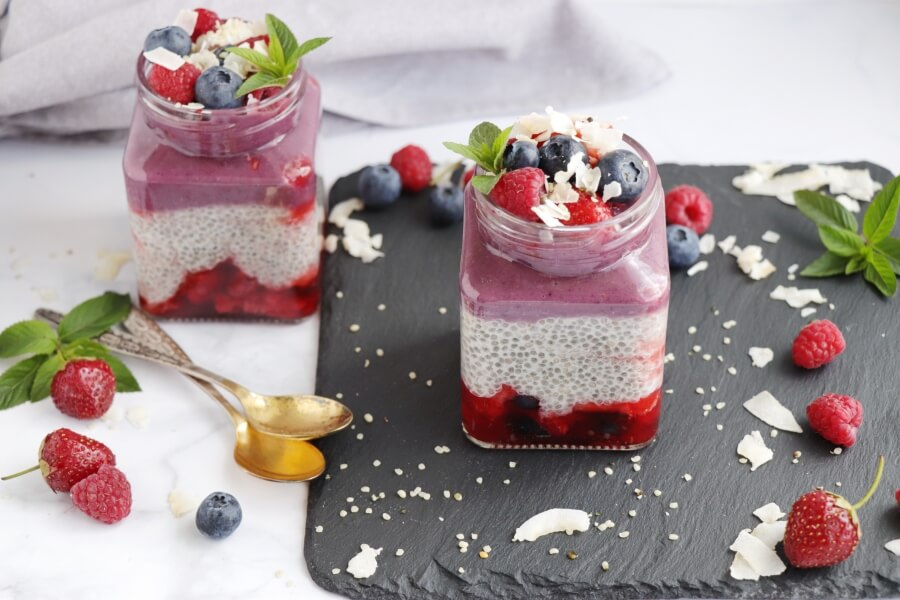 Ingredients for Chia, Acai and Strawberry Layered Breakfast Jar:
FOR THE CHIA PUDDING:
4 tbsp Chia seeds
1 cup Almond milk
1 pinch Vanilla powder

FOR THE BERRY PUREE:
Strawberries
Raspberries
Blueberries

FOR THE ACAI SMOOTHIE:
1 cup Strawberries
1 ripe Bananas
1 tbsp Almond butter
2 tsp Coconut flakes
3-4 Spearmint leaves
¼ cup Almond milk

FOR THE GARNISH:
Strawberries
Raspberries
Blueberries
Coconut flakes to taste
Spearmint leaves
2 tsp Hemp hearts
This Easy Strawberry Blackberry Pudding is a great recipe to have in your back pocket as it is both gluten-free and dairy-free which means you can use it when you cook for people with wheat allergies or for your dairy-free friends. It tastes so delicious that your gluten and dairy loving friends will love it too!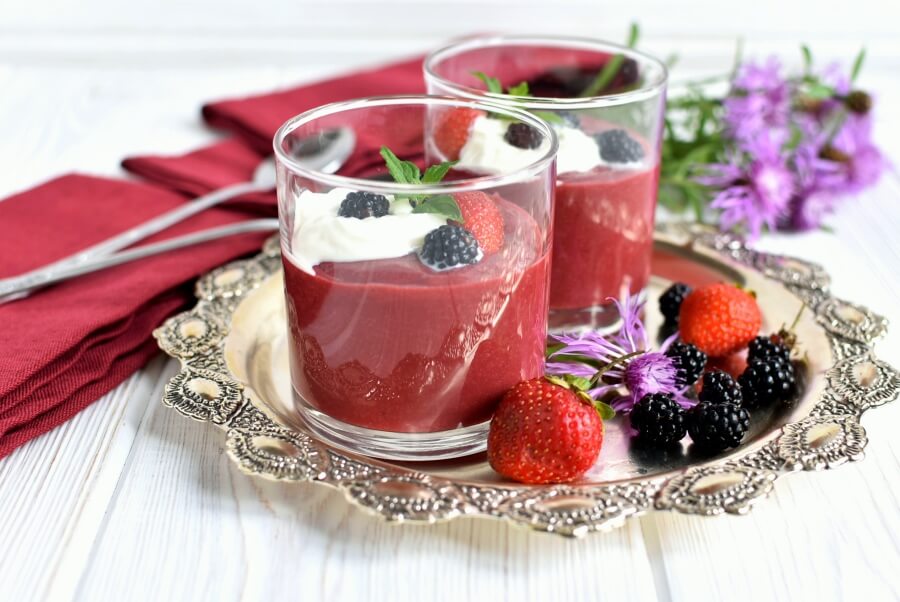 Ingredients for Easy Strawberry Blackberry Pudding :
1 ½ cups Water
¼ cup Cornstarch
¼ tsp Kosher Salt
2 Egg yolks
12 oz Blackberries
12 oz Strawberries
½ cup Sugar
3 tbsp Lemon juice
This Strawberry Fudge makes a perfect Valentine's Day treat – I make some of this fudge every year. It's such a great recipe because you can make it in advance and store it for up to three weeks in the refrigerator or three months in the freezer. You can make this fudge using white confectionery coating …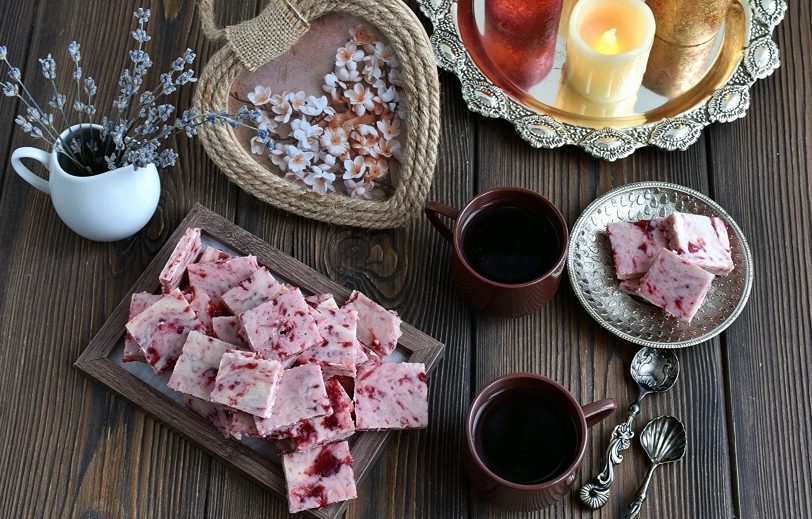 Ingredients for Strawberry Fudge:
24-28 oz White chocolate
11.75 oz Strawberry sauce
1 tsp Lemon juice
1 pinch Salt
This Healthy Strawberry Parfaits recipe is so easy to make and it tastes so good! It's a great way to showcase my favorite summer fruit – the humble strawberry. Strawberries mean summer to me. I absolutely love the burst of freshness and color they bring to smoothies, fruit salads and desserts!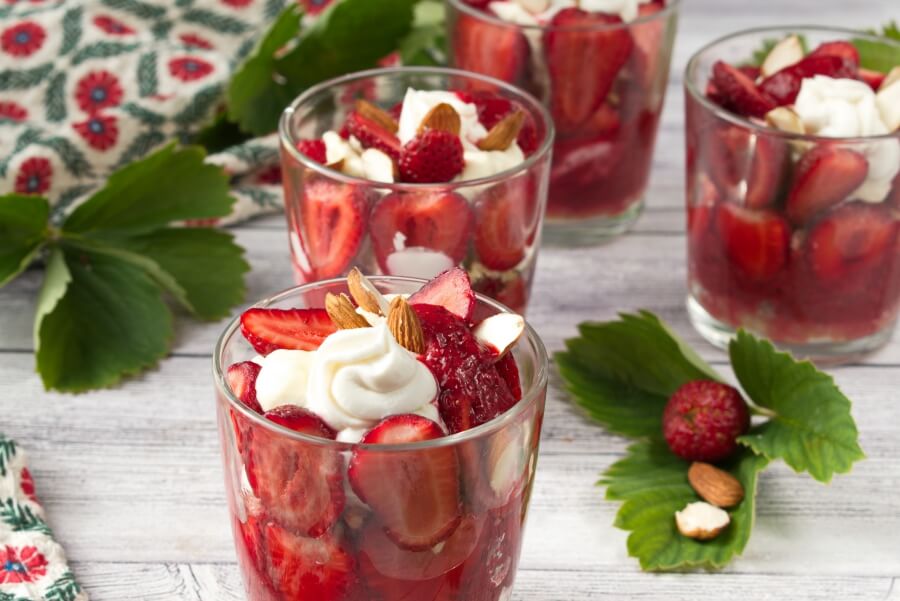 Ingredients for Healthy Strawberry Parfaits:
3 cups Strawberries
¼ cup Granulated sugar
1 cup Ricotta cheese
½ cup Cream Cheese
¼ cup Powdered sugar
1 tbsp Water
1 tsp Vanilla extract
1 cup Amaretti cookie crumbs
½ cup Frozen whipped topping
2 tbsp Almonds
This Strawberry Shortcake Slice cake is a fresh and light layered cake. With layers of shortcake biscuits, double whipped cream mix and fresh strawberries and refrigerated overnight to set. Decorate your cake as you wish …
Ingredients for Strawberry Shortcake Slice:
500g Shortcake biscuits
350g Strawberries
600ml Cream
1 tbsp Vanilla bean paste
1 tbsp Orange blossom water
125g Icing sugar
This Healthy Strawberry Chicken Salad with Pecans is the wow dish to serve in strawberry season. This recipe promises to suit the taste buds of all your guests. With a base of spinach and strawberry salad, topped with a perfectly tender, sliced chicken breast, dressed in vinaigrette marinated strawberries …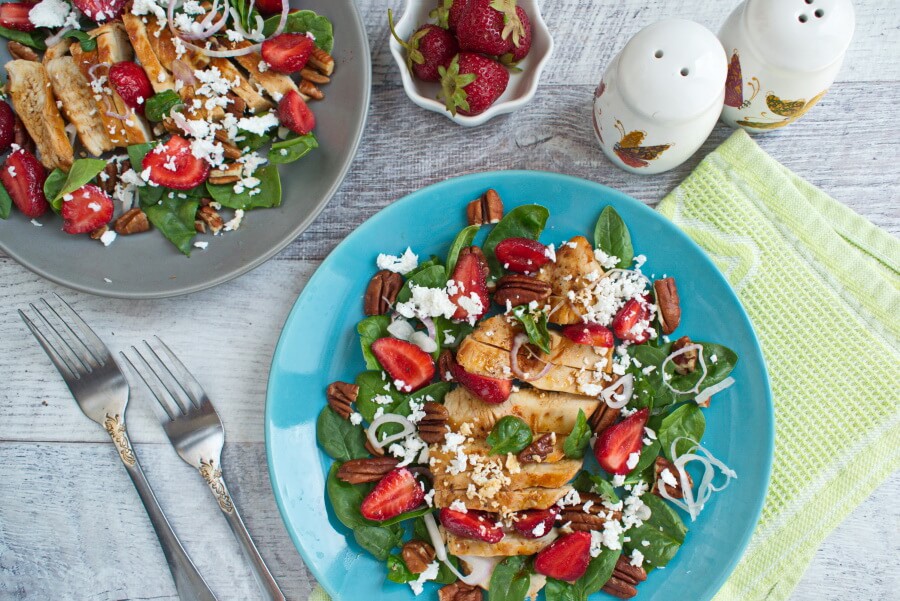 Ingredients for Healthy Strawberry Chicken Salad with Pecans:
2 cups Strawberries
2 (4-ounce) Chicken breast cutlets
3 tbsp Pecans
4 tsp Olive oil
1 tbsp Balsamic vinegar
1 tsp Honey
½ tsp Thyme
⅜ tsp Black pepper
¼ tsp Kosher Salt
¼ tsp Smoked Paprika
4 cups fresh baby Spinach
¼ cup Onion
1 ounce Feta cheese
Fall in love with this Strawberry Basil Homemade Frozen Yoghurt. Perfect for the kids too and prepped in just 5 minutes, it's a total summers day delight! You can enjoy this sweet yoghurt treat as is, once blended smooth, or store it in an airtight container and freeze for 1-2 hours to create that frozen t …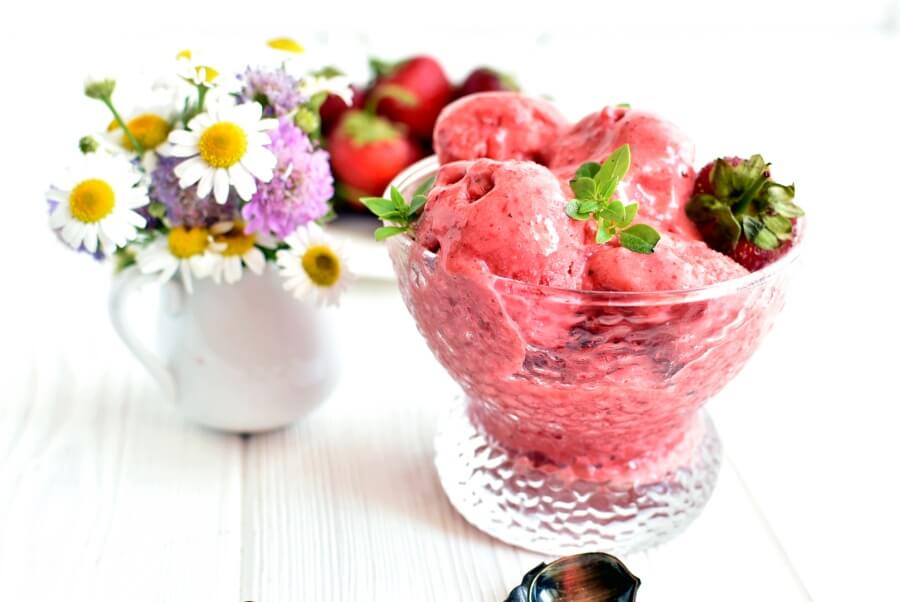 Ingredients for Strawberry Basil Frozen Yoghurt:
16 oz Strawberries
¾ cup Greek yogurt
3 tbsp Honey
2 tbsp Lemon juice
5 leaves Basil
These Strawberry Mojito Wine Popsicles are a perfect cocktail recipe for the big kids! This particular recipe does require some time, so ensure you're well prepared or just keep a continuous stock flow in your freezer! You'll thank me later.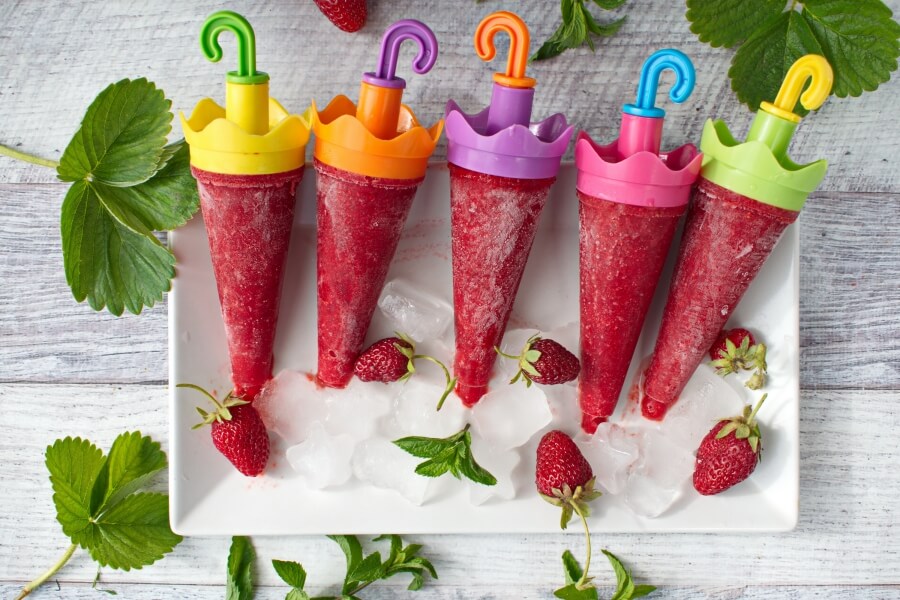 Ingredients for Strawberry Mojito Wine Popsicles:
FOR THE MINT SYRUP:
1/3 ounce Spearmint leaves
1/4 cup Water
1/4 cup Sugar

FOR THE POPSICLES:
3 cups Strawberries
1/2 cup White wine
1/4 cup Lime juice
1/4 cup Mint simple syrup
This sweet and citrus, Healthy Strawberry-Orange Tart is worth all the time that you'll need to make it. I love to serve it as a special treat for an afternoon tea party, or for a romantic dinner dessert, everyone loves this tart!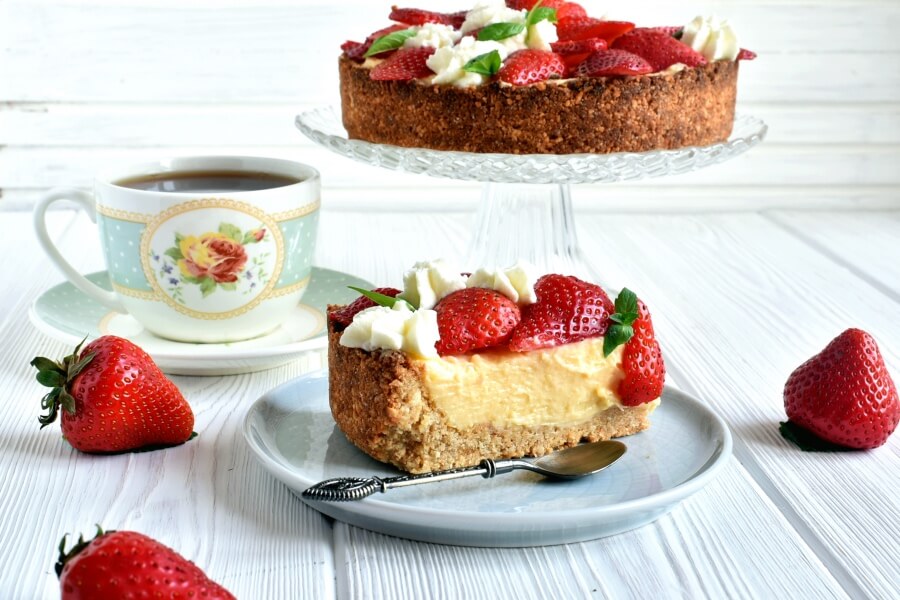 Ingredients for Healthy Strawberry-Orange:
FOR THE CRUST:
5 ounces Gluten-free cookies
2 tbsp Sugar
¼ cup Butter

FOR THE FILLING:
2 cups Milk
4 large Egg yolks
½ cup Sugar
¼ cup Cornstarch
2 tbsp Butter
1 tsp Orange zest
1 tsp Vanilla extract
3 cups Strawberries