TOP 10 Mother's Day Breakfast Recipes
Best Breakfast in Bed Ideas to Start Mother's Day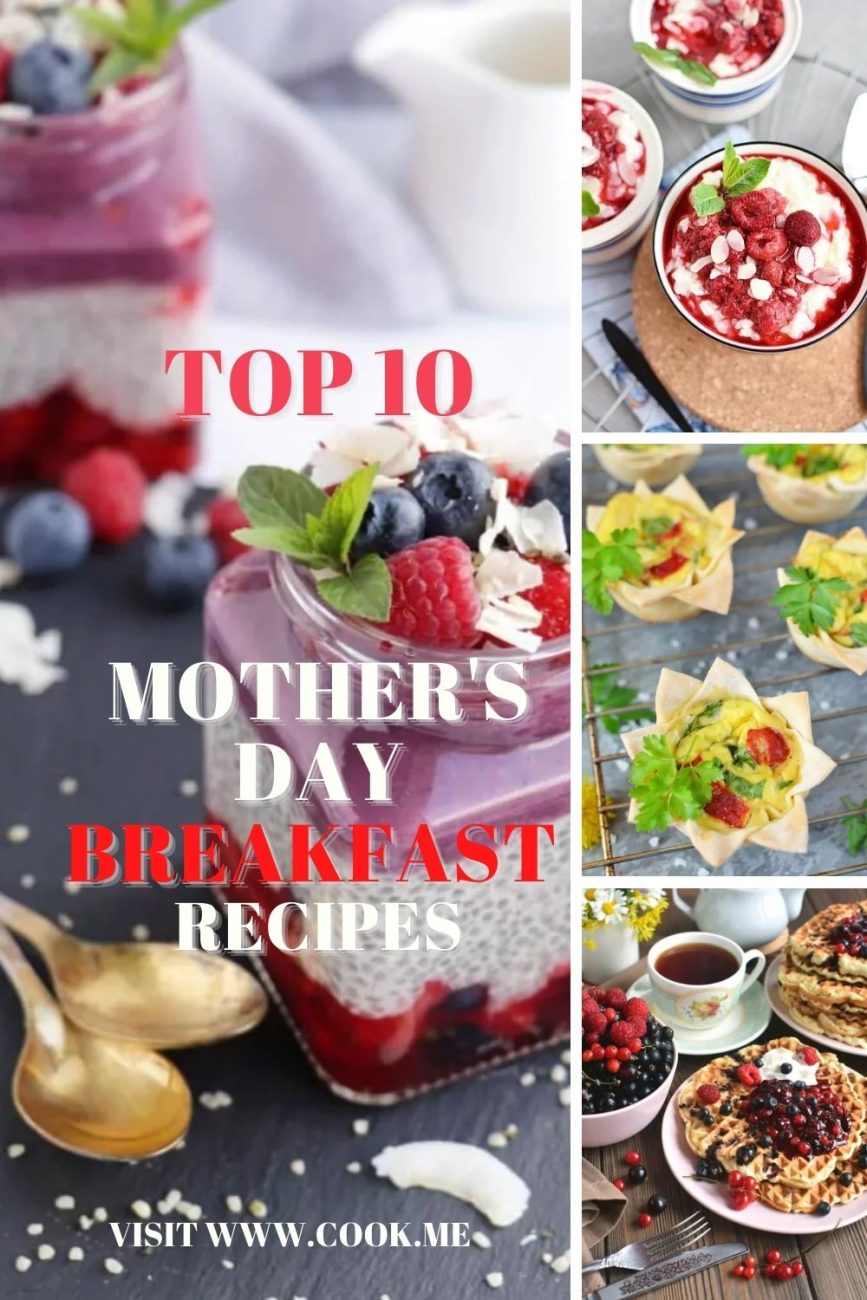 These Chia, Acai and Strawberry Layered Breakfast Jar puddings make a nutritious vegan breakfast that will keep you going all the way to lunchtime. They contain almond butter for an energy boost, chia seeds which are a fantastic source of fiber and acai powder which contains antioxidants and the fresh flavors of strawberry and banana. ….
Ingredients for Chia, Acai and Strawberry Layered Breakfast Jar:
FOR THE CHIA PUDDING:
4 tbsp Chia seeds
1 cup Almond milk
1 pinch Vanilla powder

FOR THE BERRY PUREE:
Strawberries, to taste
Raspberries, to taste
Blueberries, to taste

FOR THE ACAI SMOOTHIE:
1 cup Strawberries
1 ripe Bananas
1 tbsp Almond butter
2 tsp Coconut flakes
3-4 Spearmint leaves
¼ cup Almond milk

FOR THE GARNISH, OPTIONAL:
Strawberries
Raspberries
Blueberries
Coconut flakes
Spearmint leaves
2 tsp Hemp hearts
This Pomegranate and Orange Fruit Salad is a sweet, fruit salad of oranges and pomegranate seeds in a honey or maple, fresh orange juice and vanilla extract dressing, for an original and unbelievable combination. I serve mine in glass bowls with a yogurt flavor of my choice, I love vanilla, and some toasted coconut sprinkled on top. …
Ingredients for Pomegranate and Orange Fruit Salad:
4-5 Oranges
1 Pomegranate
1 tbsp Honey
2 tbsp Orange juice
½ tsp Vanilla extract

FOR SERVING:
2 cups (500g) Yogurt
Shredded coconut
Fresh mint
My kids recently asked for Mother's Day brunch ideas they could cook for their mom. I wanted to give them a recipe that is delicious, but easy to bring together too: it had to be Easy Frittata. This is my easy healthy frittata recipe that even kids can perfect! To make this easy frittata recipe, start by whisking up a mixture of eggs, cream and mozzarella cheese. For the easy frittata filling, you can use shallot, garlic, mushroom and spinach like I do or you can go wild and add ingredients like bacon, sausage, …
Ingredients for Easy Frittata:
8 Large eggs
⅓ cup Heavy cream
¾ cup Mozzarella
Kosher Salt
Black pepper
Red pepper
2 tbsp Olive oil
1 Shallots
3 cloves Garlic
8 oz Mushrooms
½ cup Ricotta cheese
3 cups Baby spinach
It's time to break out the waffle iron for these Vegan Triple Berry Waffles. I never need an excuse to make these waffles – they taste great and are packed with plant-based goodness! You can use fresh or frozen berries for this recipe which means that you can enjoy these special waffles all year round. To make the waffle batter, you simply mix the ingredients together in stages. While the waffles are cooking in the waffle iron, …
Ingredients for Vegan Triple Berry Waffles:
FOR THE WAFFLES:
2 cups Blueberries
3 cups All-purpose flour
1¾ cup Almond milk
¾ cup Vegetable oil
2 tbsp Sugar
4 tsp Baking powder
2 tsp Vanilla extract
1 tsp Salt

FOR THE BERRY COMPOTE:
1 lb Berries
¼ cup Sugar
1 tbsp Lemon juice

FOR THE OPTIONAL COCONUT WHIP:
1 (12 to 14 oz) can Coconut cream
½ cup Powdered sugar
2 tsp Vanilla extract
I love a breakfast casserole and this Everything Bagel Breakfast Casserole is one of my favorites. I don't know about you, but I adore everything bagel seasoning! Usually, the seasoning mix is made from sesame and poppy seeds, dried garlic and onion and salt. This flavor combination elevates the humble breakfast casserole to a meal fit for a king! Start this casserole by layering bagel pieces, bell pepper, ….
Ingredients for Everything Bagel Breakfast Casserole:
2-3 Bagels
1 Bell pepper
¾ cup Cherry tomatoes
6 slices Bacon
6 Large eggs
1 cup Whole milk
1 cup Cheddar cheese
½ tsp ground Mustard
¼ tsp Salt
⅛ tsp Black pepper
6 oz Cream Cheese

OPTIONAL FOR GARNISH:
Seasoning
Scallions
Creamy Strawberry and Yogurt Dessert combines fresh fruit, cream cheese, Greek yogurt, whipped topping, and granola for a tasty and refreshing parfait that is easy to make. This treat has three delicious layers, and each of them plays a key role in making a downright addictive dessert recipe. First, you have the base of crunchy granola. The next layer is a blend of fresh strawberries sweetened with stevia, fat-free cream cheese, plain Greek yogurt, …
Ingredients for Creamy Strawberry and Yogurt Dessert:
2 cups Strawberries
1 tsp Stevia
½ cup Cream Cheese
1 cup Greek yogurt
½ cup Whipped topping
½ tsp Vanilla extract
½ cup Granola
2 squares Milk chocolate
I love this recipe for Bakewell Rice Pudding – rice pudding is one of my favorite comfort foods. My grandmother used to make this when I'd visit as a child and whenever I taste this version, I feel transported back to my childhood. To make this delicious dessert, start by melting butter in a large pan over medium heat. Add rice and stir to coat. Add milk, bring to the boil and simmer until rice is tender. Mix in sugar, condensed milk and almond extract…
Ingredients for Bakewell Rice Pudding:
25 g Butter
175 g Pudding rice
1 ½ liters Whole milk
50 g Caster sugar
2 tbsp Condensed milk
½ tsp Almond extract

FOR THE TOPPING:
300 g Raspberries
2 tbsp Caster sugar
50 g Flaked almonds
I love to make a batch of these Strawberry Oatmeal Muffins as a special breakfast treat. They are a great breakfast to have when you are in a hurry or they are a healthy and nutritious snack to beat hunger pangs. To make these muffins, start by mixing wet ingredients together well. Combine the dry ingredients in a large bowl and toss the strawberries …
Ingredients for Strawberry Oatmeal Muffins:
1 cup quick-cooking Oats
½ cup Brown sugar
1 cup Greek yogurt
⅓ cup Vegetable oil
1 Eggs
1 cup All-purpose flour
½ tsp Salt
1 tsp Baking powder
½ tsp Baking soda
1 cup Strawberries
In my opinion, the best snack to have on standby is a Mini Quiche with Spinach. I make mine with my own homemade wonton wrappers meaning that they are a slightly lighter version of regular mini quiches which tend to have a pastry crust. If you make these mini quiches, start by pressing wonton wrappers into a lightly greased muffin cup. …
Ingredients for Mini Quiche with Spinach:
12 Wonton wrappers
3 Eggs
½ cup Red pepper
½ cup Spinach
¼ cup Milk
½ tsp Salt
⅛ tsp Black pepper
Cooking spray
Strawberry Kiwi Quinoa Breakfast Parfait is an easy meal prep breakfast option fully packed with protein thanks to Greek yogurt and quinoa. I like to prep my meals ahead of time, so I always have a good-for-me option ready and waiting when hunger strikes. This parfait is not only extremely simple to make but also tastes so delicious. Layers of naturally sweetened Greek yogurt with quinoa, strawberries, and kiwi make for an undeniably healthy breakfast choice. ….
Ingredients for Strawberry Kiwi Quinoa Breakfast Parfait:
2 cups Greek yogurt
1 tbsp Honey
1 tsp Lime zest
1 cup Quinoa
8 Strawberries
2 Kiwi