TOP 10 Cake Recipes for Mother's Day
Perfect recipes to hand over to your husband for those brilliant days when he and the kids want to "surprise" you!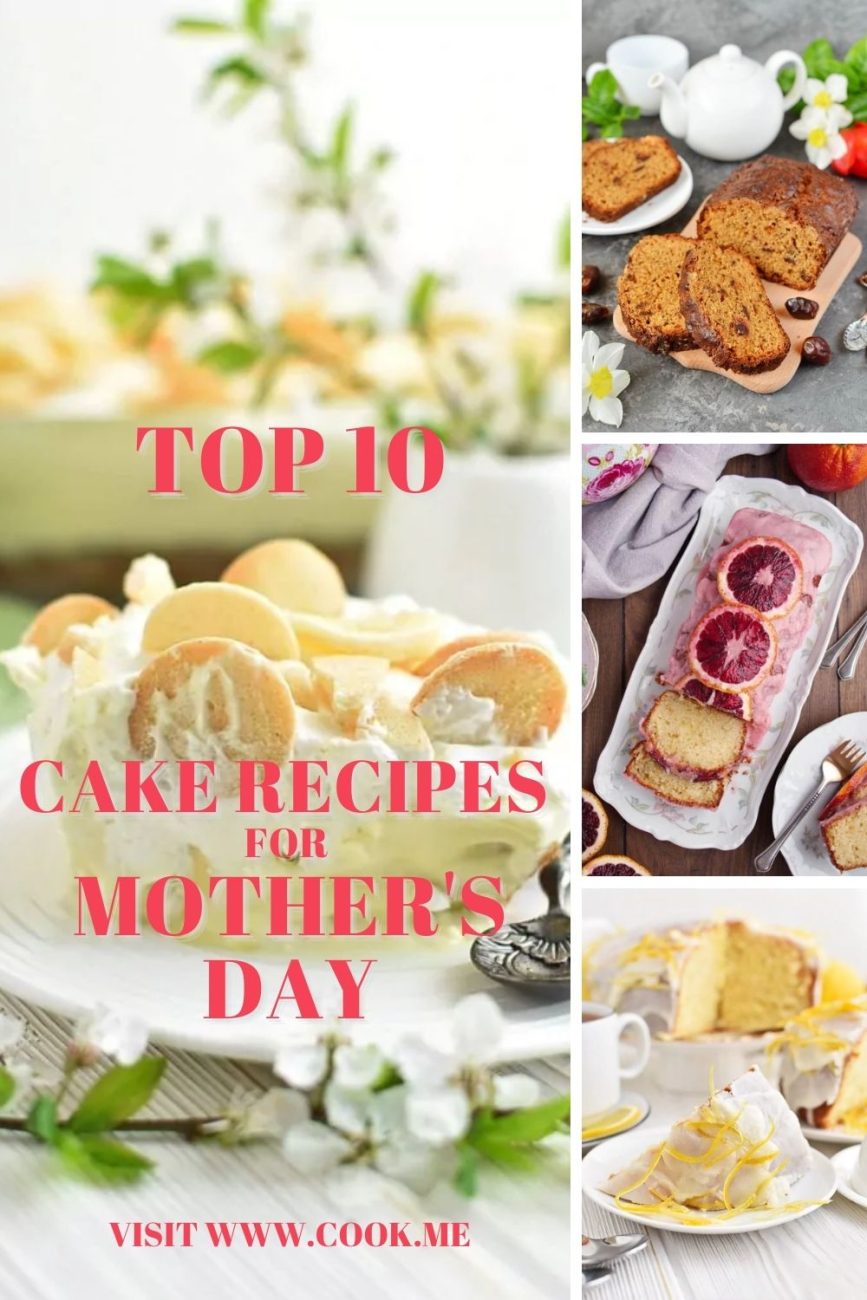 Lemon-Pineapple Poke Cake is mouth-wateringly delicious and easy to make with just eight ingredients. It is sweet, lemony, moist, and topped with a generous spread of whipped topping. Pineapple and lemon complement each other in this festive yet simple cake. With pretty lemon slices and and fresh mint leaves for garnish, this light and bright cake is a favorite at holidays and casual family get-togethers. …
Ingredients for Lemon-Pineapple Poke Cake:
1 box Lemon supreme cake mix
3 Large eggs
⅓ cup Butter
1 cup Milk
1 (14-oz) can Condensed milk
1 (20-oz) can Can chopped pineapple
16 oz Whipped topping

FOR GARNISH, OPTIONAL:
Lemon
Fresh mint
A sweet and creamy dessert, my Creamy Pineapple Cheesecake is a firm favorite in the Mathuse house! I've made so many cheesecakes in my time. And almost every version has a different key ingredient, base, filling, method or assembly, I'm always trying something new! But I do have a couple that I keep returning to, the ones that really hit the spot in terms or taste and creaminess. ….
Ingredients for Creamy Pineapple Cheesecake:
1 (8 ounce) package Cream Cheese
1 Graham cracker base
15 oz Pineapple
1 3/4 cups Frozen whipped topping
1/2 cup Sugar
This Banana Pudding Poke Cake recipe is the perfect recipe to hand over to your husband for those brilliant days when he and the kids want to "surprise" you! It's a simple and extremely tasty banana pudding poke cake made with easy box yellow cake mix and box vanilla pudding, it's like a fool's paradise! I don't promise to keep your kitchen relatively clean this Mother's Day but it will be loads of fun to make!….
Ingredients for Banana Pudding Poke Cake:
Cooking spray
All-purpose flour
1 box Yellow cake mix
2 boxes Instant vanilla pudding mix
3 cups Milk
2 cups Heavy cream
2 tbsp Sugar
1 tsp Vanilla extract
3 Bananas
20 Wafers
4 crushed Wafers
This Lemon Sponge Cake recipe is the perfect option to add to your Mother's Day lunch menu or afternoon tea celebration of your special day. A simple yet elegant cake that is not very difficult to make but serves up to look like something very professional. It may be the perfected, no-fail, batter recipe which incorporates Greek yogurt to give your cake a sponge texture with lemon juice and lemon zest for the citrus flavors. ….
Ingredients for Lemon Sponge Cake:
175 g Unsalted butter
175 g Caster sugar
3 Large eggs
3 Lemon
250 g Self-raising flour
½ tsp Baking powder
100 g Greek yogurt

FOR THE ICING:
400 g Icing sugar
4-4 ½ tbsp Lemon juice
Lemon zest

FOR THE CANDIED PEEL (OPTIONAL):
2 Lemon
200 g Granulated sugar
This Orange Date Bread gives me the opportunity to bake with one of my favorite dried fruits: dates! I absolutely adore dates. Sweet and sticky and moist, they are increasingly used as a natural sugar substitute in cakes and sweet treats. Soaking dried dates in liquid can help to boost their moisture and flavor. If you like an added crunch, you could add some pecan nuts or walnuts to the batter before baking. …
Ingredients for Orange Date Bread:
8 oz Dates
1 cup Orange juice
2 cups All-purpose flour
3 tsp Baking powder
¾ tsp Cinnamon
½ tsp Salt
¾ cup Granulated sugar
2 Large eggs
4 tbsp Butter
I love this Pineapple & Coconut Cake because it is full of tropical flavors that make me feel like I'm on holidays when I eat it! To be honest if you had asked me about cake flavor combinations that I love, coconut and pineapple cake would not have been the first to come to mind. That was before I discovered this amazing recipe! Now it's right there at the top of my list! …
Ingredients for Pineapple & Coconut Cake:
200 g Pineapple
110 g unsalted Butter
110 g Caster sugar
2 Large eggs
250 ml Sour cream
200 g Self-raising flour
¼ tsp Baking soda
150 g Coconut
1-2 tbsp Powdered sugar
The Best Homemade Italian Cream Cake is just as amazing as the name sounds – it is a moist, delicious cake with butter cream cheese frosting and topped with sweetened coconut and chopped pecans! Not only that, it's easy to make and will feed a crowd! Start by making the cake. As the cake cooks in the oven, make the delicious frosting by stirring together butter, cream cheese, vanilla, …
Ingredients for The Best Homemade Italian Cream Cake:
FOR CAKE:
1 stick Salted butter
½ cup Vegetable shortening
2 cups Sugar
5 Egg yolks
1 cup Buttermilk
1 tsp Vanilla extract
1 tsp Baking soda
2 cups All-purpose flour
½ cup Shredded coconut
1 cup Pecans
5 Egg whites

FOR FROSTING:
1 stick Salted butter
1 block Cream Cheese
1 tsp Vanilla extract
1 box Powdered sugar
Shredded coconut
Pecans
This recipe Lemon Drizzle Slices is one of my go-to baking recipes. I absolutely love the sweet yet tart combination of ingredients. It is a very versatile cake too. Sometimes I just add the drizzle topping, but if I am feeling fancy or I'm in the mood for more sweetness, I make a white icing which I pour over the cooled cake and leave to set before serving. …
Ingredients for Lemon Drizzle Slices:
FOR THE CAKE:
70 g Unsalted butter
120 g Caster sugar
2 Eggs
140 g Self-raising flour
1 tsp Baking powder
Zest of 1 Lemon
1 tbsp Lemon curd
2 tbsp Milk

FOR THE DRIZZLE TOPPING:
30 g Granulated sugar
Juice of 1 Lemon

FOR THE ICING:
250 g Icing sugar
3 tbsp Water

TO GARNISH:
Zest of ½ Lemon
This Gluten Free Orange Drizzle Cake is wonderful for the tastebuds and the food restrictions. Made with gluten free plain flour, you won't even notice the difference. I add 4 eggs to my batter to create a more dense and moist cake. The drizzle syrup drowning the cake is made from orange juice, orange zest, ground cinnamon and sugar water. …
Ingredients for Gluten Free Orange Drizzle Cake:
FOR THE CAKE:
220 g Gluten-free plain flour
200 g Caster sugar
200 g Butter
2 tsp Baking powder
2 Oranges
4 Large eggs

FOR THE DRIZZLE SYRUP:
2 Oranges
to taste Ground Cinnamon
275 g Granulated sugar
500 ml Water
This Blood Orange Loaf and Blood Orange Glaze is not just absolutely delicious in every bite but stunning to look at too, and if you're entering any baking competitions then I would definitely suggest using this recipe. Picture perfect every time and a real "wow" for the audience. The recipe bakes a soft and moist blood orange loaf cake with a sweet, buttery blood orange glaze drizzled over. Decorate with rose petals or blood orange slices for color. …
Ingredients for Blood Orange Loaf and Blood Orange Glaze:
FOR THE LOAF:
½ cup Butter
1 cup Granulated sugar
2 Large eggs
½ cup Milk
1½ cup All-purpose flour
1 tsp Baking powder
½ tsp Salt
Zest of 1 Blood orange

FOR THE GLAZE:
3 tbsp Blood orange juice
2 tbsp Butter
½ cup Icing sugar