10 Easy Memorial Day Recipes
All your Memorial Day recipes in one place!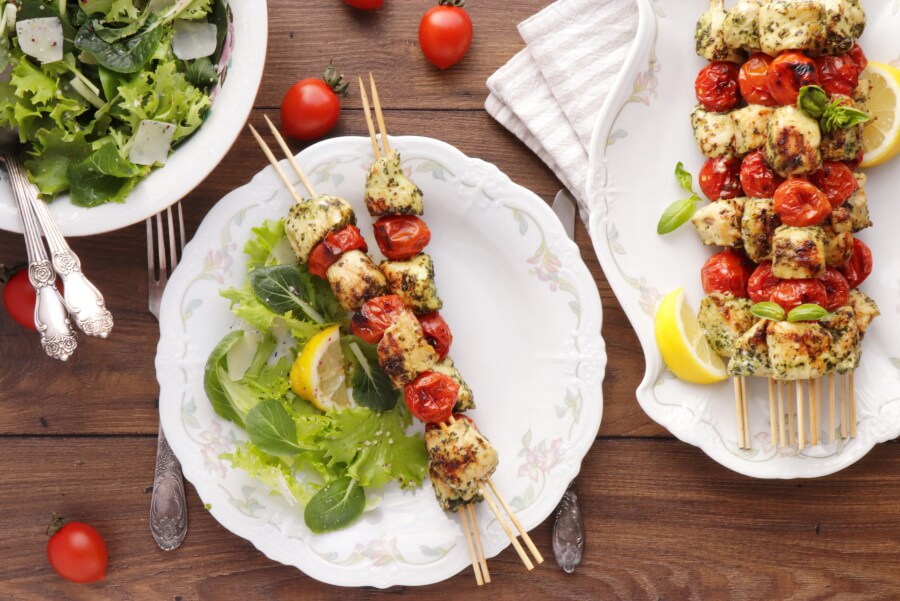 This Greek Turkey Burgers with Spinach, Feta & Tzatziki combines two of my favorite things – Greek cuisine and burgers! Who knew that the perfect burger topping is actually red onion, cucumber slices and creamy cool tzatziki? The Greeks, that's who! I'm just surprised it took me this long to…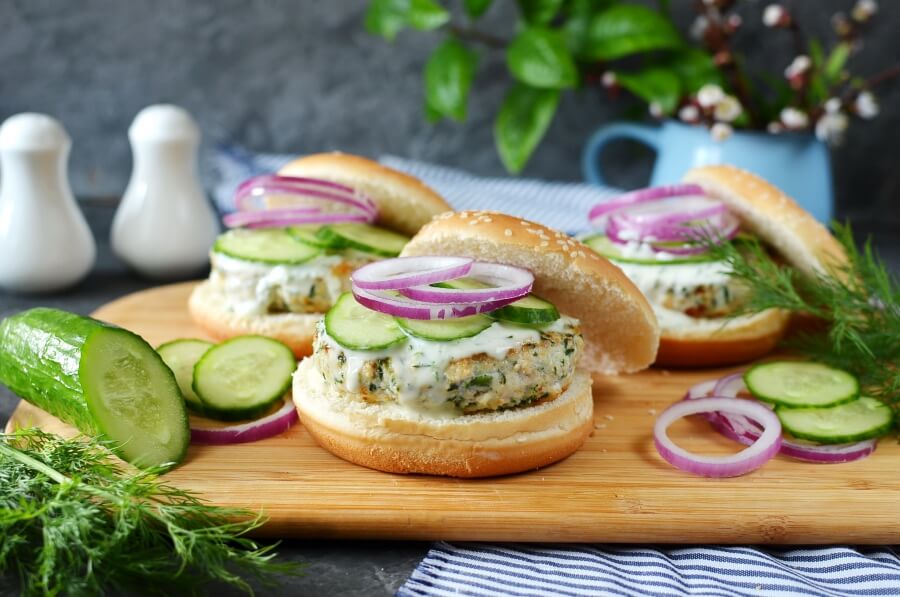 Ingredients for Greek Turkey Burgers with Spinach, Feta & Tzatziki:
1 cup Spinach
1 lb Ground turkey
½ cup Feta cheese
½ tsp Garlic powder
½ tsp Dried oregano
¼ tsp Salt
¼ tsp Ground pepper
4 Hamburger buns
4 tbsp Tzatziki
12 slices Cucumber
8 thick rings Red onion
This Greek Potato Salad is a delicious flavor combination which takes its inspiration from Greece. The quintessential Greek salad ingredients are all present in this potato salad: olives, feta cheese, cherry tomatoes and oregano. It's lighter than traditional potato salads too because there is no mayo in the dressing. It's…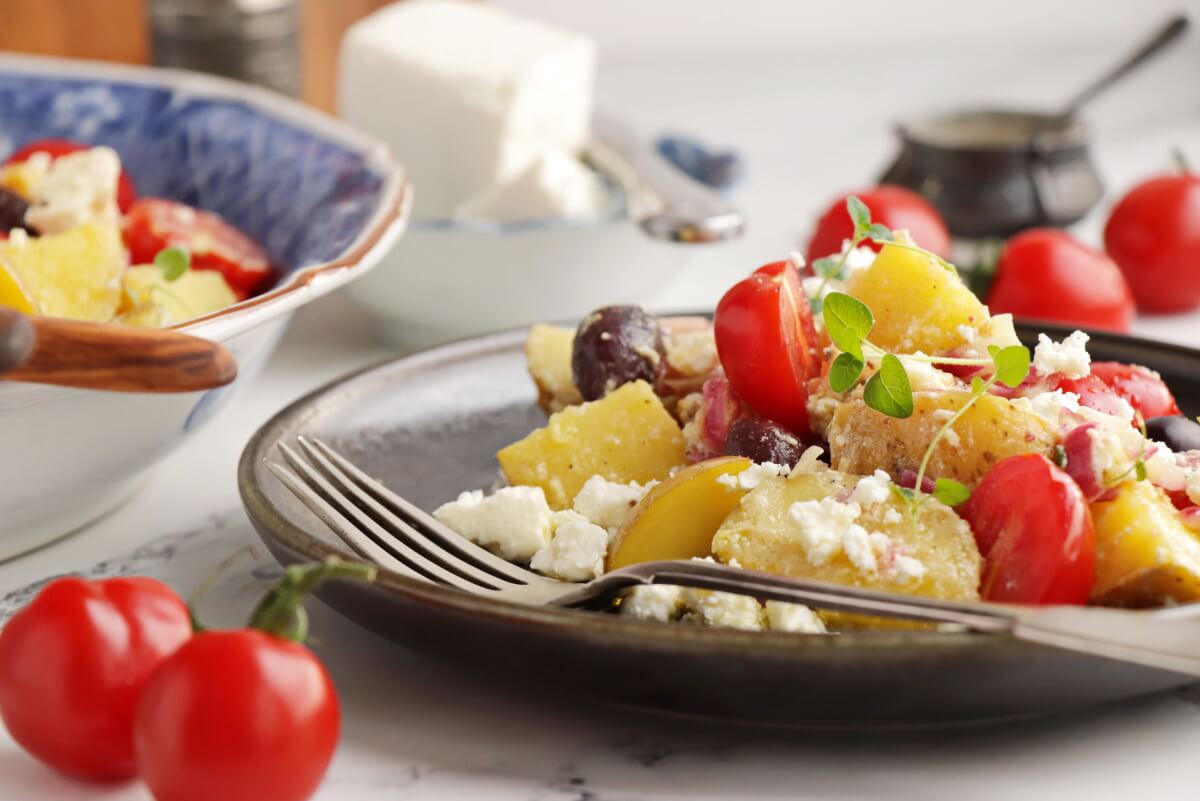 Ingredients for Greek Potato Salad:
2½ lbs Potatoes
¾ tsp Salt
¼ cup Olive oil
3 tbsp White wine vinegar
¼ cup Red onion
1 tbsp Dijon mustard
½ tsp Black pepper
1 cup Cherry tomatoes
⅓ cup Feta cheese
¼ cup Kalamata olives
2 tbsp Oregano
This Pineapple Chicken Salad is juicy, fresh and mouthwateringly tasty. As a self proclaimed Salad Queen, I love inventing new and cool salad ideas and combinations. This time, I decided to make a salad in a springform cake pan, and do you wanna bet that it's better than cake!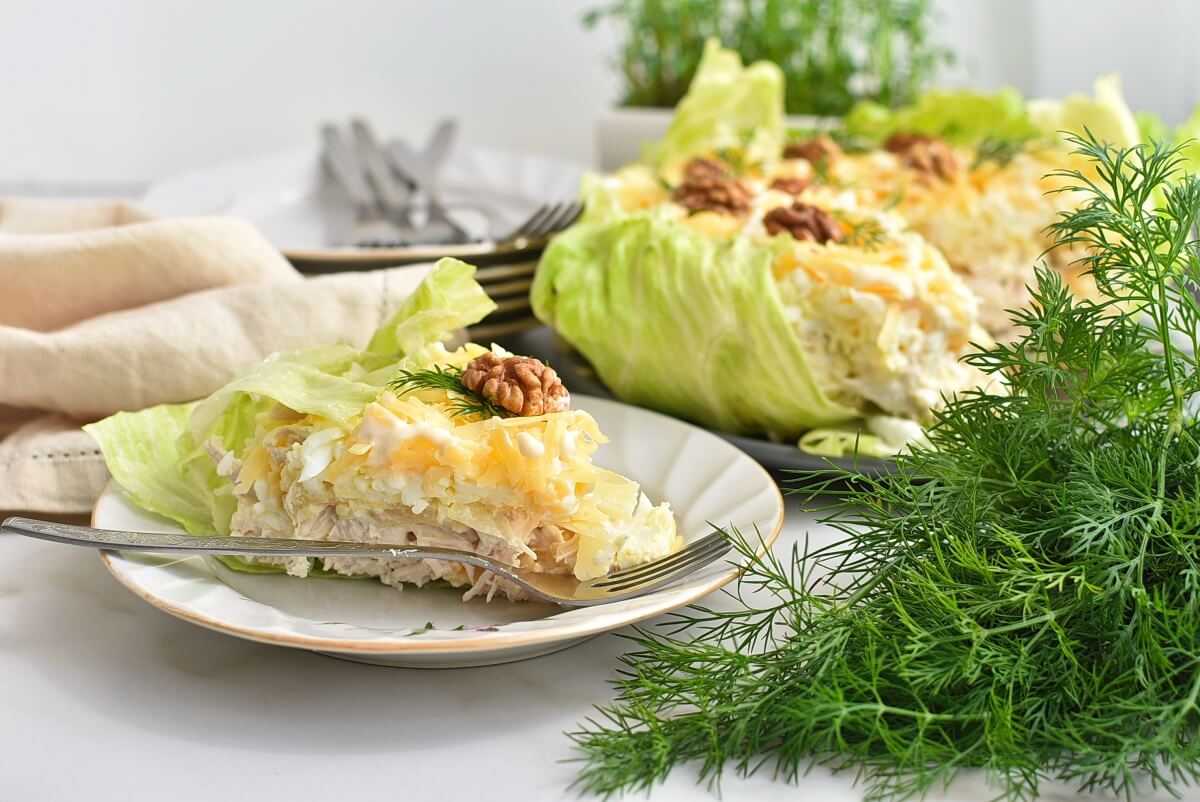 Ingredients for Pineapple Chicken Salad:
3 cooked Chicken Breast
16 oz Can chopped pineapple
6 Eggs
8 oz Cheese
Iceberg lettuce
Walnuts
Dill
Homemade mayonnaise
These Tuna and Sweetcorn Jack Potatoes are perfect for those specific nights that you're looking for a light and fresh dinner on a cool summer evening. Not too heavy, but just filling enough. Baked potatoes with directions for the oven or microwave, stuffed with tuna and sweetcorn in a hot…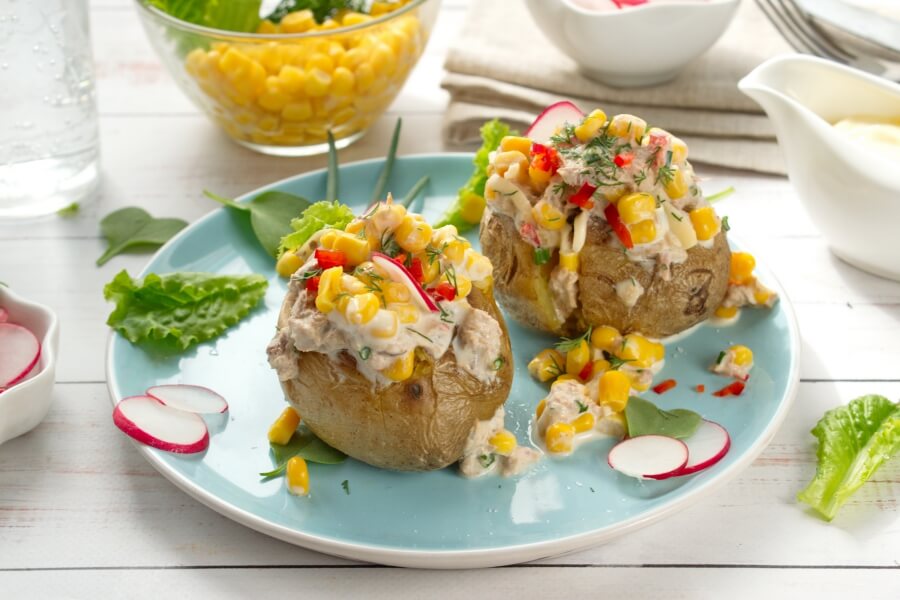 Ingredients for Tuna and Sweetcorn Jack Potatoes:
4 baking Potatoes
1 tsp Olive oil
4 Radishes
4 tbsp light Mayonnaise
2 tbsp Horseradish Sauce
1 (145 g) can Can of tuna
4 Spring onions
325 g can Sweet corn
100 g Cheddar cheese
1 Red chili
10 g fresh Dill
1/4 Lemon
This Picnic Potato Salad With Eggs is the ideal salad to make for your next meal outdoors. I don't know about you, but potato salad with eggs takes me right back to childhood family picnics. We loved the combination of creamy eggs and mayo and firm but soft cubes of…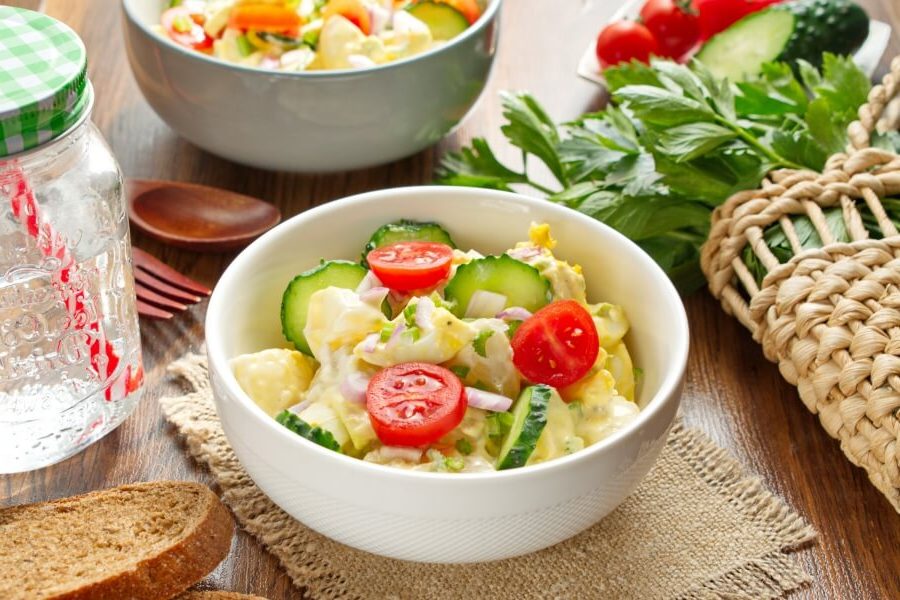 Ingredients for Picnic Potato Salad With Eggs:
3 lb Potatoes
6 Eggs
¼ to ½ cup Red onion
¼ to ½ cup Celery
FOR THE GARNISH
6 Cherry tomatoes
1 Cucumber
FOR THE DRESSING
¾ cup Mayonnaise
1 tbsp Mustard
Salt
Black pepper
These Grilled Chicken and Tomato Kebabs are not only healthy, they are really delicious and simple to make too! I love the basil pesto marinade which accompanies this kebab recipe. It packs a real flavor punch from the basil and garlic and it has a certain richness from the addition…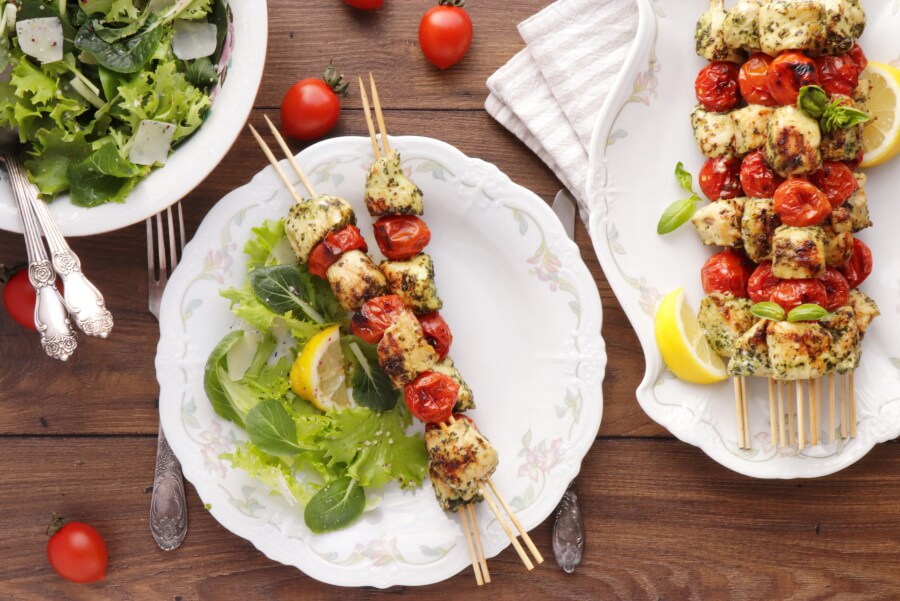 Ingredients for Grilled Chicken and Tomato Kebab:
1 cup Basil
1 clove Garlic
¼ cup Parmesan cheese
Kosher Salt
Black pepper
Olive oil
1¼ lbs Chicken Breast
24 Cherry tomatoes
16 Wooden skewers
These Pickleback Chicken Wings are not just full of the best flavors but full of love too and my best part is seeing my kids get their hands and faces full of this yummy sauce because messy food is always the best food, am I right? With a sweet and…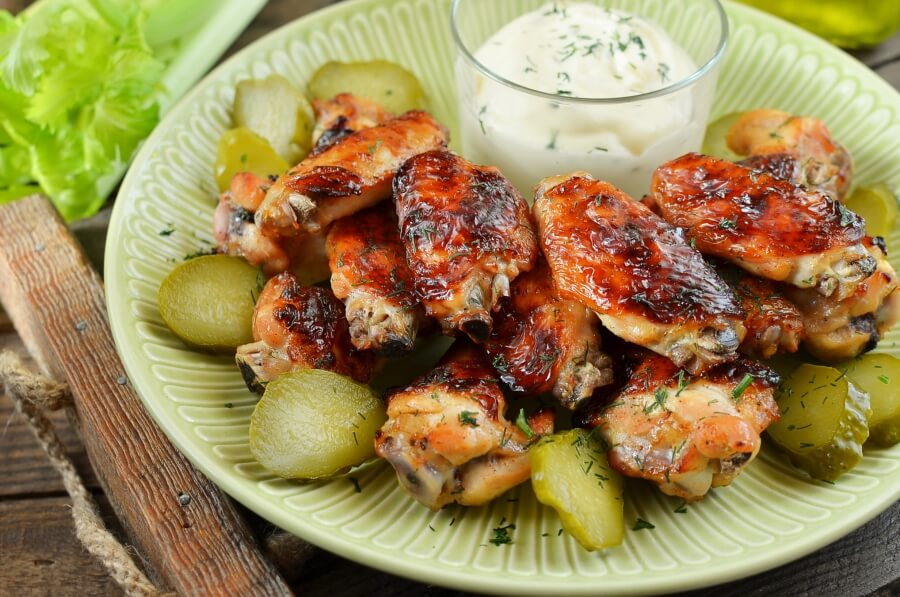 Ingredients for Pickleback Chicken Wings :
3 lb Chicken wings
1 cup Dill pickle juice
2 tbsp Bourbon
2 tbsp Honey
1 tbsp Sugar
½ tsp Onion powder
½ tsp Ground paprika
¼ tsp Cayenne pepper
Kosher Salt
Black pepper
2 tbsp Fresh dill
1 cup Pickles
1 cup Ranch dressing
Homemade Hoagie Rolls are a scrumptious, long, flat and crusty roll. The name was given to this type of sandwich by Italian Navy Yard workers that worked down at the Hog in Philadelphia. Regardless of the weird and wonderful name, the sandwiches have a sublime taste. Nothing beats the fresh…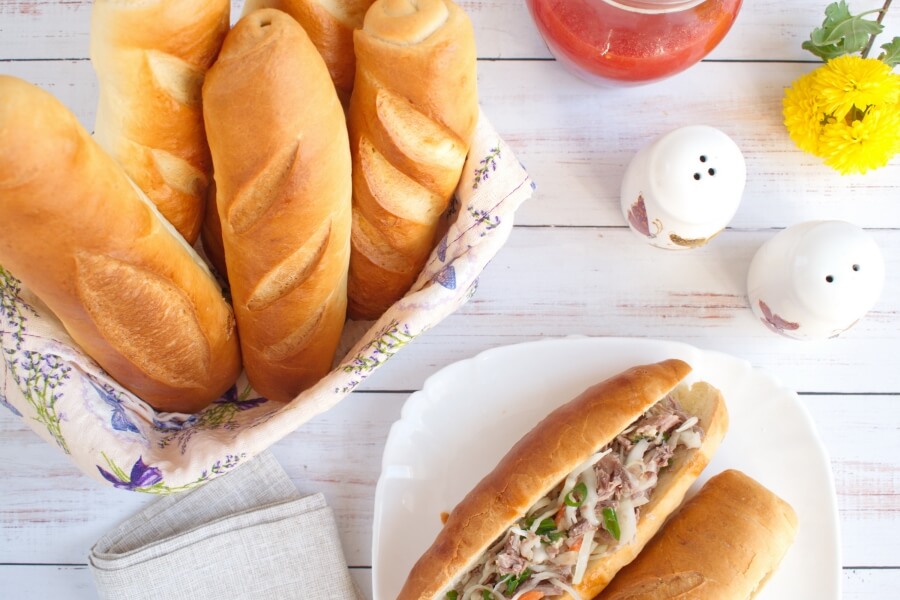 Ingredients for Homemade Hoagie Rolls:
1 cup Water
1 tbsp Active dry yeast
1 ½ tbsp Sugar
¾ cup Milk
1 Large eggs
3 tbsp Olive oil
5 ¼ cups Bread flour
2 tsp Salt
1 Egg whites
This Roast Chicken and Vegetables recipe is undeniably everyone's favorite and a staple serving whenever I visit family or we have a Sunday gathering. I have included my personal chicken rub for you to use as an option or you can coat your chicken in any generic roast seasoning.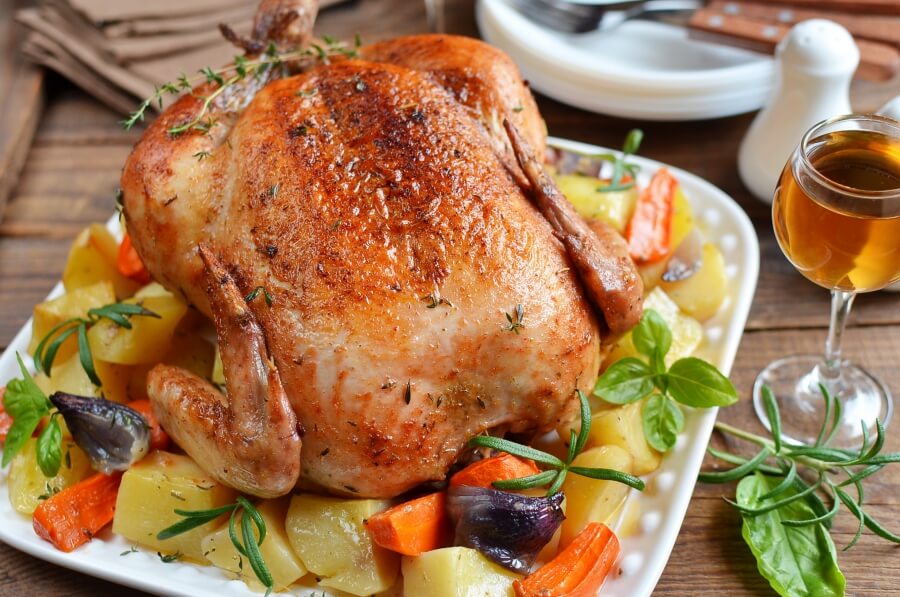 Ingredients for Roast Chicken and Vegetables :
1 Chicken
3-4 cups Mixed vegetables
4 tbsp Olive oil
½ tsp Italian herb seasoning
Chicken rub
These Watermelon Popsicles are more than just a watermelon popsicle. Created in individual layers, taking up a little bit of your afternoon in preparation time, start out by making the frozen watermelon layer with little chocolate chips inside. Freeze this layer before adding the coconut milk layer and then top…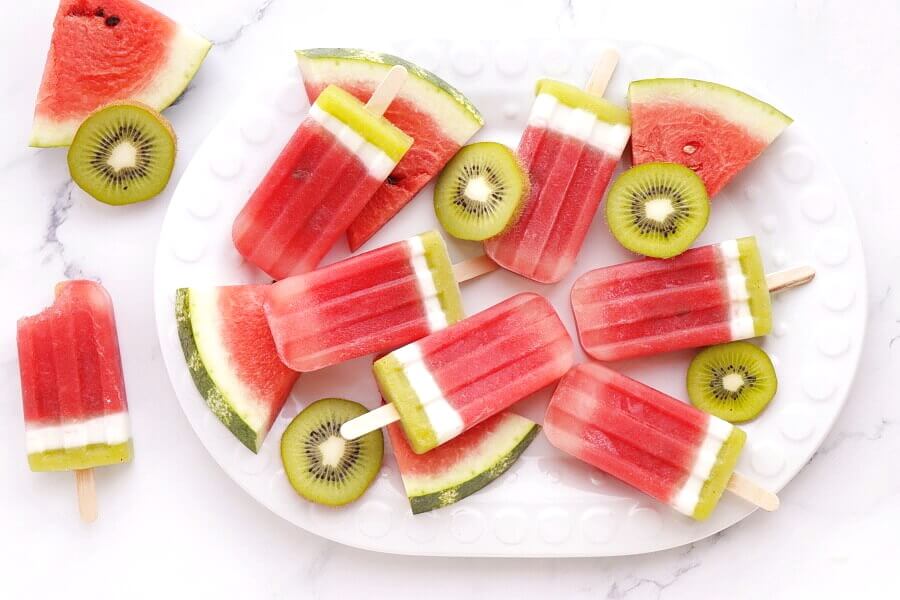 Ingredients for Watermelon Popsicles:
19 oz cubed Watermelon
5 ½ tbsp Granulated sugar
1 tbsp fresh Lemon juice
½ cup canned Coconut milk
13 oz Kiwi
1 tbsp Chocolate chips
<<<100+ Easy Memorial Day Recipes>>>