10 TOP Apple Cake Recipes
Bake One of Our Moist and Fruity Apple Cakes for Afternoon Tea.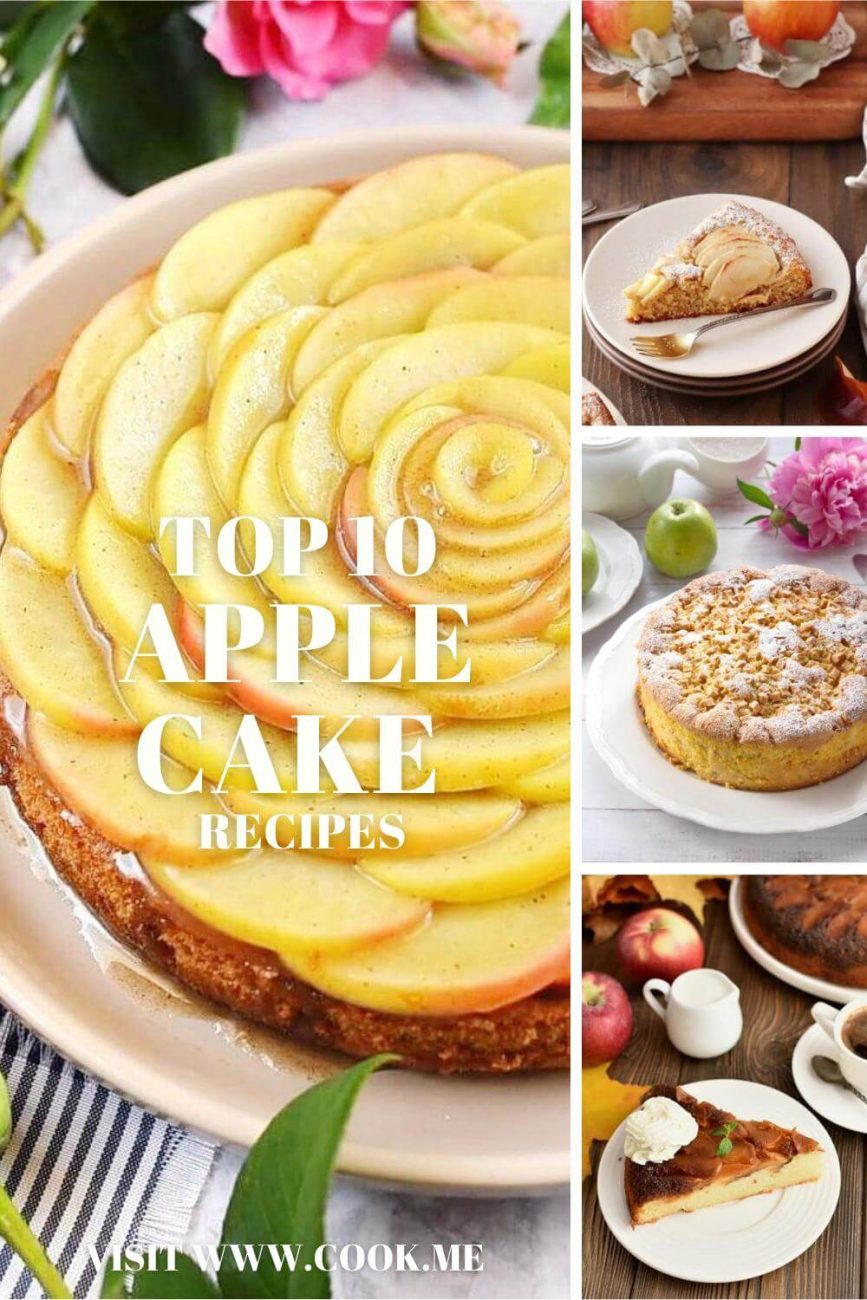 Everyone has their favorite simple and delicious apple cake and this Cinnamon Glaze Apple Cake is definitely my choice, by far! A simple vanilla and apple cake base topped with the most beautiful, flower-like, apple-slice arrangement and drizzled with a heavy cream, powdered sugar and cinnamon glaze over the top….
Ingredients for Cinnamon Glaze Apple Cake:
FOR THE CAKE:
4 large Apples
6 Eggs
1 cup Granulated sugar
1 cup All-purpose flour
1 tsp Vanilla extract
¾ tsp Baking soda

FOR THE TOPPING:
3 Apples

FOR THE GLAZE:
½ cup Heavy cream
1 cup Sugar
1 tsp Cinnamon
What is different about our German Apple Cake? We use giant slices of quartered apples to fill the center of the cake. Most recipes use thinly sliced apples or tiny chopped cubes but we've left ours bigger for double the sweetness! Place the awesome apples on top of a soft,…
Ingredients for German Apple Cake:
4 Apples
½ cup Butter
½ cup Granulated sugar
2 tsp Vanilla sugar
2 tsp Lemon juice
3 Large eggs
1½ cups Cake flour
2 tsp Baking powder
¼ tsp Salt
2 tbsp Milk
2 tbsp Powdered sugar
If you're preparing treats for this weekend then definitely add this Gluten Free German Apple Cake to your list. An adaptive recipe for those with a low tolerance to gluten, specifically. Using a combination of millet flour, gluten free oat flour, sweet rice flour, almond flour and xanthan gum in…
Ingredients for Gluten Free German Apple Cake:
1lb Apples
½ cup Millet flour
¼ cup + 3 tbsp gluten-free Oat flour
¼ cup + 2½ tbsp sweet White rice flour
2½ tbsp finely ground Almond flour
½ tsp Xanthan gum
1¼ tsp Baking powder
¼ tsp Baking soda
7 tbsp Unsalted butter
½ cup + 1 tbsp Cane sugar
1¼ tsp Vanilla extract
½ tsp Kosher Salt
1 tbsp fresh Lemon juice
1 lemon Lemon zest
2 Large eggs
¼ cup Whole milk
1 tbsp Apricot jam
1 tbsp Powdered sugar
My French Apple Cake recipe is a take on a classic upside down cake. Everyone knows that French cooking is the pinnacle of world cuisine. This apple cake recipe features French cooking techniques that elevate it from simplicity to decadence. Start by making a simple caramel – the French way…
Ingredients for French Apple Cake:
FOR THE TOPPING:
¾ cups Sugar
2 tbsp Water
3 Apples
½ tsp Cinnamon

FOR THE CAKE:
¾ cups Sugar
1 cup Butter
1 cup All-purpose flour
½ tsp Baking soda
4 oz Cream Cheese
3 Large eggs
2 tsp Vanilla
Cooking spray
I am a sucker for afternoon tea and you'll often find me baking treats in my kitchen, one of my favorites is this Apple Rose Tart. Cinnamon and sugar, tossed with thinly sliced apples and topped beautifully with a flower and rose inspired design. The base is made of a…
Ingredients for Apple Rose Tart:
FOR APPLE TART CRUST:
1½ cups All-purpose flour
¼ cup Granulated sugar
¼ tsp Salt
2 tsp Baking powder
½ cup (8 tbsp) Butter
1 Eggs
⅓ cup Heavy whipping cream

FOR APPLE FILLING:
1 lb (3 medium) Apples
¼ cup Granulated sugar
1 tsp Cinnamon
1½ tbsp Butter
My daughter's school had a fundraiser last year and I entered with our family's secret recipe. Now, not so secret anymore, you too can make this Mom's Prize Winning Raw Apple Cake. Combine the dry ingredients and then add the wet ingredients and you're almost done with your prep! It's…
Ingredients for Mom's Prize Winning Raw Apple Cake:
2 cup Apples
1/2 cup Walnuts
1/2 tbsp Cinnamon
1 1/4 cup Sugar
3/4 cup Brown sugar
2 1/4 cup All-purpose flour
1 tsp Baking soda
2 Eggs
1/2 cup Sour milk
1/2 cup Vegetable oil
This Apple Cake recipe is a simple cake that my granny used to make when we would visit at the weekends. It is super simple to make and tastes absolutely delicious. I regularly make this cake just to have with morning coffee. It will keep for a few days in…
Ingredients for Cinnamon Swirl Topped Apple Cake:
FOR THE DOUGH
½ cup Milk
¼ cup Sugar
1 tbsp Active dry yeast
¼ cup Unsalted butter
1 Large eggs
1/4 tsp Salt
2 ¼ cups All-purpose flour
½ cup Butter
½ cup Brown sugar
3 tsp Cinnamon

FOR THE APPLES
6 Granny Smith apples
4 tbsp All-purpose flour
2 tbsp Cinnamon
½ cup Brown sugar

FOR THE CAKE
1 box White cake mix
2 Large eggs
160ml Water
60ml Vegetable oil

FOR THE TOPPING
Caramel sauce
This Sharlotka – Russian Apple Cake recipe is a delicious dairy-free apple cake recipe. It contains no butter, no milk. It is really easy to assemble and is light and fluffy yet moist at the same time thanks to chunks of diced apple. Start making the apple Sharlotka cake by…
Ingredients for Sharlotka – Russian Apple Cake:
6 Large eggs
1 cup Granulated sugar
1⅓ cups All-purpose flour
⅛ tsp Baking powder
1 lb Granny Smith apples
This Apple, Cinnamon and Ginger Drizzle Cake is such a great recipe to make when you have friends coming around. It's sweet, moist and absolutely delicious. It takes a small bit longer than your average drizzle cake to prepare, but this is worth it!…
Ingredients for Apple, Cinnamon and Ginger Drizzle Cake:
FOR THE CAKE:
300g Golden syrup
150g Unsalted butter
150g Soft brown sugar
300g Self-raising flour
Zest of ½ Lemon
1 tsp Cinnamon
1 tsp Fresh ginger
3 Eggs
75g Rye sourdough bread
1 tsp Baking soda
75ml Cold tea

FOR THE APPLES:
30g Unsalted butter
3 Apples
½ tsp Apple cider vinegar

FOR THE SYRUP:
½ Lemon
1 tbsp Golden syrup
75g Granulated sugar
This Apple Ugly Cake may not be the prettiest cake in the world, but it sure is tasty! It's packed full of apples, raisins, and warming cinnamon. It always turns out deliciously crunchy and fruity, thanks to the apple. Whenever I bake this apple cake, my kitchen smells amazing for…
Ingredients for Apple Ugly Cake :
1 cup Sugar
3 cups All-purpose flour
1 tsp Baking soda
1/2 tsp Salt
2 tsp Cinnamon
1 cup Vegetable oil
2 Eggs
2 tsp Vanilla extract
1/2 cup Raisins
4 cups Apples