10 Top Easy 15-Minute Meals
When 15 minutes is all you have, these recipes are real lifesavers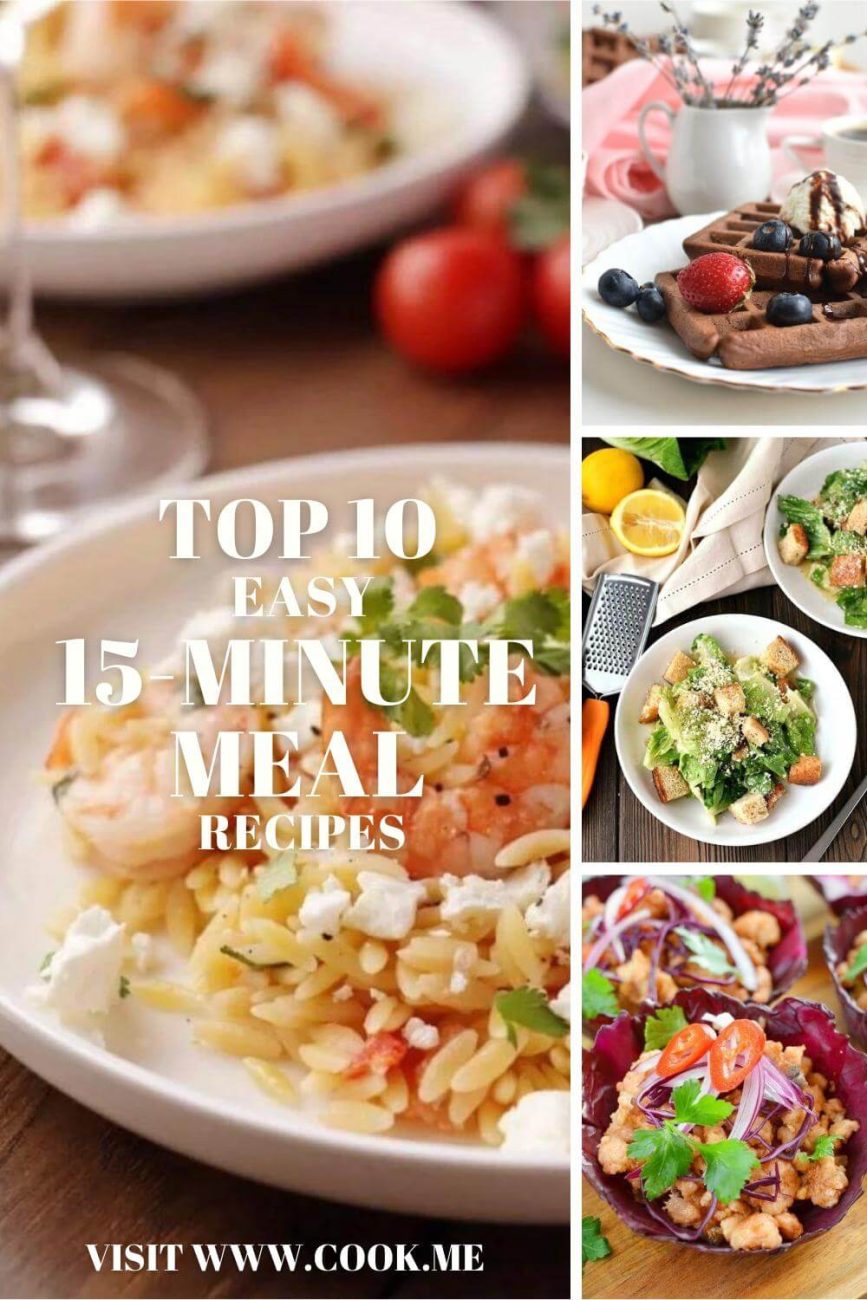 I love to make this Salmon, Strawberry & Fennel Salad for a healthy summer lunch! This is one of my working from home favorites as I can pull the whole dish together in only 5 minutes. I love the combination of oily smoked salmon, sweet strawberries and crunchy fennel bulb….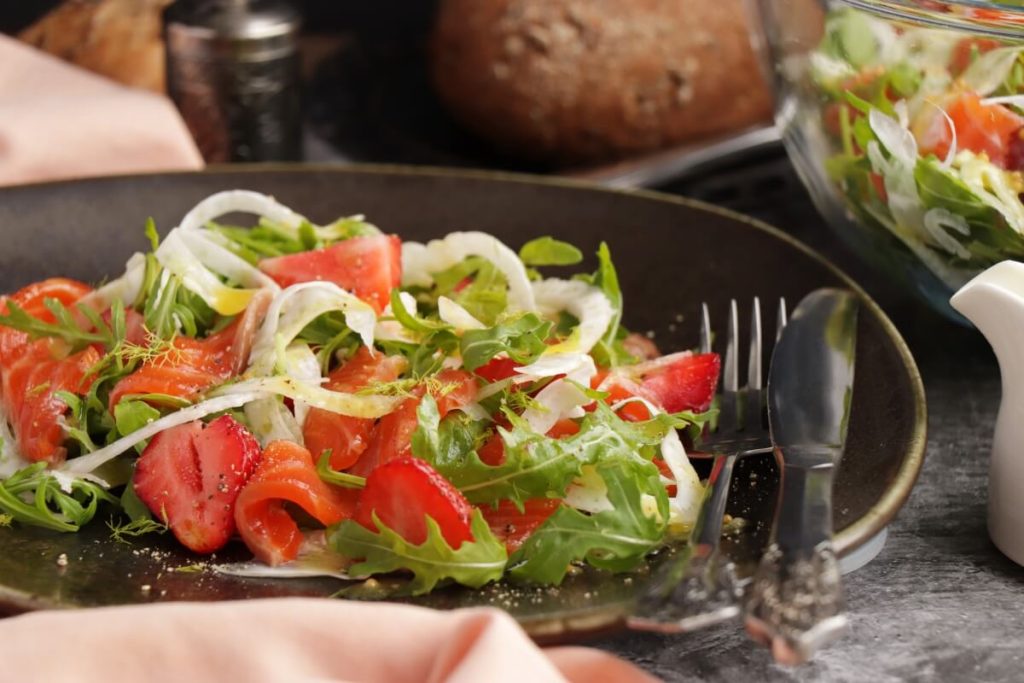 Ingredients for Salmon, Strawberry & Fennel Salad:
FOR THE SALAD
200 g Smoked salmon
1 large Fennel bulb
50 g Arugula
200 g Strawberries

FOR THE DRESSING
4 tbsp Olive oil
2 tbsp White wine vinegar
2 tsp Whole grain Dijon mustard
1 tsp Honey

TO SERVE
Crusty Brown Rolls
This Classic Caesar Salad uses fresh and crispy traditional Romaine lettuce. I sometimes add chicken or bacon and always my mother's favorite, anchovies. Toss in a rich, creamy and tangy dressing for the original flavors that everyone loves in a Caesar salad. Top with freshly grated Parmesan cheese and some…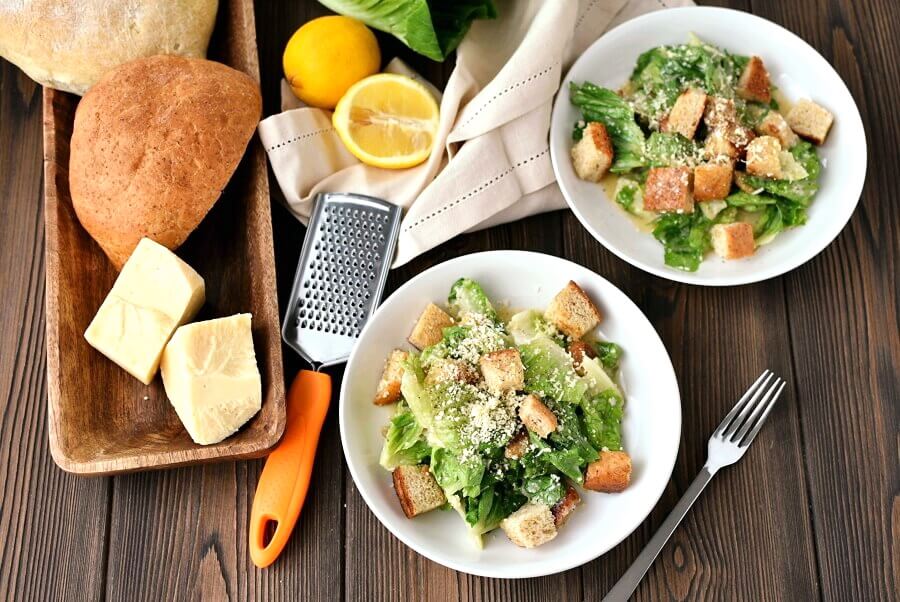 Ingredients for Classic Caesar Salad:
½ cup Olive oil
1 cup Bread
Salt
Black pepper
1 clove Garlic
2 Eggs
2 tbsp Lemon juice
2-3 tbsp Anchovy
Worcestershire sauce
large head Romaine lettuce
½ cup Parmesan cheese
These Vietnamese Chicken and Red Cabbage Cups are not just quick and simple to make in under 15 minutes, they're deliciously tasty, nutritiously balanced and plated in a cute and different way. Served inside giant cabbage leaves, filled with paprika spiced chicken cooked in brown sugar, some lime and fish…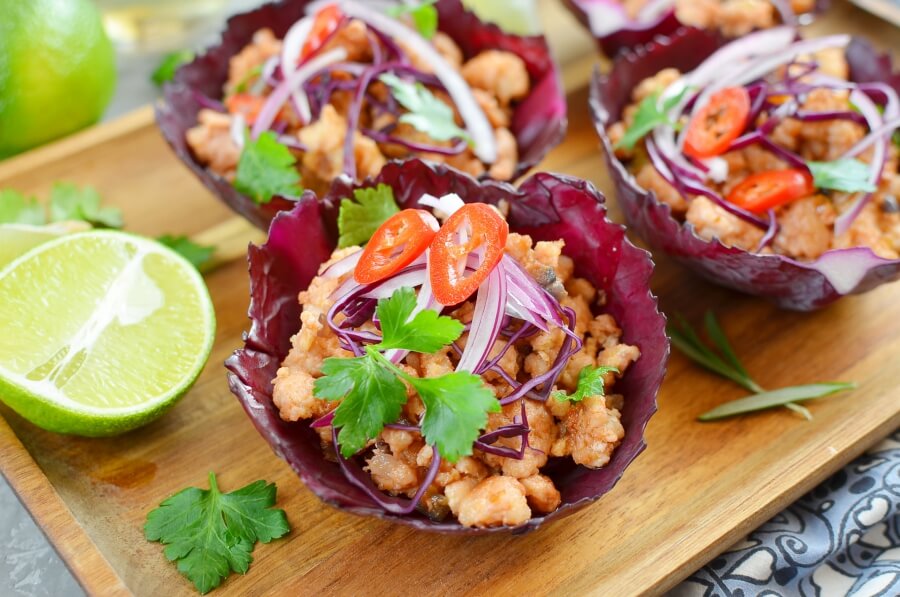 Ingredients for Vietnamese Chicken and Red Cabbage Cups:
3 tbsp Canola oil
1 lb Ground chicken
1 Red onion
2 tsp Ground paprika
1 tsp Salt
1 Lime
1 tbsp Fish sauce
1 tsp Sugar
½ leaf Red cabbage
4 whole leaves Red cabbage
½ cup Cilantro
¼ cup Fresh mint
1 Fresno Red chili
I make these Wonderful Chocolate Waffles as a birthday breakfast treat for my kids. They love that the waffles are chocolatey all the way through. They may not be the healthiest but they sure are tasty! They are perfect for special occasions. Simply mix all the ingredients together to make…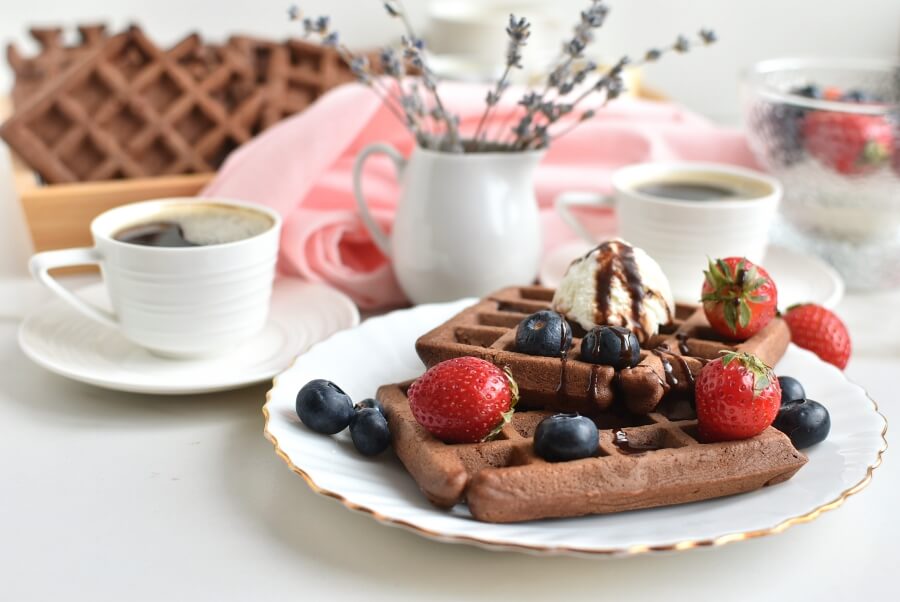 Ingredients for Wonderful Chocolate Waffles:
1 cup Butter
4 Eggs
1 ½ cups Sugar
½ cup Cocoa powder
2 cups All-purpose flour
1 tsp Vanilla
1 tsp Salt
½ cup Water
Avocado Pasta is my one-pot, one-person quick pasta dinner. I love this recipe for its simplicity. It tastes absolutely delicious too! Creamy and bursting with the fresh flavor of garlic, lime and cilantro. I sometimes fry an egg and place it on top but that's totally up to you viagra…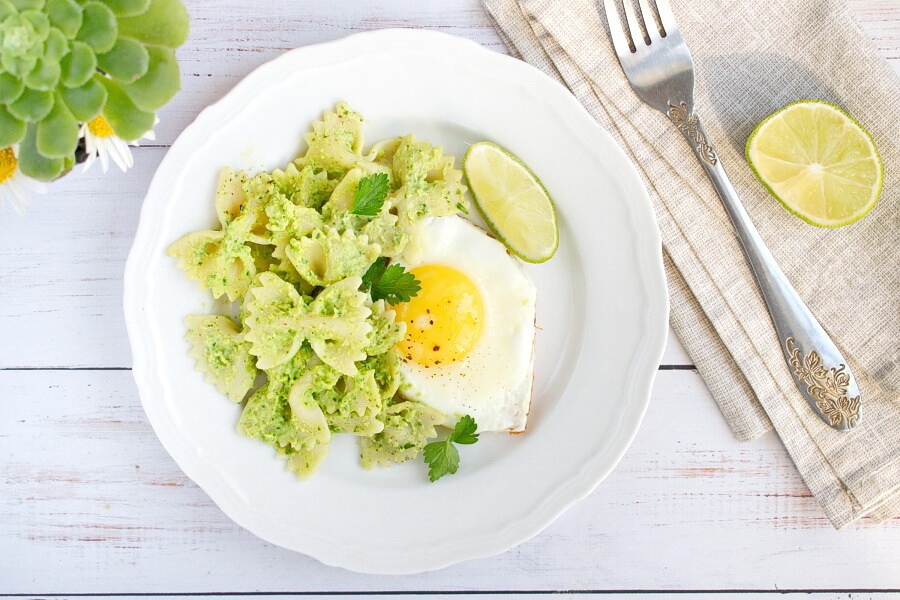 Ingredients for Avocado Pasta:
3 oz Farfalle Pasta
1/2 Avocado
1 clove Garlic
small handful of Cilantro
1/2 tbsp of Lime juice
1 tbsp Olive oil
Salt
Black pepper

FOR SERVE:
Cilantro
1 fried Eggs
Ground Pork Omelet is a quick and simple dish you can make from ground pork, beaten eggs and some seasonings and spices from your store cupboard to enhance the flavor. This dish ticks a lot of boxes for me – it is quick, easy to prepare, tastes delicious, healthy and…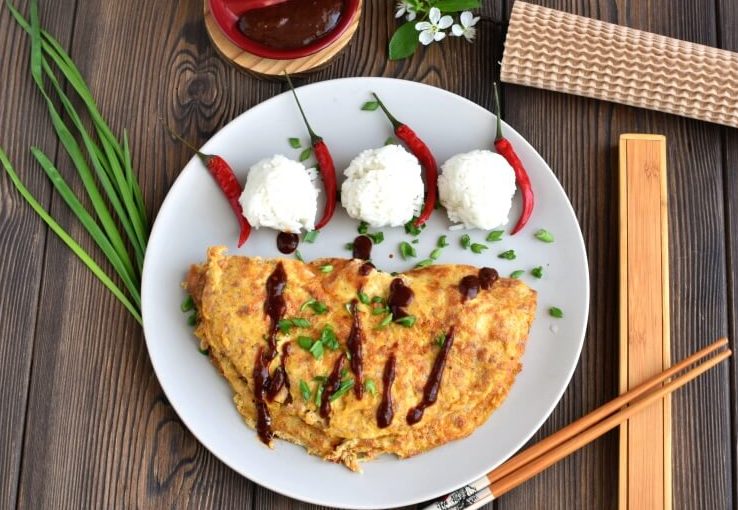 Ingredients for Keto Ground Pork Omelet:
2 tbsp Vegetable oil
3 Eggs
2 1/2 tbsp Fish sauce
1 pinch Black pepper
6 ounces Ground pork
I absolutely love green goddess dressing and this Green Goddess Salad with Chicken is one of my all-time favorite summer salads. Green goddess is a combination of buttermilk, avocado and fresh herbs which give the dressing its characteristic green color.  To make this salad, start by combining the dressing in…

Ingredients for Green Goddess Salad with Chicken:
FOR THE DRESSING
1 Avocado
1½ cups Buttermilk
¼ cup Fresh herbs
2 tbsp Rice vinegar
½ tsp Kosher Salt

FOR THE SALAD
3 cups Romaine lettuce
1 cup Cucumber
3 oz Chicken Breast
½ cup (2 oz) low-fat Swiss cheese
6 Cherry tomatoes
This Microwave Potato Soup recipe is the answer to all your prayers. It's a simple soup that you can make from scratch in under 10 minutes. All you need at your disposal is a microwave and a microwave safe mug! Start by cooking the potatoes in water in the microwave….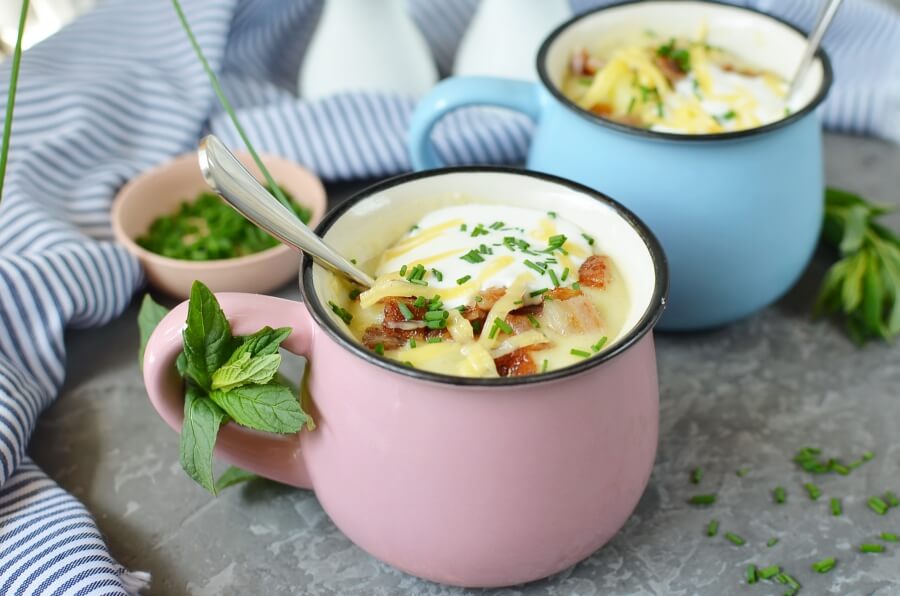 Ingredients for Microwave Potato Soup:
¾ cup Water
3 tbsp Potatoes
1 tbsp Onion
2 tbsp Cheddar cheese
1 tbsp Bacon
2 tsp Cornstarch
½ cup Chicken stock
¼ cup Milk
Salt
Black pepper
Sour cream
If your family is big into seafood then this Shrimp Orzo with Feta recipe is going to be a real hit! It's not often that you'll find me designing recipes without red meat somewhere in the list of ingredients but I do enjoy shrimp and other shellfish, almost with the…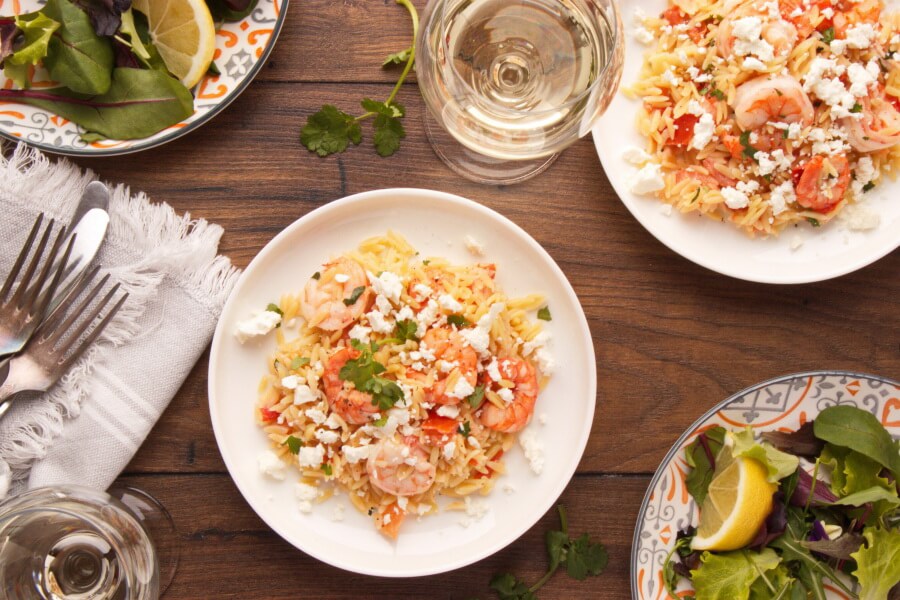 Ingredients for Shrimp Orzo with Feta:
240 g whole wheat Fusilli pasta
1 knob Butter
1 Shallots
140 g Frozen peas
2 fillets Salmon
140 g Crème fraîche
½ cube Vegetable stock
1 bunch Chives
50 ml Water
Black pepper
I am the biggest fan of Vanilla Mug Cakes and any recipe that takes 5-10 minutes to bake and serve you something incredible, works for me! Even for the non-bakers, you most probably have all these ingredients in your pantry and you just need to throw them all together, in…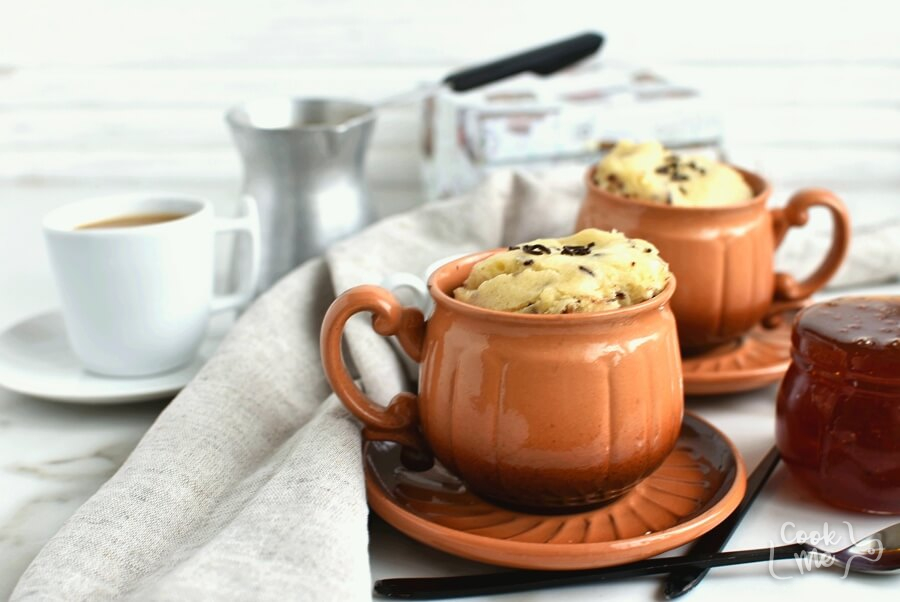 Ingredients for Vanilla Mug Cake:
2 tbsp Butter
3 tbsp Milk
½ tsp Vanilla extract
3 tbsp Granulated sugar
¼ cup All-purpose flour
½ tsp Baking powder
1 pinch Salt
1 tbsp Chocolate sprinkles