Top 10 Chicken Dinners Ready in 30 Minutes
These Quick Chicken Recipes Are Fresh, Full of Flavor, and Make Great Lunches or Dinners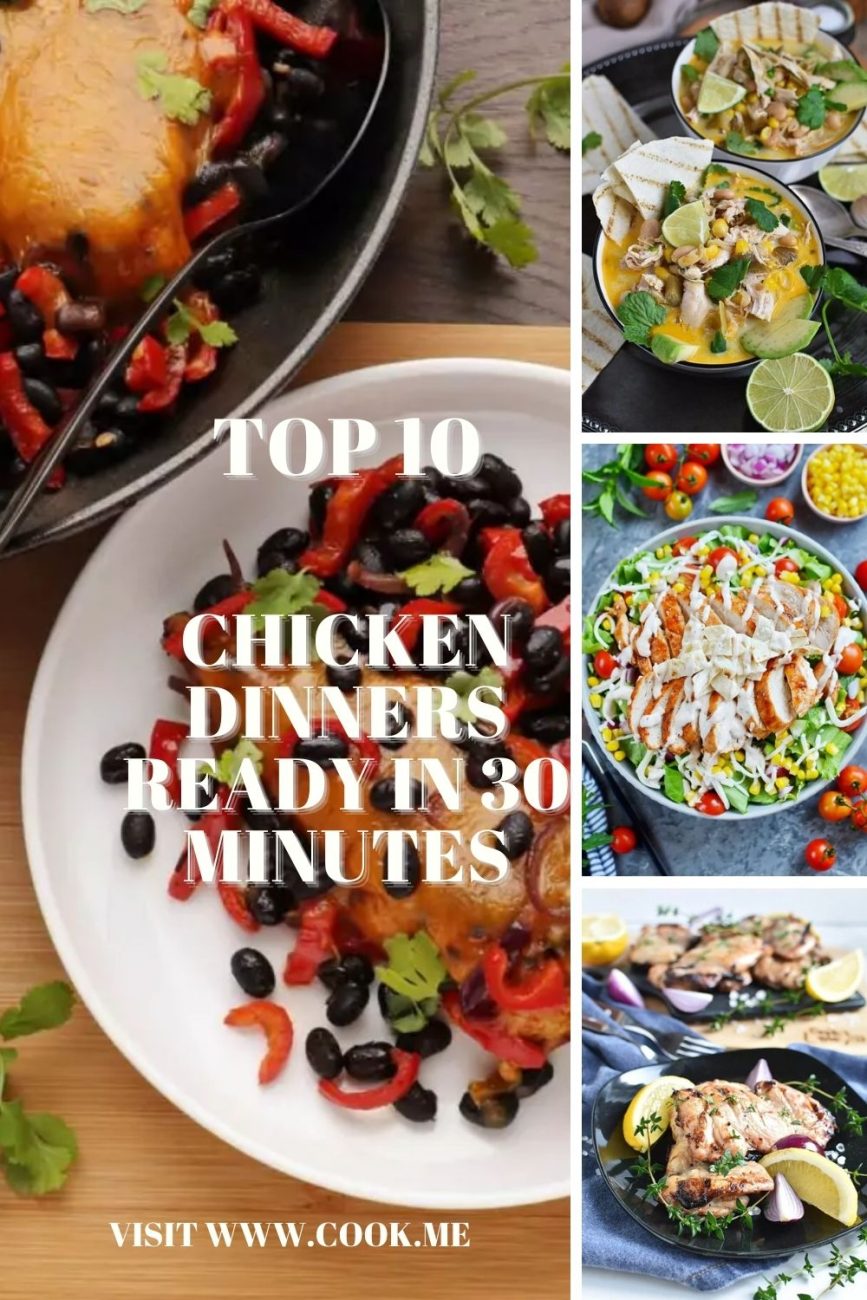 If you're in need of a meal that comforts, you can't go wrong with this Healthy White Chicken Chili recipe. This is a great recipe to make for family and friends too. I'm all about the warm soup and chili recipes, and this one is filling, flavorful, and fool-proof delicious. …
Ingredients for Healthy White Chicken Chili:
1 tbsp Vegetable oil
1 Onion
2 cloves Garlic
1 tsp Cumin
½ tsp Oregano
½ tsp Chili powder
⅛ tsp Cayenne pepper
1 tsp Salt
Black pepper
2 (15-oz) cans Great Northern beans
3 cups Chicken broth
2 cups Corn
1 (4-oz) can Green chili
1 ½ lbs Chicken Breast
1 Lime
1 bunch Cilantro
½ cup Greek yogurt

FOR SERVING:
Tortilla chips
Avocado
Yogurt
Lime
This BBQ Chicken Salad is a fantastic summer salad recipe. It tastes fantastic and contains a mix of delicious ingredients like lettuce, cucumber, tomatoes and corn. Tortilla strips bring a crunchy texture. The whole salad is slathered with a creamy ranch dressing. Start by grilling chicken. Just before the end…
Ingredients for BBQ Chicken Salad:
FOR THE CHICKEN:
1 pound Chicken Breast
1 tsp Seasoned salt
½ cup BBQ sauce

FOR THE BBQ CHICKEN SALAD:
3 heads of hearts of Romaine lettuce
1 Cucumber
1 Red onion
1 pint Cherry tomatoes
1 cup Corn kernels
½ cup Mozzarella
½ cup Tortillas

FOR THE BBQ RANCH DRESSING:
2 tbsp BBQ sauce
½ cup Ranch dressing
Cheesy Chicken & Black Bean Cauli Rice is a perfect dish to jump on the cauliflower rice train if you haven't done it yet. Cauliflower rice is so popular now that you can buy it in almost every grocery store. Alternatively, you can easily make your own using a food…
Ingredients for Cheesy Chicken & Black Bean Cauli Rice:
1 tbsp Olive oil
1 Onion
2 cloves Garlic
1 tsp Dried oregano
½ tsp Cumin
4 cups Cauliflower rice
Kosher Salt
Black pepper
1 tbsp Tomato paste
2 cups Rotisserie chicken
1 (15-oz) can Black beans
1 cup Corn kernels
1 cup Tomatoes
2 Jalapeño pepper
¼ cup Cilantro
1 cup Cheddar cheese
1 cup Monterey Jack cheese
1 Lime
This zingy Apple Cider Thyme Grilled Chicken recipe is delicious and full of flavor. This is actually a really fun dish to make as you get to shake everything up in a ziplock bag or tupperware container before marinating it in the refrigerator. When you are ready to cook it,…
Ingredients for Apple Cider Thyme Grilled Chicken:
1 Onion
4 Garlic clove
2 cups Apple cider
2 tbsp Olive oil
6 sprigs Fresh thyme
1 tbsp Apple cider vinegar
2 tsp Dijon mustard
1 tsp Salt
1 tsp Brown sugar
½ tsp Black pepper
8 Chicken thighs
Everyone has a good stuffed chicken recipe but I really love this Italian Stuffed Chicken recipe. With bold ingredients of chopped olives and/or sundried tomatoes combined with crushed garlic, mixed herbs and soft cheese that gives a smooth and creamy texture. Top with tomato slices for added flavor and color….
Ingredients for Italian Stuffed Chicken:
1 tbsp Olives
1 clove Garlic
½ tsp Dried herbs
100 g Cheese
2 Chicken Breast
2 Tomatoes
Olive oil
This Sheet-Pan Chicken & Brussels Sprouts is a simple and delicious evening meal that you can have on the table in just 35 minutes! I know that some people hate Brussels sprouts, but I adore them. They are very low in calories but very high in nutritious benefits like being…
Ingredients for Sheet-Pan Chicken & Brussels Sprouts:
1 lb Sweet potatoes
2 tbsp Olive oil
¾ tsp Salt
¾ tsp Black pepper
4 cups Brussels sprouts
1 ¼ pounds Chicken thighs
½ tsp Cumin
½ tsp Dried thyme
3 tbsp Sherry vinegar
This 3-Ingredient Hummus-Crusted Chicken is a super easy dish to put together and you can have it on the table in under 30 minutes. I love a quick and easy midweek meal, especially one which combines ingredients in a unique and unusual way like this one. Chicken breasts can be…
Ingredients for 3-Ingredient Hummus-Crusted Chicken:
4 Chicken Breast
1 tsp Kosher Salt
¼ tsp Black pepper
¼ cup Hummus
½ tsp Smoked Paprika
Cooking spray
This Grilled Chicken Salad with Raspberry is not only healthy, it is really simple to make too. It is jam packed with amazing ingredients like mix greens, tomatoes, berries, toasted nuts, feta cheese and it is topped off with a delicious creamy yet healthy poppyseed dressing.  To make this salad,…
Ingredients for Grilled Chicken Salad with Raspberry:
FOR THE HEALTHY POPPYSEED DRESSING:
½ cup Plain yogurt
1 tbsp Maple syrup
1 tsp Rice vinegar
1 tsp Dijon mustard
1 tbsp Poppy seeds
1 tsp Onion powder
½ tsp Salt
Black pepper

FOR THE GRILLED CHICKEN BREAST:
large Chicken Breast
1 tbsp Olive oil
½ Lemon
1 clove Garlic
1 tsp Dried oregano
¼ tsp Salt
¼ tsp Black pepper
FOR THE GRILLED CHICKEN SALAD:
Mixed greens
1 cup Raspberries
1 cup Grape tomatoes
¼ cup Feta cheese
½ cup Nuts
⅓ cup Red onion
This Creamy Chicken and Rice has a distinct Italian twist. It is like a risotto without all the stirring! This dish is wholesome and delicious comfort food which will have you and your family crying out for seconds! To make this delicious chicken and rice, start by sautéing onions and…
Ingredients for Creamy Chicken and Rice:
¼ cup Olive oil
4 tbsp Unsalted butter
1 Onion
2 Carrots
1 ½ lbs Chicken thighs
2 tsp Salt
¼ tsp Black pepper
2 Bay leaf
1 cup Dry white wine
5 cups Chicken broth
2 cups Medium grain rice
1 head Garlic
⅓ cup Parsley
½ cup Parmesan cheese
This delicious Santa Fe Skillet Chicken will become your weeknight go-to dinner. This dish includes chicken breast, hearty black beans, red onion, red bell peppers, garlic, and Cheddar cheese for an easy meal with filling and satisfying power. I also like to add taco seasoning and cayenne pepper for a…
Ingredients for Santa Fe Skillet Chicken:
1 tbsp Olive oil
1 lb Chicken Breast
2 tbsp Taco seasoning
1 tsp Cayenne pepper
Kosher Salt
2 cloves Garlic
1 Red onion
2 Red bell pepper
1 (15-oz) can Black beans
2 cups Cheddar cheese
Cilantro