TOP 10 Baked Potato Recipes
So Delicious that You Will Cook It Again and Again!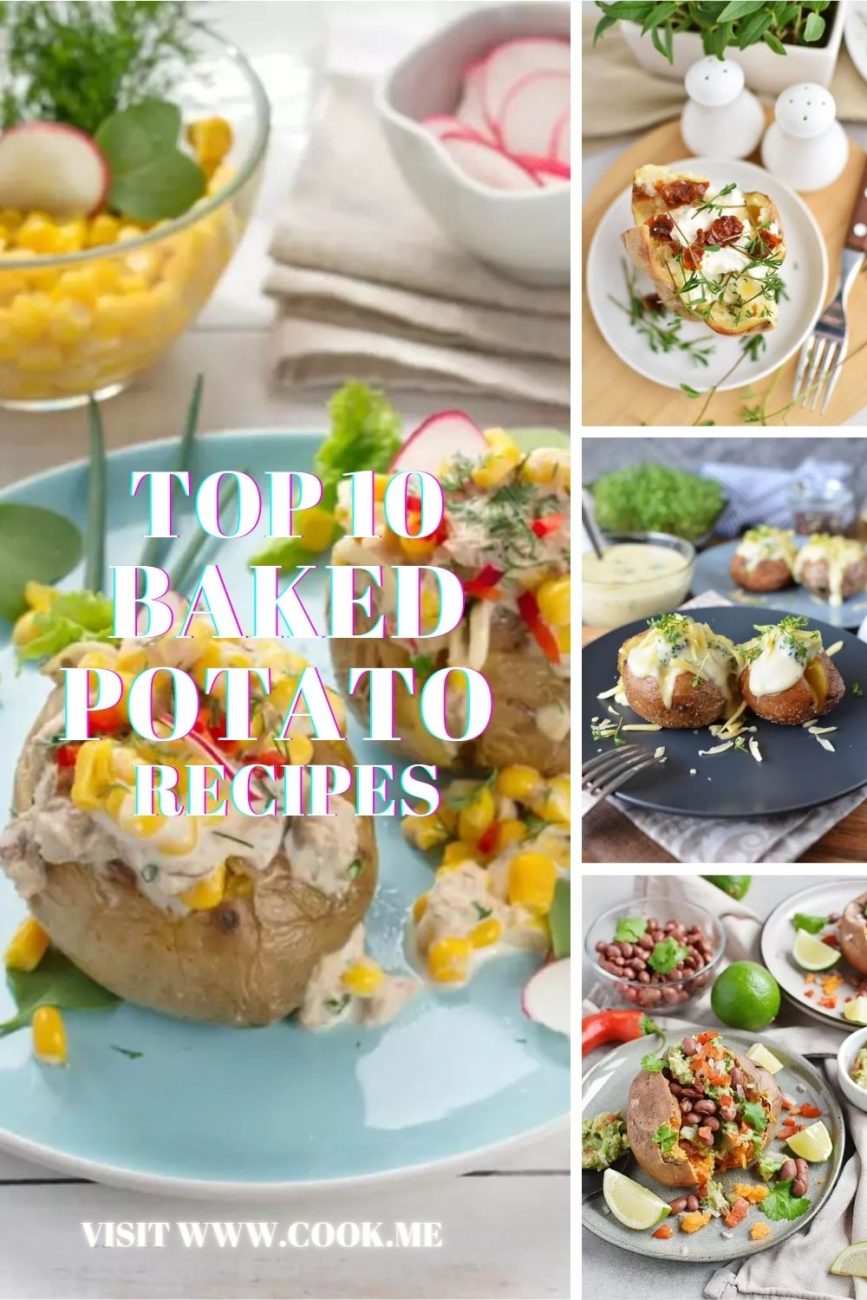 What foods do you eat for Lent? One of my favorite Lent dishes is Broccoli Cheddar Stuffed Baked Potatoes. Soft, baked potatoes, lightly mashed in the middle and drowning in the cheesiest, creamiest, broccoli sauce that you've ever tasted. If you're making this for your families then it's a great…
Ingredients for Broccoli Cheddar Stuffed Baked Potatoes:
FOR THE BAKED POTATOES:
4 Russet Potatoes
1 tbsp Olive oil
Salt

FOR THE BROCCOLI CHEESE SAUCE:
½ lb Broccoli florets
3 tbsp Butter
3 tbsp All-purpose flour
3 cups Whole milk
½ tsp Salt
¼ tsp Garlic powder
6 oz Cheddar cheese
Baked Potatoes with Cream Cheese is one of my all time favorite side dishes to accompany a grilled steak or a burger. My killer ingredient in these baked potatoes is the humble sun-dried tomato. These salty dried tomatoes are usually preserved in olive oil with added herbs such as rosemary,…
Ingredients for Baked Potatoes with Cream Cheese:
1 punnet Microgreens
2 Potatoes
100 g Cream Cheese
70-100 g Sun-dried tomatoes
pinch Salt
pinch Black pepper
These Tuna and Sweetcorn Jack Potatoes are perfect for those specific nights that you're looking for a light and fresh dinner on a cool summer evening. Not too heavy, but just filling enough. Baked potatoes with directions for the oven or microwave, stuffed with tuna and sweetcorn in a hot…
Ingredients for Tuna and Sweetcorn Jack Potatoes:
4 baking Potatoes
1 tsp Olive oil
4 Radishes

FOR THE FILLING:
4 tbsp light Mayonnaise
2 tbsp Horseradish Sauce
1 (145 g) can Can of tuna
4 Spring onions
325 g can Sweet corn
100 g Cheddar cheese
1 Red chili
10 g fresh Dill
1/4 Lemon

TO SERVE:
100 g pack Green salad
These Shrunken Potato Heads with Slime Dip are a fun and freaky dish that you need to try. Perfect for a spooky-themed, kid's birthday party or your Halloween family feast. Baked potatoes with pierced eyes and faces to imitate ghostly features and served with an avocado, sour cream, garlic, lemon…
Ingredients for Shrunken Potato Heads with Slime Dip:
1kg Charlotte Potatoes
2 tbsp Olive oil
1 Avocado
100ml lighter Sour cream
1 clove Garlic
½ juiced Lemon
5g Chives
These Sweet Potato Jackets with Guacamole is a protein-packed, healthy, and really satisfying recipe. Moreover, this easy recipe uses only vegan ingredients and even happens to be gluten-free, dairy-free, and packed with nutrition. Plus, it is delicious enough to please the most committed omnivore….
Ingredients for Sweet Potato Jackets with Guacamole:
drop Rapeseed oil
2 Sweet potatoes
1 Avocado
2 Lime
1 Red chili
2 Tomatoes
⅓ pack Coriander
1 Red onion
400 g can Can kidney beans
Ingredients for Baked Hasselback Potatoes:
7 medium Potatoes
4 tbsp Olive oil
1 clove Garlic
1 tsp Rosemary
1 tsp Lemon zest
Sea salt
This Breakfast Baked Potato Boat is a fun way of serving your weekend breakfast. Served inside the shells of baked potatoes, fill your boat with a fried egg, chopped garlic, thyme, butter, salt and lots of grated parmesan. These are really fun to serve at kids birthday parties or family…
Ingredients for Breakfast Baked Potato Boat:
1 large Potatoes
1 tbsp Parmesan cheese
½ tsp Thyme
1 clove Garlic
1 tbsp Butter
2 Eggs
Salt
Black pepper
These Garlic Roasted Potatoes are the perfect side for almost any dish. They are super garlicky and because you leave the skin on, they are crisp on the outside and soft and fluffy on the inside! My mouth is watering just thinking about these delicious hasselback potatoes. Start by slicing…
Ingredients for Garlic Roasted Potatoes:
1 lb Baby Potatoes
2 tbsp Salted butter
2 tbsp Olive oil
4 cloves Garlic
1 pinch Salt
1 pinch Cayenne pepper
3 dashes Black pepper
1 tbsp Parsley
Easy Twice Baked Potatoes is one of my go-to side dishes! They are so easy to prepare and cook. I usually bake my potatoes in the oven but if you are short on time, you can use the microwave instead. Once your potatoes are baked, scoop out the flesh into…
Ingredients for Twice Baked Potatoes:
6 Potatoes
½ cup Milk
⅓ cup Sour cream
½ tsp Garlic powder
¼ cup Butter
1 tbsp Chives
6 pieces Bacon
1 ½ cups Cheddar cheese
Salt
Black pepper
Roasted Grape, Goat Cheese Stuffed Sweet Potatoes is one of those recipes when you hear the ingredients you think, "no, that combination won't work" but once you try it, you will change your mind so fast! Mixing goat cheese and sweet potatoes with roasted grapes is genius and I can't…
Ingredients for Roasted Grape, Goat Cheese Stuffed Sweet Potatoes:
4 Sweet potatoes
2 cups Red Grapes
1 tsp Grapeseed oil
¼ tsp Salt
¼ tsp Black pepper
4 oz Goat Cheese
2 tbsp Honey
1 pinch Cinnamon
1 pinch Ground nutmeg