Top 10 Best Rated Italian Dishes
Enjoy the Best Italian Food and Cuisine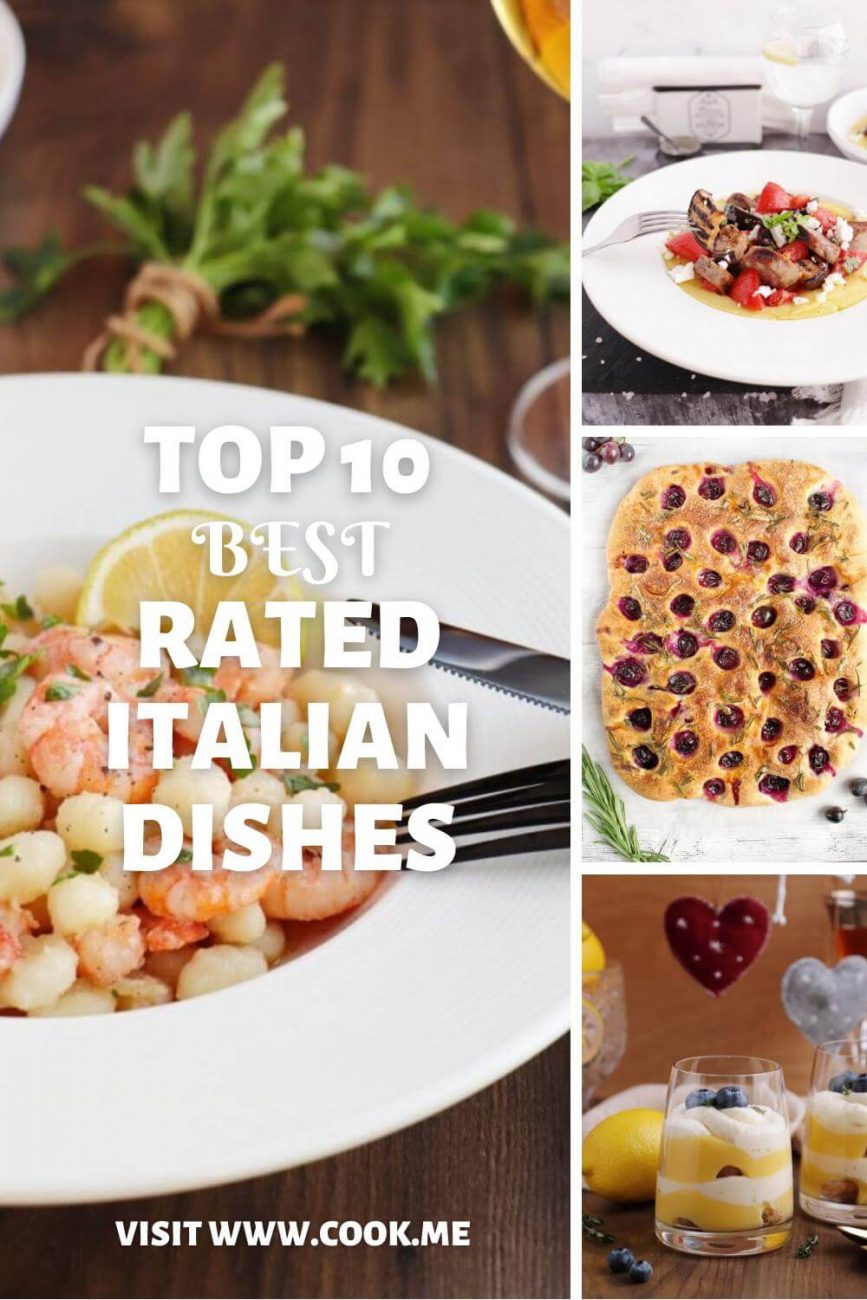 The Shrimp Scampi Gnocchi is my husband's favorite dinner and he suggests pairing a good dry white wine with this course. Simple to make but fancy in flavor, no one would even know. Using store-bought gnocchi is probably easier and skips a few steps, however, if you do have a good homemade gnocchi recipe then definitely try and experiment with that.
Ingredients for Shrimp Scampi Gnocchi:
1 (16-ounce) package Potato Gnocchi
8 ounces Shrimp
2 tbsp Olive oil
6 tbsp Unsalted butter
Kosher Salt
Black pepper
3 cloves Garlic
⅓ cup Chicken stock
1 Lemon
2 tbsp Parsley
Grilled Sausage, Eggplant & Tomatoes with Polenta is another recipe inspired by my travels in Europe. From Italy, the home of polenta. Polenta is boiled cornmeal which is generally served as a savory porridge or it can be cooled and solidified into a loaf that can be cut up and fried or grilled. I serve this recipe with creamy polenta.
Ingredients for Grilled Sausage, Eggplant & Tomatoes with Polenta:
4 cups Water
1 cup Cornmeal
1 tbsp Butter
½ tsp Salt
1 lb Plum tomato
4 tbsp Olive oil
2 tsp fresh Oregano
1 clove Garlic
½ tsp Ground pepper
¼ tsp Crushed red pepper
1½ lb Eggplants
8 oz Italian sausage
½ cup fresh Basil
¼ cup Feta cheese
I just love this Blood Orange Salad with Burrata and Pesto recipe and I just had to share it with you all. Slices of beautiful, deep blood oranges on top of burrata cheese, which is one of my favorites and garnished with toasted pine nuts and fresh basil leaves.
Ingredients for Blood Orange Salad with Burrata and Pesto:
FOR THE SALAD:
4 Blood orange
1½ lb Burrata cheese
¼ cup Pine nuts
10 leaves Basil
1 tbsp Olive oil

FOR THE BASIL PESTO:
2 cups Basil
2 cloves Garlic
4 tbsp Pine nuts
½ cup Olive oil
¼ cup Parmesan cheese
½ Lemon
Sea salt
This Tuscan Ribollita Soup is a deliciously, full and tasty Italian vegetable soup using an array of different vegetables with onions, leeks, garlic, carrot, celery, tomatoes, kale and cannellini beans and seasoned and spiced with dried thyme, fresh thyme, sea salt and black pepper. 
Ingredients for Tuscan Ribollita Soup:
½ tbsp Olive oil
1 large Onion
1 Leek
2 cloves Garlic
½ tsp Dried thyme
1 Carrot
2 sticks Celery
2 medium vine Tomatoes
600 ml Vegetable stock
2 sprigs of Fresh thyme
1 tin Cannellini
20g Parmesan cheese
100g Kale
Sea salt
Black pepper
Ciabatta
When someone first suggested that I bake my own bread, I thought they were nuts but this Easy Homemade Ciabatta Bread recipe is literally so simple that I would never think about buying store-bought ciabatta again. For a bachelor like myself, I was really proud of how my bread turned out and it was worth every effort.
Ingredients for  Easy Homemade Ciabatta Bread:
FOR THE STARTER SPONGE:
1 cup Bread flour
⅛ tsp Active dry yeast
½ cup Water

FOR THE DOUGH:
2 cups Bread flour
2 tsp Salt
½ tsp Active dry yeast
¾ cup Water
¼ cup Whole milk
Loaded with tasty meat and cheese, my Ham and Cheese Calzones are a dinner party winner, popular with kids and adults alike!
I love calzone. A cross between a pizza and a pie, it might even be better than a pizza as it seems to be packed with more sauce and delicious ingredients than you can fit on a regular pizza!
Ingredients for Ham and Cheese Calzones:
1.5 lb Pizza dough
8 slices Prosciutto
2 cups Ricotta cheese
1 1/2 cups Ham
4 oz Mozzarella
1 tsp Olive oil
1 tbsp Cornmeal
1 Egg
1 tbsp Parmesan cheese
2 cups Marinara sauce
1 tsp Water
1/2 tsp Cayenne pepper
1/2 tsp Salt
1/2 tsp Black pepper
What is Grape Schiacciata I hear you ask? I asked myself the same thing when I came across it in a bakery when I travelled through Tuscany a number of years ago. Well, schiacciata is a flatbread from Tuscany which is very similar to focaccia. In fact, in some areas of Tuscany the words schiacciata and focaccia are interchangeable.
Ingredients for Grape Schiacciata:
340 g All-purpose flour
75 g Semolina flour
260 g Water
1 tsp Instant yeast
1 tsp Salt
2 tbsp Granulated sugar
⅓ cup Olive oil
leaves from 3-4 sprigs fresh Rosemary
½ tsp Fennel seed
some whole Fennel seeds
I love Springtime, I love the flowers, and the fruit and vegetables that come into season.
I make this Vegan Spring Minestrone all the time during these beautiful months. A colorful array of fresh vegetables with carrots, leeks, red potatoes, asparagus, fresh dill and thyme make this soup delightful!
Ingredients for Vegan Spring Minestrone:
2 Carrots
1 Leek
3 Red potatoes
1 bunch Asparagus
2 tbsp Dill
8 sprigs Thyme
1 can (15 oz) Navy beans
2 tbsp Olive oil
1 qt. Vegetable broth
Salt
Black pepper
Feel the love with this Valentine's Day, loved up, Lemon Tiramisu dessert. Served in individual glasses with layers of vanilla and mascarpone cheese between soft ladyfingers and lemon curd, the flavors complement each other beautifully.
Ingredients for Lemon Tiramisu:
1 (8-oz) container Mascarpone
½ cup Confectioners' sugar
2 tsp Vanilla extract
1 cup Whipping cream
8 Soft ladyfingers
4 tbsp Lemon curd
Blueberries
Fresh thyme
Classic Italian Panna Cotta is one of those desserts which transports me to the Amalfi coast every time I have it. Panna cotta translates as "cooked cream". It is a simple dish made from a few ingredients: cream, sugar, and vanilla. Gelatine is added to the cooking process to ensure the mixture sets in the mold.
Ingredients for Classic Italian Panna Cotta:
FOR THE PANNA COTTA:
½ liter Heavy cream
100g Sugar
100ml Milk
1 ½ tbsp Gelatin
1 Vanilla pod

FOR THE TOPPING:
⅓ cup Sugar
¼ cup Water
1 cup red Berries