Top 10 Breakfast Casserole Recipes
Full of Healthy and Satisfying Ingredients.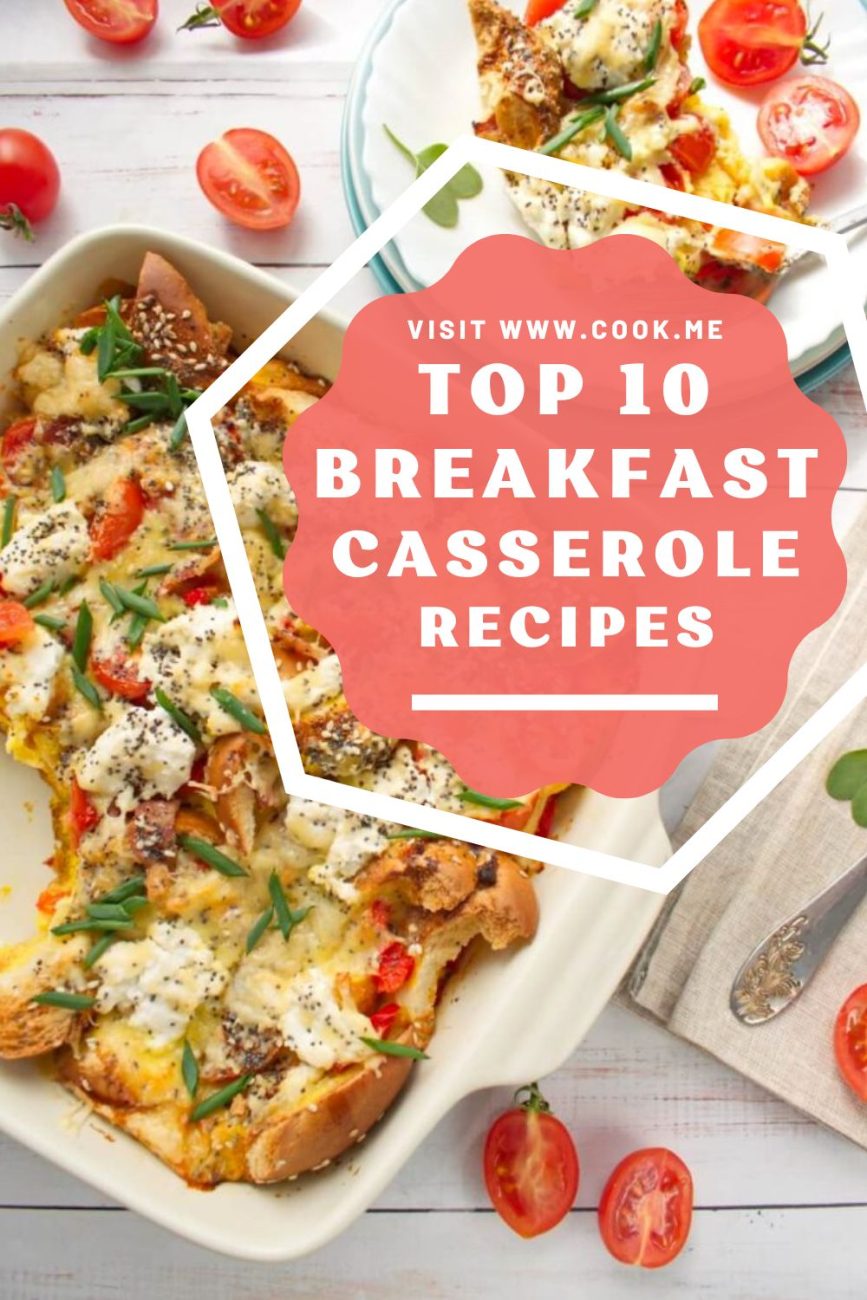 This Zucchini, Corn & Egg Casserole will feed a crowd and have them crying out for more! Make it the next time you're cooking for a crowd at breakfast, lunch, dinner or even for a picnic! It's full of healthy and filling ingredients. Start by draining any excess moisture from…
Ingredients for Zucchini, Corn & Egg Casserole:
5 cups Zucchini
2 tbsp Butter
1 cup Onion
pinch of Salt
1 ½ cups Corn kernels
1 cup no-salt-added Cottage cheese
1 cup Feta cheese
½ cup Red bell pepper
¼ cup Fresh dill
2 tbsp All-purpose flour
¼ tsp Black pepper
8 Large eggs
Ingredients for Everything Bagel Breakfast Casserole:
2-3 Bagels
1 Bell pepper
¾ cup Cherry tomatoes
6 slices Bacon
6 Large eggs
1 cup Whole milk
1 cup Cheddar cheese
½ tsp ground Mustard
¼ tsp Salt
⅛ tsp Black pepper
6 oz Cream Cheese
Ingredients for Croque Monsieur Casserole:
1 Baguette
2 tbsp Butter
2 tbsp Dijon mustard
9 oz Gruyère cheese
8 oz Ham
4 Eggs
1 ¼ cups Whole milk
Salt
Black pepper
Cabbage Casserole may not sound very appetizing, but this recipe is like a creamy yet healthy quiche – without the pastry base. You won't be able to resist it if you try it! The base of this casserole is made from shredded cabbage with added dill and green onion. I…
Ingredients for Cabbage Casserole:
4 Large eggs
¼ cup Sour cream
¼ cup Mayonaise
¼ cup All-purpose flour
½ tsp Baking powder
½ tsp Cornstarch
1 lb or 6 cups Green cabbage
½ tsp Salt
2 tbsp Dill
2 tbsp Green onion
4 oz Mozzarella
Make your day start on a tasty note with this Baked Oatmeal with Bananas and Berries. Loaded with healthy add-ins, it's super easy to make. Prepare a big batch at the start of the week and cut your breakfast preparation time in half, giving you more time to enjoy the…
Ingredients for Baked Oatmeal with Bananas and Berries:
1 cup Oats
2 ripe Ripe bananas
1/4 cup Walnuts
1 1/2 cup Berries
1/4 cup Honey
1 cup Milk
1 Egg
1/2 tsp Baking powder
3/4 tsp Cinnamon
1 tsp Vanilla extract
1 pinch Salt
I made this Savory Baked French Toast recipe because I don't have the sweetest tooth, as you'll know by my excessive love for meat and who says French toast should only be enjoyed with maple syrup and sugar? I love mine baked, with caramelized onions, crispy bacon bits and massives…
Ingredients for Savory Baked French Toast:
2 Onion
1 tbsp Butter
1 tbsp Olive oil
½ tsp Fresh thyme
300 g Bacon
6 Eggs
1¼ cups Milk
¼ tsp Salt
Black pepper
½ tsp Mustard powder
7 cups Baguette
2 cups Cheddar cheese
2 tbsp Bacon
Parsley
This Tomato Zucchini Casserole is a super simple meat-free meal that your whole family will enjoy. It is jam-packed with Italian flavors like oregano and basil, which taste fantastic with tomatoes, zucchini, and topped with cheese. To make this casserole, I start by combining Cheddar, Parmesan, oregano, basil, and garlic….
Ingredients for Tomato Zucchini Casserole:
1 ½ cups Cheddar cheese
⅓ cup Parmesan cheese
½ tsp Dried oregano
½ tsp Dried basil
2 cloves Garlic
Salt
Black pepper
2 Zucchini
5 Plum tomato
¼ cup Butter
2 tbsp Onion
¾ cup Bread crumbs
This Mexican Corn Bread Casserole is a really delicious and tasty Mexican style casserole that you can whip up and have on the table in under an hour. You can't beat the cheesy Mexican flavors from this dish. I love it! To make this tasty casserole, start by cooking onion…
Ingredients for Mexican Corn Bread Casserole:
FOR MEAT BASE:
1 tbsp Olive oil
1 Onion
½ Red bell pepper
1 lb Ground beef
1 tsp Garlic
1 tsp Chili powder
¼ tsp Cayenne pepper
Salt
Black pepper
½ cup Corn
1 cup Cheese
1 cup Salsa

FOR CORN BREAD TOPPING:
1 cup Cornmeal
¾ tsp Salt
½ tsp Baking soda
1 cup Milk
2 Eggs
Is there any better family meal than an Easy Tuna Noodle Casserole With Cheddar Cheese? You can whip up this casserole in no time using just a few ingredients from your pantry including canned tuna, mushroom soup, and some pasta. I usually use macaroni but you can use any pasta…
Ingredients for Easy Tuna Noodle Casserole with Cheddar Cheese:
12 ounces Egg noodles
2 (10.75 oz) cans Cream of mushroom soup
2 cups Green peas
1 ½ cups Cheddar cheese
2 (6 oz) cans Can of tuna
½ cup Milk
½ teaspoon Salt
Black pepper
1 cup Bread crumbs
2 tbsp Butter
I love this delicious Sausage Brunch Casserole. This is a perfect breakfast dish, especially if you wake up feeling hungry or if you have a busy day ahead.  To make this delicious casserole, start by cooking sausage in a large, deep skillet. Drain, crumble and set aside. Lay crescent rolls…
Ingredients for Sausage Brunch Casserole:
1 ½ lbs Pork sausage
1 (8-oz) package Yeast dough
2 cups Mozzarella
4 Eggs
¾ cup Milk
Salt
Black pepper