Top 10 Tasty Brussels Sprout Recipes
Add This Delicious Side Dishes to Your Holiday Menu!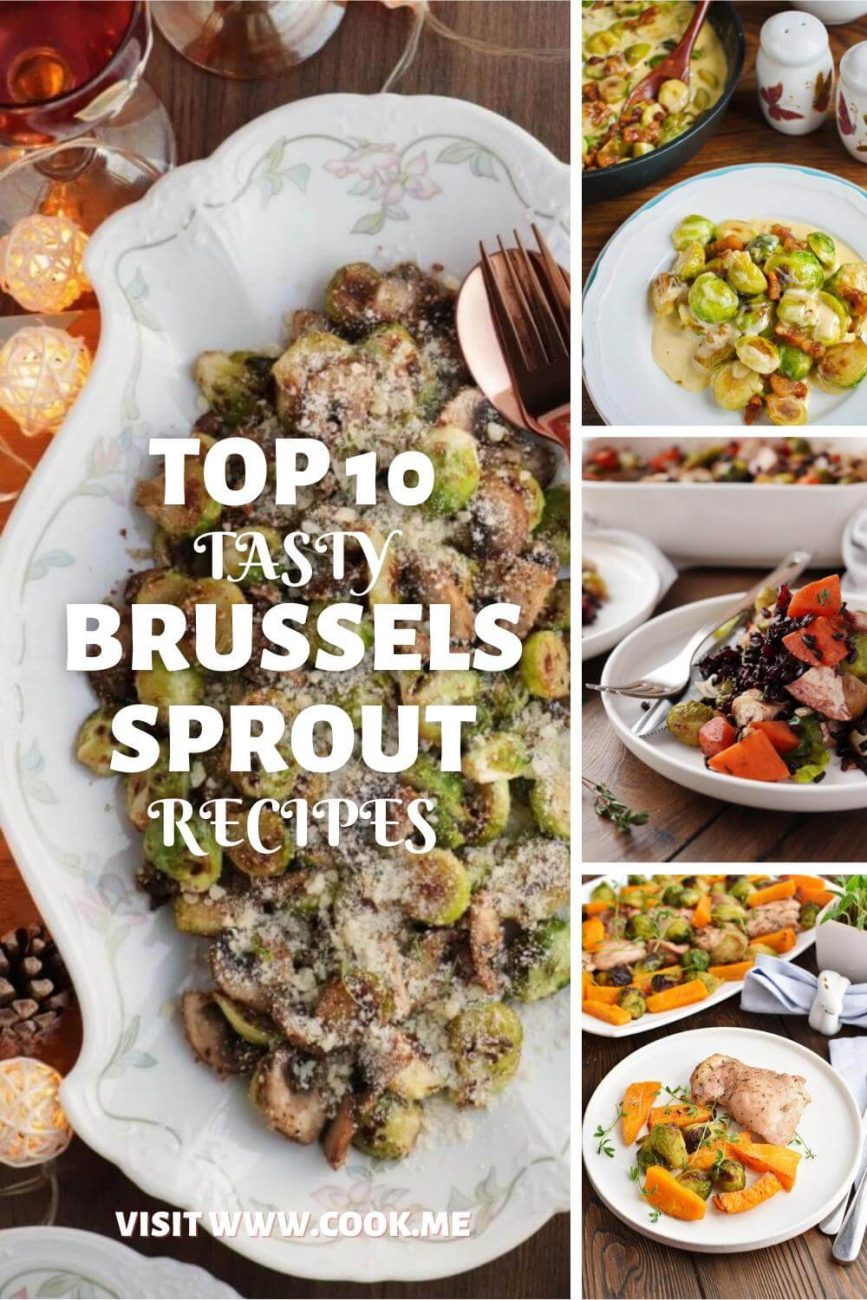 Does your family have go-to holiday side dish recipes? For me, one of my favorite recipes for holidays is the Cheesy Brussels Sprouts and Mushrooms. This recipe is easy yet everyone loves it. A quick, tasty and surprisingly low-calorie side dish that comes together in one pan; what's not to love! …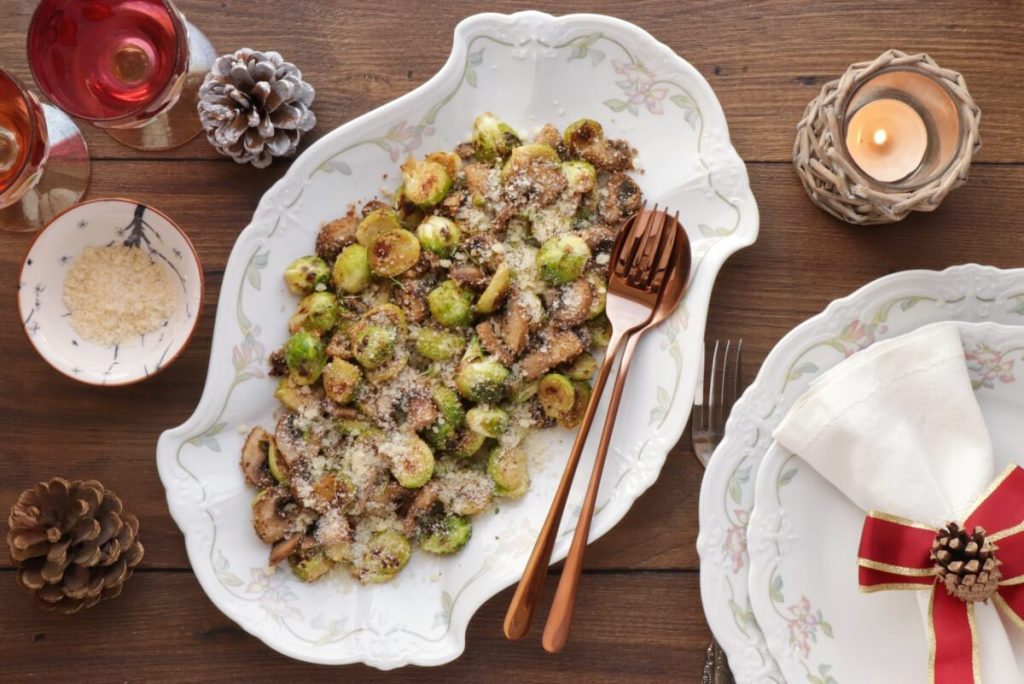 Ingredients for Cheesy Brussels Sprouts and Mushrooms:
2 tbsp Olive oil
8 oz Brussels sprouts
4 oz Cremini mushrooms
1 tsp Garlic
1 tsp Fresh thyme
¼ tsp Kosher Salt
¼ tsp Black pepper
1 tbsp White wine vinegar
2 tbsp Panko crumbs
¼ cup Parmesan cheese
This Shaved Brussels Sprout Salad is great as a side dish or as a super healthy main meal. Brussels sprouts are one of the best veggies in terms of nutritional benefits. They contain iron which makes red blood cells and manganese which helps to break down the food we eat….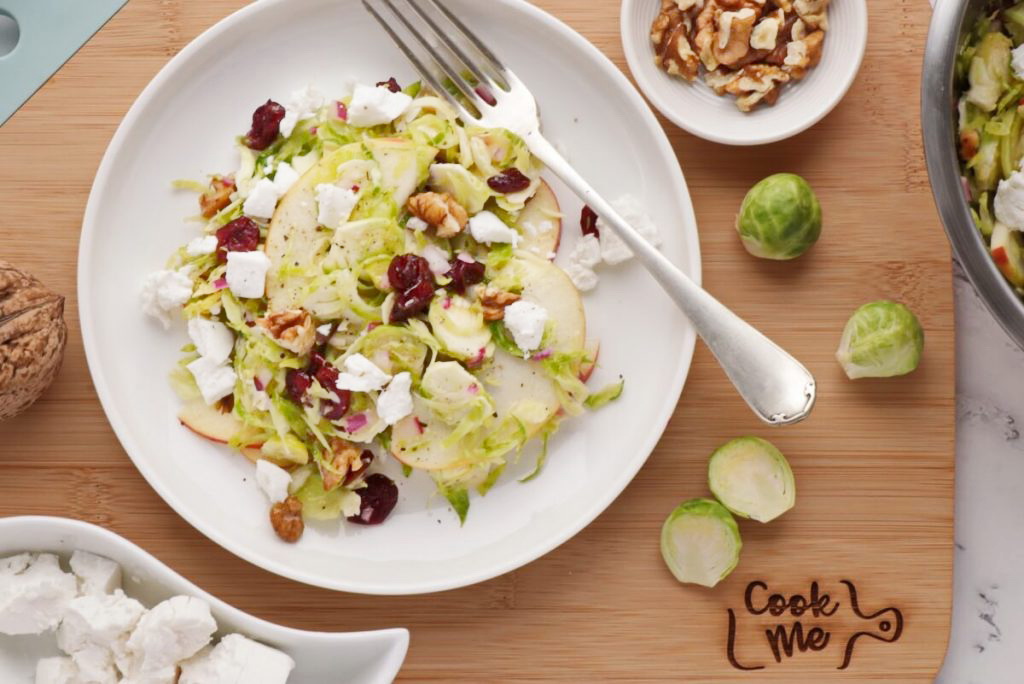 Ingredients for Shaved Brussels Sprout Salad :
FOR DRESSING:
2 tbsp White wine vinegar
3 tbsp Lemon juice
1 Shallots
4 tbsp Olive oil
1 tsp Salt
¼ tsp Black pepper

FOR SALAD:
1 lb Brussels sprouts
1 Apples
½ cup Cranberries
½ cup Walnuts
⅔ cup Goat Cheese
People often say they hate brussels sprouts but seriously, even the biggest haters can't resist these Brussels Sprouts in Alfredo Sauce. Brussels sprouts are traditionally eaten at Christmas because they are seasonal and readily available but did you know that these little cabbage balls are really good for you? They…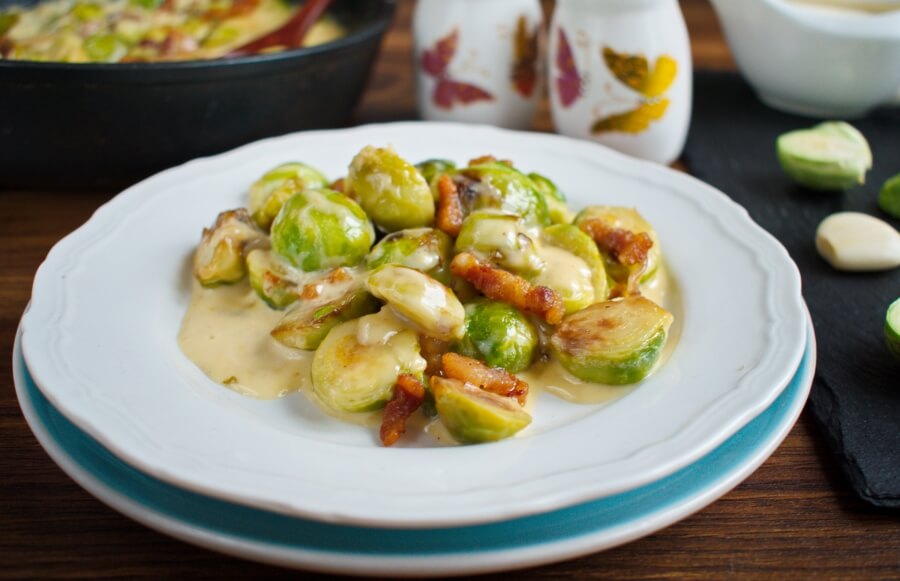 Ingredients for Brussels Sprouts in Alfredo Sauce:
6 oz Bacon
2 lbs Brussels sprouts
1 clove Garlic
1 ½ cups Whipping cream
1 tbsp Lemon juice
⅓ cup Parmesan cheese
¾ tsp Salt
¼ tsp Black pepper
Serve these Roasted Sweet Potatoes and Brussels Sprouts as a Thanksgiving side dish this year and watch your family's faces light up! Gone are the days of over-cooked boiled Brussels sprouts – roasting is the only way to cook these little cabbage balls. This is a very handy side dish…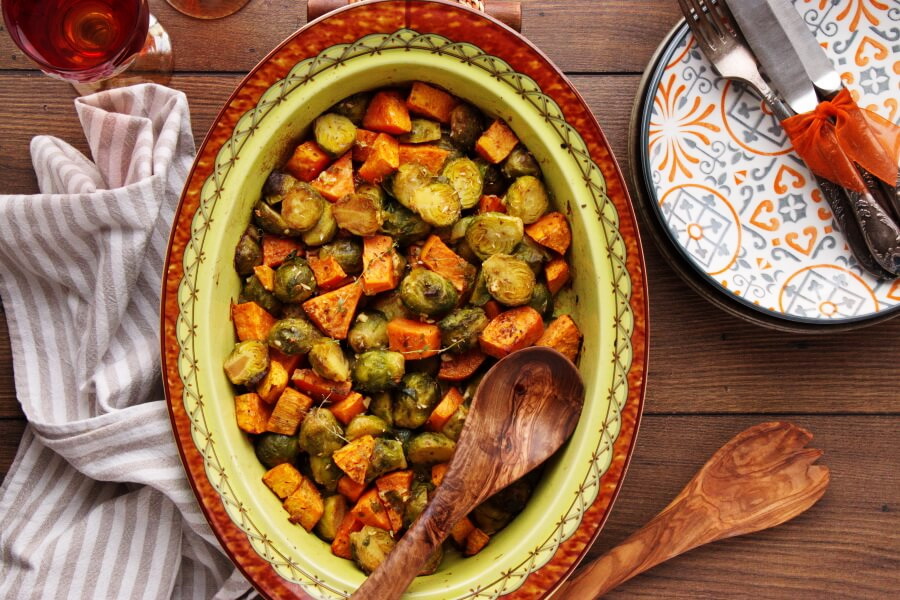 Ingredients for Roasted Sweet Potatoes and Brussels Sprouts:
1 lb Brussels sprouts
1 large Sweet potatoes
2 cloves Garlic
⅓ cup Olive oil
1 tsp Cumin
¼ or ½ tsp Garlic salt
1 teaspoon salt Salt
to taste Ground pepper
1 tbsp Red wine vinegar
½ tsp Dried thyme
Your Meatless Monday just got so much better with our Brussels Sprouts and Grapes au Gratin. I first boil the halved Brussels sprouts until slightly softened then add them, with grapes, to a buttery cream sauce made from butter, arrowroot flour, milk, salt, pepper, and Swiss cheese. Top with sprinkles…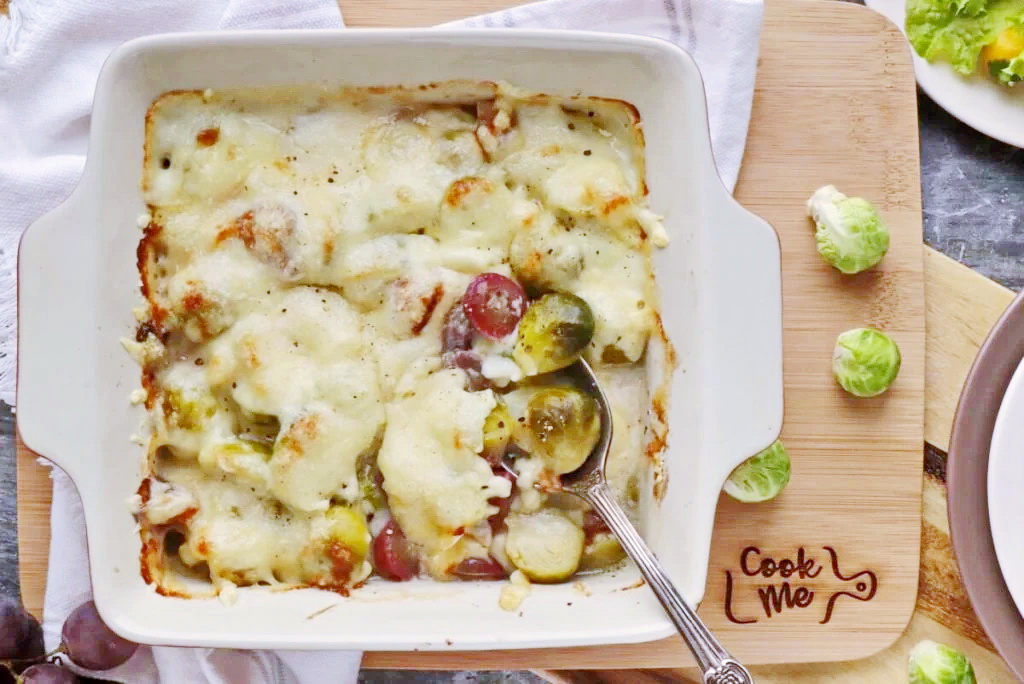 Ingredients for Brussels Sprouts and Grapes au Gratin:
1 lb Brussels sprouts
½ cup Red Grapes
1 tbsp Butter
2 tbsp Arrowroot starch
¾ cup Milk
¼ tsp Salt
¼ tsp Black pepper
1 cup Swiss cheese
¼ cup Parmesan cheese
This Sheet-Pan Chicken & Brussels Sprouts is a simple and delicious evening meal that you can have on the table in just 35 minutes! I know that some people hate Brussels sprouts, but I adore them. They are very low in calories but very high in nutritious benefits like being…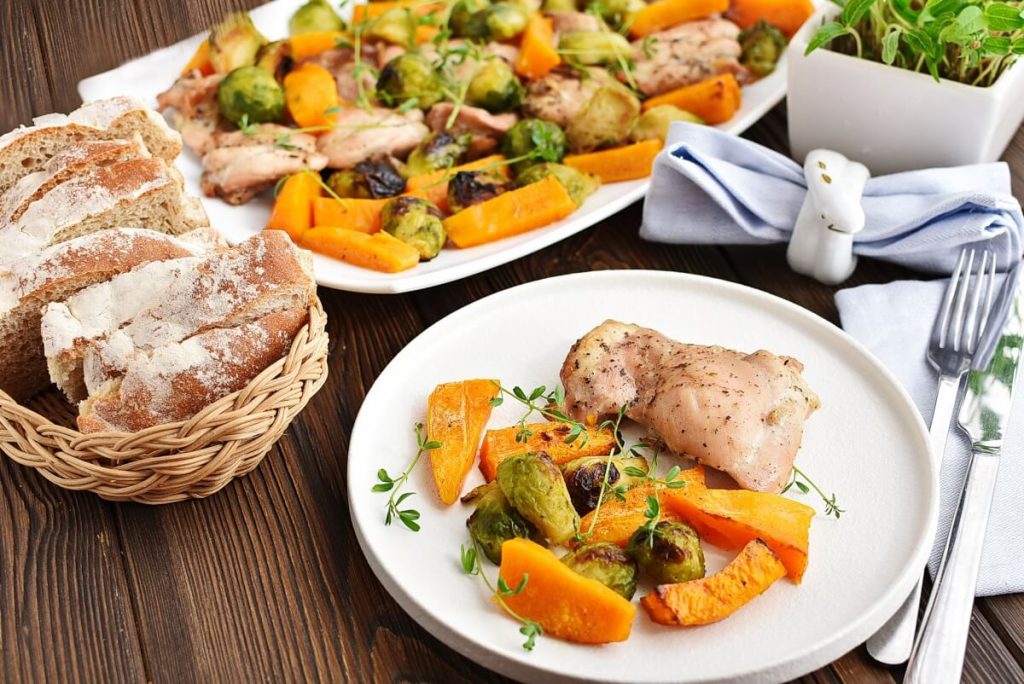 Ingredients for Sheet-Pan Chicken & Brussels Sprouts:
1 lb Sweet potatoes
2 tbsp Olive oil
¾ tsp Salt
¾ tsp Black pepper
4 cups Brussels sprouts
1 ¼ pounds Chicken thighs
½ tsp Cumin
½ tsp Dried thyme
3 tbsp Sherry vinegar
If you thought cruciferous veg were an acquired taste, then wait until you try this Brussels Sprouts Salad with Chicken and the addition of bacon, you will be totally converted. Universally we can agree that Brussels sprouts have a unique flavor that is undeniable and in this recipe produces a…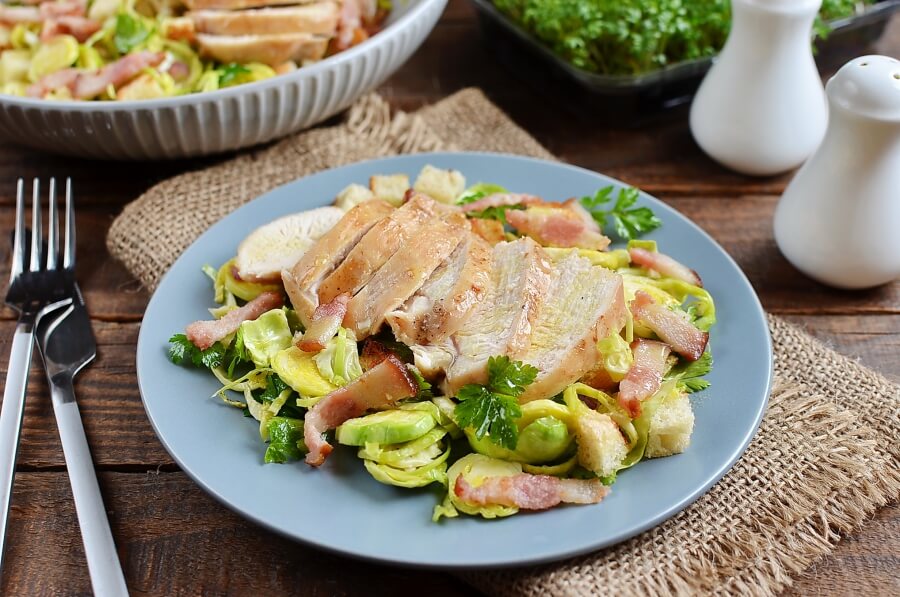 Ingredients for Brussels Sprouts Salad with Chicken:
2 cups Brussels sprouts
2 Chicken Breast
2 slices Bacon
1 clove Garlic
1 Shallots
3 tbsp Apple cider vinegar
2 tbsp Dijon mustard
Kosher Salt
Black pepper
1 tbsp Olive oil
½ cup Parsley
½ cup Croutons
This wholesome and hearty dinner of Harvest Chicken Casserole is the perfect family dinner to prepare that is full of fresh vegetables surrounding a crispy and juicy roast chicken and seasoned with garlic, fresh thyme, paprika and cumin. Finish the meal off with wild rice, ruby red dried cranberries and…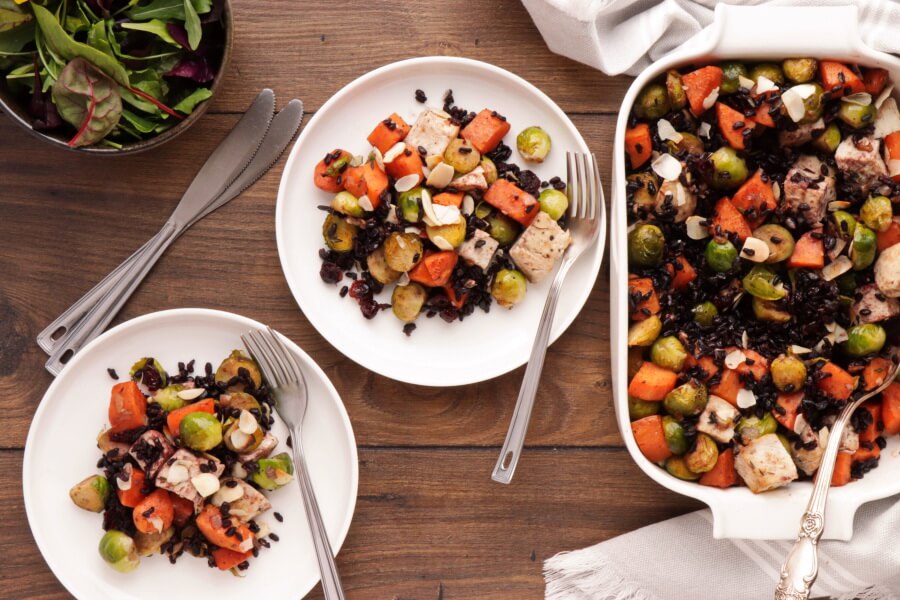 Ingredients for Harvest Chicken Casserole:
2 tbsp Olive oil
2 lb Chicken Breast
Kosher Salt
Black pepper
½ Onion
2 Sweet potatoes
1 lb Brussels sprouts
2 cloves Garlic
2 tsp Fresh thyme
1 tsp Smoked Paprika
½ tsp Cumin
½ cup Chicken broth
4 cups Wild Rice
½ cup Cranberries
½ cup Almonds
If you are having a meatless dinner party then this Creamy Fettuccine with Brussels Sprouts and Mushrooms will be adored by all your guests and we have found an organic way to make the underrated Brussels sprouts flavor shine with flavor and taste really good. This recipe can have the…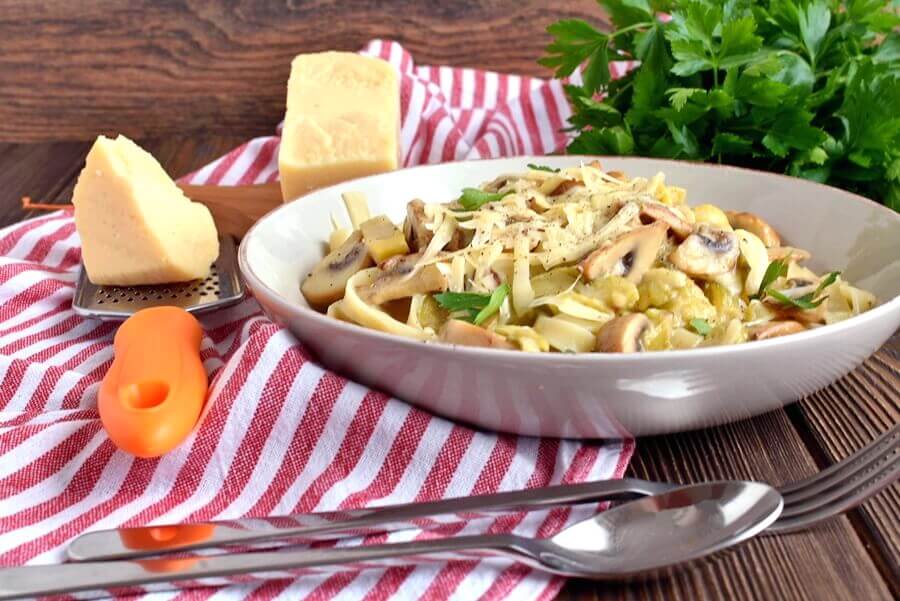 Ingredients for Creamy Fettuccine with Brussels Sprouts and Mushrooms:
12 ounces Dried fettuccine pasta
1 tbsp Olive oil
4 cups Mushrooms
4 cups Brussels sprouts
1 tbsp Garlic
2 tbsp Sherry vinegar
2 cups Milk
2 tbsp All-purpose flour
½ tsp Salt
½ tsp Black pepper
1 cup Asiago cheese
Spice up your side of Brussels with this Crushed Brussel Sprouts recipe! We all know Brussel sprouts have a bad rap and it's completely unjustified in my opinion. The problem is that people tend to overcook them and then of course they get mushy and lose their flavor. In this…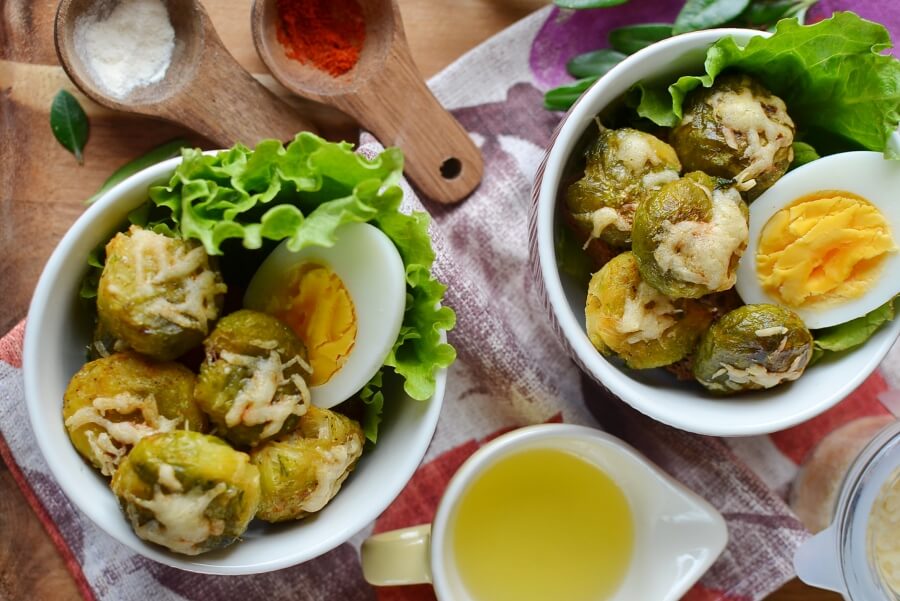 Ingredients for Crushed Brussel Sprouts:
1lb Brussels sprouts
1/4 tsp Garlic powder
1/4 tsp Crushed red pepper
2 tbsp Olive oil
to taste Salt
to taste Black pepper
1/4 cup Parmesan cheese