TOP 10 Burger Recipes
How to Make the Best Burgers from Scratch?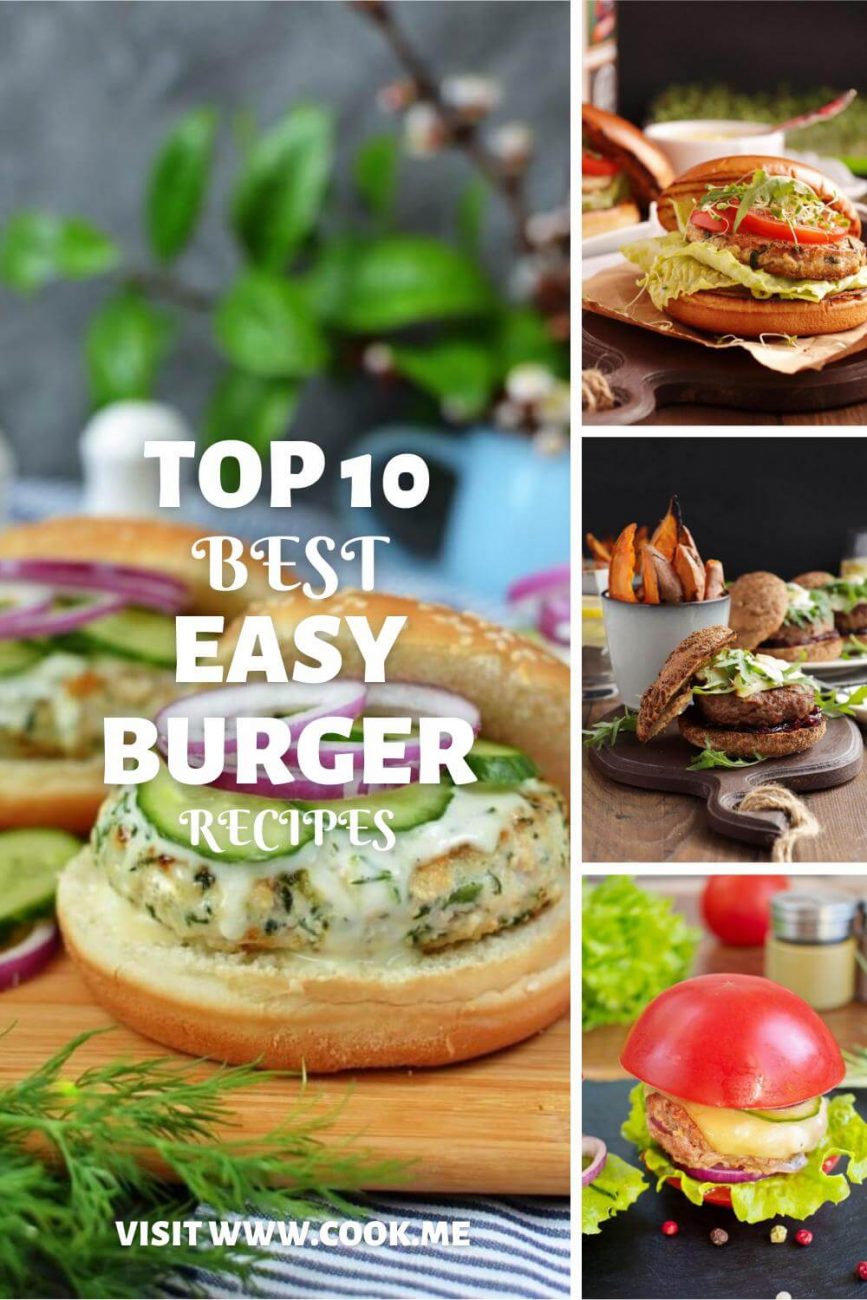 This Greek Turkey Burgers with Spinach, Feta & Tzatziki combines two of my favorite things – Greek cuisine and burgers! Who knew that the perfect burger topping is actually red onion, cucumber slices and creamy cool tzatziki? The Greeks, that's who! I'm just surprised it took me this long to…
Ingredients for Greek Turkey Burgers:
1 cup Spinach
1 lb Ground turkey
½ cup Feta cheese
½ tsp Garlic powder
½ tsp Dried oregano
¼ tsp Salt
¼ tsp Ground pepper
4 Hamburger buns
4 tbsp Tzatziki
12 slices Cucumber
8 thick rings Red onion
Chickpea and Coriander Burgers are one of my favorite veggie burgers. I love chickpeas as a meat-free alternative – they are packed with protein and fiber which makes them filling as well as healthy. It couldn't be easier to make these veggie burgers. Start by mixing all of the…
Ingredients for Chickpea and Coriander Burgers:
400 g can Chickpeas
Zest of 1 Lemon
1 tsp Cumin
small bunch of Coriander
1 Egg
100 g fresh Bread crumbs
1 medium Red onion
1 tbsp Olive oil

TO SERVE:
4 small whole-grain Hamburger buns
1 large Tomato
½ Cucumber
Hot chili sauce
Open-Face Eggplant Parmesan Sandwiches are something I make fairly regularly as they are easy, delicious and very filling. These are like a healthy alternative to burgers. Instead of a burger bun, I make baked breaded eggplant which is a crisp alternative to a bread bun.
Ingredients for Open-Face Eggplant Parmesan Sandwiches:
½ tsp Olive oil
2 Egg whites
½ cup Panko breadcrumbs
2 tbsp Parmesan cheese
¼ tsp Black pepper
¼ tsp Parsley
4 slices Eggplants
Cooking spray
8 oz 95% Lean ground beef
⅛ tsp Garlic powder
½ cup Marinara sauce
¼ cup Mozzarella
1 cup Basil
If you love burgers, then you will adore these Pork & Apple Burgers! They are like sausage burgers and they make a great alternative to beef burgers. These burgers are really quick and easy to make which makes them a perfect midweek meal. They taste super delicious too. ….
Ingredients for Pork & Apple Burgers:
300 g Sausages
4 wholemeal Hamburger buns
4 tsp Onion marmalade
1 Apple
2 handfuls Arugula
2 tsp Mayonnaise
1 tsp English mustard
1 Sweet potato
With this Keto Tomato Cheeseburger Without the Bun recipe, you can also enjoy the all-American favorite burger without any of the guilt. Replace the bun with a large tomato and cut out more than half the calories and all the bad bits! I'm still working on adapting the whole family to this regime, but I have become totally addicted already! …
Ingredients for Keto Tomato Cheeseburger Without the Bun:
17 oz Ground Beef
1 Red onion
Salt
Black pepper
1 tbsp Vegetable oil
4 slices Cheese
4 Tomatoes
2 tbsp Barbecue sauce
4 leaves Lettuce
4 slices Cucumber
Vegan Falafel Burgers are one of my favorite healthy burger recipes. I love falafel – bursting with flavor and goodness. Falafel is a really common form of street food which is eaten throughout the Middle East. The chickpea and herb mixture is fried until crispy on the outside and soft…
Ingredients for Vegan Falafel Burgers:
400 g can Chickpeas
1 Red onion
1 clove Garlic
handful Parsley
1 tsp Cumin
1 tsp Ground coriander
1⁄2 tsp Chili powder
2 tbsp Plain flour
2 tbsp Sunflower oil

TO SERVE:
Pitta bread
200 g tub Tomato salsa
Green salad
These Chicken Parmesan Burgers are a recent addition to my meal prep. One of my kids has developed an obsession with chicken parm and there are days when it is easier to give in rather than face a meltdown at dinner time! So I've been looking for new ways to…
Ingredients for Chicken Parmesan Burgers:
3 tbsp Olive oil
1 Onion
2 cloves Garlic
¾ cup Marinara sauce
½ cup Mozzarella
½ cup Bread crumbs
1 tsp Dried Italian seasoning
1 tsp Dried oregano
½ tsp Salt
½ tsp Black pepper
1 lb Chicken
4 slices Mozzarella
4 Hamburger buns
¼ cup Parmesan cheese
Basil
What you've all been waiting for – my Easy Beef Burger recipe! I was looking back over my recipes and couldn't believe there was such an important one missing! So of course I wanted to share my classic homemade burger recipe with you, just in time for when you…
Ingredients for Easy Beef Burger:
1 1/2 lb Ground Beef
1/2 cup Cheddar cheese
1/2 Onion
1 Eggs
1 Onion soup mix
1 tsp Soy sauce
1 tsp Worcestershire sauce
1 clove Garlic
1 tbsp Garlic powder
1 tsp Basil
1 tsp Oregano
1 tsp Parsley
1/2 tsp Dried rosemary
1/2 tsp Salt
1/2 tsp Black pepper
4 Hamburger buns
Who doesn't love a good burger and these Juicy Oven-Baked Burgers definitely rate high in the homemade cooking recipes? These burgers are not just juicy but are much healthier than fried burgers, too. I also love burgers that are baked in the oven as there is no oil splattered …
Ingredients for Juicy Oven-Baked Burgers:
FOR THE BURGERS:
1½ pounds Ground Beef
2 tsp Steak sauce
½ tsp Worcestershire sauce
1 tsp Salt
¼ tsp Black pepper
⅛ – ¼ tsp Garlic powder
⅛ to ¼ tsp Cayenne pepper
6 Hamburger buns

OPTIONAL TOPPINGS:
6 slices American Cheese
2 Tomatoes
6 leaves Lettuce
18 slices Dill pickles
You'll think these Tangy Tuna Burgers are just a typical all-loving American burger, but they're not. Made with Asian-inspired ingredients and fresh tuna steaks instead of canned tuna, these burgers are the real deal. Combined and then grilled with garlic, ginger, soy sauce and some coriander leaves, which I…
Ingredients for Tangy Tuna Burgers:
200 g Tuna steaks
1 Garlic
1 knob Ginger root
1 tbsp Soy sauce
1 handful Coriander
1 tbsp Sunflower oil
TO SERVE
2 Hamburger buns
Lettuce
1 Tomatoes
Arugula
2 tbsp Microgreens