Top 10 Cauliflower Recipes
These easy cauliflower recipes include something for everyone!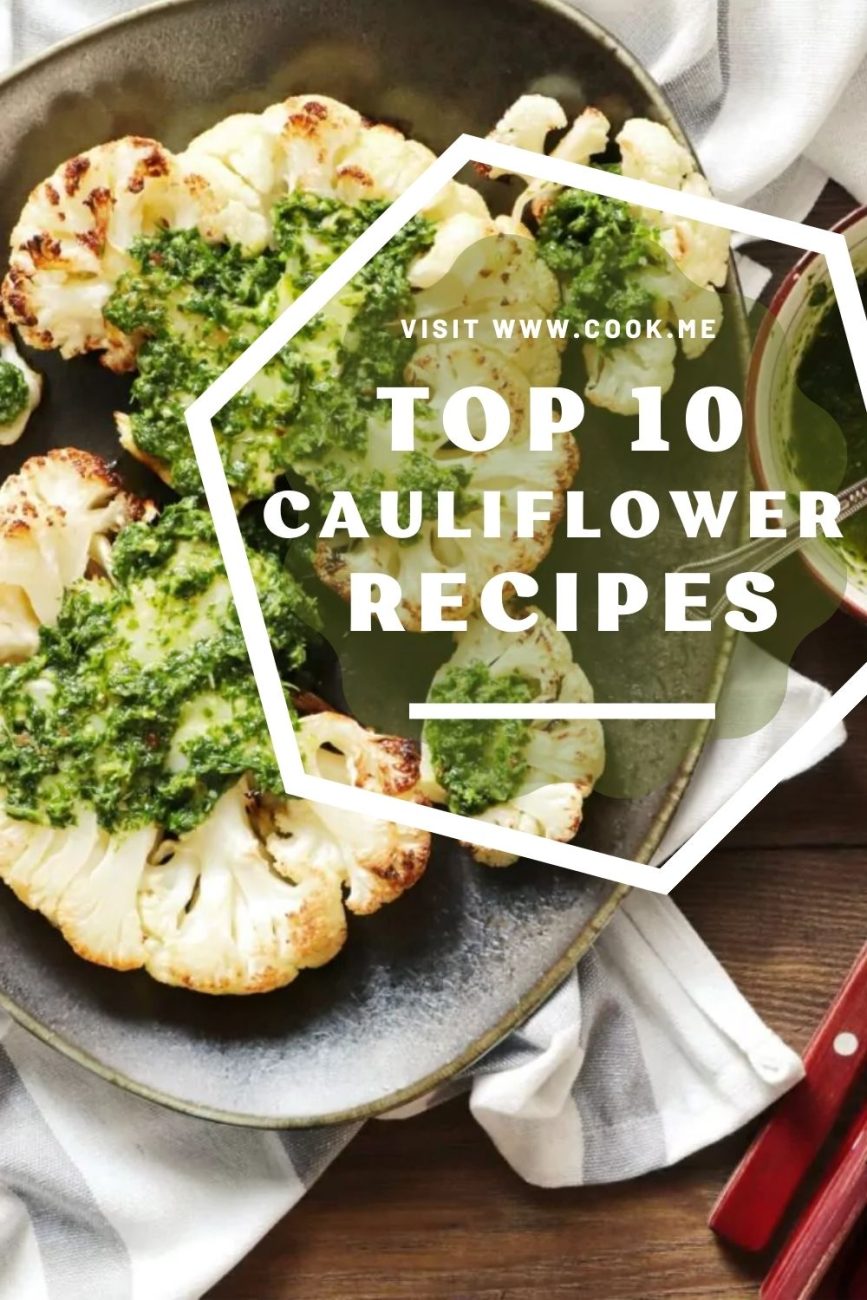 Looking for an easy vegan main or a side dish? Try these Roasted Cauliflower Steaks with chimichurri sauce. Thick slabs of cauliflower steaks get roasted in the oven until golden brown and tender and then smothered in a bright herby, garlicky, and spicy sauce. This is a dish that will…
Ingredients for Roasted Cauliflower Steaks with Chimichurri Sauce:
FOR CHIMICHURRI SAUCE:
½ cup Parsley
¼ cup Cilantro
4 cloves Garlic
½ tsp Dried oregano
¼ tsp Red pepper flakes
2 tbsp Lemon juice
Salt
¼ cup Olive oil
Black pepper

FOR CAULIFLOWER STEAKS:
1 head Cauliflower
2 tbsp Olive oil
Salt
Ingredients for Roasted Cauliflower and Potato Salad:
1 ½ lbs Potatoes
1 head Cauliflower
3 tbsp Olive oil
¾ tsp Kosher Salt
¾ tsp Ground coriander
½ tsp Cumin
½ tsp Black pepper
1 cup Arugula

FOR TARRAGON-TAHINI DRESSING:
3 tbsp Tahini
2 tbsp Lemon juice
1 tbsp Tarragon
1 tsp Garlic
¼ tsp Kosher Salt
¼ tsp Black pepper
2 tbsp Water
Ingredients for Crispy Cauliflower Bites:
1 Cauliflower
¼ cup All-purpose flour
4 tbsp Oat Milk
8 tbsp Teriyaki sauce
1 ¼ cups Panko breadcrumbs
¼ cup Black sesame seeds
8 tbsp Canola oil
Salt
Black pepper
½ cup Mayonnaise
1 Green onion
1 Lime
Enter these Low Carb Cauliflower Tots! Oven-baked and made simply with cauliflower florets, onions, almond flour, and plenty of cheese, this recipe is guilt-free and delicious. One or two of these homemade tots, and I promise you won't be able to stop.   These baked low-carb tots are tender on…
Ingredients for Low Carb Cauliflower Tots:
4 cups Cauliflower florets
1 Large eggs
½ Onion
¼ cup Parmesan cheese
¼ cup Cheddar cheese
¼ cup Almond flour
Sea salt
Black pepper
Avocado oil

FOR SERVING:
Ketchup
This Keto Instant Pot Cheddar Soup is low-carb comfort food at its best. It's easy and delicious, cozy yet healthy. This keto soup is everything we need right now. It's full of veggies and cheese and has a nice warming kick. Plus, this one-pot soup is so easy to throw…
Ingredients for Keto Instant Pot Cheddar Soup:
1 tbsp Olive oil
1 Yellow onions
2 cloves Garlic
1 head Cauliflower
1 Red bell pepper
1 tbsp Onion powder
Salt
Black pepper
1 (32 fl oz) container Chicken stock
2 cups Cheddar cheese
1 cup Half-and-half
6 slices Turkey bacon
1 tbsp Dijon mustard
4 dashes Hot pepper sauce
Looking for a satisfying and delicious soup recipe that will warm you up on a cold winter day? This Cauliflower & Chestnut Soup recipe absolutely fills the bill! It is creamy, rich, hearty, and filling. Velvety smooth, this soup pairs classic winter flavors of nutty cauliflower and sweet chestnuts. Sub…
Ingredients for Cauliflower & Chestnut Soup:
½ tbsp Olive oil
1 Onion
1 Cauliflower
250 ml Milk
850 ml Vegetable stock
150 ml Heavy cream
Salt
Black pepper
200 g Chestnuts
25 g Parmesan cheese
Looking for some other way to cook cauliflower? Try this Asian BBQ Roasted Cauliflower recipe! I am passionate about turning simple ingredients into delicious meals the whole family will enjoy. And this recipe perfectly fits the bill. Oven-roasted cauliflower florets get tossed in Asian-style BBQ sauce and finally baked in…
Ingredients for Asian BBQ Roasted Cauliflower:
1 Cauliflower
2 tbsp Olive oil
½ tsp Kosher Salt

ASIAN BBQ SAUCE:
2 tbsp Ketchup
2 tbsp Honey
1 tbsp Soy sauce
1 tbsp Sweet chili sauce
1 tsp Ginger
1 tsp Red Thai curry paste

FOR GARNISH:
Peanuts
Cilantro
This Cauliflower, Leek and Blue Cheese Gratin is a twist on a traditional comfort meal that makes a decadent recipe and deserves a spot on your fall comfort food menu. Blanched cauliflower is coated in a creamy and rich sauce made with blue cheese and then baked in the oven….
Ingredients for Cauliflower, Leek and Blue Cheese Gratin:
2 Leek
few sprigs Fresh thyme
1 large Cauliflower
pinch Ground nutmeg
Salt
Black pepper
40 ml Olive oil
40 g All-purpose flour
400 ml Milk
50 g Strong vegetarian British blue cheese
25 g Bread crumbs
10 g Flaked almonds
Travel through cooking with this flavorful Indian Cauliflower and Chickpea Sheet Pan recipe! A simple chickpea and cauliflower sheet-pan meal is perfect for a weeknight dinner and meatless Mondays too. This vegetarian dish, while complex in flavor, thanks to korma curry paste, is not difficult to prepare, though. I find…
Ingredients for Indian Cauliflower and Chickpea Sheet Pan:
130 g Cherry tomatoes
1 Cauliflower
¼ cup Curry paste
400 g can Chickpeas
1 Red onion
Salt
Black pepper
1 Lemon
½ cup Greek yogurt
Coriander
I love this Mediterranean Cauliflower Rice side dish. It is so simple to prepare and tastes absolutely delicious. If you don't have or can't find cauliflower rice, it is really easy to make yourself once you have a head of cauliflower. Simply chop the cauliflower head into medium chunks and…
Ingredients for Mediterranean Cauliflower Rice:
1 head Cauliflower
½ cup Almonds
2 tbsp Olive oil
2 cloves Garlic
Pinch of Red pepper flakes
¼ tsp Sea salt
½ cup Parsley
1 tbsp Lemon juice
Black pepper