Top 10 Cheese Soup Recipes
Creamy, Melty, Comfort, Cheesy Soups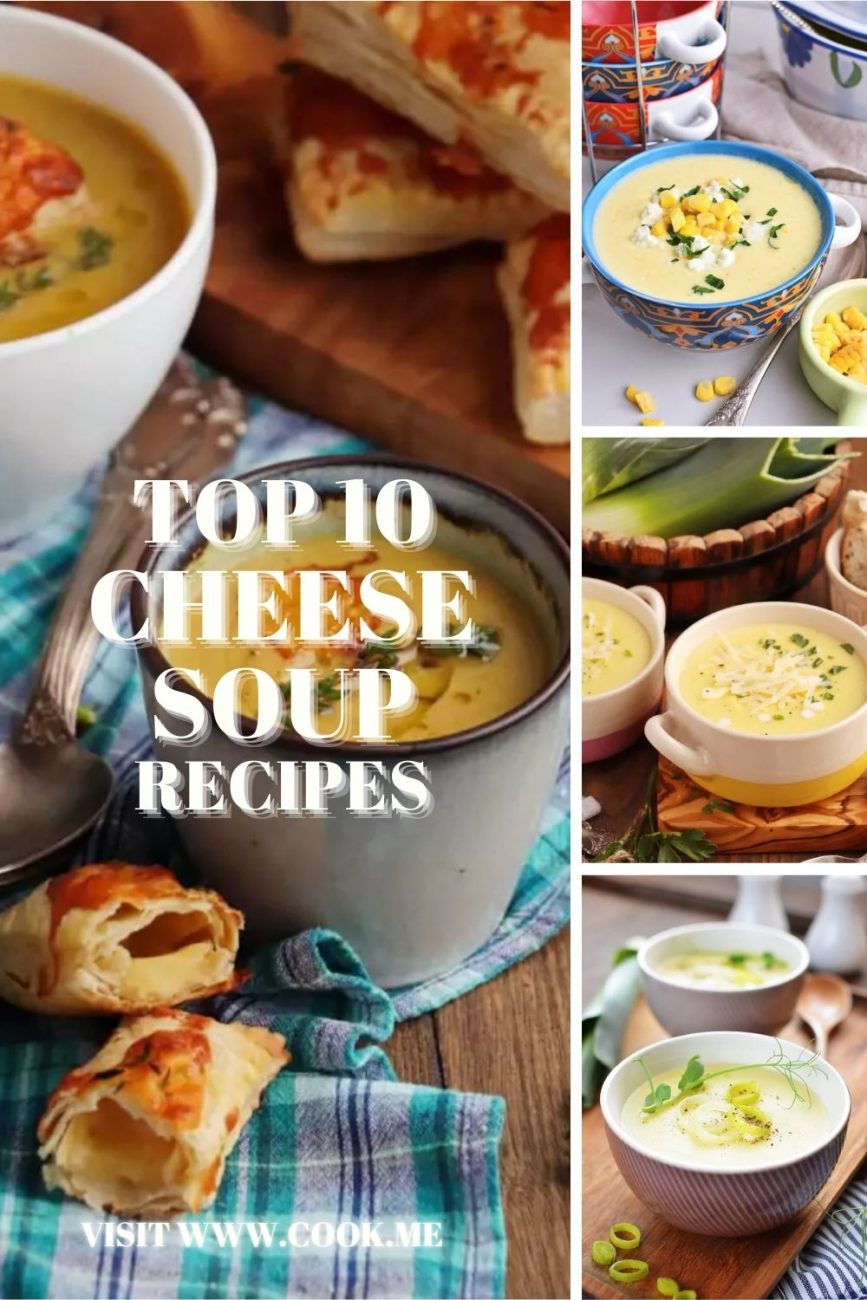 This Cheddar Jack Potato Leek Soup is warm, cheesy and creamy and everything you need to get through this winter. This recipe takes just 30 minutes to prepare and uses an extremely simple list of ingredients. Cooking doesn't need to be complicated in order to taste good and this recipe…
Ingredients for Cheddar Jack Potato Leek Soup:
1 ½ lb. Potatoes
2 tbsp Butter
½ cup Leek
2 tbsp All-purpose flour
2 cups Vegetable broth
1 cup Half-and-half
1 cup Cheddar cheese
Kosher Salt
Black pepper
Creamy Corn Soup with Queso Fresco is a tasty, creamy yet healthy soup. It is garnished with the wonderfully fresh flavors of queso fresco and cilantro which gives this creamy soup a hint of Mexican flavor. If you don't have any queso fresco, you could substitute it with cotija cheese. …
Ingredients for Creamy Corn Soup with Queso Fresco:
½ tsp Olive oil
⅓ cup Scallions
1 clove Garlic
3 ½ cups Corn kernels
1 (6 oz) Potatoes
5 cups Milk
1 Chicken bouillon
2 tbsp Cilantro
¼ cup Sour cream
Salt
Black pepper
6 tbsp Queso fresco cheese
This Winter Potato and Leek Soup is a broth-based soup with a chicken broth combined with half-and-half to fill out the heartiness in your bowls. Quite often we assume that a broth-based soups can be less filling however, in this recipe, our winter soup is thick, hearty and delicious. With…
Ingredients for Winter Potato and Leek Soup:
2 tbsp Butter
2 Leek
½ cup Onion
6 Potatoes
4 cups Chicken broth
1 cup Half-and-half
4 ounces Cheddar cheese
1 tbsp Parsley
1 tsp Garlic powder
Salt
Black pepper
This Creamy Broccoli and Butternut Squash Soup recipe is more than just a soup, it's a full winter meal for the whole family! A delicious and perfectly smooth, creamy broccoli and butternut squash soup seasoned with garlic, thyme, nutmeg, cayenne pepper and bay leaves. The flavors warm you up and…
Ingredients for Creamy Broccoli and Butternut Squash Soup:
5-6 cups Butternut squash
4 cups Broccoli florets
2 tbsp Olive oil
3 tbsp Salted Butter
1 Yellow onions
2 cloves Garlic
3 tbsp Fresh thyme
¼ tsp Nutmeg
¼ tsp Cayenne pepper
Kosher Salt
Black pepper
4 cups Vegetable broth
1½ – 2 cups Water
2 Bay leaf
½ cup Whole milk
1 cup Cheddar cheese
1 sheet Frozen puff pastry
4 ounces Brie
With this Cheesy Ground Beef Soup, I am taking soup up a level! I've had cheese in soups in the past, but I can't believe I never tried putting ground beef in a soup before. Wow – it tastes amazing! I recommend that you brown the beef for extra flavor…
Ingredients for Cheesy Ground Beef Soup:
¼ cup Olive oil
1 Onion
⅔ cup Carrots
⅔ cup Celery
3 Potatoes
2 ½ cups Vegetable broth
¾ stick Butter
⅓ cup All-purpose flour
1 ¾ cups Milk
1 lb Ground Beef
Salt
Black pepper
2 ½ cups Cheddar cheese
Parsley
Creamy, loaded with vegetables and oozing with cheese, this Wisconsin Cheese Soup is a winner with the little ones! What makes a Cheese Soup from Wisconsin? Well I guess it has something to do with the addition of cheese and milk, making this a creamy soup perfectly suited to America's…
Ingredients for Wisconsin Cheese Soup:
2 cups Cheddar cheese
2 cups Broccoli
1 cup Carrots
1/4 cup Onion
1 tsp Chicken bouillon granules
2 cups Milk
1/4 cup All-purpose flour
1/4 cup Butter
1 cup Water
1/4 tsp Black pepper
Make yourself a hot and delicious bowl of Creamy Cheddar Cheese Soup to keep you warm tonight! This soup is a hugely popular one with my kids, although no surprise there as it's brimming with melted, oozing Cheddar cheese! My cheese soup recipe is very easy to follow, with only…
Ingredients for Creamy Cheddar Cheese Soup:
1 lb Cheddar cheese
1 Onion
1/4 cup Plain flour
1/4 cup Butter
3 cups Chicken broth
3 cups Whole milk
This gluten-free, low-carb Easy Broccoli Cheddar Soup is such a great recipe for Keto followers. It ticks all the right boxes in terms of maintaining your Keto diet, is quick and easy to make and tasty enough to satisfy the rest of the family. By using cheese as a thickener…
Ingredients for Easy Broccoli Cheddar Soup:
4 cups Fresh Broccoli
3 cups Cheddar cheese
1 cup Heavy cream
4 cloves Garlic
3 1/2 cups Vegetable broth
dash Olive oil
This Cheeseburger Soup is an all-American and heart warming soup. With ingredients and tastes from the infamous cheeseburger, we've put it all into this recipe for a one pot burger without the bun which you can serve on the side to complete the whole idea. Delicious, filling and good enough…
Ingredients for Cheeseburger Soup:
2 pounds Ground Beef
2 tbsp Butter
2 cups Onion
4 cloves Garlic
1 tsp Kosher Salt
1 tsp Black pepper
⅓ cup All-purpose flour
1 tbsp Parsley
½ cup Dill pickle juice
2 tbsp Mustard
24 ounces Beef broth
14.5 ounce can Tomatoes
1 cup Half-and-half
8 ounces Cheddar cheese
This Microwave Potato Soup recipe is the answer to all your prayers. It's a simple soup that you can make from scratch in under 10 minutes. All you need at your disposal is a microwave and a microwave safe mug! Start by cooking the potatoes in water in the microwave….
Ingredients for Microwave Potato Soup:
¾ cup Water
3 tbsp Potatoes
1 tbsp Onion
2 tbsp Cheddar cheese
1 tbsp Bacon
2 tsp Cornstarch
½ cup Chicken stock
¼ cup Milk
Salt
Black pepper
Sour cream