TOP 10 Chicken & Mushroom Recipes
The Best of the Classic Flavor Pairing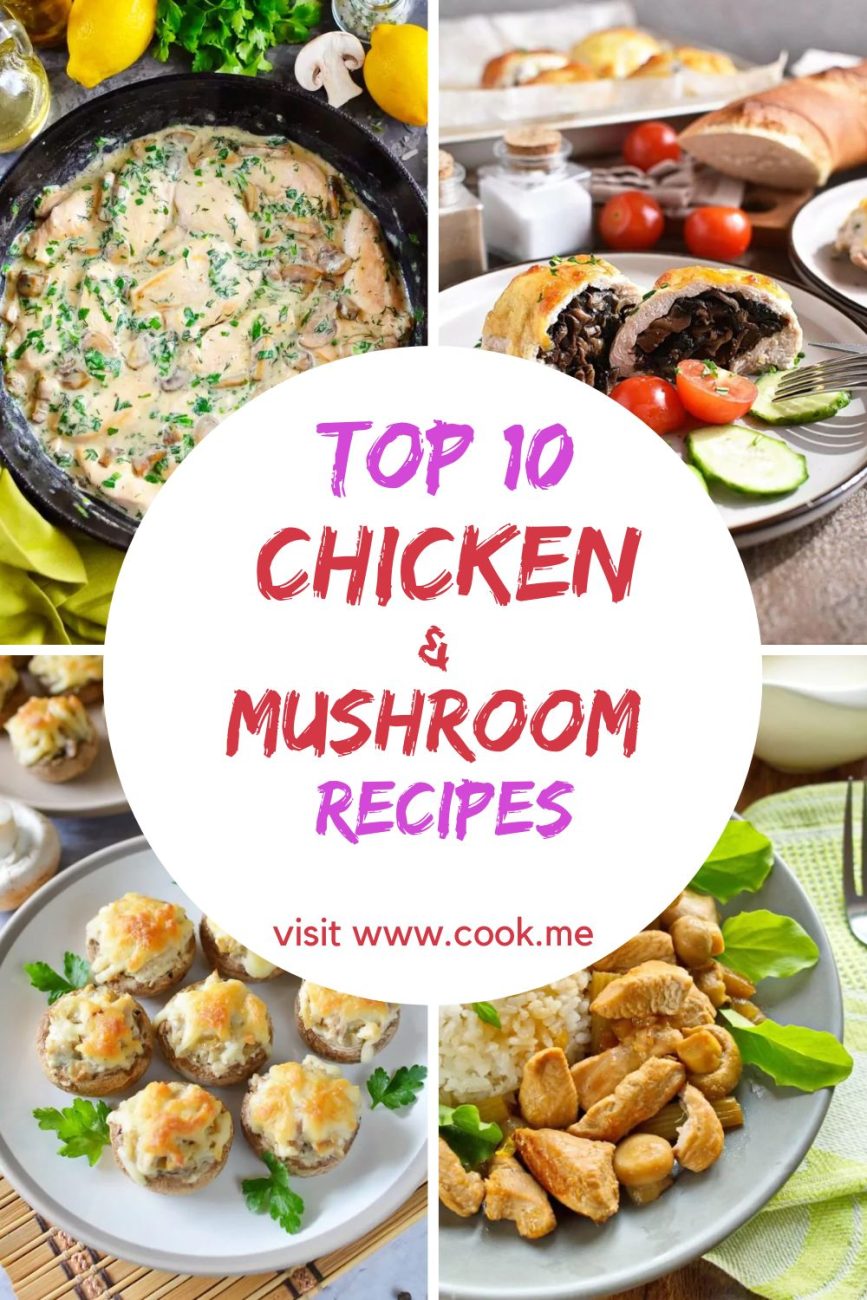 This Stuffed Chicken Breast recipe is a wowzer. And if you are looking for a way to wow people with chicken breast – this is it! Sliced thin chicken cutlets stuffed with sautéed onion mushroom filling. Then formed into bundles, brushed with mayonnaise, topped with cheese, and baked to delicious…
Ingredients for Stuffed Chicken Breast:
2 Chicken Breast
1 tbsp Vegetable oil
150 g Onion
½ tsp Salt
½ tsp Black pepper
300 g Mushrooms
30 g Mayonnaise
100 g Cheddar cheese
Ingredients for Creamy Herb Mushroom Chicken :
½ lb Mushrooms
1 lb Chicken tenders
1 ½ tsp Garlic salt
1 tbsp Butter
1 tbsp Olive oil
¼ cup Fresh dill
¼ cup Parsley
¼ cup Green onion
2 cloves Garlic
¾ cups Heavy whipping cream
These Chicken and Mushroom Patties (Russian Kotlety) are juicy and tasty and super versatile. These patties are perfect with mashed or baked potatoes. Sometimes I serve them as mini chicken burgers with pickles and salad on the side. To make these delicious chicken and mushroom patties, start by sauteing mushrooms….
Ingredients for Chicken and Mushroom Patties:
1 lb Ground chicken
1 lb Button mushrooms
1 Onion
2 Large eggs
½ cup Panko bread crumbs
2 tbsp Olive oil
1½ tsp Salt
½ tsp Black pepper
½ cup All-purpose flour
These Chicken and Mushroom Crepes with Bechamel Sauce are just another one of my favorite savory filling crepes and the homemade bechamel sauce just makes the dish, elevating the flavors to that of a Master Chef! Savory crepes with fresh dill in the batter, filled with a buttery chicken, leek…
Ingredients for Chicken and Mushroom Crepes with Bechamel Sauce:
FOR THE CREPES:
1¾ cup (210 g) All-purpose flour
½ tsp (5 ml) Salt
2½ cups (595 ml) Milk
2 Eggs
4 tbsp (60 ml) Butter
1 tbsp (15 ml) Fresh dill

FOR THE FILLING:
2 Chicken Breast
1 tbsp (15 g) Butter
4 Leek
2½ cups (300 g) Mushrooms
Salt
Black pepper
1 tsp (5 ml) Worcestershire sauce
1 tbsp (15 ml) Parsley

FOR THE BÉCHAMEL SAUCE:
2 tbsp (30 g) Butter
2 tbsp (15 g) All-purpose flour
2⅓ cup (555 ml) milk Milk
1 garlic clove Garlic
Salt
Black pepper

FOR THE GARNISH:
¾ cup Gruyère cheese
Ground paprika
3 tbsp (45 ml) Parsley

FOR SIDE SALAD WITH VINAIGRETTE:
1 bag Spring mix salad greens
1 tsp (5 ml) Dijon mustard
1 tsp (5 ml) White wine vinegar
6 tbsp (90 ml) Grapeseed oil
Salt
Black pepper
1 Shallots
This Garlic Ginger Chicken Ramen is the new recipe on the market that's got everyone talking! A traditional Japanese soup made from a ginger and garlic vegetable broth, soft noodles, topped with chicken strips and oriental mushrooms and an authentic hard boiled egg that completes the dish. From stove top…
Ingredients for Garlic Ginger Chicken Ramen:
2 Chicken Breast
2 tsp Ginger
3 tsp Garlic
1 oz Shiitake mushrooms
1/2 cup Scallions
2 (3 oz) packs Ramen noodles
Kosher Salt
Black pepper
1 tbsp Butter
2 tsp Sesame oil
3 tbsp Soy sauce
2 tbsp Mirin
4 cups Chicken broth
1–2 tsp Sea salt
2 Large eggs
1 Jalapeño pepper
Simple and quick, this Quick Chick recipe is something you can rustle up in no time at all to feed a hungry crowd! I'm a big fan of one pot recipes. At the weekend I like to spend a few hours in the kitchen cooking and creating, but during the…
Ingredients for Quick Chick:
2 Chicken Breast
2 Onion
4.5 oz Mushrooms
1/2 tbsp Vegetable oil
1 cup Celery
2 tbsp Soy sauce
This Bacon Mushroom Stuffed Chicken is one of the best chicken breast recipes I ever made. Simple, scrumptious, and perfect for chicken breasts! These chicken breasts are stuffed with the most addictive cheesy, mushroom, and bacon filling. Then cooked in the skillet, smothered in a homemade honey mustard sauce, and…
Ingredients for Bacon Mushroom Stuffed Chicken:
FOR HONEY MUSTARD SAUCE:
¼ cup Mayonnaise
1 tbsp Sour cream
3 tbsp Honey
1 ½ tbsp Dijon mustard
⅛ tsp Ground paprika

FOR STUFFED CHICKEN:
8 oz Bacon
8 oz Mushrooms
4 Chicken Breast
8 oz Cheese
1 tsp Olive oil
Salt
Black pepper
I love this Easy Chicken Casserole, and it is made with my favorite type of chicken meat – thighs. Bone-in, skin-on chicken thighs are the most delicious things. Especially when the skin is crispy, and they are cooked until tender and falling off the bone. To make this delicious casserole,…
Ingredients for Easy Chicken Casserole:
8 Chicken thighs
1 tbsp Olive oil
1 Onion
4 slices Smoked Bacon
5½ oz Mushrooms
3 Carrots
¾ oz Plain flour
1 tbsp Fresh thyme
18 fl oz Chicken stock
1 Leek
Salt
Black pepper
These Chicken Stuffed Mushrooms are such a quick and easy snack to throw together – you can prepare and cook them in under 30 minutes! These mushrooms are perfect for picnics, barbecues and parties! They are always a hit! To make this tasty dish, start by sautéing mushrooms and onions…
Ingredients for Chicken Stuffed Mushrooms:
1 ½ lbs Mushrooms
1 Onion
½ tsp Salt
⅛ tsp Black pepper
2 tbsp Butter
8-oz Cream Cheese
10-oz can Chicken
¾ cup Mozzarella
This recipe for Skillet Chicken Pot Pie is a firm favorite with my family. If you can think of a more comforting combination than chicken, mushroom, and pastry, then I need to hear it! This pie is a firm favorite in my kitchen and I am delighted to share the…
Ingredients for Skillet Chicken Pot Pie:
1½ cups Chicken broth
2 tbsp All-purpose flour
1 tbsp Olive oil
1 (8-oz) package Cremini mushrooms
1 cup Onion
6 cloves Garlic
1 ½ cups (7 oz) Mixed vegetables
1 tbsp Sage
1 tbsp Fresh thyme
½ tsp Salt
½ tsp Black pepper
1 lb Chicken
1 (7-8 oz) Pie crust
1 Egg whites