TOP 10 Corn Salad Recipes
These Salads Will Steal the Show at Your Next Barbecue!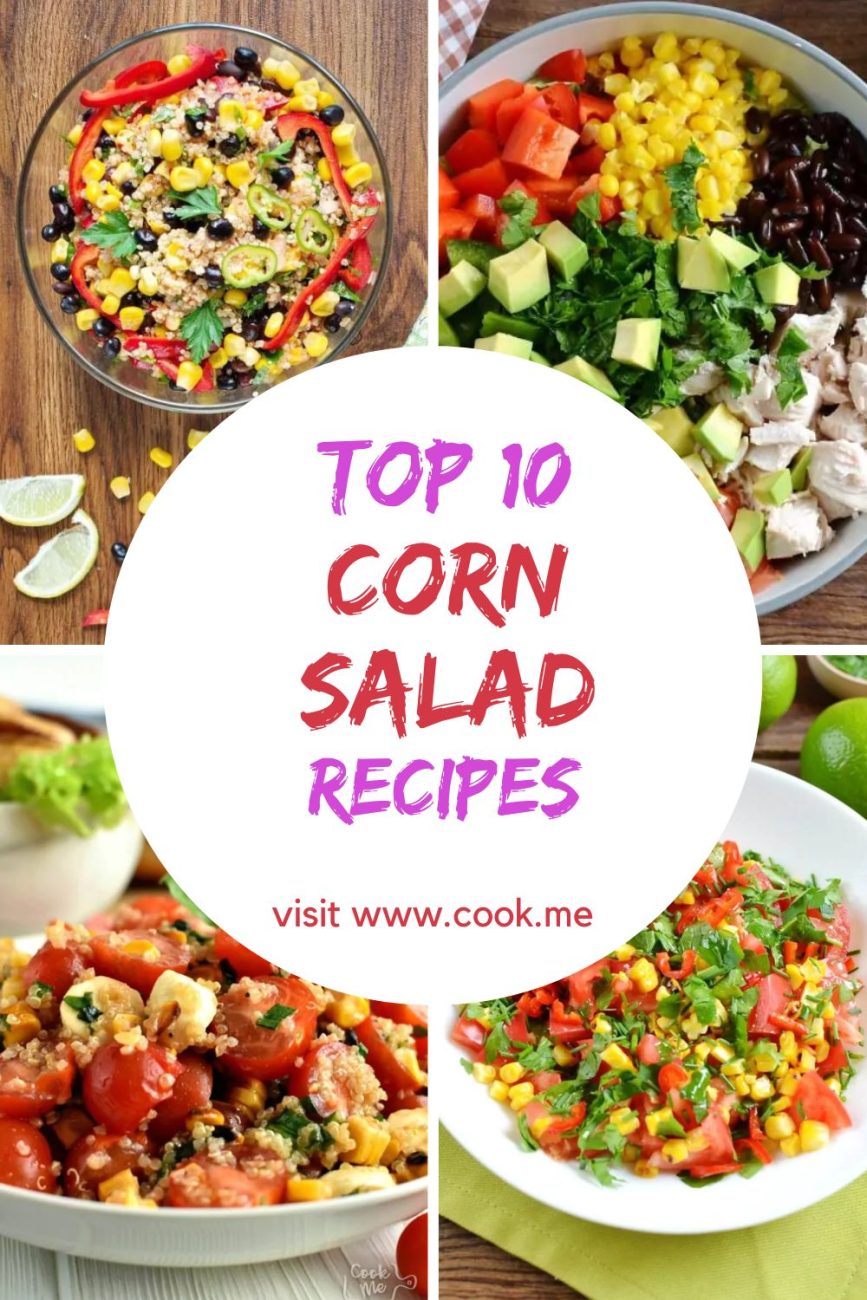 This Southwest Quinoa Salad is deliciously tasty and really easy to make. With Mexican inspired ingredients of black beans, bell peppers, corn, cilantro, red onions, jalapeño chili and garlic chopped up and tossed in a flavorsome dressing made from limes, olive oil, cumin, chili powder, salt and black pepper. Colorful,…
Ingredients for Southwest Quinoa Salad:
1 cup Quinoa
14 oz (can) Black beans
2 Bell pepper
1 cup Corn
1 bunch Cilantro
¼ cup Red onion
1 Jalapeño pepper
1 clove Garlic
Juice of 2 large Lime
¼ cup Olive oil
1 tsp Cumin
1 tsp Chili powder
½–¾ tsp Salt
Black pepper
Easy Italian Tuna Corn Salad is a refreshing yet satisfying salad. It is packed with ripe cherry tomatoes, tuna, corn, celery, and fresh mozzarella. I like to serve this salad drizzled with a simple dressing. This dressing is a mix of good quality olive oil and balsamic vinegar flavored with…
Ingredients for Easy Italian Tuna Corn Salad:
1 cup Canned tuna
1 cup Sweet corn
20 Cherry tomatoes
1 cup Mozzarella
1 stalk Celery
1 Green onion

FOR DRESSING:
3-4 tbsp Olive oil
2 tbsp Balsamic vinegar
½ tsp Salt
3-4 leaves Basil
1 ½ tsp Dried oregano
I have to admit this but I believe this Tex-Mex Chopped Chicken Salad is the best Mexican recipe I have yet written. Beating burritos and tacos, this new, Tex-Mex, open salad is the new craze! With fresh Romaine lettuce and shredded rotisserie chicken toss in red and green bell pepper,…
Ingredients for Tex-Mex Chopped Chicken Salad:
3 cups Chicken
1 head Romaine lettuce
1 Red bell pepper
1 Green bell pepper
1 (15 oz) can Black beans
1 (15 oz) can Corn
2 Tomatoes
2 tbsp Onion
2 Avocado
¼ cup Cilantro
1 cup Tortilla chips

FOR THE TACO RANCH DRESSING:
½ cup Mayonnaise
1 (6 oz) container Greek yogurt
1 tbsp Ranch Seasoning
1 tbsp Taco Seasoning
This Corn Salsa is a vegan dream. Use this recipe inside your tacos and burritos or just enjoy it as a salad on its own. With so many delicious and juicy salad ingredients, this dish can be filling enough too. I like to use corn for the base of the…
Ingredients for Corn Salsa:
4 Corn
½ a bunch of fresh Coriander
½ a fresh Red chili
4 Spring onions
3 Tomatoes
Sea salt
Juice of 2 Lime
1 tablespoon Olive oil
If you're invited to a summer dinner party at my house, chances are you'll get to taste my Parmesan Zucchini and Corn side dish. I absolutely love the combination of zucchini, corn and parmesan so I'm always excited when zucchinis are in season! I bump up the flavor in this…
Ingredients for Parmesan Zucchini and Corn:
2 tbsp Olive oil
2 cloves Garlic
4 Zucchini
1 cup Corn kernels
¼ tsp Dried basil
¼ tsp Dried oregano
¼ tsp Dried thyme
Kosher Salt
freshly ground Black pepper
2 tbsp Lime juice
2 tbsp fresh leaves Cilantro
2 tbsp Parmesan cheese
I always bring a bowl of this Fresh Corn and Chickpea Salad on family picnics. One of our favorite family pastimes in summer is to take a picnic and drive to a nearby forest or lake and spend the day splashing about or climbing trees. Of course, all that outdoor…
Ingredients for Fresh Corn and Chickpea Salad:
FOR THE SALAD:
2 cups Corn kernels
1 (15-oz.) can Chickpeas
1 Cucumber
2 Scallions
2 tbsp Olive oil

FOR THE DRESSING:
2 tbsp Lime juice
½ cup Cilantro
This Healthy Grilled Corn Caprese Quinoa Salad has all the flavors of a classic caprese with added quinoa and corn. I love the crunch that the grilled corn brings to this dish. Caprese salad combines fresh mozzarella cheese, basil, and tomatoes to make one of the most delicious salads ever….
Ingredients for Healthy Grilled Corn Caprese Quinoa Salad:
1/2 cup Quinoa
2 Ears of corn
1 pint Cherry tomatoes
2 Green onion
4 ounces Mozzarella
1/4 cup Basil
2 tbsp Balsamic vinegar
2 tsp Lemon juice
2 tsp Maple syrup
1 tsp Dijon mustard
6 tbsp Olive oil
to taste Salt
to taste Black pepper
Is there a better combination of ingredients than this Healthy Avocado Chicken Salad? Chicken, avocado, corn, onion and cilantro come together with a citrus olive oil dressing to make a healthy and satisfying keto-friendly summer salad. My family loves this salad which I make as a weekend treat. The best…
Ingredients for Healthy Avocado Chicken Salad:
FOR THE SALAD:
2 Chicken Breast
2 Avocado
½ cup Corn
¼ cup Green onion
2 tbsp Cilantro

FOR THE DRESSING:
2 tbsp Lemon juice
2 tbsp Olive oil
Salt
Black pepper
This Healthy Corn Salad is a simple yet terrific vegetarian summer salad that you just have to make for your next cookout. People are always so impressed when I serve this colorful salad. It looks pretty and tastes absolutely delicious. To make this salad, I start by making a mayo…
Ingredients for Healthy Corn Salad:
1/2 cup Mayonnaise
3 small Green onion
2 tbsp White wine vinegar
2 tbsp Jalapeño pepper
2 tbsp Parsley
1 tbsp Olive oil
Salt
Black pepper
2 (11 ounce) cans Sweet corn
1 cup Grape tomatoes
This Low Cholesterol Black Bean Salad is quick and simple recipe for a traditional Southern addition to your menu. A combination of black beans, avocado, tomato, red onion and corn, tossed and marinated in olive oil and lime juice, giving you this fresh salad. You can add jalapeño chili for…
Ingredients for Low Cholesterol Black Bean & Corn Salad:
1 can (15.5 oz) Black beans
9 oz Corn kernels
1 Tomatoes
1/3 cup Onion
1 Scallions
2 tbsp Lime juice
1 tbsp Olive oil
2 tbsp Cilantro
Salt
Black pepper
1 Avocado
1 Jalapeño pepper