TOP 10 Delicious Fall Recipes
Easy Fall Recipes You'll Want to Make All Season Long.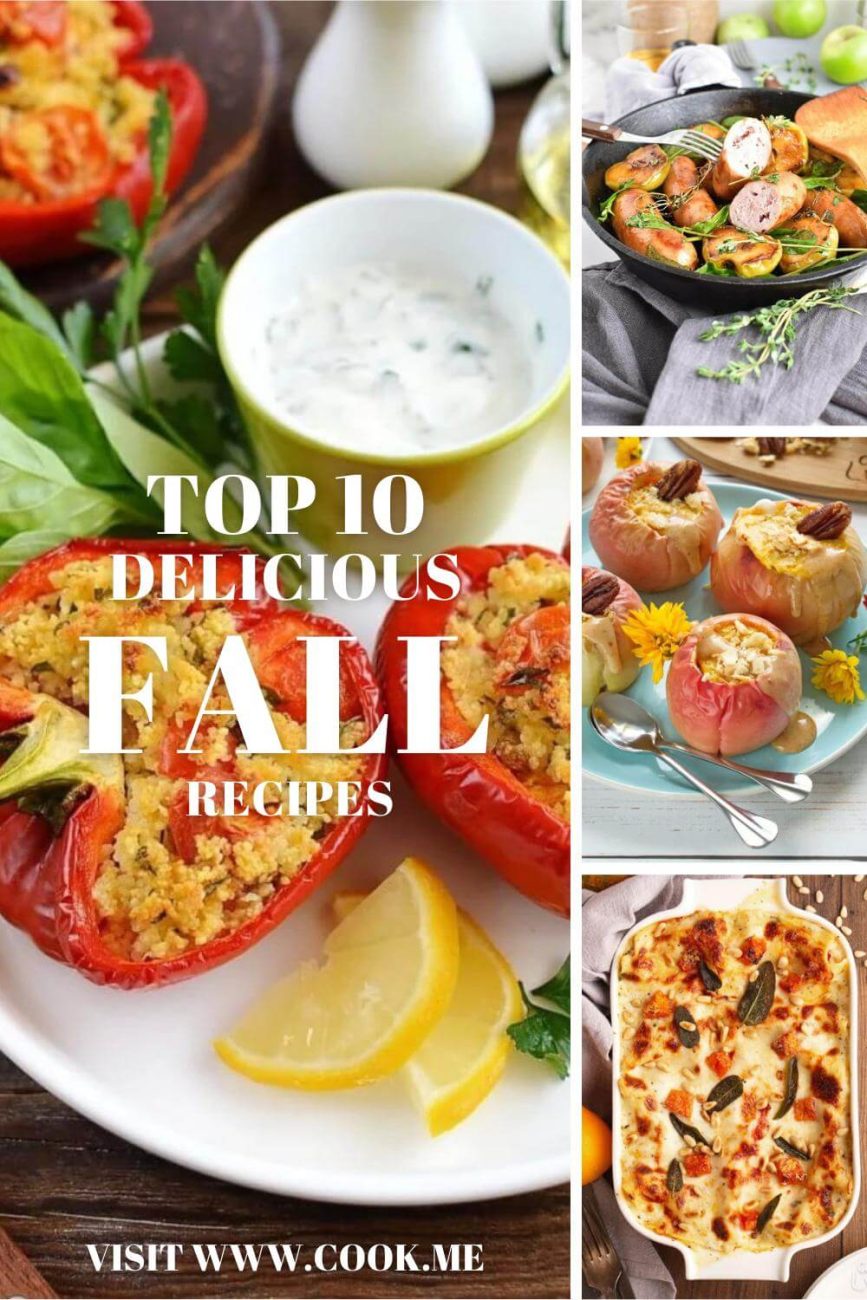 My aunt loves this Rustic Roasted Vegetable Tart and I often make an extra one to send around to her whenever I get the opportunity. It's always easier to use a premade pastry because it cuts out a lot of time, so I either buy premade or spend an afternoon pre-making …
Ingredients for Rustic Roasted Vegetable Tart:
1 Eggplants
1 Zucchini
4 Plum tomato
1 Bell pepper
4 tbsp Olive oil
4 cloves Garlic
½ tsp Salt
⅛ tsp Black pepper
1 sheet Pie Pastry
1 tbsp Cornmeal
2 tbsp Parmesan cheese
Basil
This Moroccan inspired Gremolata Couscous-Stuffed Peppers recipe is a perfect dinner option for something fresh and healthy. Using parsley, lemon zest and garlic to make a Gremolata herb mix for flavoring the couscous stuffing with and mixed with raisins and …
Ingredients for Gremolata Couscous-Stuffed Peppers:
small bunch Parsley
zest and juice of 1 Lemon
2 cloves Garlic
85g Couscous
2 tbsp Raisins
2 Red pepper
50ml hot Vegetable stock
1 tsp Honey
150ml Yogurt
2 Tomatoes
1 tbsp Olive oil
Salt
Black pepper
Have you ever thought about elevating sausages? Well this Pan Seared Sausages and Apples with Honey, Thyme and Greens takes simple sausages and apples to a whole new level. Delicious Italian sausage and apples seared in a pan with a white wine, apple cider…
Ingredients for Pan Seared Sausages and Apples:
1 tbsp Butter
1 tbsp Olive oil
4-6 small Apples
1-1½ lbs of Italian sausage
¼ cup White wine
2 tbsp Apple cider vinegar
2 tbsp Honey
1 tsp Fresh thyme
Salt
Black pepper
approx 4-6 cups Mixed greens
This Butternut Squash and Sundried Tomato White Lasagna lends its glory to the 4 cheese blend involved in this recipe. With a mix of fontina cheese, parmesan cheese, whole milk ricotta cheese and provolone making your lasagne extra creamy and cheesy in between…
Ingredients for Butternut Squash and Sundried Tomato White Lasagna:
4 cups Butternut squash
1 jar (8 ounce) oil packed Sun-dried tomatoes
1 box no-boil Lasagna noodles
2 tbsp extra virgin Olive oil
1 tbsp Honey
to taste Kosher Salt
to taste Black pepper
6 tbsp Butter
2 cloves Garlic
1 tbsp fresh Sage
1 tsp Dried basil
l ¼ cup All-purpose flour
3½ cups Whole milk
¼ tsp fresh Nutmeg
1 cup Fontina
1 cup Parmesan cheese
2 cups whole milk Ricotta cheese
2 cups Provolone cheese
2 tbsp Pine nuts
This Green Bean and Cheddar Casserole is one of my favorite meat-free dishes and packed with protein and fats to ensure my family still gets their nutritional balance for the day, even if we're eliminating food groups….
Ingredients for Green Bean and Cheddar Casserole:
3lb Green beans
8 oz. Cheddar cheese
2 cups Stale bread
3 tbsp Olive oil
4 Scallions
3 tbsp Cornstarch
⅛ tsp freshly Ground nutmeg
2½ cups Whole milk
¼ cup Parmesan cheese
Kosher Salt
Black pepper
Sausage & Rice Stuffed Pumpkins is a really festive dish to make around Halloween. It looks very impressive and tastes delicious. Everything cooks in the pumpkin shell so it cuts down on clean up time too making it a great recipe for busy days. …
Ingredients for Sausage & Rice Stuffed Pumpkins:
3 (about 2 lb each) Pumpkin
½ lb bulk sweet Italian sausage
1 lb Mushrooms
2 Onion
1 Green pepper
2 cloves Garlic
4 cups Long grain rice
1 cup Parmesan cheese
2 Large eggs
¼ cup Parsley
1 tsp Salt
½ tsp Dried thyme
This warm Skillet Baked Pear and Apple Crisp is a winter's night dessert delight. Served in a rustic way and baked in an ovenproof skillet, almost like an apple pie, with an apple and pear bubbling center and a crunchy, nutty topping. There are currants in the filling…
Ingredients for Skillet Baked Pear & Apple Crisp:
FOR THE TOPPING:
1 cup Brown sugar
1 cup All-purpose flour
¼ cup Pecans
2 tsp Cinnamon
1 stick Unsalted butter

FOR THE FILLING:
1½ pounds Granny Smith apples
1½ pounds Bartlett Pears
½ cup Blackcurrant
¼ cup Brown sugar
2 tsp Cinnamon
¼ tsp Ground cardamom
¼ cup Honey
2 tbsp Cognac
FOR SERVING:
Vanilla ice cream
I am about to guide you through The Best Pumpkin Mug Cake recipe. As you know, mug cakes are my latest fad! I can't get enough of them. They are so quick and easy to make. There is very little washing up and best of all, they taste delicious! …
Ingredients for The Best Pumpkin Mug Cake:
6 tbsp White cake mix
2 tbsp Pumpkin puree
1 tsp Pumpkin pie spice
1 tbsp Milk
1 tbsp Vegetable oil

FOR THE OPTIONAL TOPPINGS:
Whipped cream
Caramel sauce
Powdered sugar
These Cheesecake Stuffed Baked Apples are my new favorite discovery and I don't know what has taken me so long to think of these. They look absolutely gorgeous on a table setting and the sweet and sourness from the apples pair perfectly with the soft, oven-
Ingredients for Cheesecake Stuffed Baked Apples:
6 Apples
8 ounces Cream Cheese
¼ cup Sugar
1 tsp Vanilla
1 Eggs
1 tsp Cinnamon
In this recipe, I'm going to tell you how I make Oven Roasted Chestnuts. These roasted chestnuts are so easy to make. They smell absolutely amazing when they are cooking and they are a quintessential Thanksgiving and Christmas ingredient – especially for vegans! …
Ingredients for Oven Roasted Chestnuts:
1 lb raw Chestnuts
Water