TOP 10 Easy Asian Recipes
All of your favorite Asian food in your own kitchen.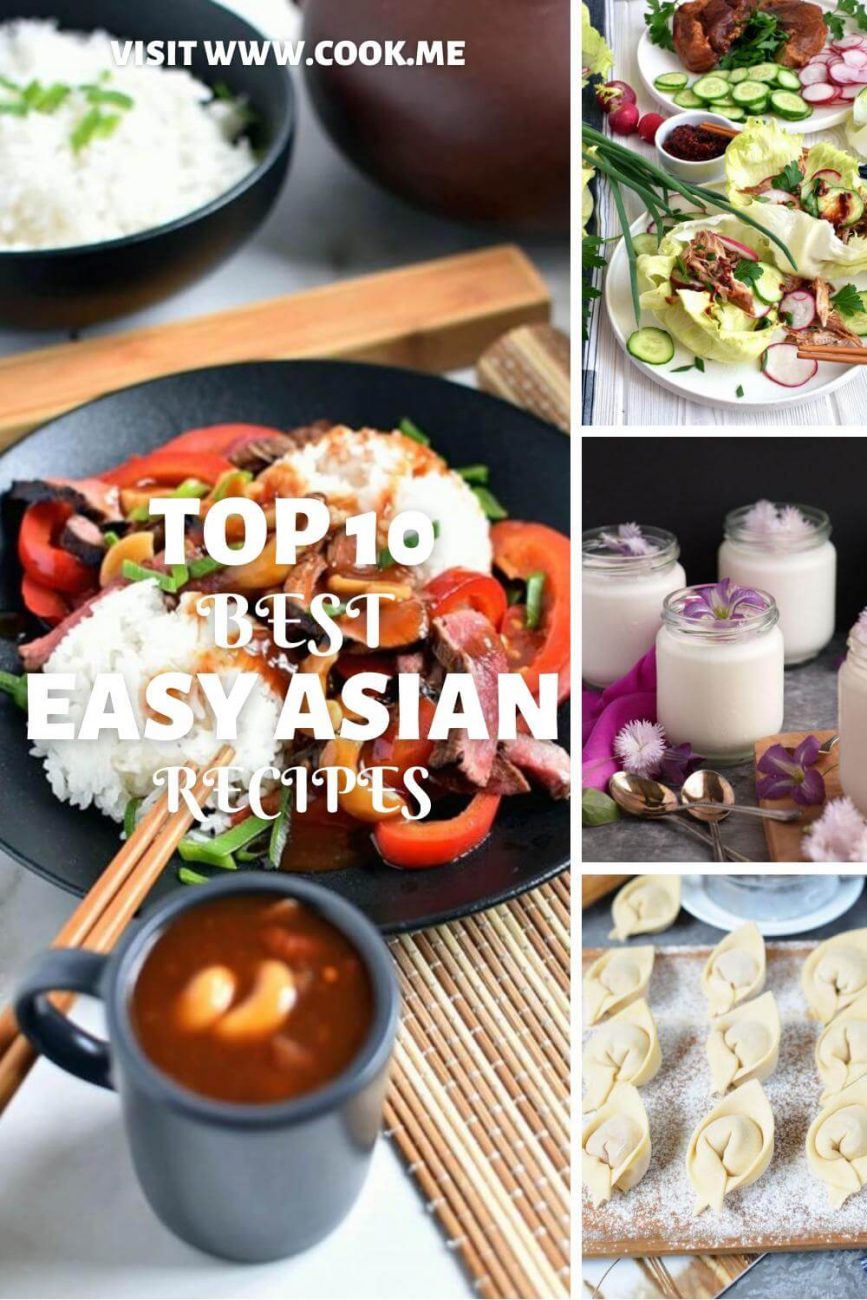 Kung Pao Beef originates from China and has an authentic flavor to the Western Culture. This recipe is the real deal with a chili and soya sauce marinade over braised flank steak and mixed with peanuts and bell pepper for added flavor that pops in the mouth giving you a fiery meal that is quite delicious. You can adjust the tastes of sweet, salty and savory as you wish. Either way, the aromas and flavors will have you coming back for more.
Ingredients for Kung Pao Beef:
FOR THE MARINADE:
1 tsp Chili paste
2 tbsp Soy sauce
1 tbsp Sherry
1 tsp Rice vinegar
1 tsp Sugar
1 tsp Sesame oil
1 pound Flank steak

FOR THE ADDITIONAL MARINADE MIX:
¼ cup Chicken broth
¼ cup Peanuts
1 tsp Cornstarch

FOR GRILLING THE STEAK:
1 Red bell pepper
1 tbsp Olive oil
1 cup Cooked rice
This Asian Miso Brown Rice and Chicken Salad is going to be one of the tastiest detox meals that you can add to your list of healthy dinner options. Using low GI, brown basmati rice with boiled chicken breasts and boiled sprouting broccoli, it's the oriental dressing that gives this plate all its flavor.
Ingredients for Asian Miso Brown Rice and Chicken Salad:
120g Brown rice
2 Chicken Breast
140g Broccoli
4 Spring onions
1 tbsp Sesame seeds

FOR THE DRESSING:
2 tsp Miso
1 tbsp Rice vinegar
1 tbsp Mirin
1 tsp Fresh ginger
Healthy Low Carb Korean Pork Lettuce Wraps, known as "ssäm" in Korea, are a very popular dish in Korean households. Typical ssäm are made by wrapping tasty slow-cooked meat like pork in leafy vegetables like lettuce. I marinate the pork shoulder before cooking to infuse it with the flavors of miso, soy, sesame oil and hot sauce like gochujang pepper paste or Sriracha.
Ingredients for Low Carb Korean Pork Lettuce Wraps:
¼ cup Miso
¼ cup Soy sauce
3 tbsp Gochujang pepper paste
1 tbsp Sesame oil
1 tsp Black pepper
1 boneless, (about 4 lb) Pork shoulder
8 whole leaves Lettuce
8 Radishes
1-2 Cucumbers
1 Green onion
You will love this quick and easy recipe for Special Vegan Banchan for Garlic Lovers. The Korean word banchan literally translates to "side dishes". Korean meals are a communal affair – each person gets their own bowl of rice and their own bowl of soup, but in general everything else is shared. For this reason, a selection of banchan usually accompanies Korean meals. This is a special banchan for garlic lovers which is made with garlic scapes.
Ingredients for Special Vegan Banchan for Garlic Lovers:
2 cups Garlic scapes
1/2 cup Chives
2 tbsp Soy sauce
1 tsp Sesame seeds
This Vegan Stir-Fried Garlic Scape is a typical Chinese side dish. A colorful combination of mixed vegetables like baby corn, carrots, shiitake mushrooms and that star of them all, garlic scapes wok-fried in garlic, ginger and cooking wine.
Ingredients for Vegan Stir-Fried Garlic Scape:
10 Garlic scapes
3 oz Baby corn
3 oz Carrots
1 oz Shiitake mushrooms
3 thin slices Ginger
2 tbsp Vegetable oil
¼ cup White wine

FOR THE SAUCE:
¼ cup Vegetable stock
2 tbsp Soy sauce
1 tsp Sugar
1 tsp Cornstarch
¼ tsp White pepper
This Thai Zucchini Noodles is one of my favorite Asian meals to make at home. Complete with a spicy Thai sauce and topped with toasted sesame seeds. This Asian comfort food is easy to prepare and versatile too! You can add extra veggies if you like.
Ingredients for Thai Zucchini Noodles:
8 oz Pasta
1 tbsp Olive oil
2 Zucchini
¼ cup Soy sauce
¼ cup Honey
2 tbsp Honey
¼ cup Chicken stock
1 tbsp Red Thai curry paste
5 Green onion
1 tbsp Sesame seeds
Salt
This Easy Wonton Soup is a favorite in my house. We love the salty hearty broth with the delicious pork wonton parcels. Wonton soup is one of my favorite things to order from the local Chinese takeout but since we are cooking at home more often now, I have been experimenting with my own recipe. I think you will love this one as much as I do.
Ingredients for Easy Wonton Soup:
FOR THE WONTONS:
⅔ lb Ground pork
2 tsp Soy sauce
2 tsp Chives
1 tsp Rice wine vinegar
1 tsp Cornstarch
1 tsp Ginger
1 clove Garlic
½ tsp Red pepper
½ tsp Sesame oil
1 package
¼ cup Water

FOR THE SOUP:
4 cups Chicken broth
2-inch piece Ginger
2 tsp Soy sauce
2 cloves Garlic
¼ tsp Sesame oil
2 tbsp Green onion
This is my family's recipe for Filipino Puto Seko. Puto Seko is a type of powdery cookie, traditionally made from corn flour. The well-known Puto' are usually steamed whereas these cookies are baked, giving meaning to its name translated as "dry Puto."
Served either as a cookie cake on its own, or as an accompaniment to many other Asian savory dishes, these are a popular favorite all over Asia, not just in the Philippines and now you can make them popular in your home too!
Ingredients for Lipardo's Puto Seko:
1 cup All-purpose flour
1/3 cup Sugar
1/2 tsp Baking powder
1 cup Cornstarch
1/4 cup Butter
1/2 cup Milk
1 Egg
½ dash Salt
Some of my friends call me the Salad Queen and it might just be this Crunchy Cabbage Salad that wins their hearts everytime. I pride myself on finding healthy recipes that still look glamorous and taste even more exciting. By adding pine nuts, pumpkin seeds, sunflower and linseeds to the salad, this bowl has enough protein, healthy fats and fiber for a full small snack meal. Of course, you can compliment it with any protein of your choice, if you wish!
Ingredients for Crunchy Cabbage Salad:
FOR THE SALAD:
350g Red cabbage
3 Carrots
20g Parsley
2 Apples
2 sticks Celery
3 tbsp Pine nuts
1 tbsp Pumpkin seeds
1 tbsp Sunflower seeds
1 tbsp Linseeds

FOR THE DRESSING:
2 tsp Ginger root
1 tsp Honey
2 tbsp Lemon juice
4 tbsp Olive oil
Japanese Milk Pudding is a really popular dessert in Japan. This Japanese milk pudding recipe is very easy to make and requires very few ingredients. You can serve them as they are or top with fruit or berries or toasted nuts and syrup. Serve them straight from the fridge for a firmer more solid texture or leave to rest for 15 minutes for a softer pudding.
Ingredients for Japanese Milk Pudding:
500 ml Whole milk
50 ml Heavy cream
3 tbsp Granulated sugar
2½ tsp Gelatin
½ tsp Vanilla extract