TOP 10 Easy Eggplant Recipes
The Best Ways to Enjoy Eggplants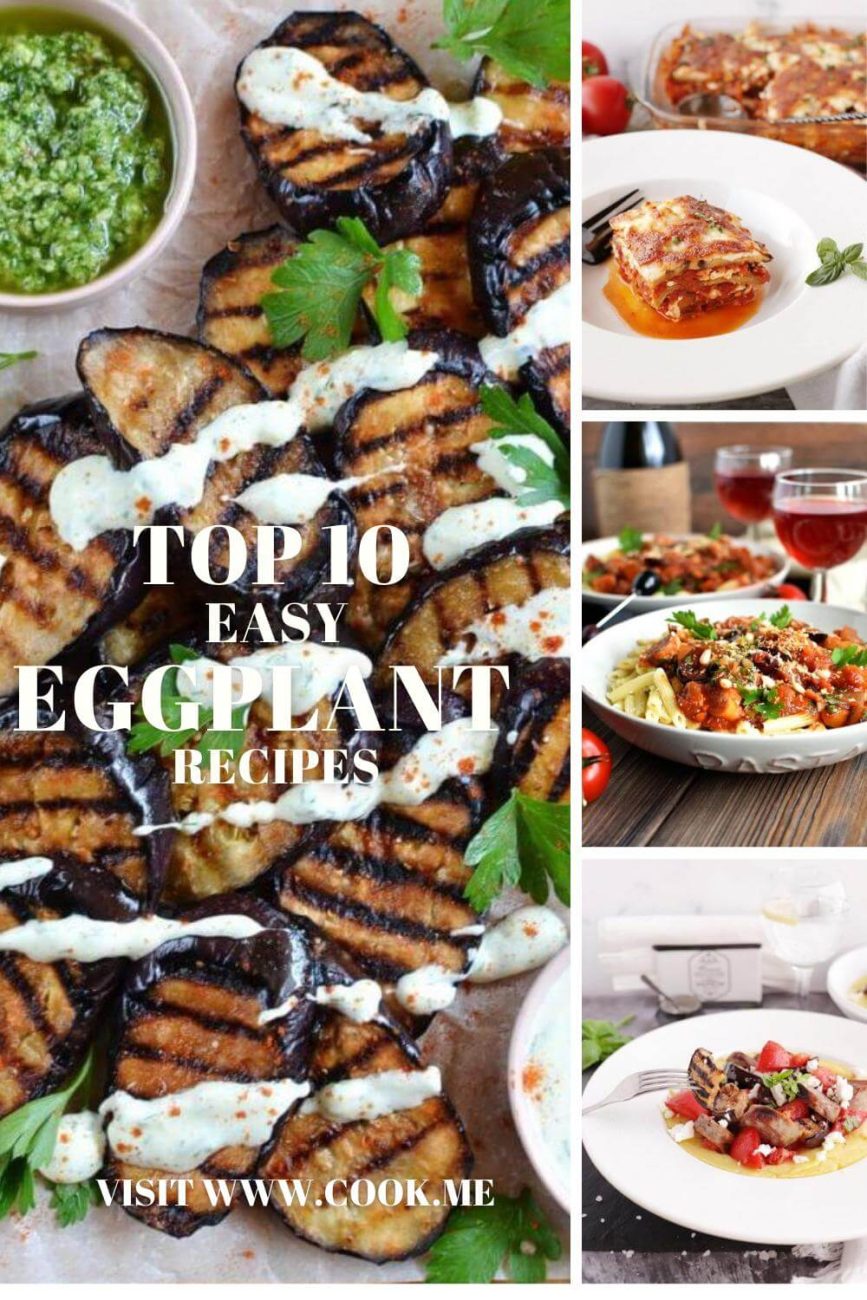 Grilled Sausage, Eggplant & Tomatoes with Polenta is another recipe inspired by my travels in Europe. From Italy, the home of polenta. Polenta is boiled cornmeal which is generally served as a savory porridge or it can be cooled and solidified into a loaf that can be cut up and…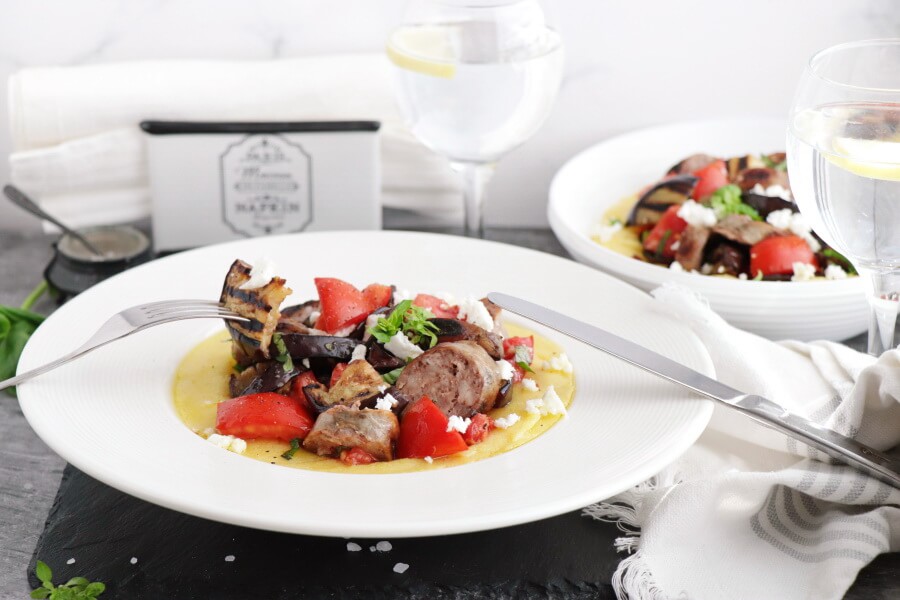 Ingredients for Grilled Sausage, Eggplant & Tomatoes with Polenta:
4 cups Water
1 cup Cornmeal
1 tbsp Butter
½ tsp Salt
1 lb Plum tomato
4 tbsp Olive oil
2 tsp fresh Oregano
1 clove Garlic
½ tsp Ground pepper
¼ tsp Crushed red pepper
1½ lb Eggplants
8 oz Italian sausage
½ cup fresh Basil
¼ cup Feta cheese
Vegan Smoky Grilled Eggplant is loved and enjoyed all across the Mediterranean and traveling across the western world. A simple recipe, completed in under 25 minutes and the perfect side dish contribution to your menu. Some people even enjoy these grilled eggplant discs as a vegan burger replacement or as…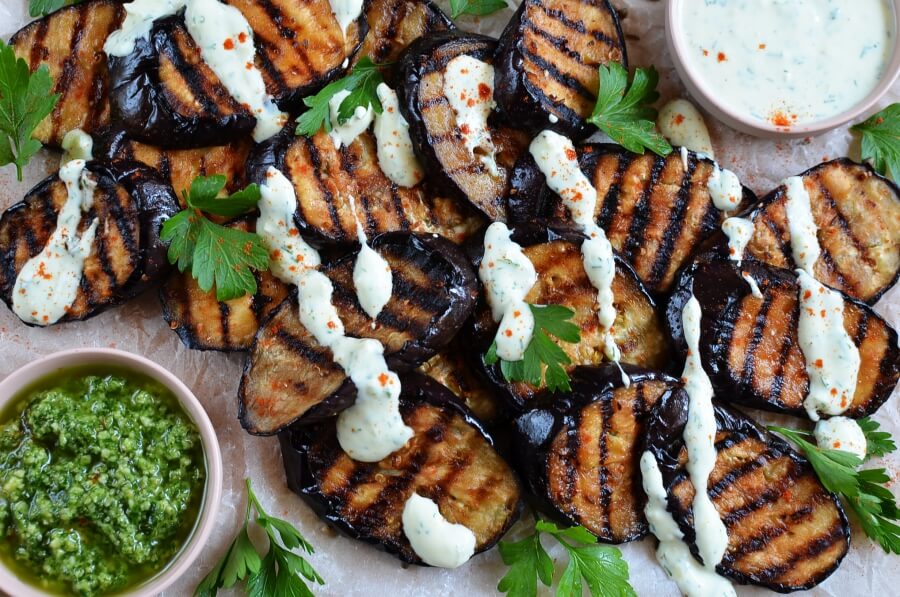 Ingredients for Vegan Smoky Grilled Eggplant:
1 Eggplant
4 Tbsp Coconut aminos
1-2 Tbsp Avocado oil
2 tsp Smoked Paprika
2 tsp Cumin
2 tsp Coriander
½ tsp Sea salt
½ tsp Garlic powder
½ tsp Cayenne pepper

FOR SERVING:
Parsley
Garlic Dill Sauce
Olive oil
This Roasted Vegetable Lasagna is a delicious Italian inspired option for meat free Monday. The secret to a delicious veggie lasagna is to roast the vegetables before assembling the lasagne layers. By doing this, you capture the flavor and texture of the veggies without any sogginess. To make this simple…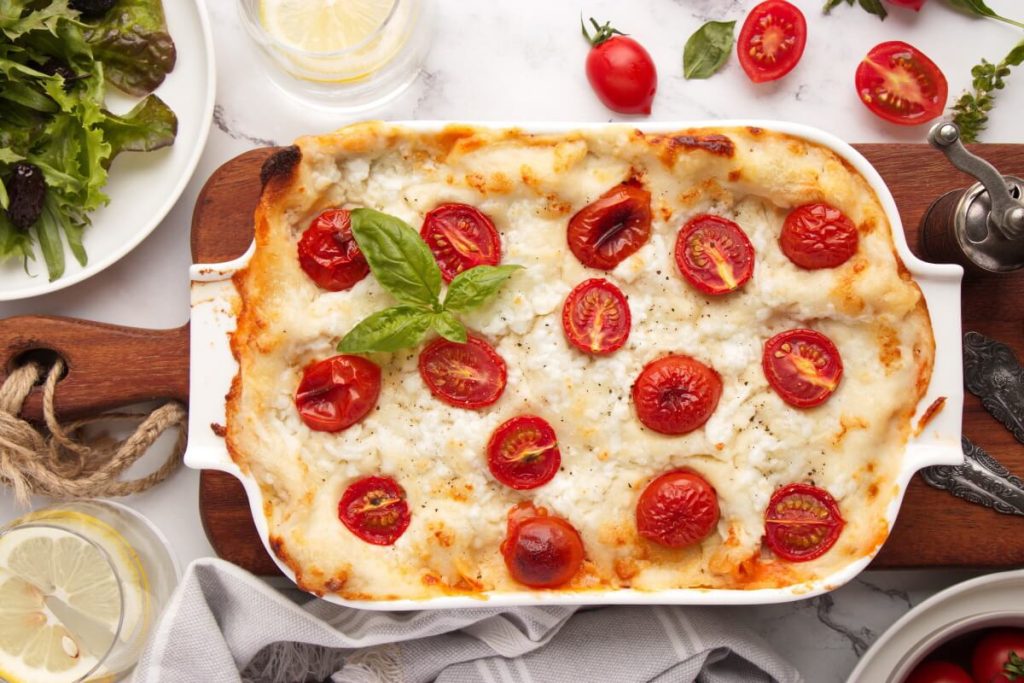 Ingredients for Roasted Vegetable Lasagna:
3 Red bell pepper
2 Eggplants
8 tbsp Olive oil
300 g Lasagna noodles
125 g Mozzarella
1 handful Cherry tomatoes
Salt
Black pepper

FOR THE WHITE SAUCE
1½ oz Butter
1½ oz All-purpose flour
1¼ cups Milk

FOR THE TOMATO SAUCE
1 tbsp Olive oil
finely chopped Onion
1 clove Garlic
1 Carrots
1 tbsp Tomato puree
100 ml White wine
1½ x 400 g Can chopped tomatoes
1 handful Basil
I made this Gluten-Free Baked Eggplant Parmesan for a friend recently and would you believe, I think it tastes better than traditional eggplant parmigiana! A lot of the gluten free options you can buy at the store are full of unusual ingredients, so it's really great to be able to…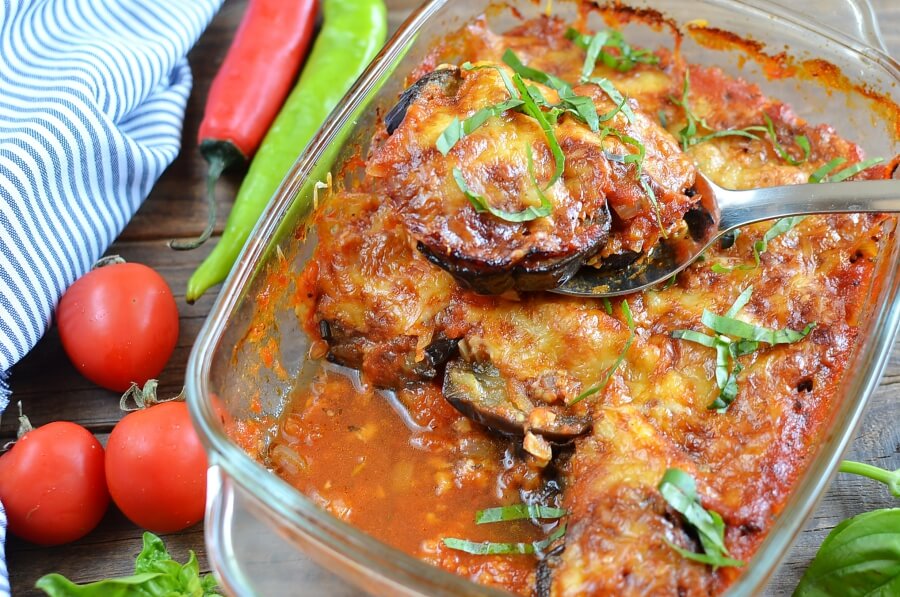 Ingredients for Gluten-Free Baked Eggplant Parmesan:
2 Eggplants
¾ tsp Salt
½ tsp Black pepper
2 tbsp Olive oil
1 cup Onion
2 cloves Garlic
1 (28 oz) Tomatoes
¼ cup Red wine
1 tsp Dried basil
1 tsp Dried oregano
1 ½ cups Mozzarella
½ cup Parmesan cheese grated
5 fresh Basil leaves
Mediterranean Yogurt Flatbread with Crispy Eggplant. Sometimes the best things in life take that much more time and effort and that is the exact case with this delicious recipe. An extremely long name to an actually pretty simple recipe. Prepare your Mediterranean eggplant, homemade flatbread, shirazi salad and fry up…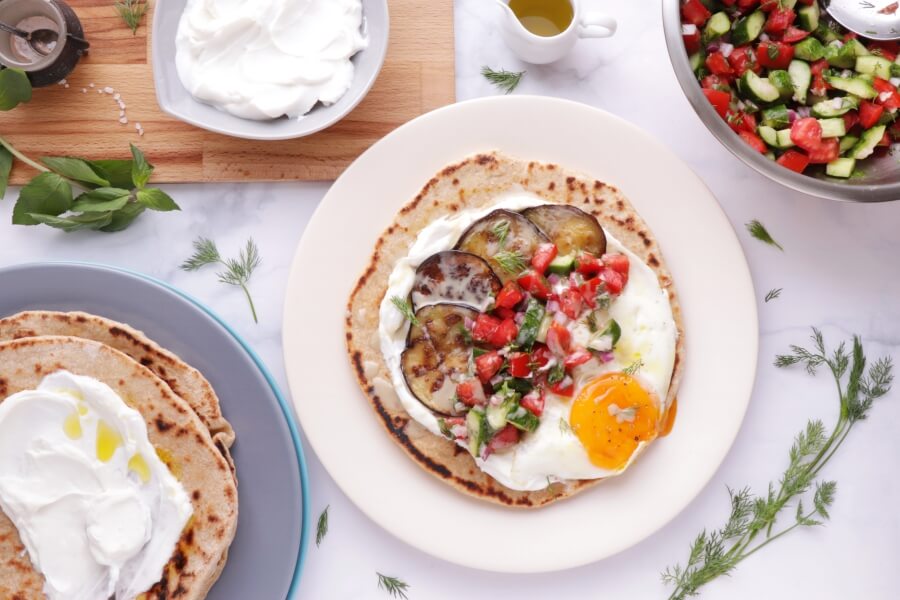 Ingredients for Mediterranean Yogurt Flatbread with Crispy Eggplant:
FOR THE EGGPLANT
1 large Eggplants
Kosher Salt
Olive oil

FOR THE FLATBREAD
1¼ cups All-purpose flour
1 cup Whole wheat flour
2 tsp Kosher Salt
1 tsp Baking powder
1 tsp Sugar
2 cloves Garlic
1 cup Plain yoghurt
Olive oil

FOR THE SHIRAZI SALAD
1 medium English cucumber
2 Plum tomato
¼ cup Red onion
1 Lemon
1 tbsp Fresh mint
1 tbsp Fresh dill
Kosher Salt
Black pepper

FOR ASSEMBLING
4 Large eggs
2 tbsp Olive oil
½ cup Labne
Tahini
Fresh dill
We love Italian night in our house and this Pasta with Eggplant Tomato Sauce is a popular menu choice quite often. This dish is the perfect option for days when you aren't home and dinner can be prepared in just 20 minutes. Using a slow cooker to make your sauce,…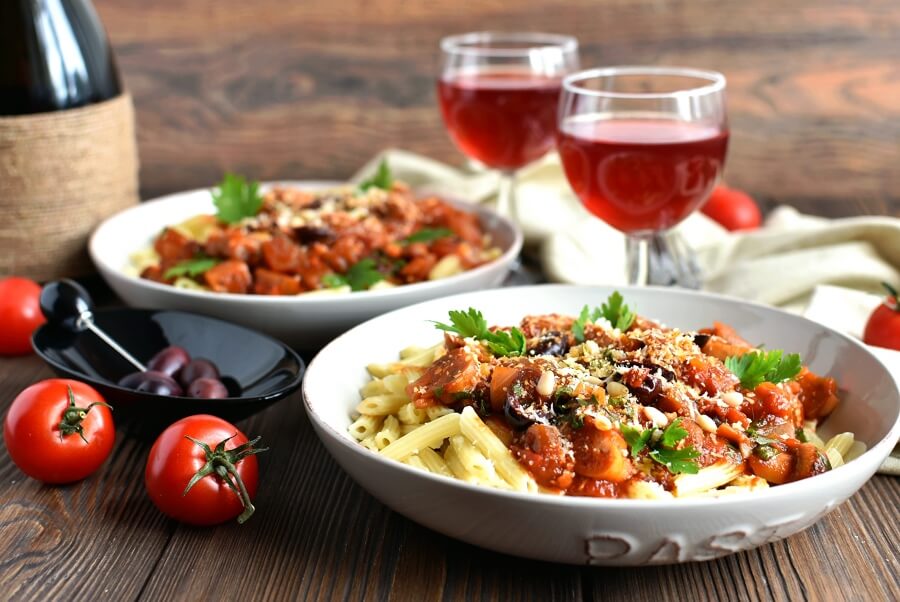 Ingredients for Pasta with Eggplant Tomato Sauce:
4 cups Penne pasta
1 Eggplants
1 can Tomatoes
1 can Tomato paste
1 Onion
1 can Mushrooms
¼ cup dry Red wine
¼ cup Water
2 cloves Garlic
1½ tsp Dried oregano
½ cup Kalamata olives
2 tbsp Parsley
Salt
Black pepper
⅓ cup Parmesan cheese
1-2 tbsp Pine nuts
This Gluten-Free Eggplant Lasagna is not only free from gluten, it's also vegan since it uses a dairy-free mozzarella-style cheese. Dairy-free, gluten-free, egg-free? Tell me more! This "lasagna" substitutes pasta sheets for eggplant slices making it a healthy and wholesome lasagna alternative. To make this, start by roasting the eggplant….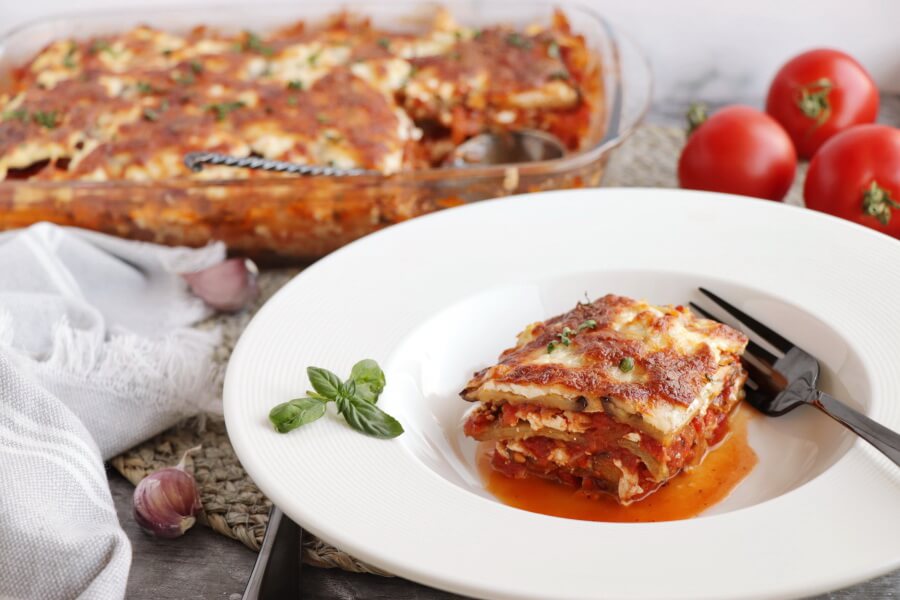 Ingredients for Gluten-Free Eggplant Lasagna:
2 Eggplants
2 tbsp Olive oil
1 cup Onion
2 cloves Garlic
1 (28 ounce) Can crushed tomatoes
¼ cup Red wine
1 tsp Dried basil
1 tsp Dried oregano
¾ tsp Salt
¼ tsp Ground pepper
1 (16 ounce) package Firm Tofu
2 tsp Nutritional yeast
1 cup dairy-free Mozzarella-style cheese
Basil
This Italian Style Stuffed Eggplant a delicious, cheesy stuffed recipe. Baked eggplant stuffed with a mix of tomatoes, seasoned with fresh basil, olive oil, crushed garlic, rosemary and salt to taste and topped with spoonfuls of ricotta cheese and sprinkles of Parmesan. If you're having guests this serves perfectly, as…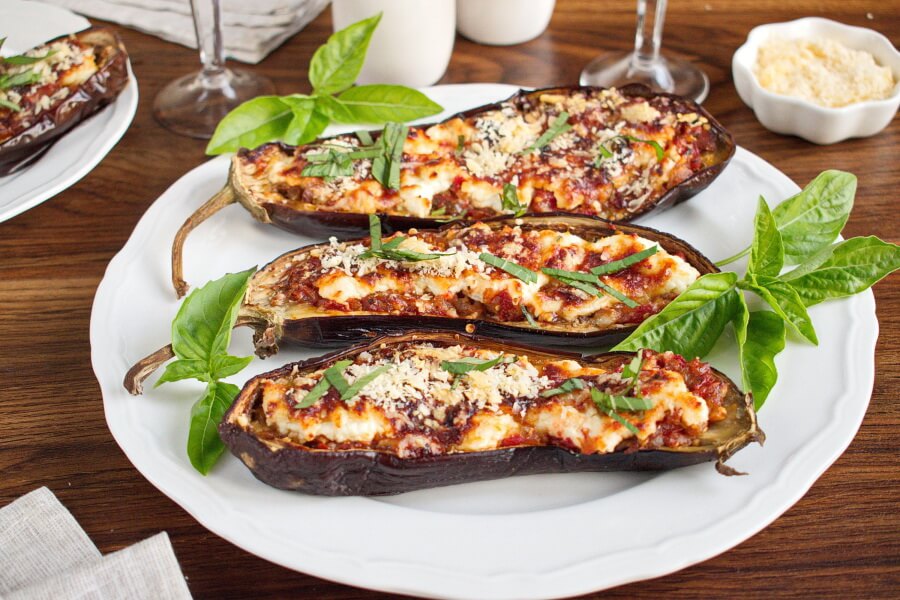 Ingredients for Italian Style Stuffed Eggplant:
2 medium Eggplants
1 can Tomatoes
1 cup Ricotta cheese
1 ounce Parmesan cheese
¼ cup Basil
2 tbsp Olive oil
2 cloves Garlic
1 tsp Rosemary crushed
¼ tsp Salt
These Eggplant & Mozzarella Stick Roll-Ups would be a great addition to your party food menu – they are easy to make because you use store bought mozzarella sticks. They are also easy to serve and most importantly for your guests, they are easy to pick up and eat while…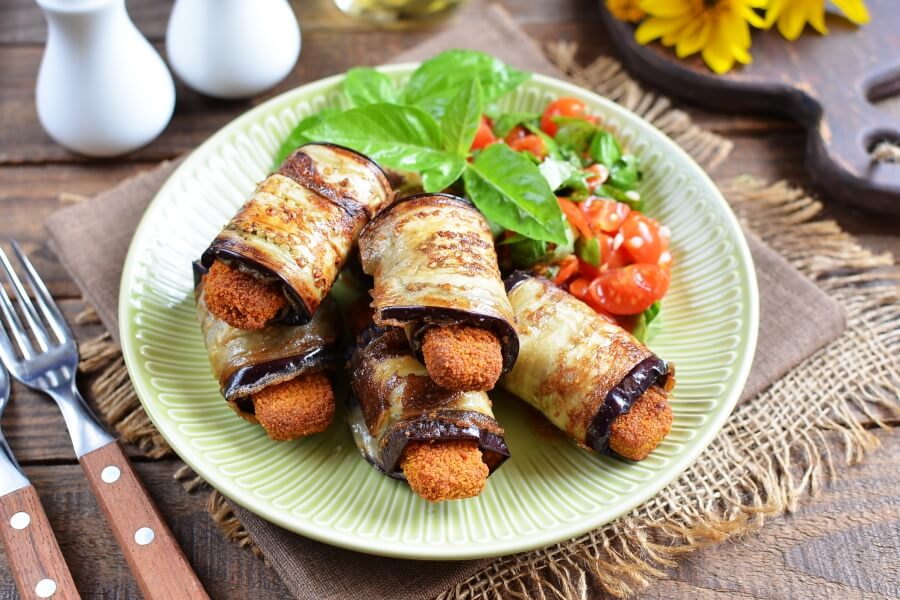 Ingredients for Eggplant & Mozzarella Stick Roll-Ups:
8 sticks Mozzarella
1 Eggplants
½ tsp + ⅛ tsp Kosher Salt
1 clove Garlic
1 cup Tomatoes
¼ cup Basil
½ tsp Black pepper
2 Large eggs
2 tbsp Olive oil
Eggplant with Yogurt and Dill is a recipe I learned from a friend of mine who was shocked when I told her I wasn't the biggest eggplant fan. "You simply haven't found the right recipes yet" she scolded me! And you know what? She was right. She taught me how…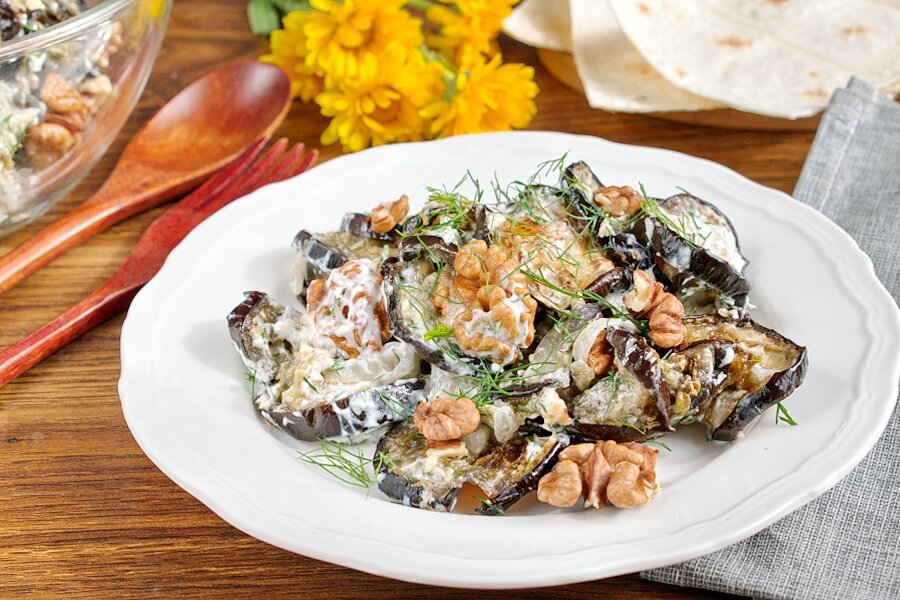 Ingredients for Eggplant with Yogurt and Dill:
1 lb Eggplants
3 Shallots
3 cloves Garlic
¼ cup Olive oil
Salt
Black pepper
½ cup Walnuts
½ cup Yogurt
10 sprigs Fresh dill