TOP 10 Easy Microwave Recipes
Bypass the oven and make these cheat's recipes in the microwave alone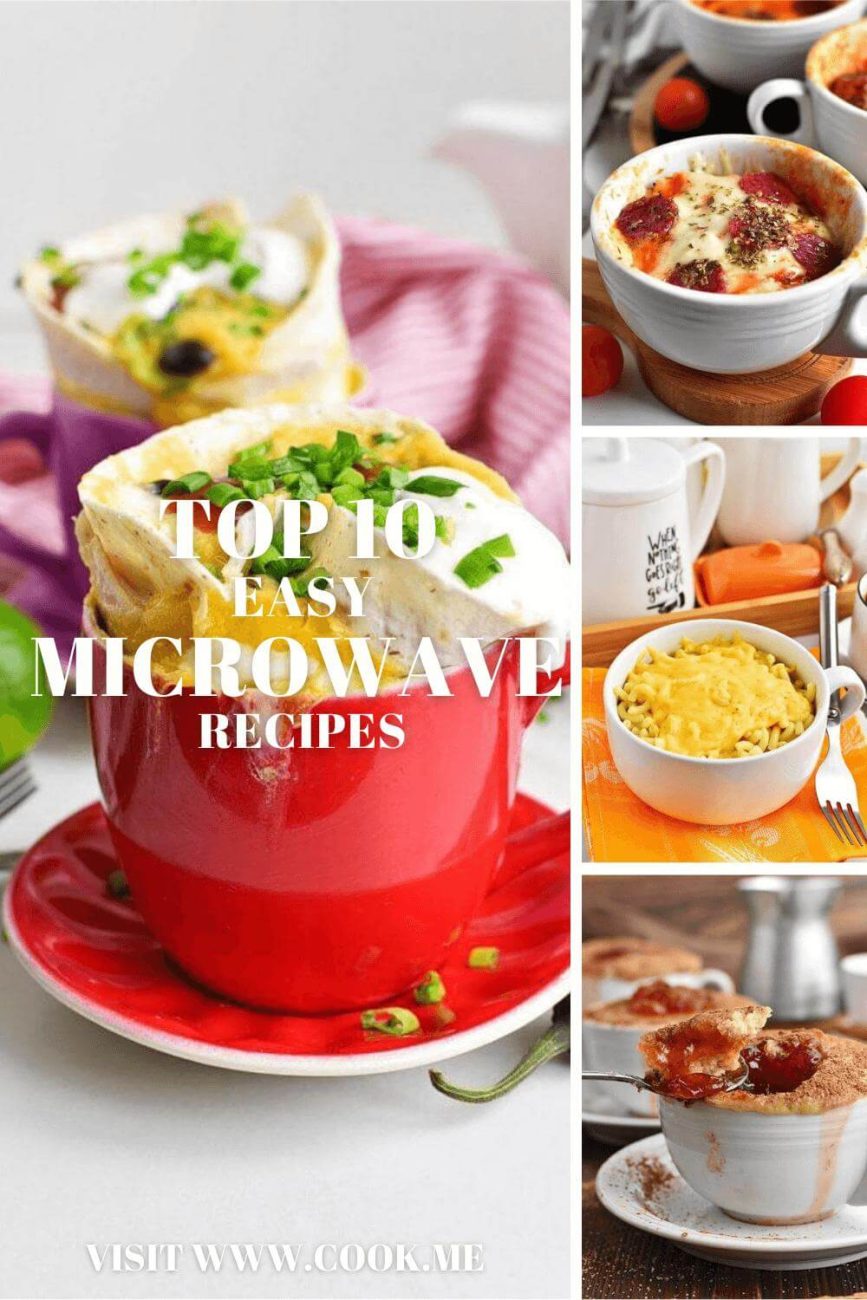 Who doesn't love a breakfast burrito? I am always on the lookout for new burrito recipes! Enter now my Mugrito: Breakfast Burrito in a Mug. This is a super quick and easy breakfast burrito which you can whip up in under ten minutes! What are you waiting for? Start this…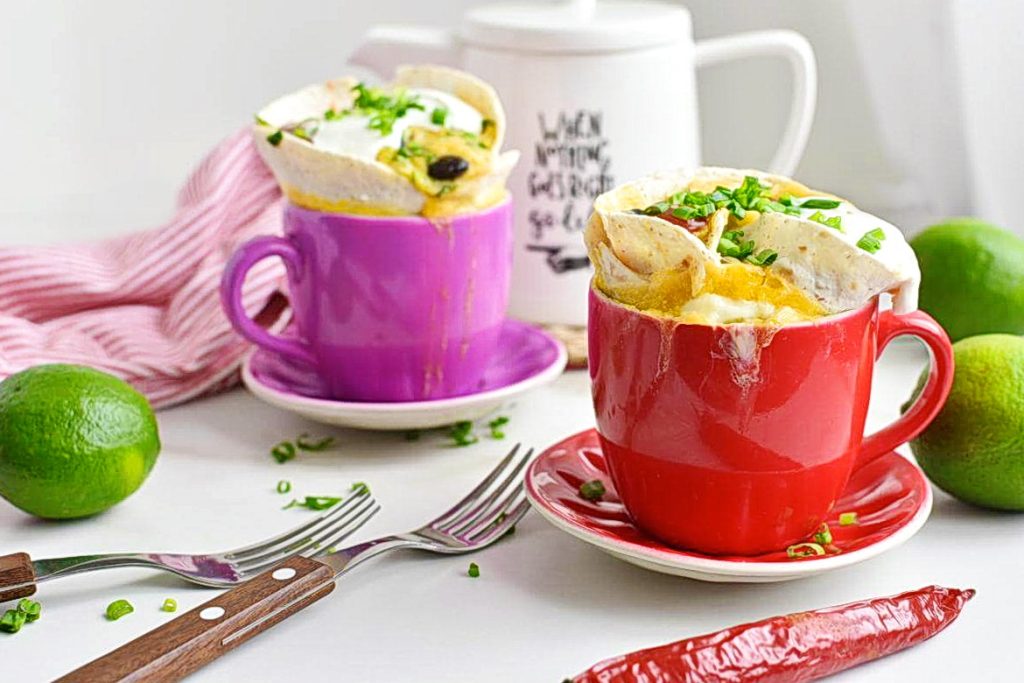 Ingredients for Mugrito: Breakfast Burrito in a Mug:
1 (9-inch) Tortillas
2 Eggs
2 tbsp Black beans
2 tbsp Cheddar cheese
2 tbsp Scallions
Salt
Black pepper
My kids absolutely adore this Microwave Mug Pizza recipe. Quick, easy and safe for kids to make – it is a perfect Saturday night treat! Feel free to go wild with the toppings for this mug pizza ed-hrvatski.com. I keep it simple with pepperoni and cheese but you can add…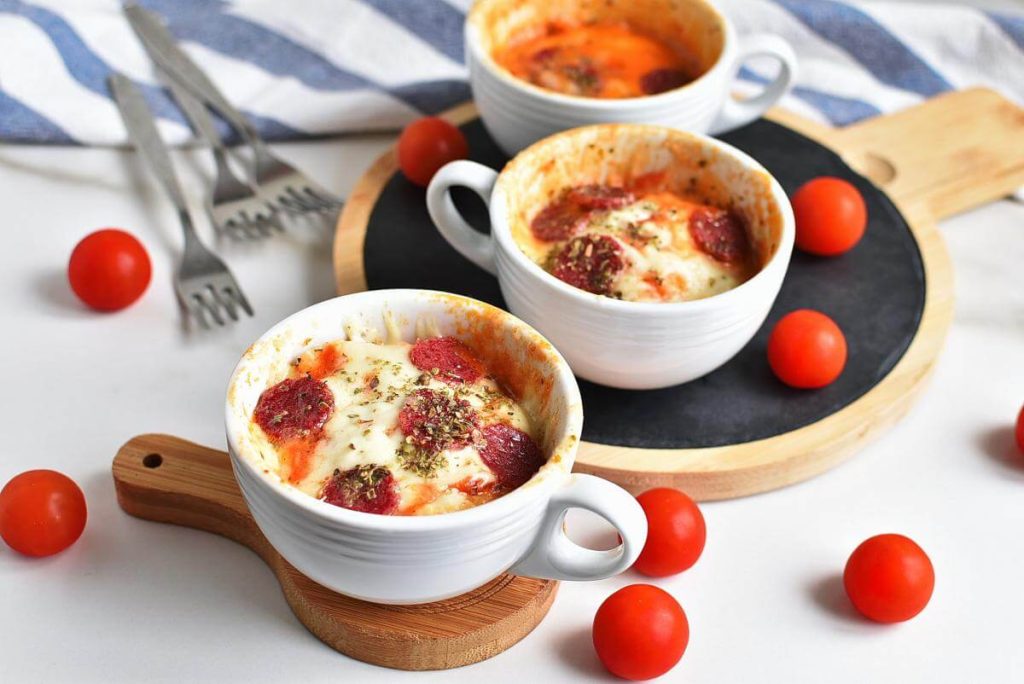 Ingredients for Microwave Mug Pizza :
4 tbsp All-purpose flour
⅛ tsp Baking powder
1/16 tsp Baking soda
⅛ tsp Salt
3 tbsp Milk
1 tbsp Olive oil
1 tbsp Marinara sauce
1 tbsp Mozzarella
5 Pepperoni
½ tsp Dried herbs
This Microwave Potato Soup recipe is the answer to all your prayers. It's a simple soup that you can make from scratch in under 10 minutes. All you need at your disposal is a microwave and a microwave safe mug! Start by cooking the potatoes in water in the microwave….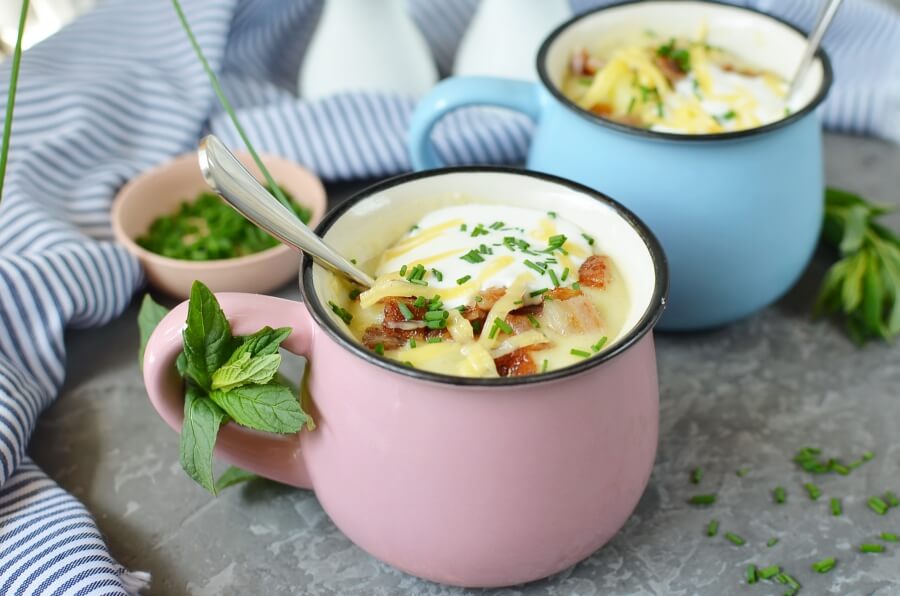 Ingredients for Microwave Potato Soup:
¾ cup Water
3 tbsp Potatoes
1 tbsp Onion
2 tbsp Cheddar cheese
1 tbsp Bacon
2 tsp Cornstarch
½ cup Chicken stock
¼ cup Milk
Salt
Black pepper
Sour cream
Breakfast will never be the same once you have tried my Microwave Egg Mug Muffin. This is a healthy savory breakfast which you can make and eat in around 10 minutes. Perfect as it is or served with hot buttered toast on the side. Start this mug muffin by making…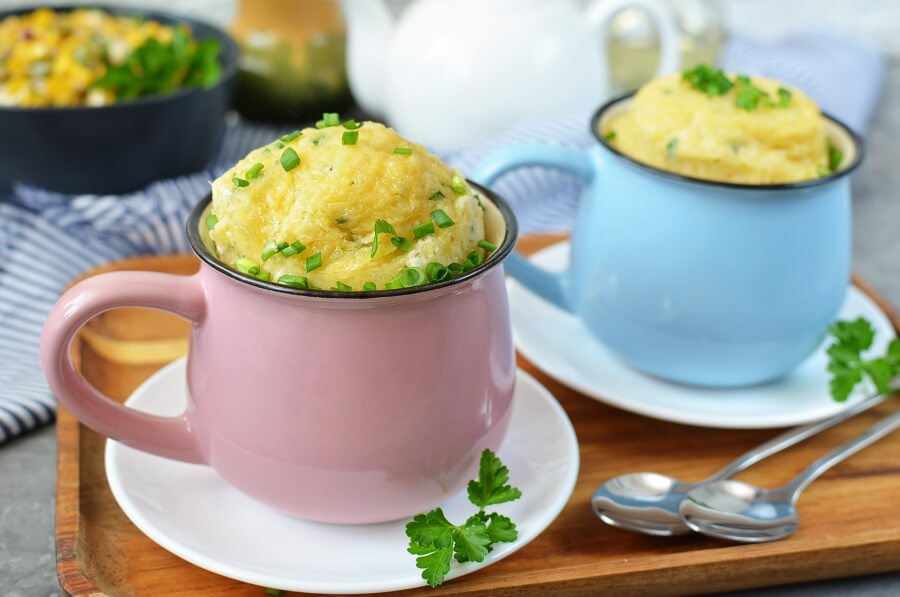 Ingredients for Microwave Egg Mug Muffin:
5 tbsp All-purpose flour
¼ tsp Baking powder
⅛ tsp Baking soda
⅛ tsp Salt
2 tbsp Milk
2 tsp Vegetable oil
2 tbsp Eggs
1 tbsp Cheddar cheese
1 tbsp Scallions
1 Eggs
If you are hosting brunch this week, then you have to add these cheesy, Breakfast Potatoes to your menu. They're so good that my family enjoys them for breakfast, lunch and dinner! Using a 700-watt microwave, I have come up with a recipe that my kids are able to make…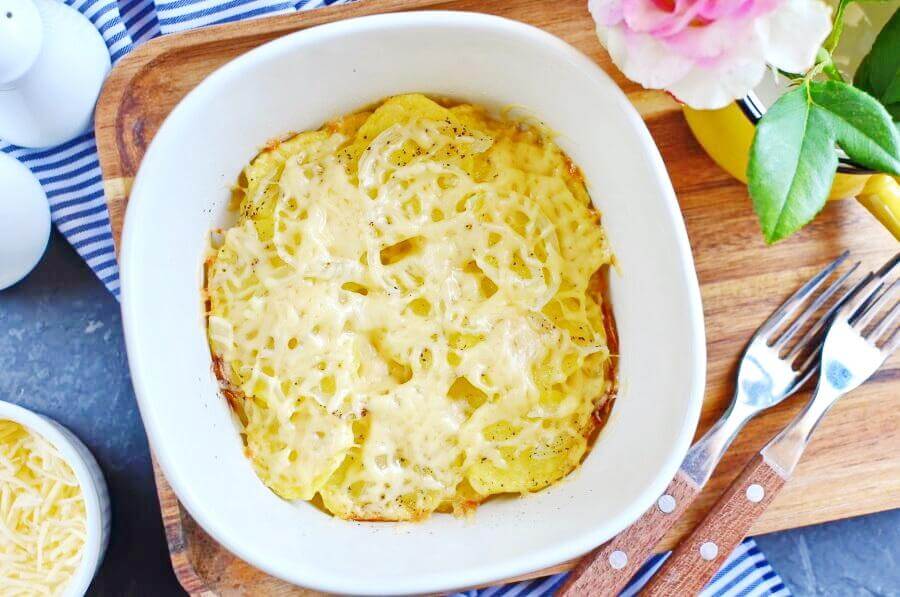 Ingredients for Breakfast Potatoes :
2 Potatoes
¼ cup Onion
⅛ tsp Black pepper
1/2 tsp Garlic salt
1/4 cup Cheddar cheese
You won't find anything easier than my 5 Minute Microwave Cornbread! People often ask me about my favorite cuisines or types of recipes. As a mum of two, my answer is always the dishes that allow you to cut corners on time and effort, without cutting corners on the taste….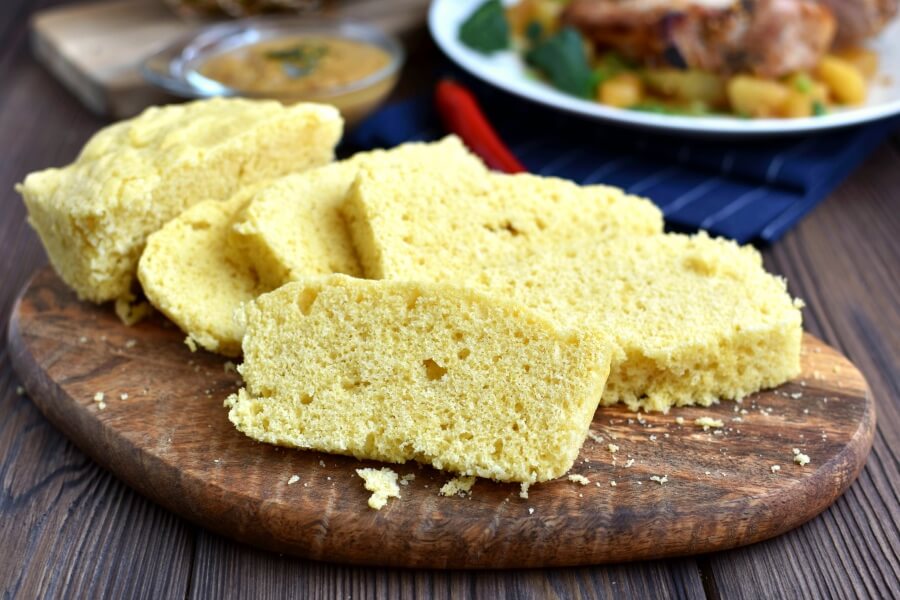 Ingredients for 5 Minute Microwave Cornbread:
1/2 cup All-purpose flour
1/2 cup Yellow cornmeal
2 tbsp Sugar
1/2 cup Milk
1 Eggs
2 tbsp Vegetable oil
2 tsp Baking powder
1/4 tsp Salt
This Molten Chocolate Mug Cake is like a dessert that you would be served in a top restaurant. When you dig your spoon into the sponge top, you meet a molten liquid chocolate centre. So deliciously decadent. The best part? It takes just 5 minutes to make! Start by mixing…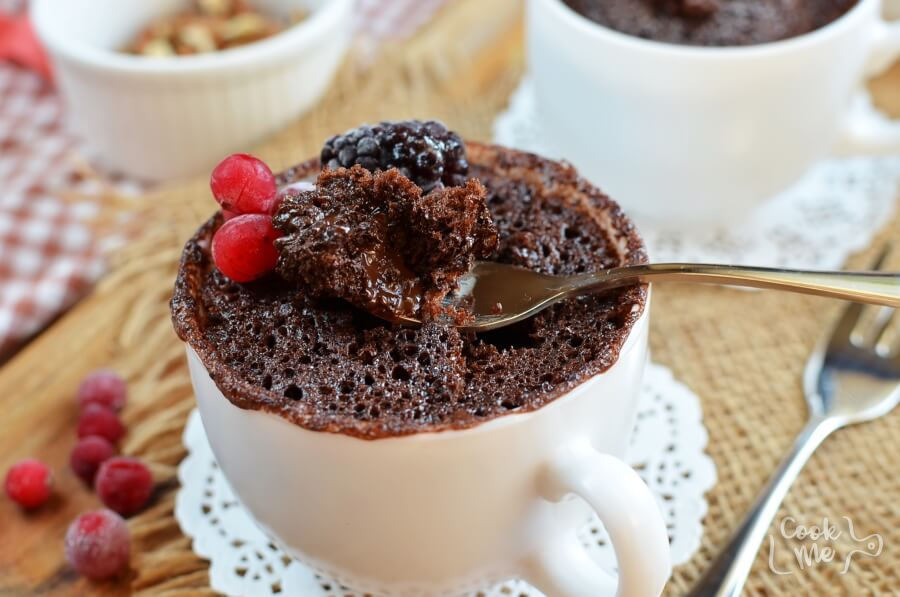 Ingredients for Molten Chocolate Mug Cake:
1/4 cup All-purpose flour
1/4 cup Granulated sugar
2 tbsp Cocoa powder
1/2 tsp Baking powder
Pinch Salt
3 tbsp Butter
3 tbsp Whole milk
1 Eggs
1/4 tsp Vanilla extract
1 oz Chocolate
1 tbsp Water
This Microwave Jelly Donut in a Mug is one of my favorite mug recipes ever. Who doesn't love a jelly donut, warm straight from the oven? Well now you can have this pleasure at home with this recipe. And in under ten minutes too! Start by melting butter in a…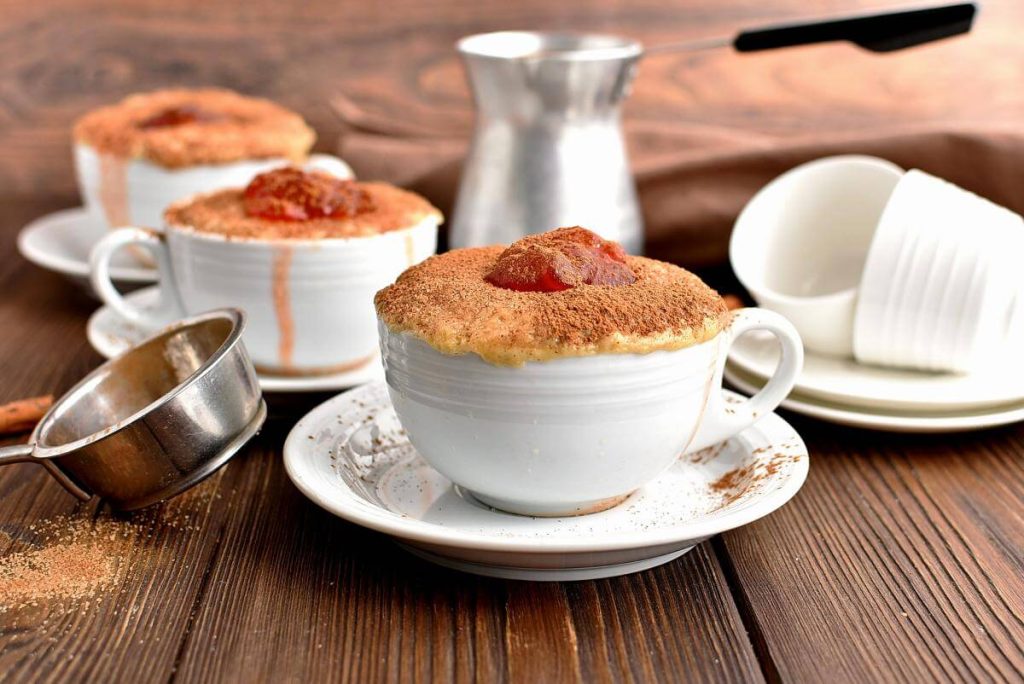 Ingredients for Microwave Jelly Donut in a Mug:
2 tbsp Butter
4 tbsp All-purpose flour
1 Egg yolks
2 tbsp Sugar
1 tbsp Milk
1/2 tsp Baking powder
1/4 tsp Cinnamon
1 tbsp Strawberry jam
Cinnamon sugar
This Mac and Cheese in a Mug is one of my favorite ways to cook this childhood classic dish. You can use any small pasta for this but I always use my favorite macaroni! Make sure you use the largest microwave safe mug you can find for this recipe as…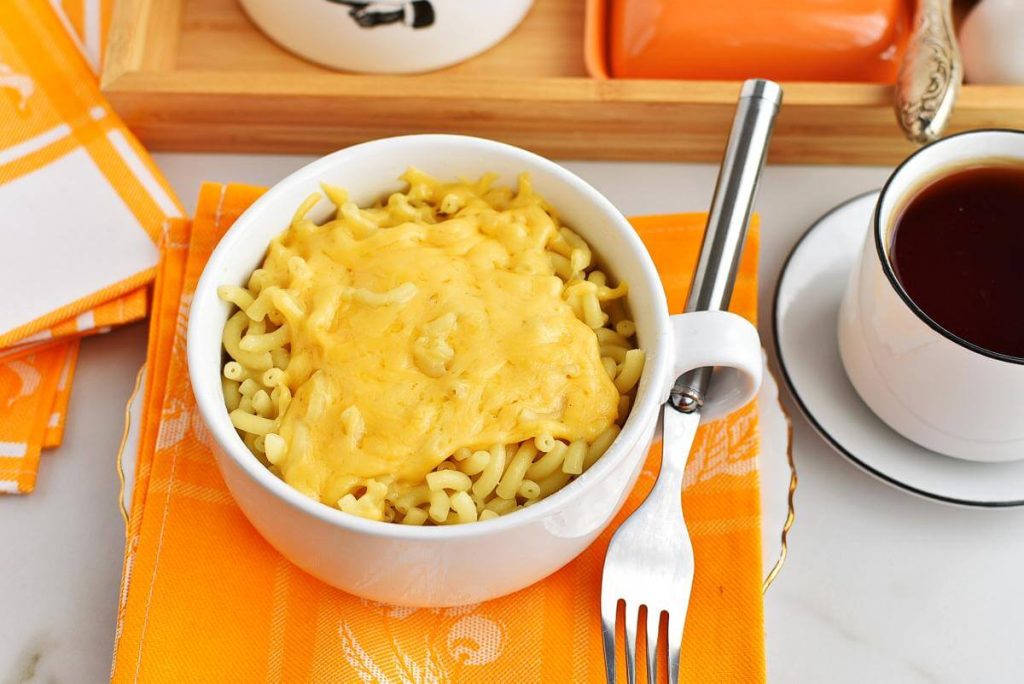 Ingredients for Mac and Cheese in a Mug:
⅓ cup Pasta
¾ cup Water
4 tbsp Milk
¼ tsp Cornstarch
4 tbsp Cheddar cheese
Salt
Black pepper
I am about to guide you through The Best Pumpkin Mug Cake recipe. As you know, mug cakes are my latest fad! I can't get enough of them. They are so quick and easy to make. There is very little washing up and best of all, they taste delicious!  For…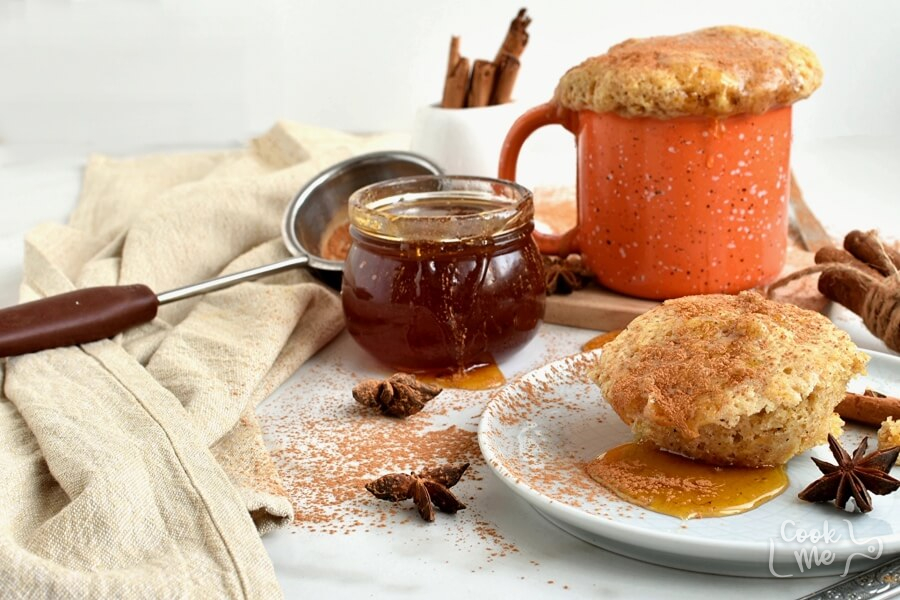 Ingredients for The Best Pumpkin Mug Cake:
6 tbsp White cake mix
2 tbsp Pumpkin puree
1 tsp Pumpkin pie spice
1 tbsp Milk
1 tbsp Vegetable oil