Top 10 Easy Pear Recipes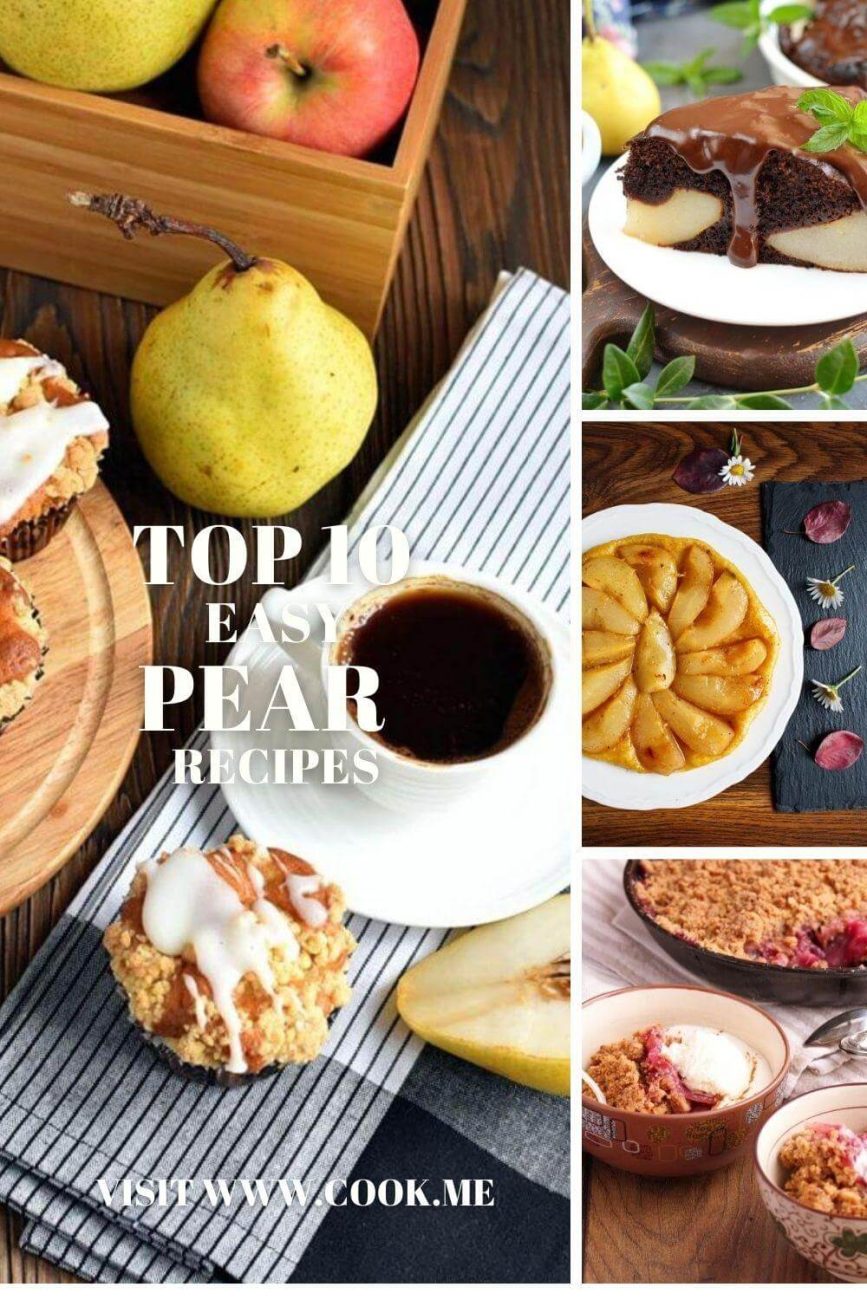 I love this Pear and Ginger Marmalade and I always try to make a batch in the run up to Christmas. The pears give a sweet fruity base for this marmalade and the gingery provides a warm, comforting sensation as you eat it.   This recipe makes use of the natural…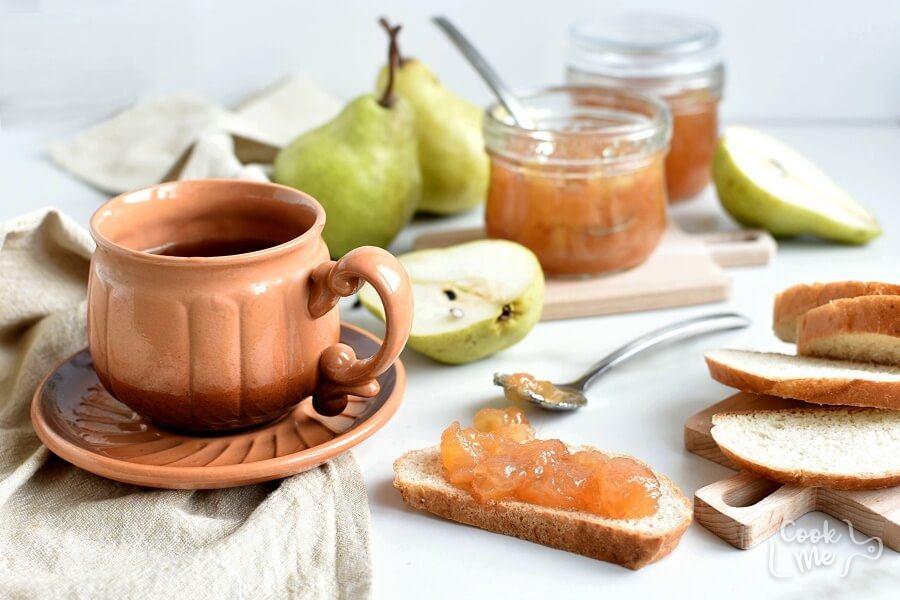 Ingredients for Pear and Ginger Marmalade:
1 kg Pears
500 g Granulated sugar
1 Fresh ginger
Juice from 2 Lemon
Pear Tarte Tatin is a take on the classic French tarte tatin dessert. Tarte tatin gets its name from the Hotel Tatin in France where it was first made. It is an upside-down fruit tart and the fruit is beautifully caramelized with sugar and butter. A pastry pie crust is…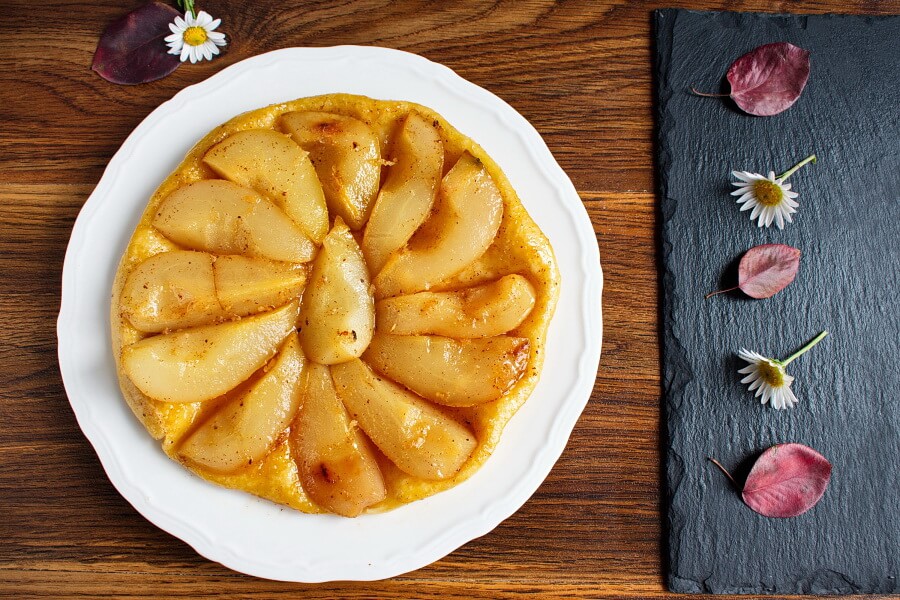 Ingredients for Pear Tarte Tatin:
FOR THE PASTRY CRUST:
1/3 cup Butter
1 cup All-purpose flour
1 tsp Sugar
½ tsp Salt
1 Egg yolks

FOR THE FILLING:
2 lb Pears
2 tbsp Lemon juice
⅔ cup Sugar
2 tbsp Butter
2 tsp Ginger
Light grating of fresh Nutmeg
This Healthy Pear Ginger Chia Smoothie is a delicious smoothie recipe and is a healthy way to start the day. One of these smoothies at breakfast time will keep you feeling full until lunch thanks to the addition of chia seeds. I love the zing of ginger in this smoothie…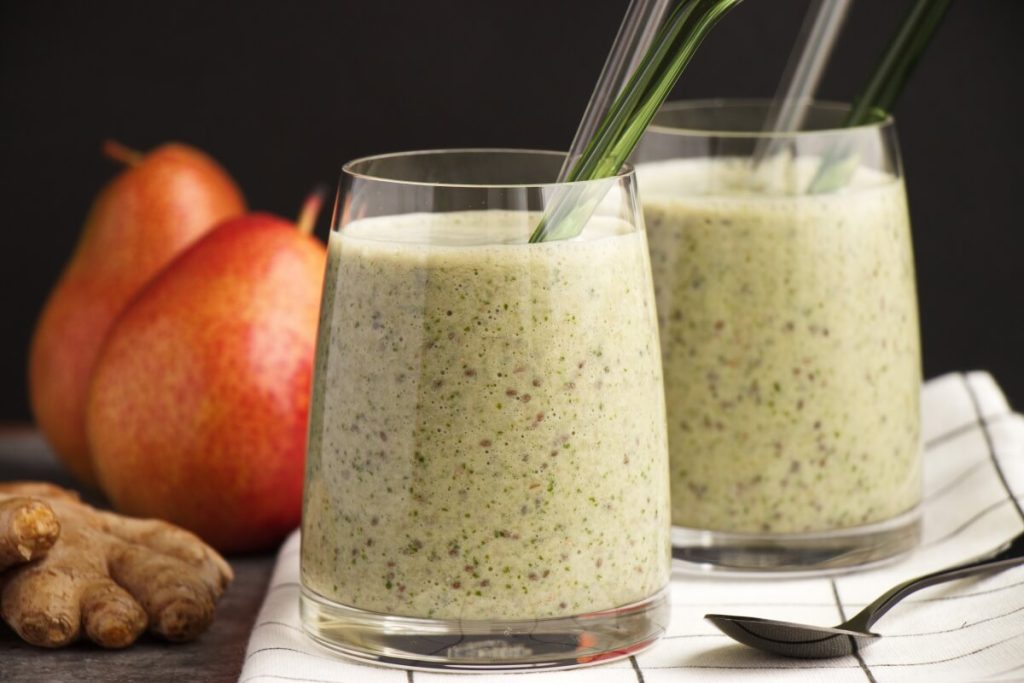 Ingredients for Healthy Pear Ginger Chia Smoothie:
1 Pears
1½ cups Almond milk
1 cup Baby spinach
2 tbsp Chia seeds
¼ tsp Fresh ginger
1 tbsp Maple syrup
This warm Skillet Baked Pear and Apple Crisp is a winter's night dessert delight. Served in a rustic way and baked in an ovenproof skillet, almost like an apple pie, with an apple and pear bubbling center and a crunchy, nutty topping. There are currants in the filling and pecans…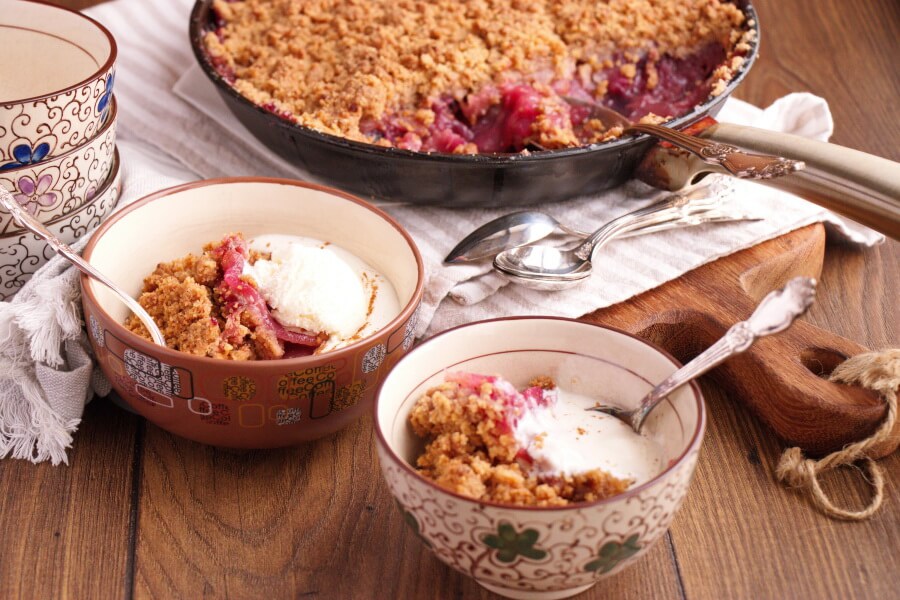 Ingredients for Skillet Baked Pear and Apple Crisp:
FOR THE TOPPING
1 cup Brown sugar
1 cup All-purpose flour
¼ cup Pecans
2 tsp Cinnamon
1 stick Unsalted butter

FOR THE FILLING
1½ pounds Granny Smith apples
1½ pounds Bartlett Pears
½ cup Blackcurrant
¼ cup Brown sugar
2 tsp Cinnamon
¼ tsp Ground cardamom
¼ cup Honey
2 tbsp Cognac

FOR SERVING:
Vanilla ice cream
Another, baking-made-easy, with this Chocolate Pear Pudding recipe. Using preserved, canned pears with a soft, chocolate, batter pudding spread over the top that I whisk up in a food processor to save time and mess. There isn't much more to this dessert except delicious sweetness and a soon-to-be family favorite….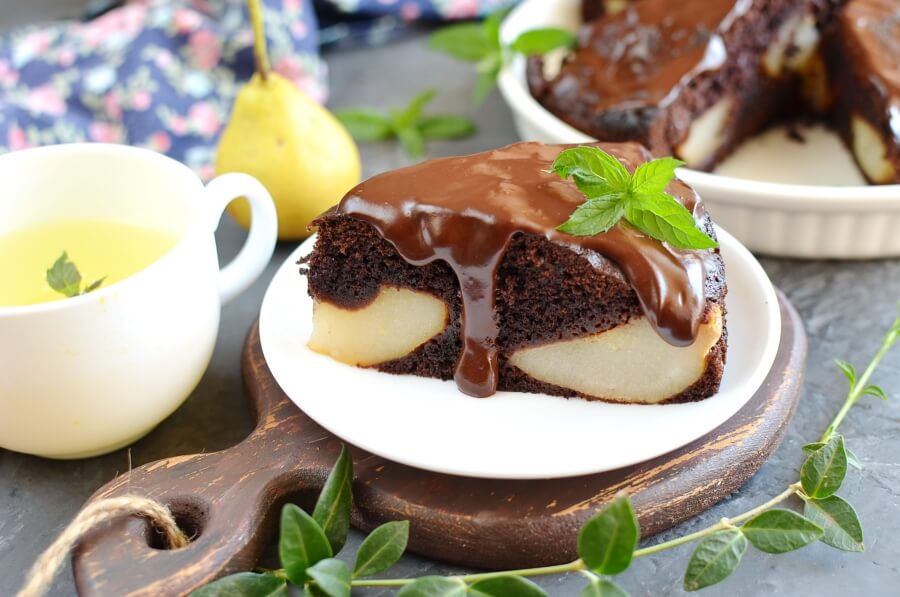 Ingredients for Chocolate Pear Pudding:
830g (2 cans) Pears
125g All-purpose flour
25g Cocoa powder
125g Caster sugar
150g Butter
1 tsp Baking powder
¼ tsp Baking soda
2 Eggs
2 tsp Vanilla extract
This Chocolate Pear Cake is a baker's dream recipe. Prepare all your ingredients beforehand, have your dry ingredients sifted together and your butter and dark chocolate melted, too. One by one, simply whisk all the ingredients together to combine the decadent, dark chocolate cake used for the base in this…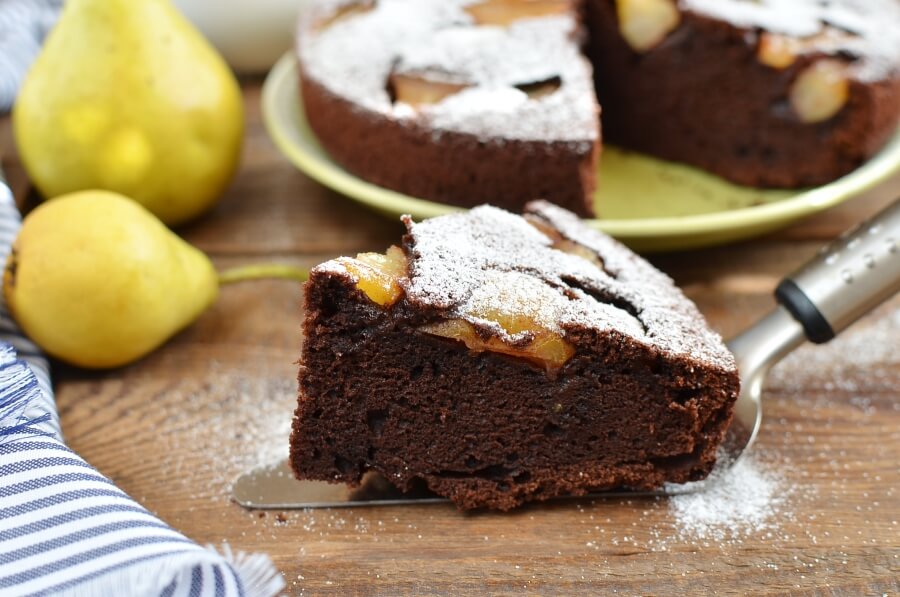 Ingredients for Chocolate Pear Cake:
3 Pears
4 ounces Dark chocolate
⅓ cup Cocoa powder
1 cup All-purpose flour
¾ tsp Baking soda
⅛ tsp Salt
¼ cup Butter
¾ cup Granulated sugar
2 Eggs
1 tsp Vanilla extract
½ cup Whole milk
My new favorite salad might just be this Grilled Pork and Pear Salad with its perfect balance of flavors as well as fresh goodness. Serve your plates with an array of mixed salad greens and top with pear or apple slices and slices of grilled pork loin chops, seasoned with…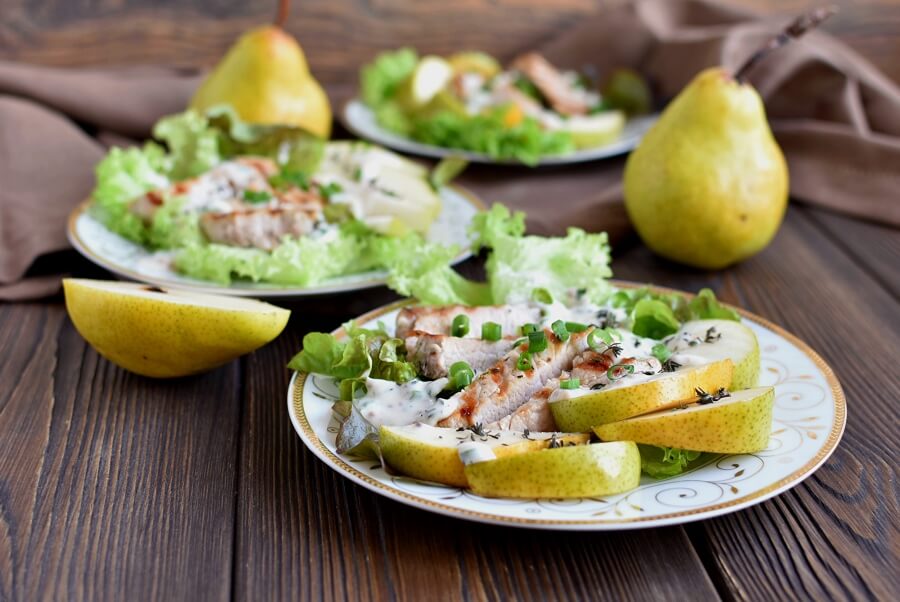 Ingredients for Grilled Pork and Pear Salad :
CREAMY APPLE DRESSING:
½ cup Buttermilk
2 tbsp
1 tbsp
1 tsp Dijon mustard
1 Green onion
1 tsp Fresh thyme
to taste Salt
to taste Black pepper

FOR THE SALAD:
2 Pork loin
2 tsp Olive oil
2 tsp Fresh thyme
¼ tsp Salt
¼ tsp Black pepper
8 cups Mixed greens
2 Pears
¼ cup Walnuts
Sage
Do you know the best part about this Quinoa, Pear and Spinach Jar Salad recipe? And no, it's not the cute jar for serving! In my opinion, the best part about this quinoa, pear, pecan, shallot, dried cherries and baby spinach combo, stuffed inside a mason jar, is the maple…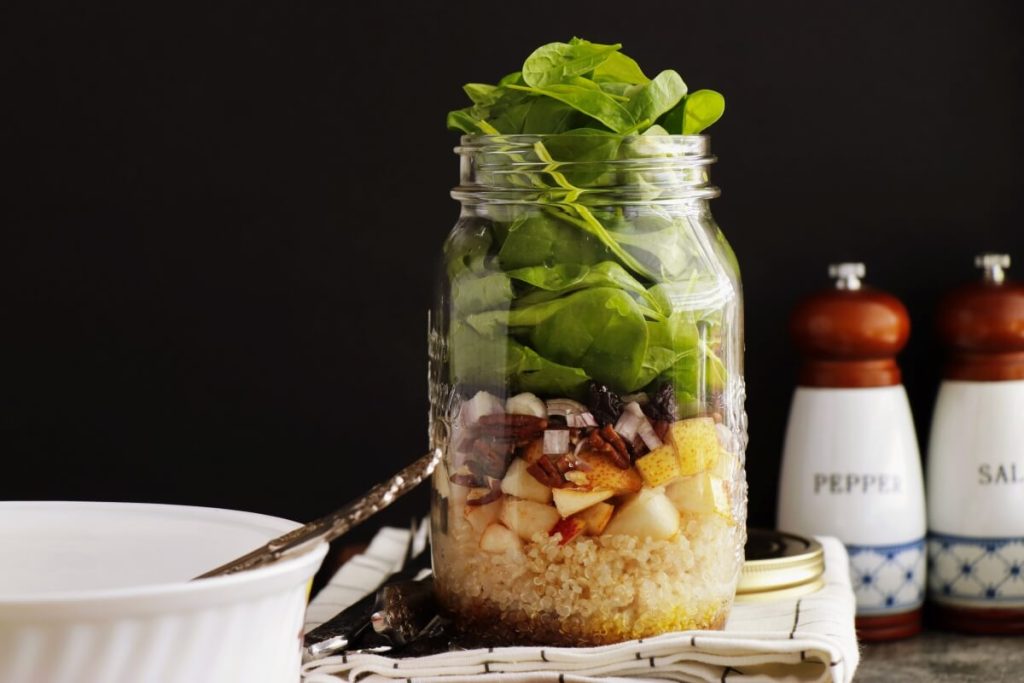 Ingredients for Quinoa, Pear and Spinach Jar Salad:
FOR THE MAPLE BALSAMIC DRESSING
4 tbsp Balsamic vinegar
3 tbsp Olive oil
1½ tbsp Maple syrup
¼ tsp Salt
Black pepper

FOR THE SALAD
2 tbsp Maple balsamic dressing
½ cup Quinoa
½ Pears
2 tbsp Pecans
2 tbsp Shallots
2 tbsp Dried cherries
2–3 cups Baby spinach
1-quart size (32 oz) Mason jar
This recipe for Baked Oatmeal with Pears is more than just a bowl of oats for breakfast. Fold pear slices into warm and creamy oats mixed with chopped walnuts, cinnamon, nutmeg, cloves, vanilla extract and maple syrup and bake the whole thing in the oven until golden on top. Your…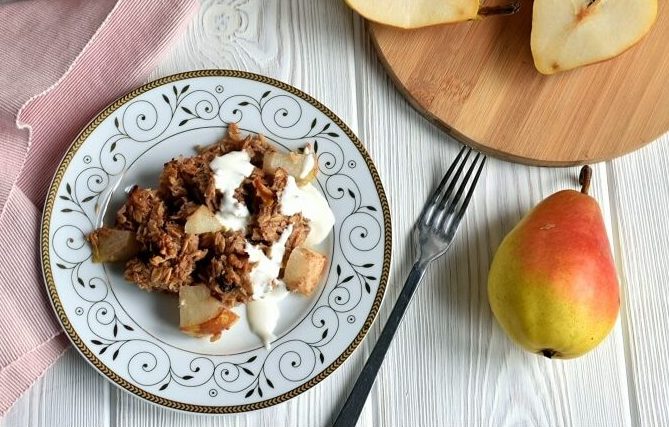 Ingredients for Baked Oatmeal with Pears:
2 cups Oats
½ cup Walnuts
2 tsp Cinnamon
1 tsp Baking powder
¾ tsp Salt
¼ tsp Ground nutmeg
⅛ tsp Ground cloves
2 cups Almond milk
1 cup Greek yogurt
¼ cup Maple syrup
2 tbsp Olive oil
1 tsp Vanilla extract
2 Pears
⅓ cup Greek yogurt
These Fresh Apple and Pear Cupcakes are overflowing with ingredients of  different flavors and tastes and still simple to make. In just 40 minutes these scrumptious and fruity, vanilla cupcakes can bring life to your home. Filled with apples and pears, cinnamon, vanilla and almond extract, cream cheese and Greek…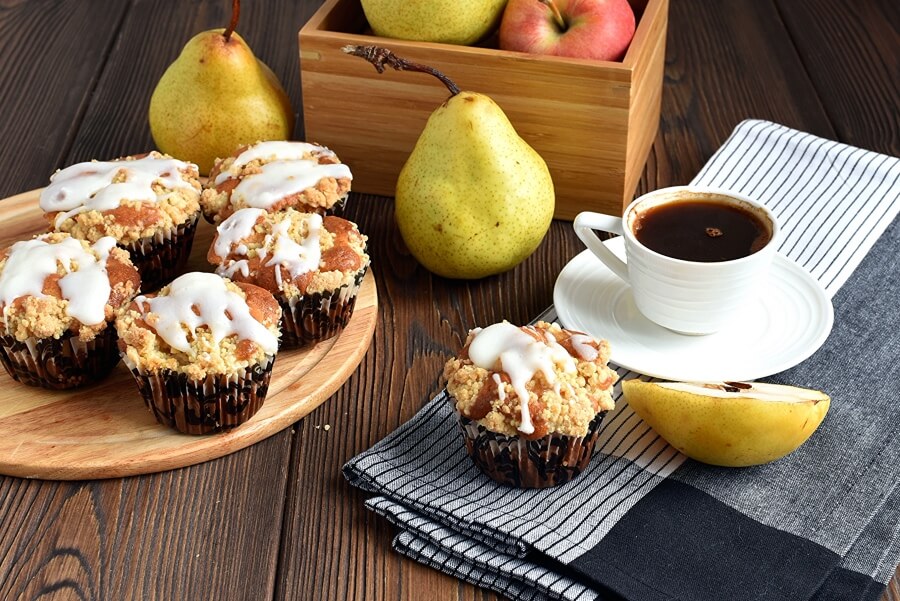 Ingredients for Fresh Apple and Pear Cupcakes:
1 Apples
1 Pears
1 tbsp All-purpose flour
¼ tsp Cinnamon

FOR THE CUPCAKES:
1½ cups All-purpose flour
¼ tsp Salt
½ tsp Baking powder
¼ tsp Baking soda
¾ cup Sugar
2 tbsp Cream Cheese
¼ cup Butter
2 tbsp Milk
1 tsp Vanilla
½ tsp Almond extract
1 Eggs
½ cup Greek yogurt
¼ cup Heavy cream

FOR THE TOPPING:
4 tbsp All-purpose flour
4 tbsp Brown sugar
4 tbsp Butter
½ tsp Cinnamon

FOR THE GLAZE:
1 cup Powdered sugar
1½ tbsp Milk
¼ tsp Almond extract
1 tbsp Cream Cheese