TOP 10 Easy Pie Recipes
No Matter the Occasion, We've Rounded up Our Best Pie Recipes to Satisfy Anyone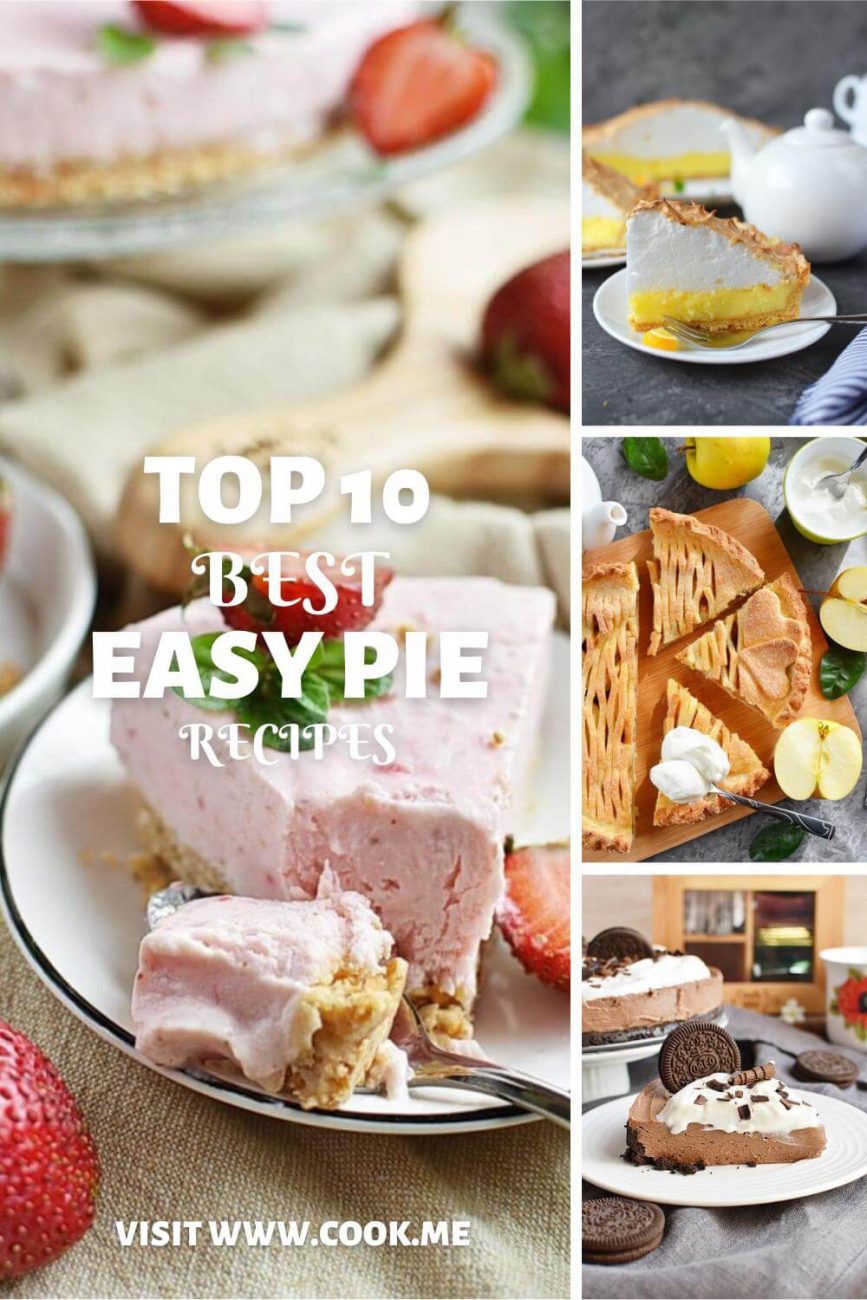 I enjoy an easy-to-bake recipe and this Ruby Grape Pie makes my amateur baking skills look leveled up! I use a premade pie crust, with a homemade grape and syrup filling that takes just 15 minutes. The rest gets done in the oven. First bake covered and then uncover for a gorgeous, golden top. Perfect for a summer's evening with dollops of fresh cream or vanilla ice cream.
Ingredients for Ruby Grape Pie:
4 cups Red Grapes
⅔ cup Sugar
½ tsp Cinnamon
3 tbsp Cornstarch
2 tbsp Lemon juice
1 tbsp Lemon zest
Pastry for double- Pie crust
2 tbsp Butter
This Grasshopper Ice Cream Pie is inspired by the famous grasshopper cocktail which is minty, creamy, and green! This is a healthy take on a mint chocolate ice cream pie. It substitutes some of the cream with nonfat yogurt and uses canola oil instead of butter to make the crust. A few drops of natural green food dye give this dessert a green tint! …
Ingredients for Grasshopper Ice Cream Pie:
2 ¼ cups Chocolate snap cookies
1-2 tbsp Canola oil
¾ cup Heavy cream
⅓ cup Sugar
1 cup Greek yogurt
¼ tsp Peppermint extract
2-4 drops Natural green food dye
I love this Easy Lemon Meringue Pie recipe! It is a simple take on an all-time classic and reminds me of summer days, even if I make it in the depths of winter! Meringue pies originated in France back in the 1800s, but without the pastry crust. That came later and we haven't looked back since. It's the combination of the crisp pastry shell with creamy lemon filling and sweet meringue that everyone loves! …
Ingredients for Easy Lemon Meringue Pie:
FOR LEMON FILLING:
4 Egg yolks
⅓ cup plus 3 tbsp Cornstarch
1 ½ cups Water
1 ⅓ cups Sugar
¼ tsp Salt
5 tbsp Butter
½ cup Lemon juice
1 tbsp Lemon zest
1 (9-inch) Pie shells

FOR MERINGUE TOPPING:
4 Egg whites
1 pinch Cream of tartar
8 tbsp Sugar
This Nutella Pie is a fantastic dessert recipe! It is rich, creamy and tastes delicious. It also doesn't require any cooking time so it is a perfect summer pie too. Think of it – a crunchy Oreo base, topped with a smooth hazelnut filling and piled high on top with whipped cream. …
Ingredients for Easy No Bake Nutella Pie:
FOR OREO CRUST:
25 regular Oreo cookies
3 tbsp Sugar
4 tbsp unsalted butter

FOR NUTELLA FILLING:
1 package (8 oz) Cream Cheese
1 ½ cups Nutella
1 tsp Vanilla extract
¼ tsp Sea salt
6 oz Frozen whipped topping

FOR WHIPPED CREAM TOPPING:
½ cup Heavy cream
1 tbsp Powdered sugar
1 tsp Vanilla extract
⅛ tsp (small pinch) Sea salt
1 bar Chocolate
This Grapefruit Pie is really, so simple to make. You may think that grapefruit is an unusual filling to put inside a pie, however the tartness combined with the tangy citrus flavor from the orange juice and zest come together like a perfect marriage. A fresh and fruity pie that will be perfect to serve at a Sunday tea with some fresh double whipped cream!…
Ingredients for Grapefruit Pie:
1 (9-inch) Pie crust
1 Grapefruit
½ cup Sugar
Orange zest
1 pinch Salt
¼ cup Orange juice
1 tbsp Cornstarch
1 (3 ounce) package Gelatin
This No-Bake Frozen Strawberry Yogurt Pie is a quick and easy frozen dessert that goes down a treat on a hot summer day. This is a no-bake pie, but you can bake the crust if you like to make it slightly sturdier. Start this pie by preparing the graham cracker….
Ingredients for No-Bake Frozen Strawberry Yogurt Pie:
FOR PRETZEL CRUST:
1 cup Graham cracker
1 cup Pretzel crumbs
⅓ cup Brown sugar
½ cup Unsalted butter

FOR PIE FILLING:
2 cups Strawberries
1 cup Sugar
8 oz Cream Cheese
½ cup Powdered sugar
16 oz Greek yogurt
1 cup Heavy cream
This amazing Crusty Apple Pie is so simple yet extremely tasty with its apple and cinnamon filling and its sugar encrusted lid. I love apple pie – I could eat it all day, every day! It is real comfort food and this particular version is unbeatable! Start by making pastry and placing it in the refrigerator to chill. Roll out one piece of pastry and line a baking dish with it. Fill with sugar, cinnamon, apples and butter. Top with a lid made …
Ingredients for Crusty Apple Pie:
FOR CRUST:
2 cups All-purpose flour
¾ tsp Salt
2 tbsp Buttermilk powder
half an 8-oz package Cream Cheese
10 tbsp Butter
3 – 4 tbsp Water

FOR FILLING:
5 tbsp Sugar
1 tbsp Cinnamon
2 Apples
⅛ tsp Salt
2 tsp Lemon juice
2 tbsp Butter

FOR TOPPING:
2 tbsp Sugar
If you're in the mood for something luxuriously sweet, try my Caramel Turtle Pie! I have a feeling turtle pie might not be familiar to everyone. Turtles are a little turtle-shaped chocolate candy with a pecan and caramel filling. I'm not clear on the history, but at some point a very smart cook thought that chocolate, caramel, and pecan would also work great as a pie,  …
Ingredients for Caramel Turtle Pie:
1 Pie crust
1 cup Pecans

FOR CARAMEL:
1 cup Condensed milk
1 cup Brown sugar
1/4 cup Corn syrup
1 cup Butter

FOR CHOCOLATE GLAZE:
2/3 cup Chocolate
1/8 cup Butter
3 tbsp Condensed milk
1 Egg yolks
I'll use words like fluffy, peaked, nutmeg colored, oozy, sticky and lip-smackingly airy, to describe this Frozen Pumpkin Mousse Pie. This is another one of those recipes that go beyond delicious and your children or dinner party guests will be gasping at the thought and ingredients chosen to make this simple to bake, yet complex in flavor, pumpkin Fall pie! …
Ingredients for Frozen Pumpkin Mousse Pie:
FOR THE CRUST:
10 cookies (about 7 ½ ounces) Gingersnaps
2 tbsp Raisins
1 tbsp Canola oil

FOR THE FILLING:
1 cup Pumpkin puree
⅓ cup Brown sugar
½ tsp Cinnamon
¼ tsp Ground ginger
¼ tsp Ground nutmeg
2 pints (4 cups) Vanilla ice cream
If you love ice cream and you love peanut butter, this Peanut Butter Ice Cream Pie is for you! This is definitely one of my family's favorite desserts. And as the chef, it's one of mine too as it's so easy to make! The ice cream and the peanut butter are premade. You can also use a store-bought graham cracker crust, but I really recommend making it yourself so you can add crush….
Ingredients for Peanut Butter Ice Cream Pie:
1-quart Vanilla ice cream
1 cup Salted peanuts
1/2 cup Crunchy peanut butter
1/4 cup Sugar
1/4 cup Butter
9 Graham cracker