TOP 10 Fall Chicken Recipes
Hearty Chicken Recipes to Please Your Hungry Crowd.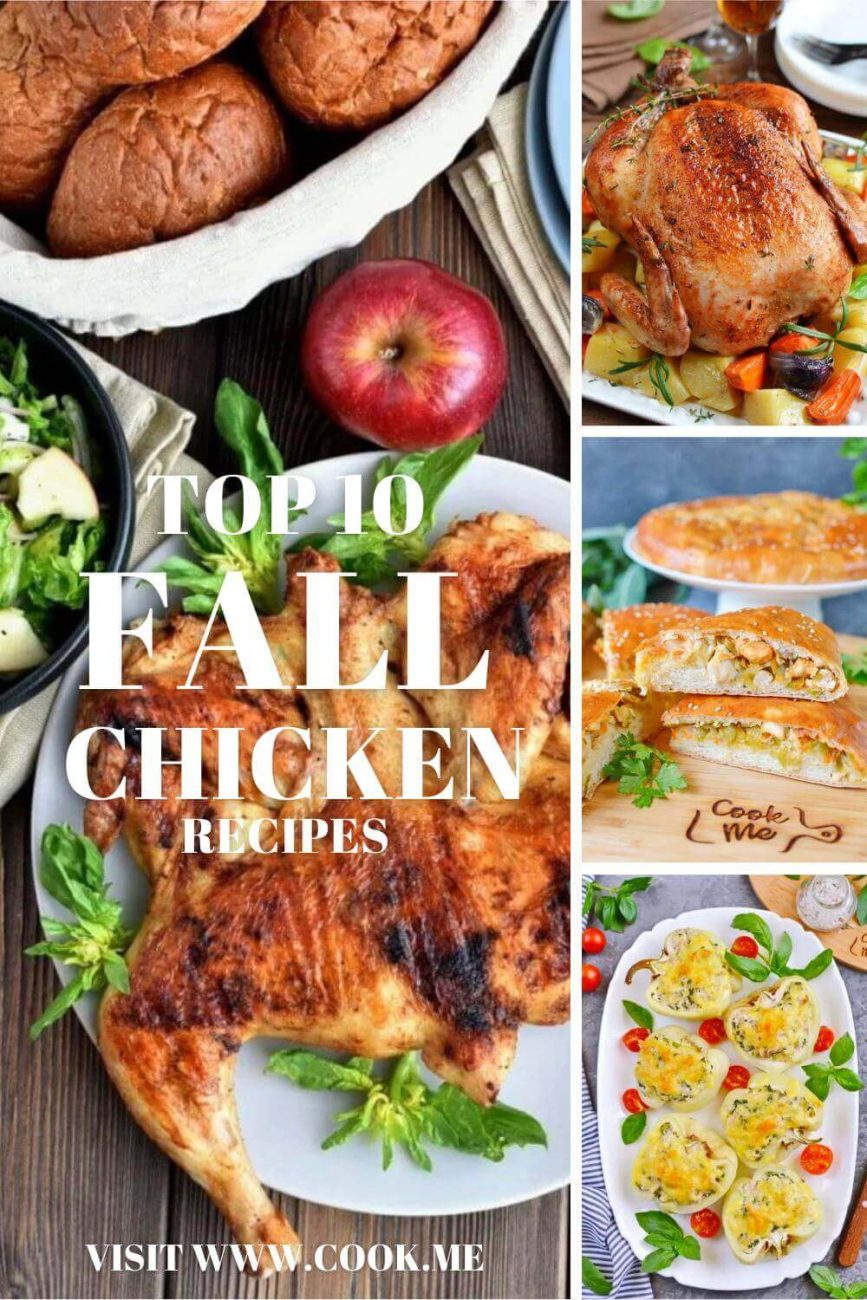 This Roast Chicken and Vegetables recipe is undeniably everyone's favorite and a staple serving whenever I visit family or we have a Sunday gathering. I have included my personal chicken rub for you to use as an option or you can coat your chicken in any generic roast seasoning. The…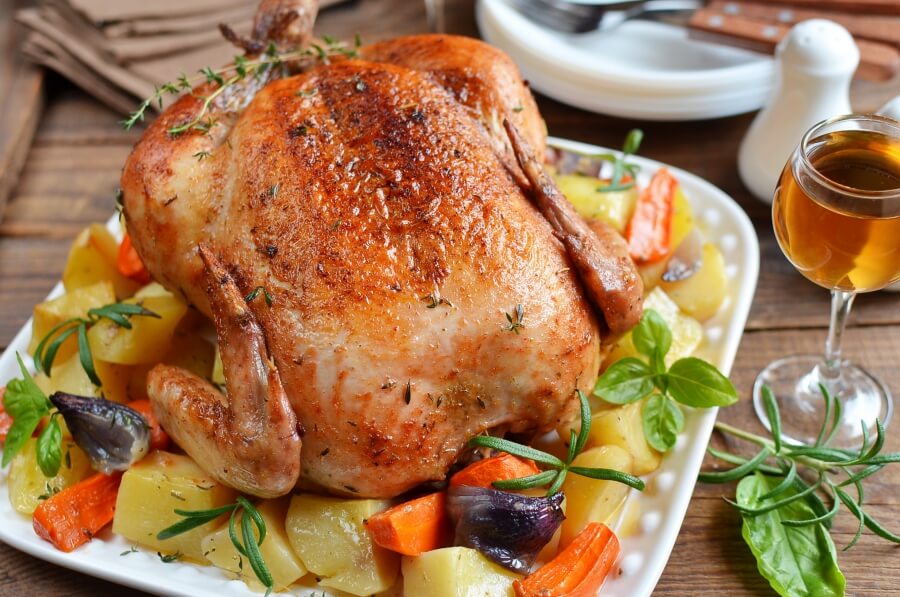 Ingredients for Roast Chicken and Vegetables:
FOR THE CHICKEN:
1 Chicken
3-4 cups Mixed vegetables
4 tbsp Olive oil
½ tsp Italian herb seasoning
Chicken rub

OPTIONAL CHICKEN RUB MIX:
1 tsp Ground paprika
1 tsp Salt
1 tsp Garlic powder
½ tsp Black pepper
1 tsp Parsley
½ tsp Thyme
½ tsp Rosemary
My family adores this Sheet Pan Chicken & Crispy Potatoes and I just know you will too. It is a tasty and simple combination of lemon, garlic, and thyme. My top tip if you are making this dish, it works better on a metal baking pan with shallow edges as…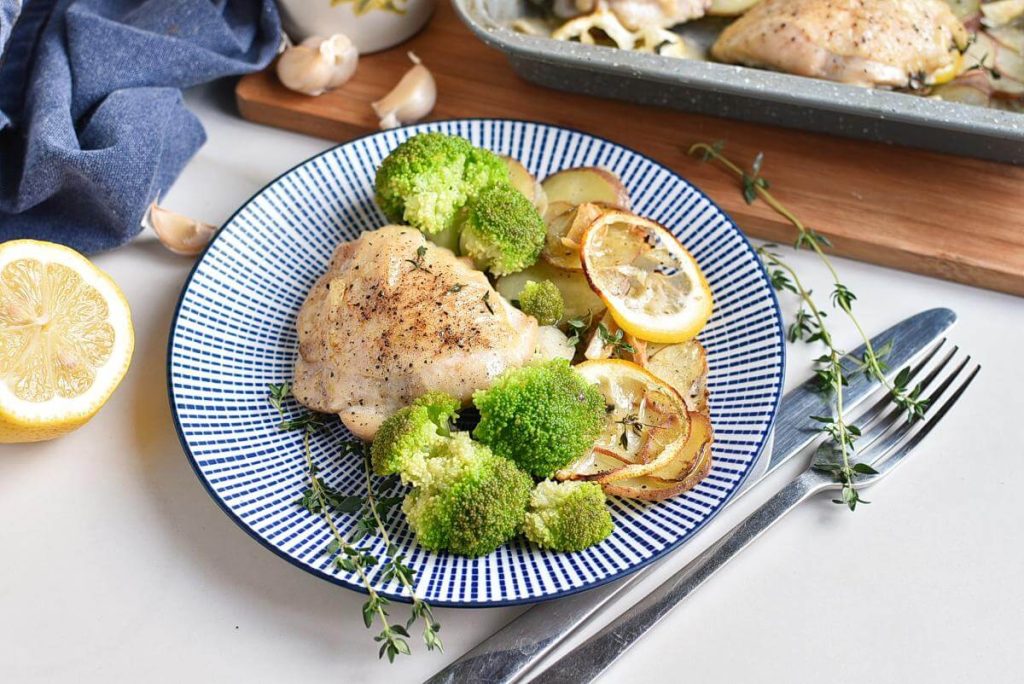 Ingredients for Sheet Pan Chicken & Crispy Potatoes:
2–4 Potatoes
Olive oil
Salt
Black pepper
1 Lemon
4–5 Garlic clove
handful Fresh thyme
4 Chicken thighs
2 cups Fresh Broccoli
Dinner literally couldn't get easier than these awesome Creamy Chicken Stuffed Peppers. I'm not the biggest veggie fan so a great way to hide the flavors is to stuff them inside creamy, cheesy recipes like this one. I stuff halved bell peppers with shredded chicken and spinach, cream cheese, Cheddar…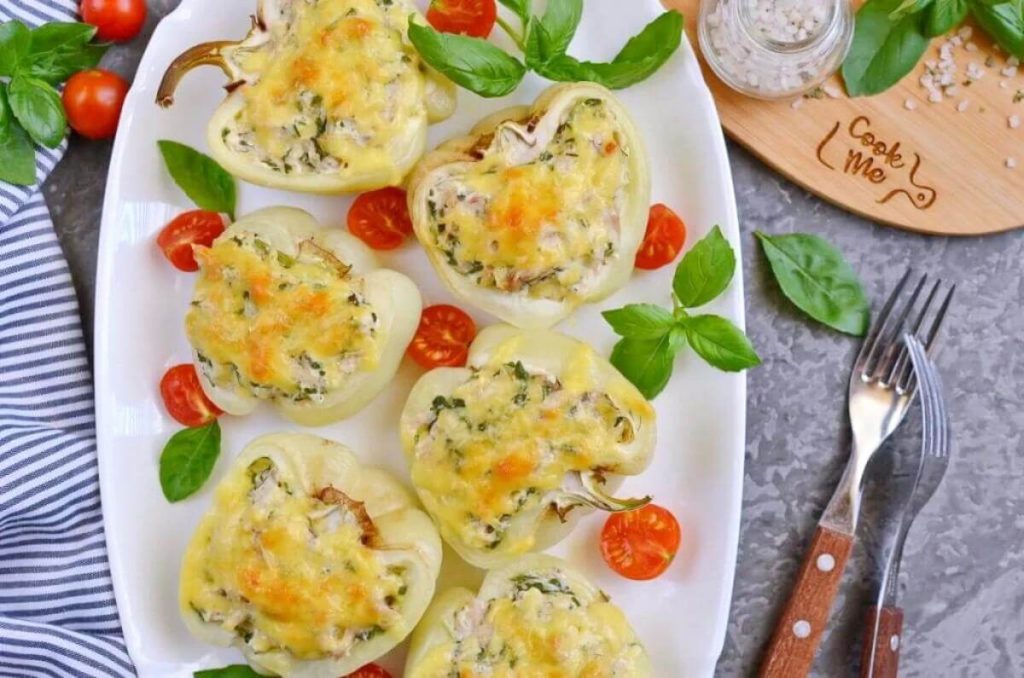 Ingredients for Creamy Chicken Stuffed Peppers:
4 Bell pepper
1 (8-oz) block Cream Cheese
½ cup Sour cream
3 cups Chicken
1 (10-oz) package Spinach
2 cups Cheddar cheese
2 Green onion
½ tsp Ground paprika
Kosher Salt
Black pepper
I cannot praise this Crispy Chicken Thighs One-Pan Meal enough. It is one of my favorite meals to cook and eat! I don't know about you, but I absolutely love chicken thighs. They are way more tasty than breast and meatier than chicken legs. And they are wonderful when cooked…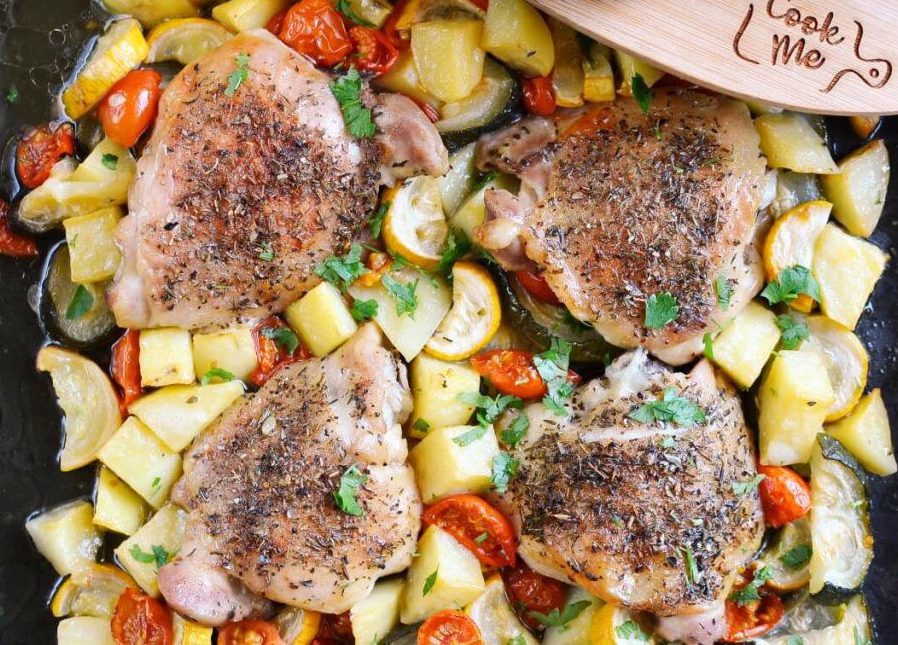 Ingredients for Crispy Chicken Thighs One-Pan Meal:
FOR THE CHICKEN:
6 Chicken thighs
1 tsp Garlic powder
1 tbsp Onion powder
1 tbsp Dried oregano
1 tbsp Dried thyme
1 tbsp Dried sage
1 tsp Salt

FOR THE ROASTED VEGETABLES:
1 Zucchini
1 Squashes
1 cup Cherry tomatoes
4 Potatoes
2 tbsp Olive oil
1 tsp Salt
I think I've found the best wings recipe with this Sea Island Wings recipe. Hot sauce, sweetened with molasses and bound with butter. Cook on a hot griddle in a homemade basting rub made from a combination of light brown sugar, salt, garlic powder, smoked paprika, pepper and olive oil….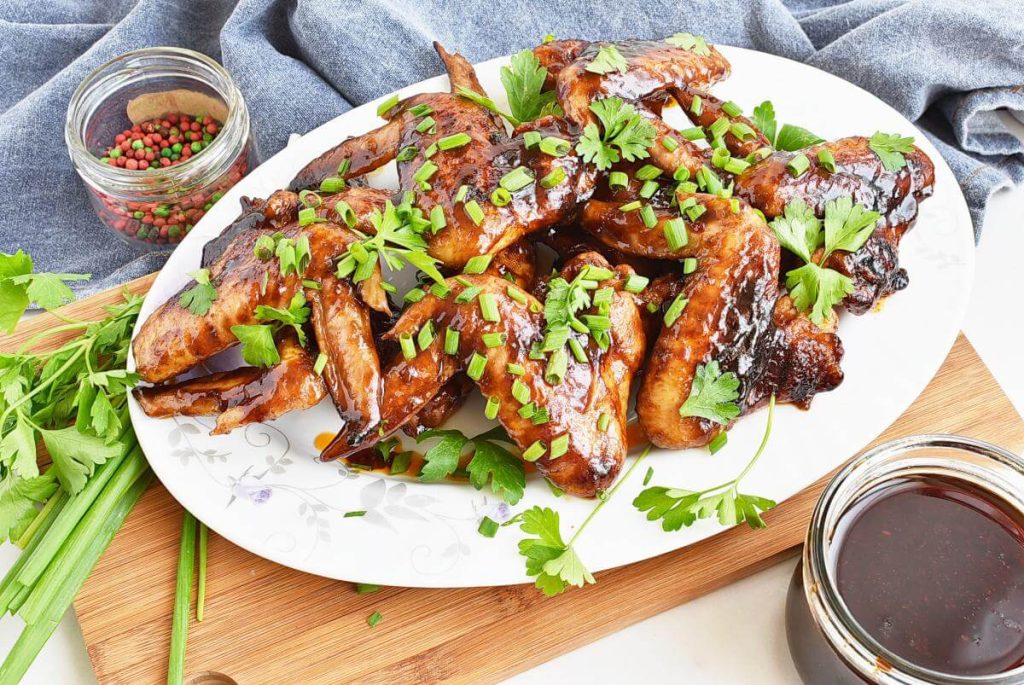 Ingredients for Sea Island Wings:
FOR THE HOT SAUCE:
1 cup Hot sauce
½ cup Molasses
4 tbsp Unsalted butter

FOR THE WINGS:
2 tbsp light Brown sugar
1 tbsp Kosher Salt
2 tsp Garlic powder
2 tsp Smoked Paprika
2 tsp Black pepper
¾ cup Olive oil
3 pounds Chicken wings
½ cup Scallions
2 tbsp Parsley
If you're like me and enjoy the simplest of dinner recipes, then this One Pot Chicken and Pumpkin Rice will meet all your expectations. Often people think that quick and easy means fat and unhealthy but that's not the case here. You'll get your protein, carbohydrates and vegetables, all in…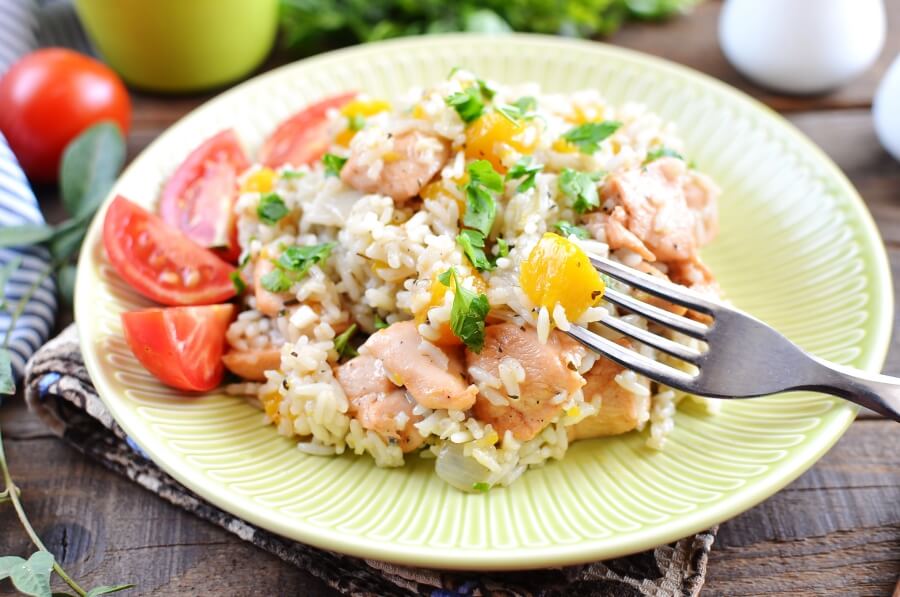 Ingredients for One Pot Chicken and Pumpkin Rice:
2 boneless Chicken Breast
2 cups raw Butternut squash
1 cup White rice
½ Onion
2 cloves Garlic
1 tsp Dried thyme
½ tsp Ginger
1 tbsp Olive oil
1/3 tbsp Salt
1/8 tsp Black pepper
1/2 tsp Sweet paprika
This picture perfect Thyme Roasted Chicken with Grapes and Burrata recipe serves up the most beautiful roast chicken, yet. Not only gorgeous to picture but filled with herbal, fruity and sweet flavors balanced with the burrata cheese and chopped bits of crispy bacon to bring your table the best chicken…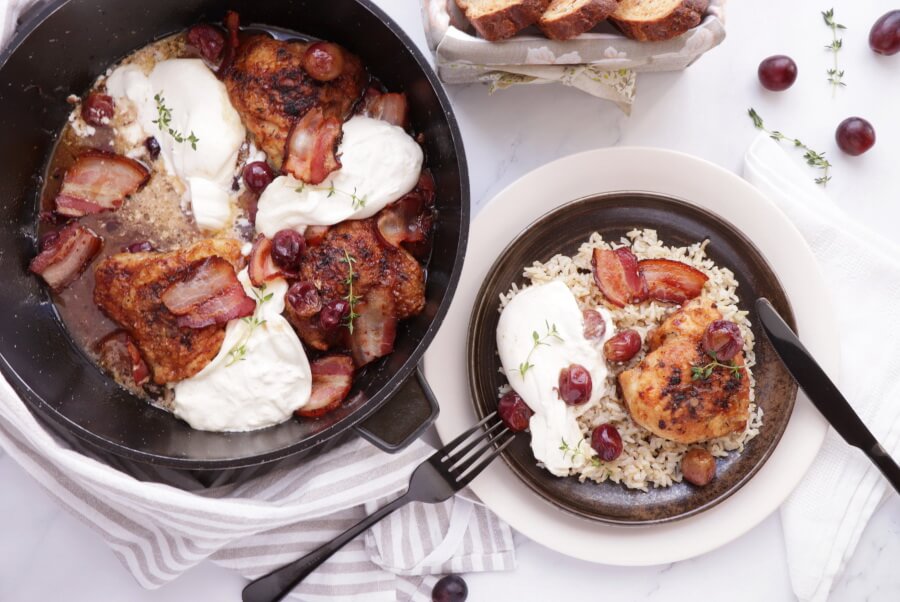 Ingredients for Thyme Roasted Chicken with Grapes and Burrata :
1½ pounds Chicken Breast
2 tbsp Fresh thyme
2 cups Red Grapes
2 balls Burrata cheese
2 tbsp extra virgin Olive oil
½ tsp Cayenne pepper
Kosher Salt
Black pepper
¼ cup All-purpose flour
4 slices thick cut Bacon
2 small Shallots
½ cup Balsamic vinegar
½ cup Apple cider vinegar
1 tbsp Honey
This Grilled Spiced Chicken with Crunchy Apple Salad reminds me of a celery and apple salad that my aunt used to make for lunch when I'd visit her. It is full of texture and flavor from the crisp celery and the crunchy apples – make sure you choose fresh crunchy…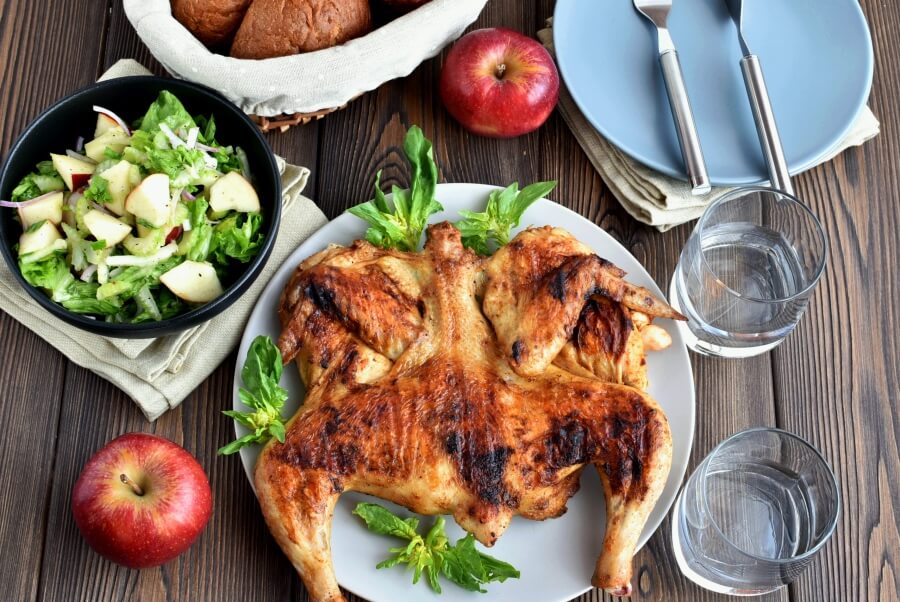 Ingredients for Grilled Spiced Chicken with Crunchy Apple Salad:
2 tbsp Ground paprika
2 tsp Ground coriander
1 tsp Ground ginger
¼ tsp Cayenne pepper
1 tsp Cumin
½ tsp Salt
2 tbsp Lemon juice
1 tbsp Olive oil
1 Chicken
2 Apples
2 stalks Celery
3 Scallions
6 cups Lettuce

FOR THE DRESSING:
1 tsp Honey
2 tbsp Lemon juice
1 tbsp Olive oil
½ tsp Cumin
¼ tsp Salt
¼ tsp Black pepper
Who doesn't love a good chicken dinner? This Low Carb Chicken and Peppers with Balsamic Vinegar promises to spice up your menu and excite all your guests! It's so colorful, with the use of 3 different types of pepper, red, yellow and orange and the long simmer time allows for…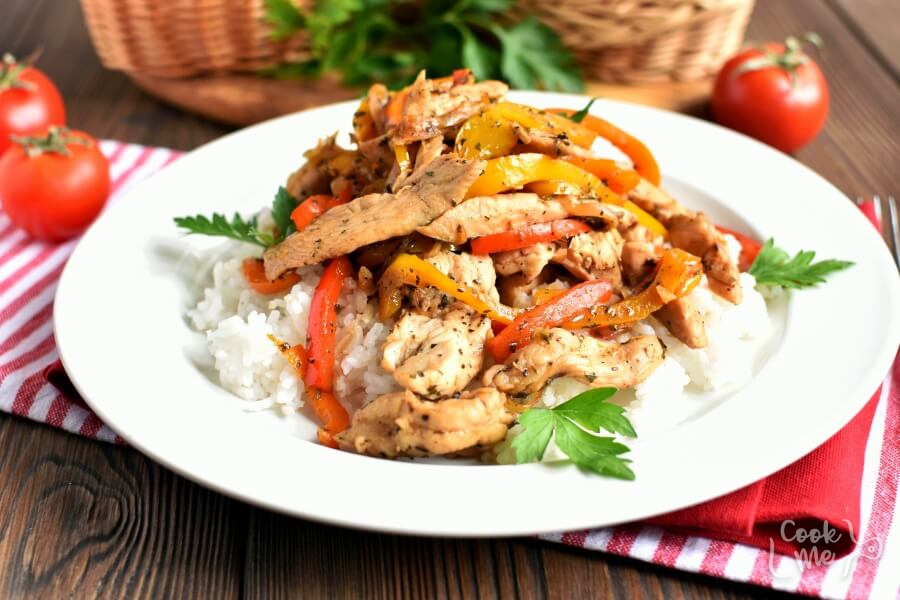 Ingredients for Low Carb Chicken and Peppers with Balsamic Vinegar:
4 halves Chicken Breast
1 Red bell pepper
1 Yellow bell pepper
1 Orange bell pepper
1 medium Onion
4 large cloves Garlic
1/4 cup Balsamic vinegar
1/4 cup Olive oil
1 tbsp Dried basil
Salt
Black pepper
This Chicken Cabbage Savory Pirog is such a classic. I love to make this Chicken Cabbage Savory Pie about once a month. It always goes down a treat. A pirog is a baked pie which is made from dough, filled with a savory filling. Pirogs are common in Ukrainian and…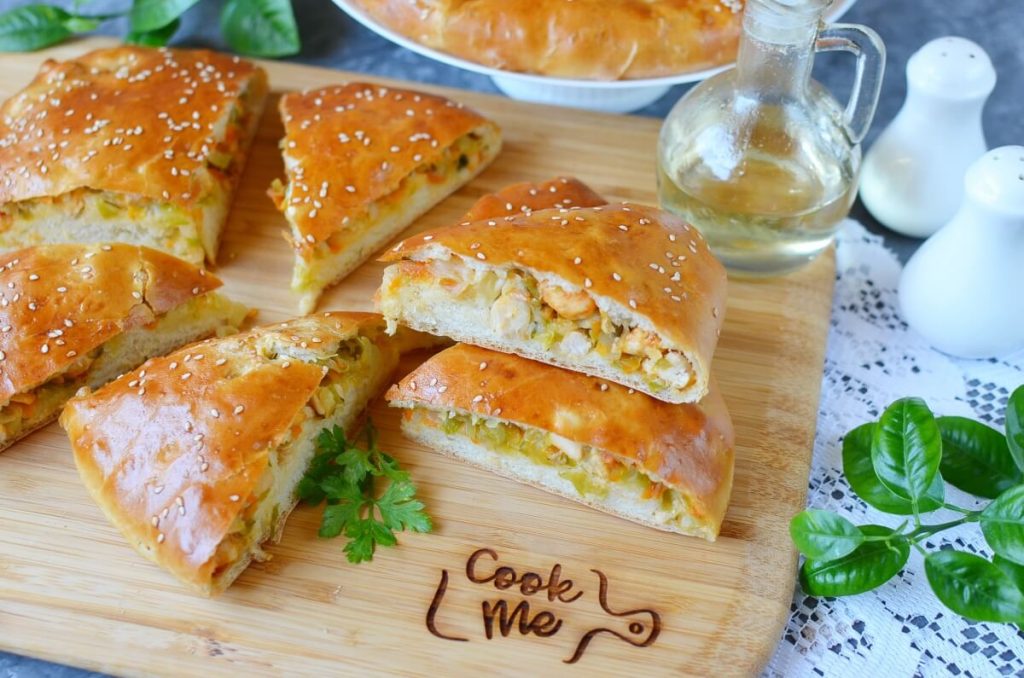 Ingredients for Chicken Cabbage Savory Pirog:
FOR THE DOUGH:
2 tbsp Mayonnaise
1 tsp Olive oil
1 tsp Salt
⅓ cup Milk
⅓ cup Water
1½ tsp Active dry yeast
1½ tsp Granulated sugar
2 cups All-purpose flour

FOR THE SAVORY FILLING:
¾ lb Chicken thighs
1 tsp Olive oil
½ Onion
3 tbsp Butter
3 cups Cabbage
2 Carrots
2 cloves Garlic
1/4 cup Water
1½ tsp Ketchup
1½ tsp Sour cream
3 tbsp Fresh herbs

FOR EGG WASH:
1 tsp Water
1 Eggs
½ tsp Sesame seeds