Top 10 Fall Desserts for Crowd
Easy Fall Desserts that Aren't Just Pumpkin Pie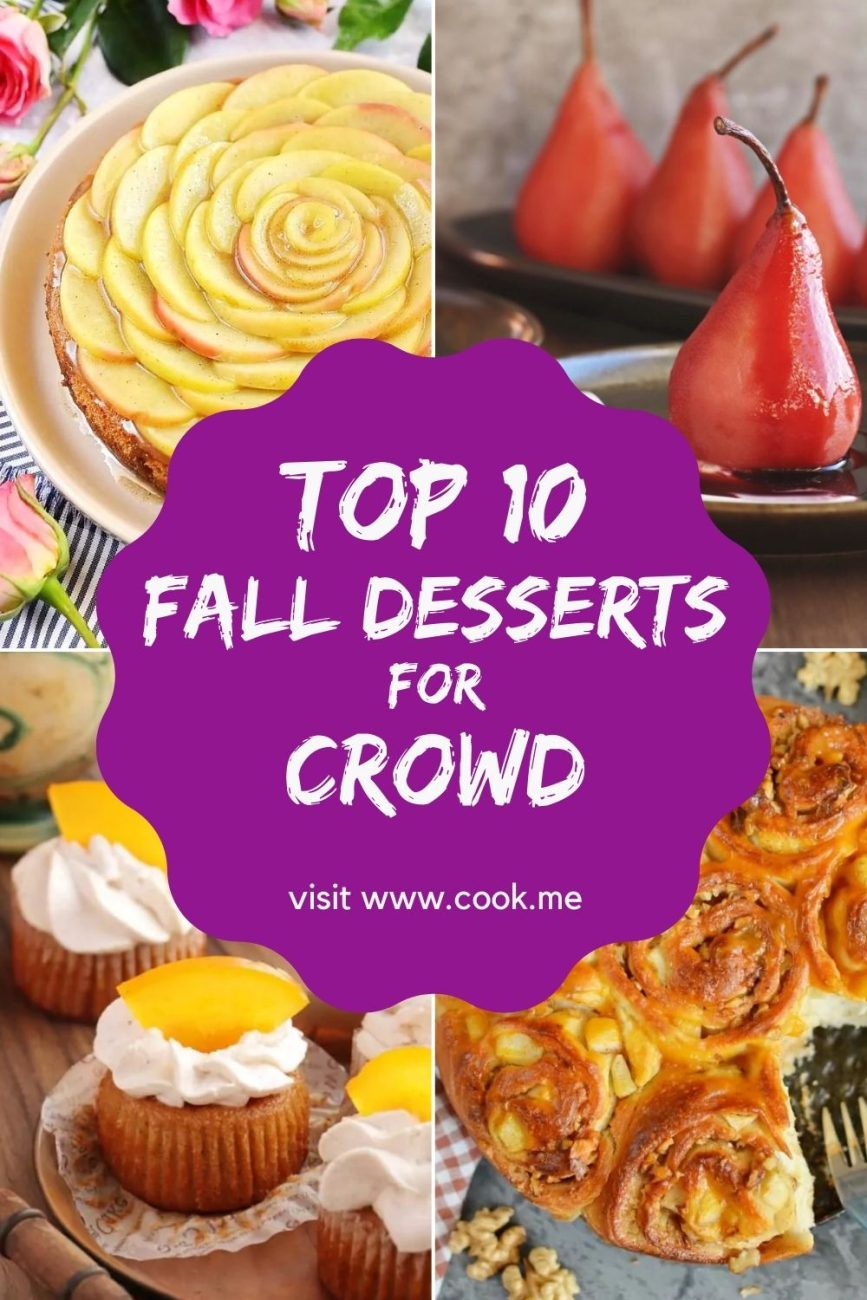 Welcoming fall with this Sweet Potato Tea Cake! This amazing recipe features warming spices and dreamy vanilla meringue that is baked right on top of the cake. I've made this cake several times on special occasions, and it is always a hit. Festive, comfortable, and delicious!  This recipe uses a…
Ingredients for Sweet Potato Tea Cake:
Unsalted butter
1 ⅓ cups plus 1 tbsp (185 g) All-purpose flour
2 tsp Cinnamon
1 ½ tsp Baking powder
1 tsp Ground nutmeg
½ tsp Baking soda
¼ tsp Ground cloves
1 cup (255 g) Sweet potatoes
¾ cup (180 ml) Neutral oil
1 tsp Kosher Salt
2 cups (400 g) Sugar
3 Large eggs
3 Egg whites
1 tsp Vanilla extract
Ingredients for Pear Breakfast Buns:
FOR BUNS:
475 g Bread flour
20 g Caster sugar
1 tsp Instant yeast
50 g Unsalted butter
200 ml Milk
1 Eggs

FOR FILLING:
20 g Unsalted butter
60 g Sugar
1 tsp Cinnamon
1 Pears
100 g Walnuts
2 tbsp Apricot jam
1 tsp Water
Ingredients for Mandarin & Orange Blossom Upside-Down Cakelets:
5 Tangerines
1/3 cup Butter
1 cup Sugar
3 tbsp Mandarin juice
1 ⅓ cups All-purpose flour
1 ½ tsp Baking powder
½ tsp Salt
1 tbsp Mandarin zest
2 Large eggs
½ tsp Orange blossom water
½ tsp Vanilla extract
1/4 cup Buttermilk
Confectioners' sugar
These Persimmon Cupcakes are simply amazing if you can get your hands on some persimmons. Persimmons are orange-colored fruits which are known for their sweet flavor when they are completely ripe. Cut into one too soon and you will be left with a bitter taste in your mouth. These cupcakes…
Ingredients for Persimmon Cupcakes:
FOR THE CUPCAKES:
1½ cups All-purpose flour
1 tsp Pumpkin pie spice
1 tsp Baking soda
½ cup Unsalted butter
1½ cups Sugar
2 Large eggs
¾ cup pulp Persimmons
½ cup Orange juice

FOR THE PERSIMMON FROSTING:
¾ cup Sugar
½ tsp Ground ginger
2 Large eggs
1½ cups pulp Persimmons
12 oz Evaporated milk
Quince Tarte Tatin is my seasonal take on the classic French tarte tatin dessert. A tarte tatin is an upside-down fruit tart. It is usually made with apples, but I use quince fruit in this version. The quince is caramelized with sugar and butter. While cooking, the pastry pie crust…
Ingredients for Quince Tarte Tatin:
3 Quinces
1 cup Cabernet Merlot Wine
2 cups Water
1 Cinnamon stick
3 whole Star Anise
4 whole Cloves
1 tbsp Vanilla extract
3 Cardamon
1 Oranges
1 pinch Salt
½ cup+½ cup Caster sugar
3 1/2 tbsp Unsalted butter
375g pack of all-butter Frozen puff pastry
Almond Shortbread Owls are super cute Fall treats. I love to make these owl cookies when my kids friends come for a playdate. I serve them up with glasses of milk and they always go down a treat. What is it about owls that everyone loves I wonder? They're just the cutest! These cookies are very easy to make. Start by making a shortbread cookie. …..
Ingredients for Almond Shortbread Owls:
1 ½ cup Almonds
2 cups All-purpose flour
Lemon zest
½ tsp Sea salt
1 cup Butter
1 cup Confectioners' sugar
¾ tsp Almond extract
¼ cup Chocolate chips
¼ cup Almonds
2 tbsp Sunflower seeds
This sweet sounding Hibiscus Poached Pears recipe is one of my favorite fall desserts which includes a beautiful range of ingredients that work so well together to enhance the flavors of the others. Bosc pears infused and poached in salted-honey with hibiscus tea, peppercorns, cinnamon sticks and orange rind. I…
Ingredients for Hibiscus Poached Pears:
8 Bosc Pears
10 cups Water
½ cup Honey
½ tsp Kosher Salt
6 hibiscus Tea bags
5 Black peppercorns
1 (4-inch) piece Cinnamon stick
1 (4-inch) piece Orange Rind
½ cup Crème fraîche
½ tsp Vanilla extract
Everyone has their favorite simple and delicious apple cake and this Cinnamon Glaze Apple Cake is definitely my choice, by far! A simple vanilla and apple cake base topped with the most beautiful, flower-like, apple-slice arrangement and drizzled with a heavy cream, powdered sugar and cinnamon glaze over the top….
Ingredients for Cinnamon Glaze Apple Cake:
FOR THE CAKE:
4 large Apples
6 Eggs
1 cup Granulated sugar
1 cup All-purpose flour
1 tsp Vanilla extract
¾ tsp Baking soda

FOR THE TOPPING:
3 Apples

FOR THE GLAZE:
½ cup Heavy cream
1 cup Sugar
1 tsp Cinnamon
This sweet and delicious Pull-Apart Pumpkin Bread is perfect for sharing. I love pumpkin and while I know it is an ingredient which is typically associated with Fall, I find them on sale at my local farmer's market right into winter. I am always looking for unusual pumpkin recipes and adding it to bread is one of my favorite ways to use this fantastic ingredient. …
Ingredients for Pull-Apart Pumpkin Bread:
FOR THE BREAD:
¾ cup warm Milk
½ tbsp Active dry yeast
¾ cup Pumpkin puree
4 tbsp Granulated sugar
3 ½ cups All-purpose flour
1 Large eggs
1 tbsp Unsalted butter
1 tbsp Unsalted butter
½ tsp Salt

FOR THE FILLING:
6 tbsp Unsalted butter
packed ¼ cup Brown sugar
1 tbsp Cinnamon
½ tsp Pumpkin pie spice
1 tbsp Unsalted butter

FOR THE GLAZE:
1 cup Powdered sugar
2 tsp Cinnamon
5-6 tbsp Heavy cream
I adore these little Mini Plum Tartlets. They are so delicious and so quick and easy to make. I always use ready-rolled puff pastry which means I can have these tartlets in the oven in only 15 minutes. Perfect when someone gives you very little notice that they're coming around….
Ingredients for Mini Plum Tartlets:
2 sheets Frozen puff pastry
170 g Cream Cheese
3 tbsp Confectioners' sugar
½ tsp Lemon zest
1 tsp Vanilla extract
5 Plums
1 Eggs
4 tbsp Demerara sugar