TOP 10 Fresh Plum Recipes
Recipes to Make the Most of the Juiciest Fruit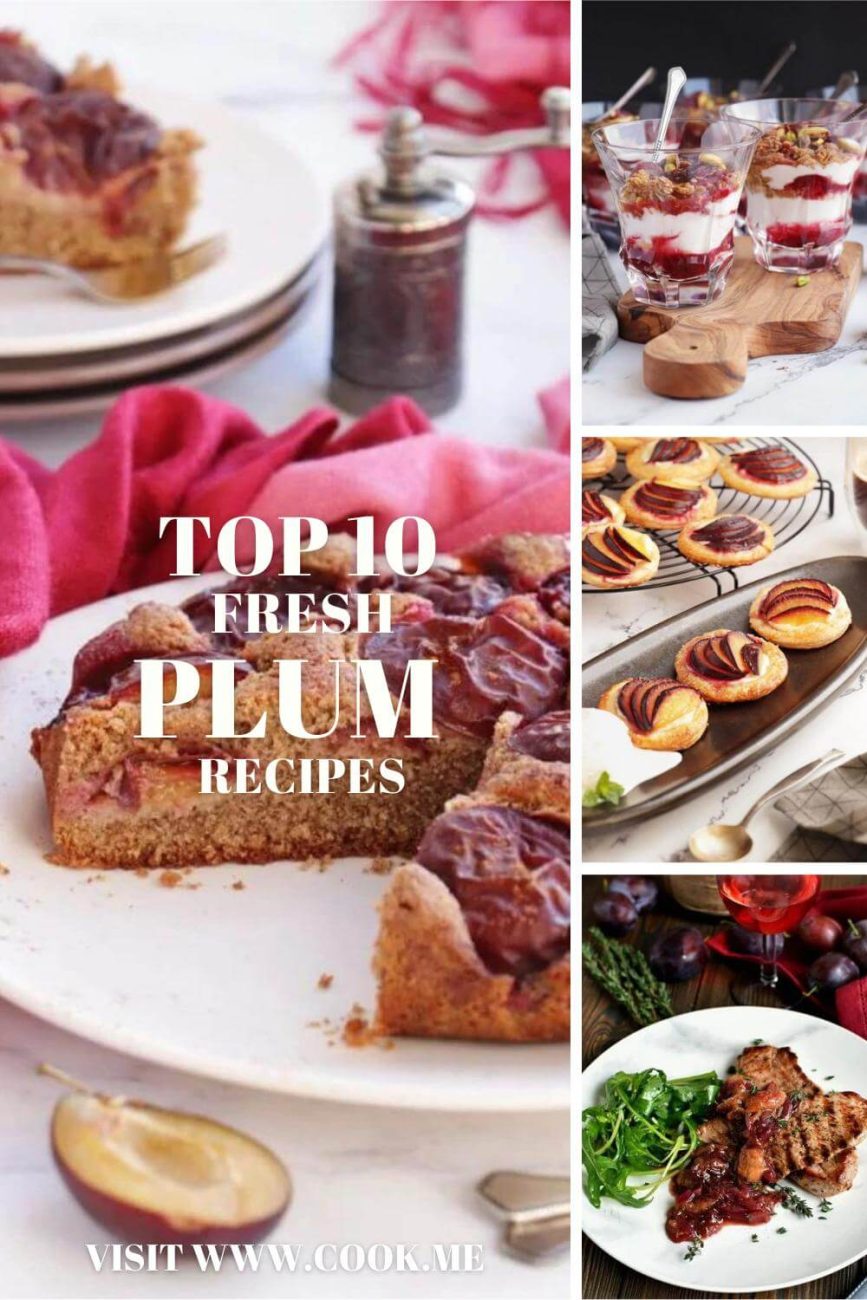 This Roasted Plum Breakfast Parfaits recipe is a fantastic way to use up plums. You could also use peaches or nectarines if you have a glut of those this summer. These parfaits are really versatile because they can be made ahead of time and stored in the refrigerator for up…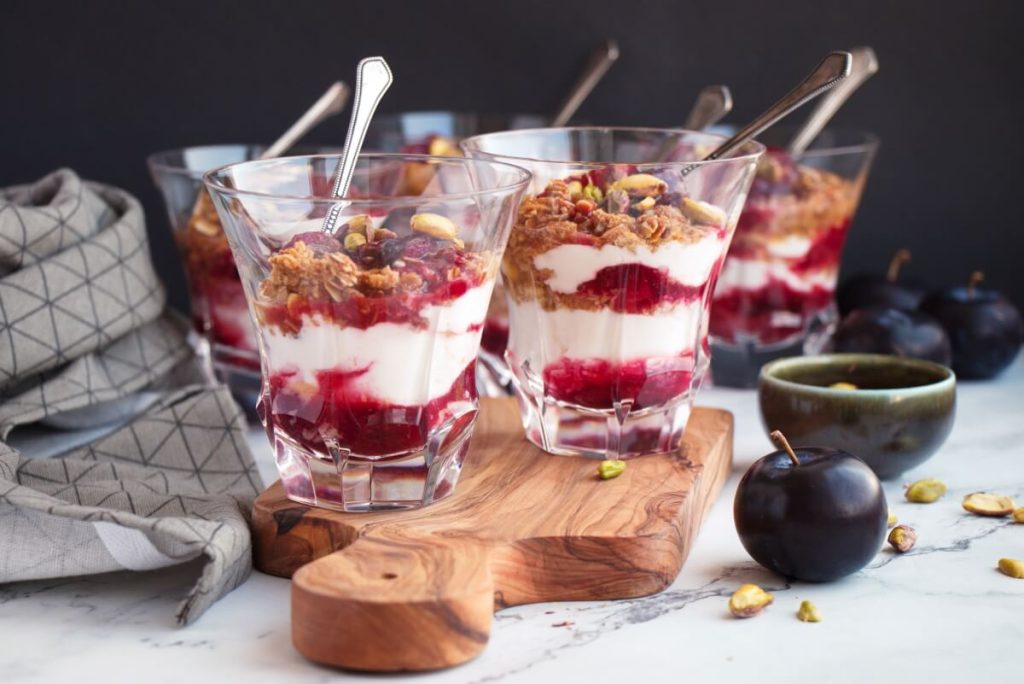 Ingredients for Roasted Plum Breakfast Parfaits:
6 Plums
¼ cup Orange juice
3 tbsp Brown sugar
1½ tbsp Butter
⅛ tsp Salt
2 cups Greek yogurt
2 cups Granola
2 tbsp Pistachio nuts
Keto Grilled Pork Chops with Plums and Arugula is one of my favorite midweek meals. It's really healthy and delicious. I truly believe that the only way to serve pork chops is to grill them! Something about the way the edges of the meat crisp up while remaining tender and…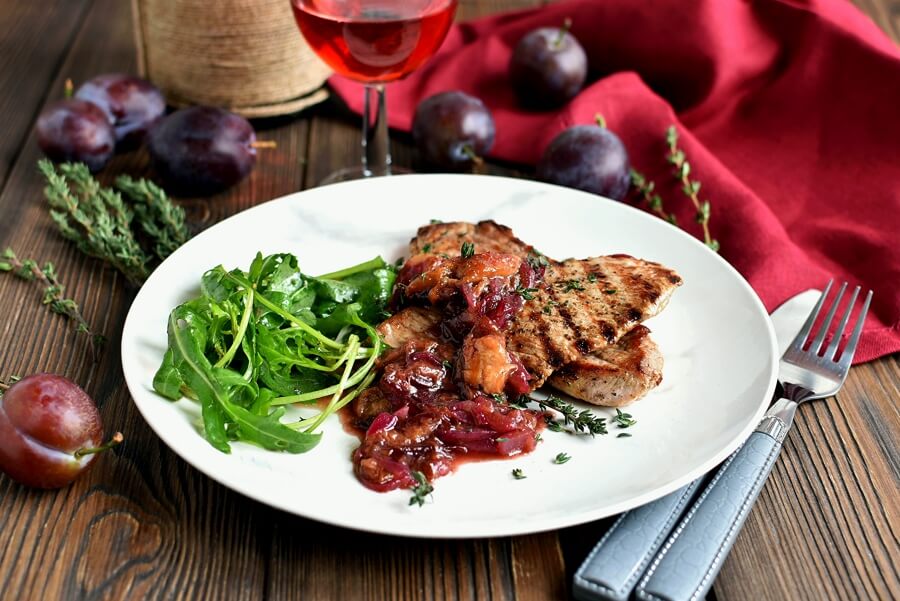 Ingredients for Keto Grilled Pork Chops with Plums and Arugula:
4 Pork chops
½ cup+1 tbsp Red wine vinegar
4 tbsp Olive oil
4 Plum
½ Red onion
1 tbsp Balsamic vinegar
2 tbsp Brown sugar
Kosher Salt
Black pepper
1 tsp Dijon mustard
6 cups Baby arugula
Fresh thyme
This Roasted Cod with Soy Ginger Plum Salsa and Jasmine Rice is one of my favorite home inspired dishes. The tastes and flavors remind me of when I was growing up in China and my mother would make this all the time. Combining soy sauce, ginger, and plums to make…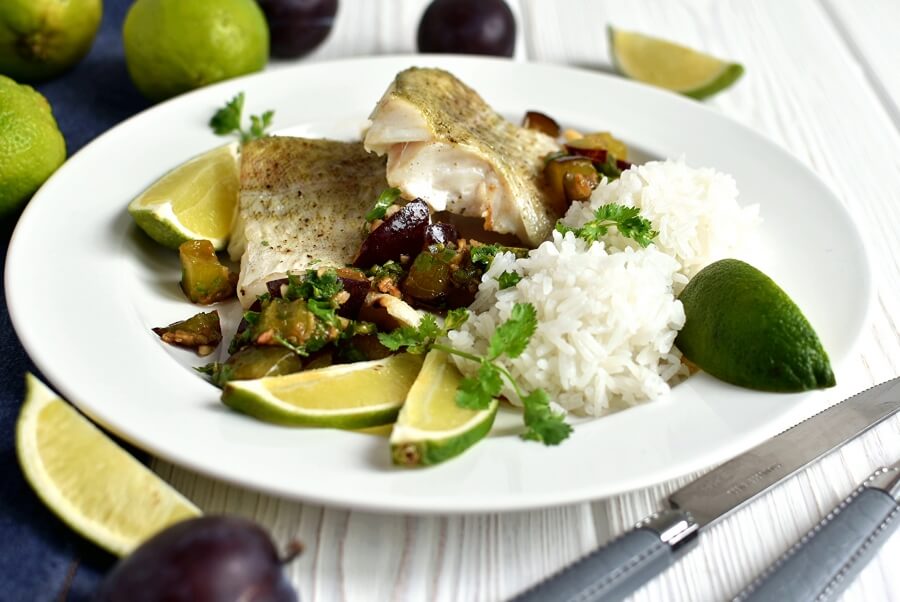 Ingredients for Roasted Cod with Soy Ginger Plum Salsa and Jasmine Rice:
1¼ pound Cod
1½ tbsp Soy sauce
2 tsp Fresh ginger
4 Plums
1½ cup Jasmine rice
3 tbsp Olive oil
Kosher Salt
Black pepper
1 clove Garlic
½ small Jalapeño pepper
Juice of 1 Lime
1 tsp Sesame oil
1 tsp Honey
⅓ cup Cilantro
6 wedges of Lime
I adore these little Mini Plum Tartlets. They are so delicious and so quick and easy to make. I always use ready-rolled puff pastry which means I can have these tartlets in the oven in only 15 minutes. Perfect when someone gives you very little notice that they're coming around….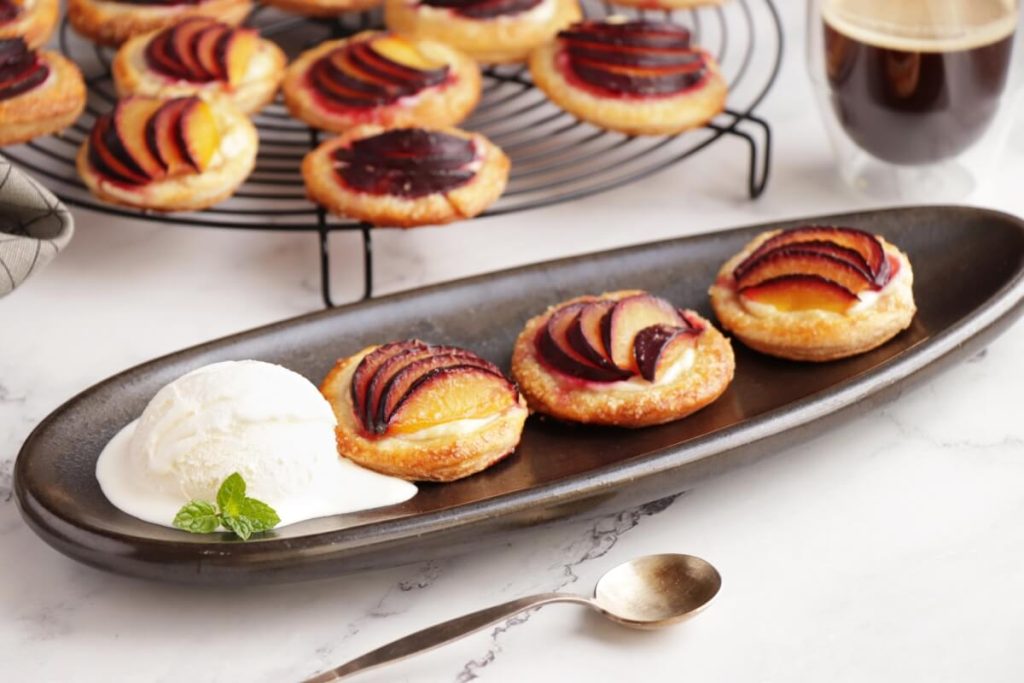 Ingredients for Mini Plum Tartlets:
2 sheets Frozen puff pastry
170 g Cream Cheese
3 tbsp Confectioners' sugar
½ tsp Lemon zest
1 tsp Vanilla extract
5 Plums
1 Eggs
4 tbsp Demerara sugar
It's always a good feeling when you find a healthier baking option like this Gluten-Free Plum Cake. Substituting usual high calorie and unhealthy ingredients with goodness like coconut oil, coconut sugar, almond flour and buckwheat flour make such a difference in the end result. Spice plum halves with cinnamon and…

Ingredients for Gluten-Free Plum Cake:
5 large or 10 small Plums
½ cup Coconut oil
⅔ cup + 1 tbsp Coconut sugar
2 Eggs
½ cup Almond flour
½ cup Buckwheat flour
1 tsp Baking powder
pinch of unrefined Sea salt
1 tsp Cinnamon
Juice of ½ Lemon
I personally think that this Plum Tart is absolutely scrumptious. I won't promise that it's quick and simple because quick it is not! This recipe does need a lot of love and time, but it will be so worth it! A thick crust, pate brisee, filled with a jelly-like center…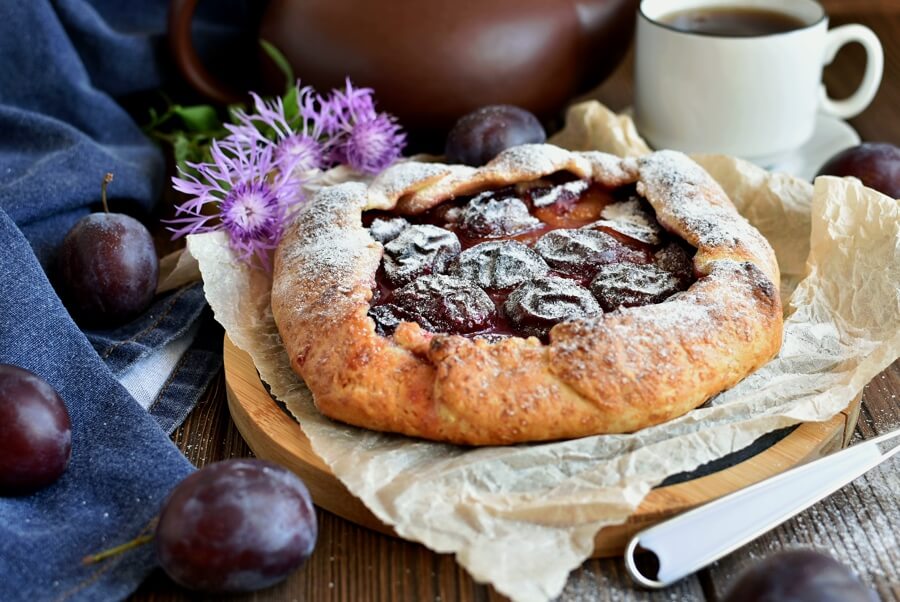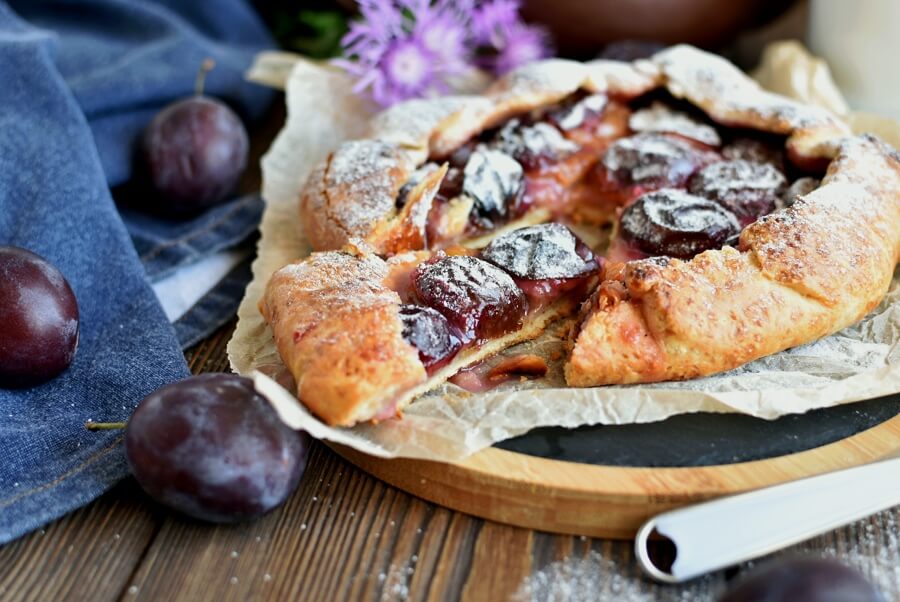 Ingredients for Plum Tart:
FOR THE PATE BRISEE:
1¼ cups All-purpose flour
½ tsp Salt
½ tsp Sugar
½ cup (1 stick) Butter
2-4 tbsp Water

FOR THE PLUM FILLING:
1 tbsp All-purpose flour
2 tbsp Almonds
¼ cup Granulated sugar
3-4 plums Plums
1 tbsp Heavy cream
Plum Cobbler tends to make a weekly appearance on my dinner table when the plums have ripened. My neighbor has a plum tree at the edge of their lawn and some of the branches reach over into our yard so for a few weeks each year, we have a supply…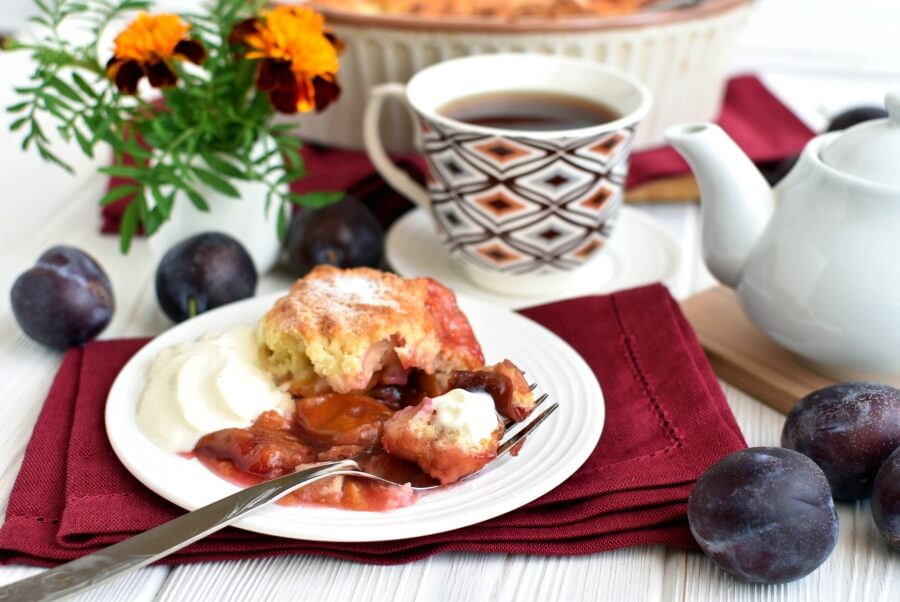 Ingredients for Plum Cobbler:
¾ cup +2 tbsp Sugar
4 cups Plums
2 tbsp Instant tapioca
1 tsp Orange zest
¼ tsp Cinnamon
1 cup All-purpose flour
1 ½ tsp Baking powder
¼ tsp Salt
¼ cup Butter
¼ cup Milk
1 Egg
Did you know that making your own homemade Plum Poppy Seed Oatmeal was as simple as the recipe below? A vegan friendly oatmeal made with plums, almond milk, rolled oats, black poppy seeds and coconut sugar, giving you a more wholesome option instead of the usual sugar-packed, store bought boxes….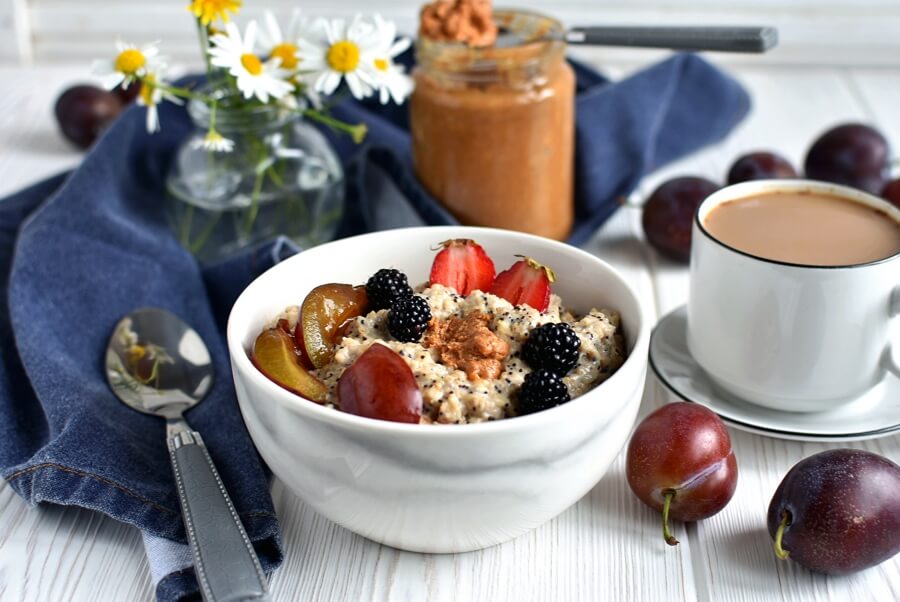 Ingredients for Plum Poppy Seed Oatmeal :
3-4 Plum
1 cup Almond milk
½ cup Rolled oats
1 tbsp Poppy seeds
1 tbsp Chia seeds
1 tsp Coconut sugar
¼ tsp Cinnamon
¼ tsp Vanilla powder
If you're looking for something to do with all the leftover plums from this season, then this Low Sugar Cinnamon Plum Jam should definitely be a must on your list. Relying mostly on the natural sweetness from the fruit, this recipe uses 10 tablespoons of brown sugar, which if you…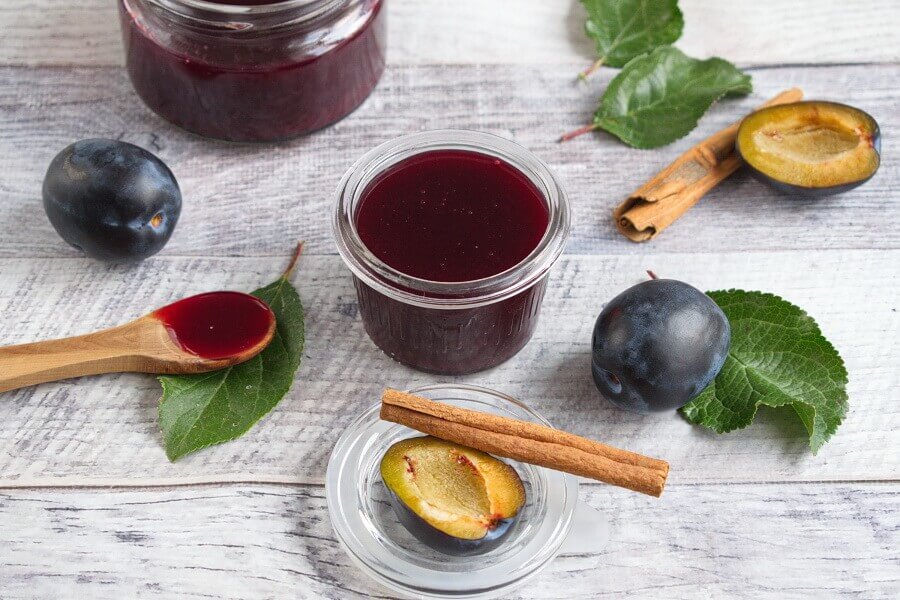 Ingredients for Low Sugar Cinnamon Plum Jam :
4.4 lb Plums
10 tbsp Brown sugar
2 Cinnamon stick
This Plum Quinoa Smoothie is the simplest smoothie recipe yet. With just a handful of vegan friendly ingredients, you can whip up the perfect drink. Packed with loads of protein and fiber, this smoothie option is a great choice for after your gym workout, helping you ensure that you put…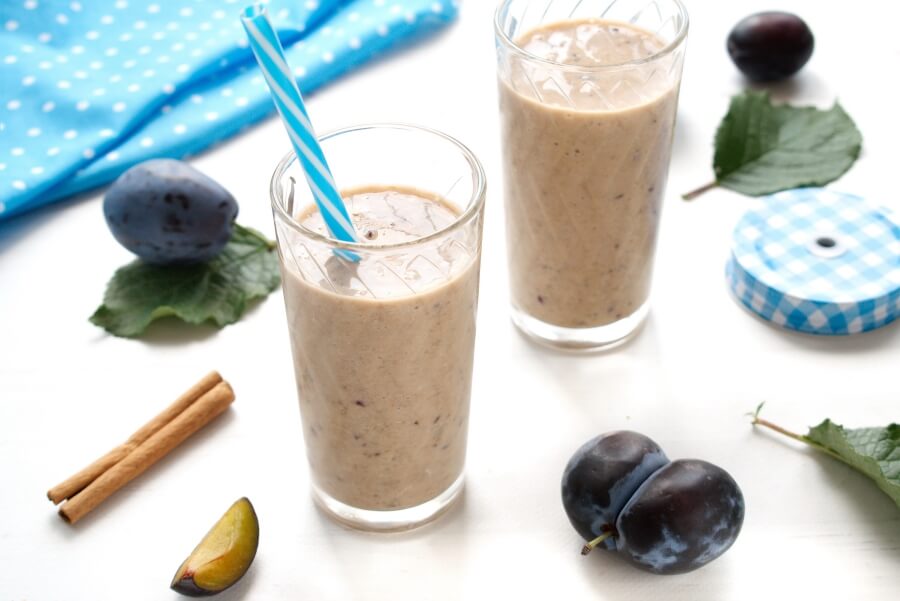 Ingredients for Plum Quinoa Smoothie:
4 Plum
1 large Bananas
1/2 cup Quinoa
1 cup Almond milk
1 tsp Vanilla extract
¼ tsp Cinnamon
5-6 Ice cubes