TOP 10 Gluten Free Labor Day Recipes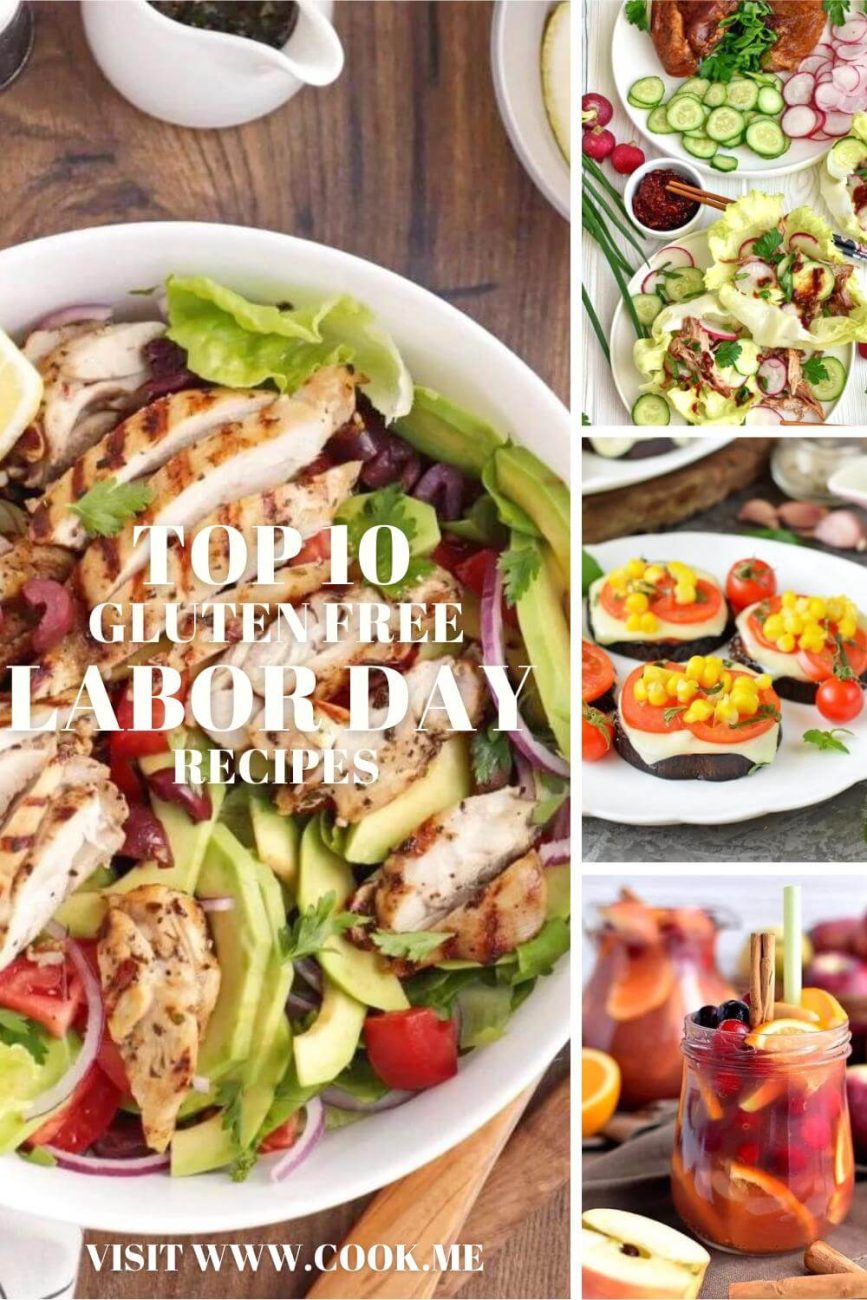 I always ask what makes a salad so tasty and with this Grilled Lemon and Herb Mediterranean Chicken Salad, I'm pretty certain it's the tangy dressing drizzled over a Mediterranean chicken salad composed of lettuce leaves, cucumber, plum tomatoes, red onion slices, avocado slices and pitted olives. Do you feel..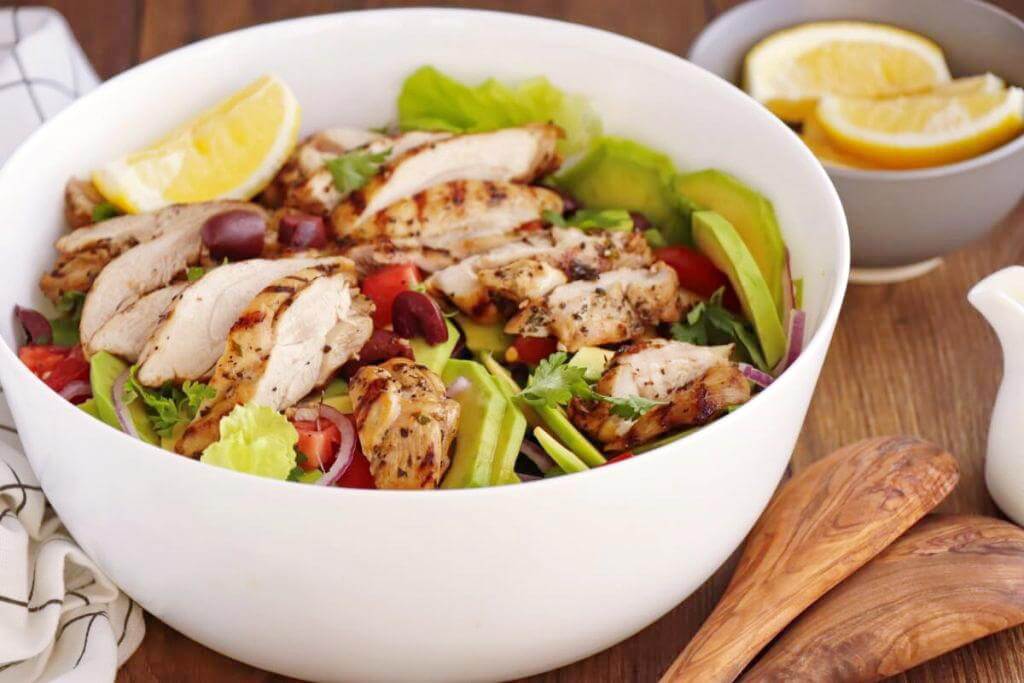 Ingredients for Grilled Lemon Mediterranean Chicken Salad:
FOR THE DRESSING:
2 tbsp Olive oil
1 Lemon
2 tbsp Water
2 tbsp Red wine vinegar
2 tbsp Parsley
2 tsp Dried basil
2 tsp Garlic
1 tsp Dried oregano
1 tsp Salt
Black pepper
1 pound Chicken thighs

FOR THE SALAD:
4 cups Romaine lettuce
1 Cucumber
2 Plum tomato
1 Red onion
1 Avocado
⅓ cup Kalamata olives
1 Lemon
Keto Grilled Pork Chops with Plums and Arugula is one of my favorite midweek meals. It's really healthy and delicious. I truly believe that the only way to serve pork chops is to grill them! Something about the way the edges of the meat crisp up while remaining tender and…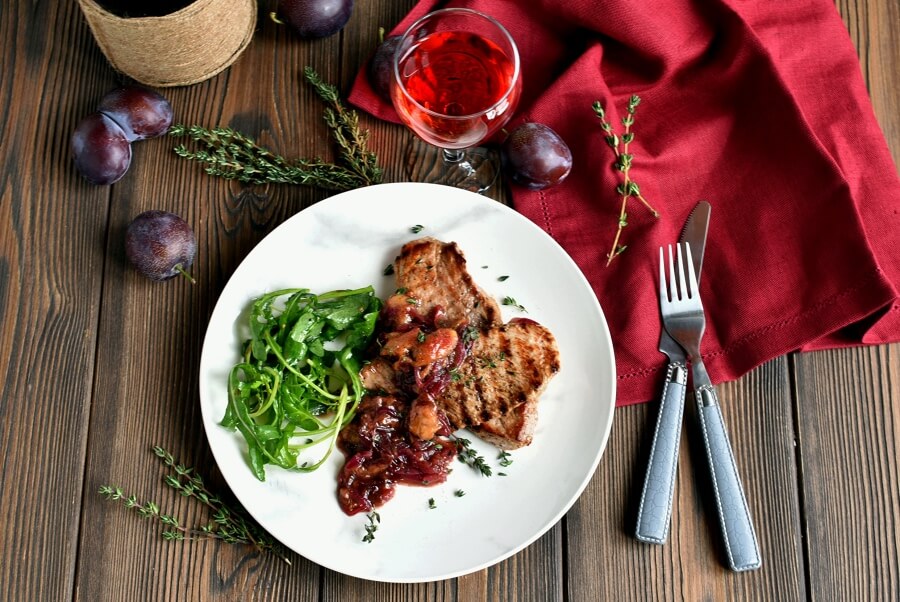 Ingredients for Grilled Pork Chops with Plums and Arugula:
4 Pork chops
½ cup+1 tbsp Red wine vinegar
4 tbsp Olive oil
4 Plum
½ Red onion
1 tbsp Balsamic vinegar
2 tbsp Brown sugar
Kosher Salt
Black pepper
1 tsp Dijon mustard
6 cups Baby arugula
Fresh thyme
Yes, that's right our Eggplant Pizza is gluten free and your new best friend. I use one large eggplant cut into ¼-inch thick slices and I substitute those for pizza bases. Voila, who knew?! I top with pizza sauce for the real deal followed by mozzarella cheese slices, cherry tomato…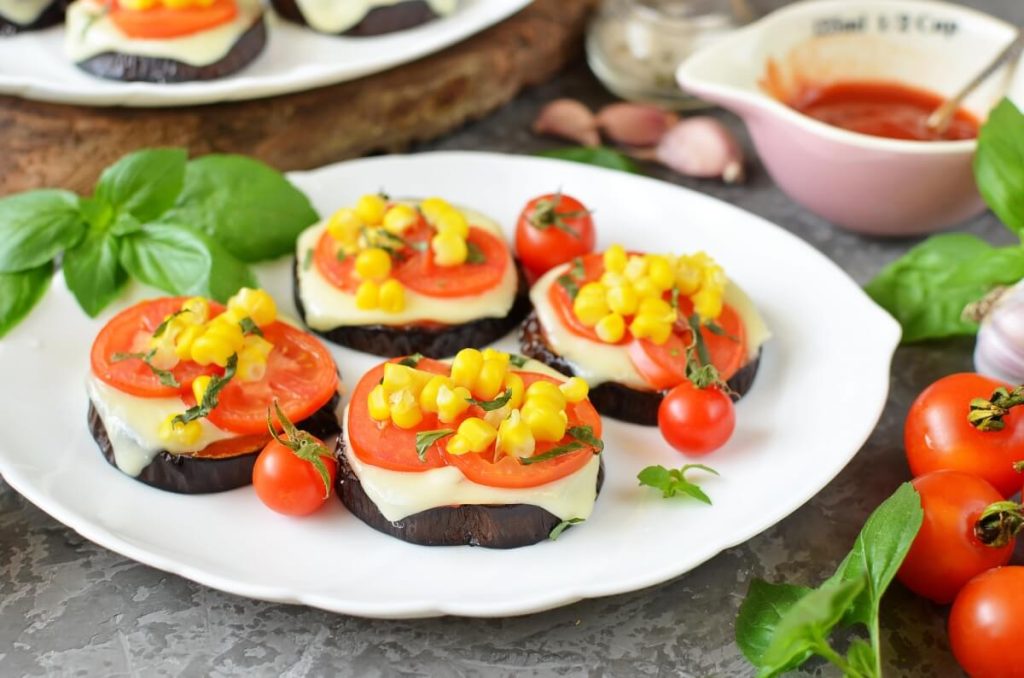 Ingredients for Eggplant Pizza:
1 Eggplant
1 tbsp Olive oil
Salt
Black pepper
1 tsp Dried oregano
½ cup Pizza sauce
1 cup Mozzarella
6 Cherry tomatoes
5 leaves Basil
⅓ cup Corn kernels
This Healthy Grilled Corn Caprese Quinoa Salad has all the flavors of a classic caprese with added quinoa and corn. I love the crunch that the grilled corn brings to this dish. Caprese salad combines fresh mozzarella cheese, basil, and tomatoes to make one of the most delicious salads ever….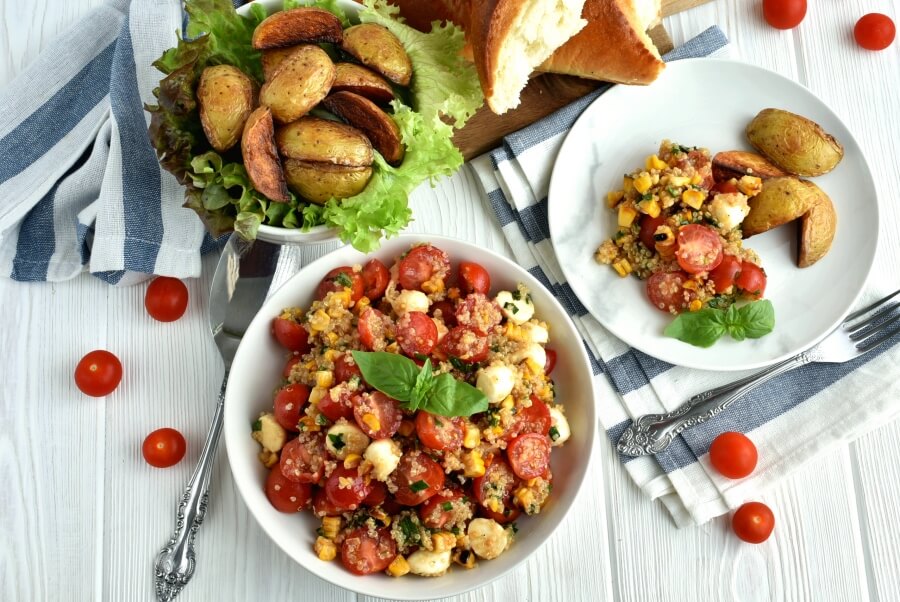 Ingredients for Healthy Grilled Corn Caprese Quinoa Salad:
1/2 cup Quinoa
2 Ears of corn
1 pint Cherry tomatoes
2 Green onion
4 ounces Mozzarella
1/4 cup Basil
2 tbsp Balsamic vinegar
2 tsp Lemon juice
2 tsp Maple syrup
1 tsp Dijon mustard
6 tbsp Olive oil
to taste Salt
to taste Black pepper
Garlic-Parmesan Zucchini Squash & Tomatoes is one of those side dishes that I love to make when the tomatoes and zucchinis I grow in my vegetable patch ripen. It's full of Mediterranean flavors thanks to garlic and Parmesan. It is super simple to make too. Start by sautéing zucchini and…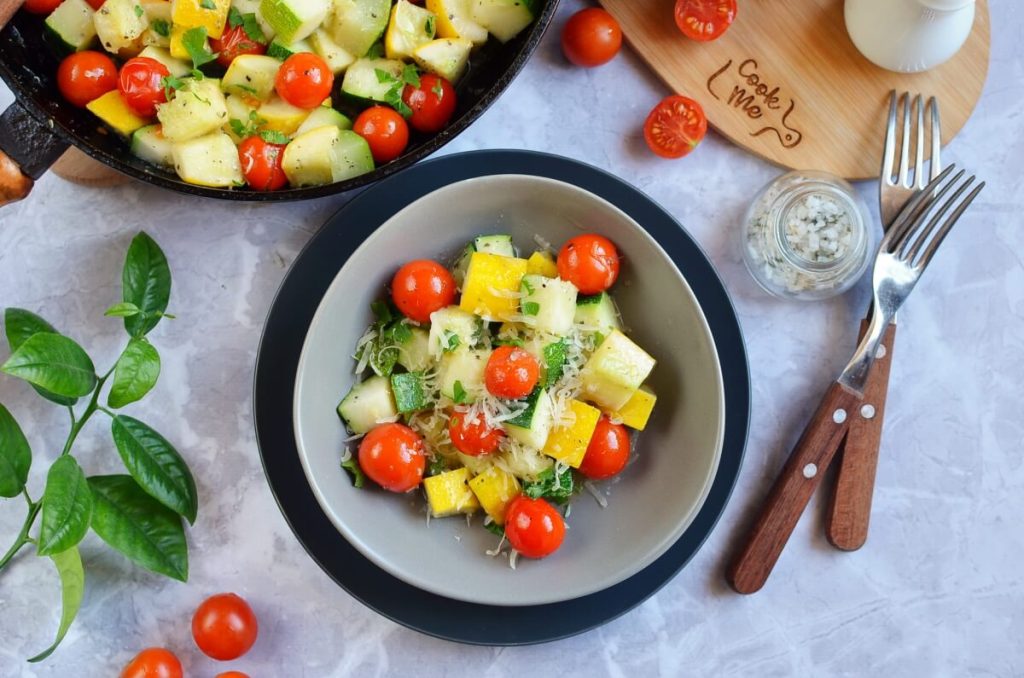 Ingredients for Garlic-Parmesan Zucchini Squash & Tomatoes:
1 tbsp Olive oil
1 tbsp Butter
12 oz Zucchini
12 oz Yellow squash
1½ cups Cherry tomatoes
¾ tsp Dried Italian seasoning
¾ tsp Garlic powder
Salt
Black pepper
½ cup Parmesan cheese
With this Keto Tomato Cheeseburger without the Bun recipe you can also enjoy the all-American favorite burger without any of the guilt. Replace the bun with a large tomato and cut out more than half the calories and all the bad bits! I'm still working on adapting the whole family…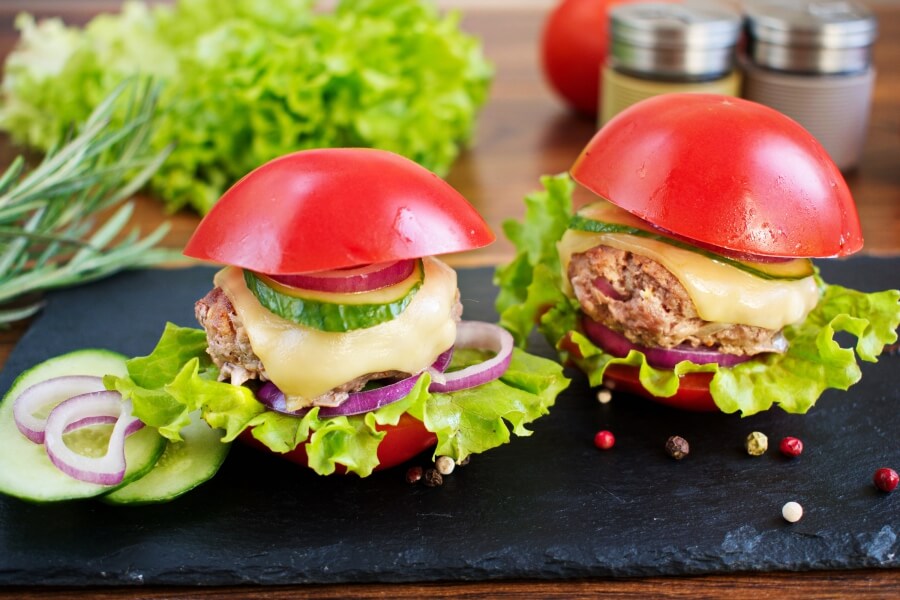 Ingredients for Keto Tomato Cheeseburger Without the Bun:
17 oz Ground Beef
1 Red onion
Salt
Black pepper
1 tbsp Vegetable oil
4 slices Cheese
4 Tomatoes
2 tbsp Barbecue sauce
4 leaves Lettuce
4 slices Cucumber
Healthy Low Carb Korean Pork Lettuce Wraps, known as "ssäm" in Korea, are a very popular dish in Korean households. Typical ssäm are made by wrapping tasty slow cooked meat like pork in leafy vegetables like lettuce. I marinate the pork shoulder before cooking to infuse it with the flavors…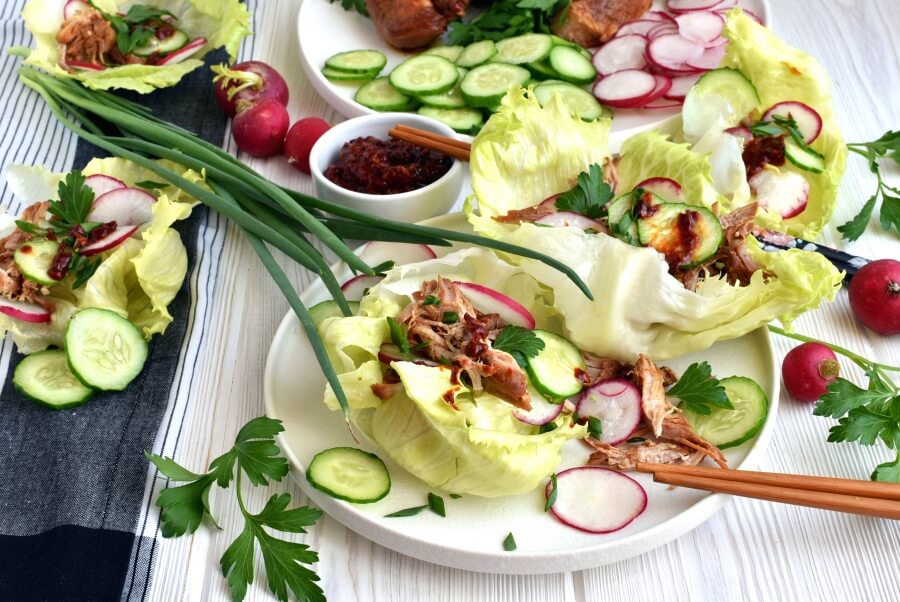 Ingredients for Healthy Low Carb Korean Pork Lettuce Wraps:
¼ cup Miso
¼ cup Soy sauce
3 tbsp Gochujang pepper paste
1 tbsp Sesame oil
1 tsp Black pepper
1 boneless, (about 4 lb) Pork shoulder
8 whole leaves Lettuce
8 Radishes
1-2 Cucumbers
1 Green onion
Although served chilled, warm your heart and soul with this Autumn Harvest Rum Punch, with its beautiful and tantalizing ingredients the color of Fall. Apple cider mixed with orange juice, cranberry juice and pear nectar with a combination of spiced rum and sparkling white wine, the taste is moorish. Fill…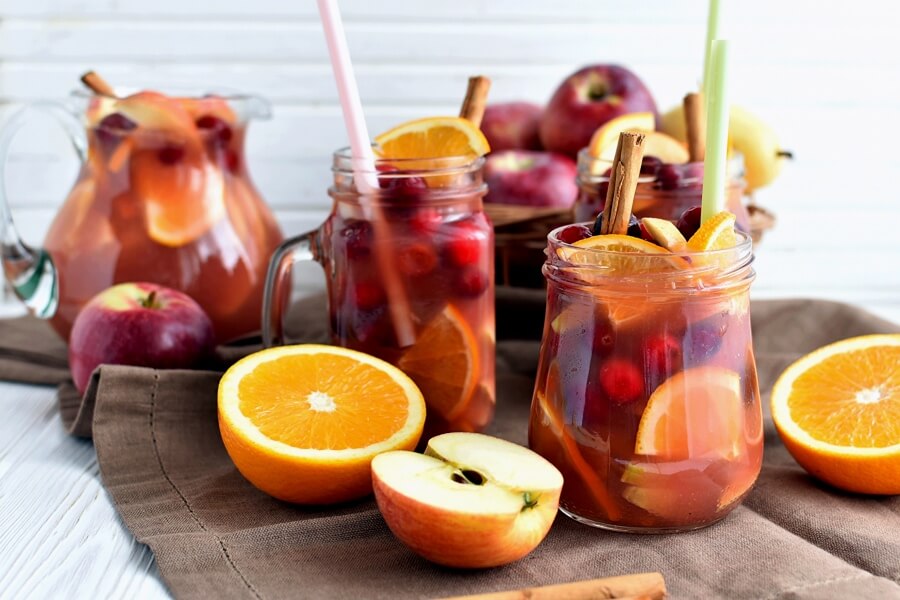 Ingredients for Autumn Harvest Rum Punch:
8 cups Apple cider
1 Orange juice
2 cups Cranberry Juice
1 cup Pear juice
2 cups Rum
½ bottle White wine
2 Oranges
3 Apples
3 Pears
2 cups Cranberries
4 Cinnamon stick
There's nothing like sipping a cool refreshing shandy in the garden at the end of a hot summer's day and this Ruby Redbird Summer Shandy is one you'll want to make again and again. As well as being super quick and easy to make, it is also thirst-quenching and delicious….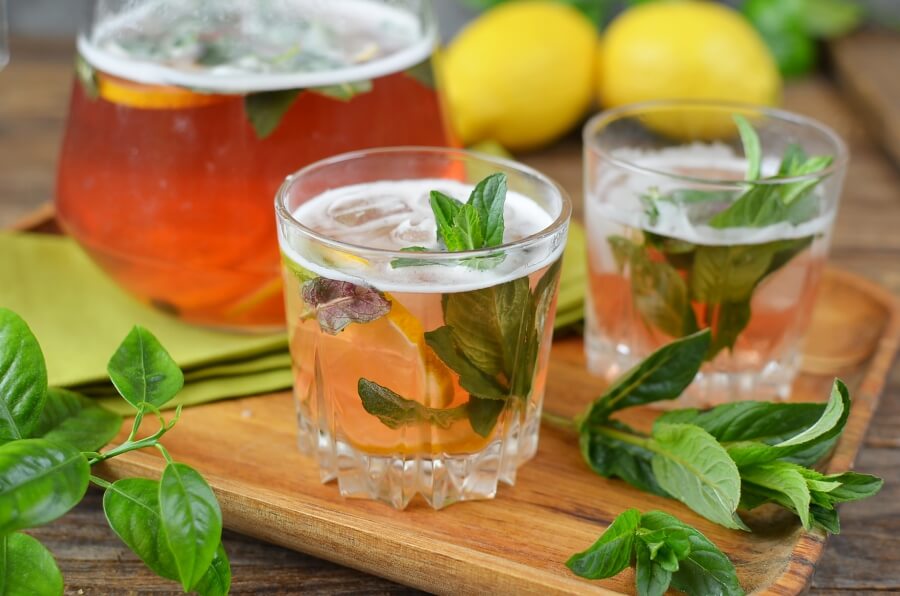 Ingredients for Ruby Redbird Summer Shandy:
3 (12-oz) Shiner Ruby Redbird beers
1 (12-oz) Ginger beer
1 Lemon
20 leaves Fresh mint
These Red White and Blueberry Popsicles are a patriotic must-have this Labor Day! If someone asks me what my favorite holiday is, I always say Labor Day. The last celebration of the summer and the weather is always perfect for enjoying homemade popsicles! These popsicles are super easy to make too. …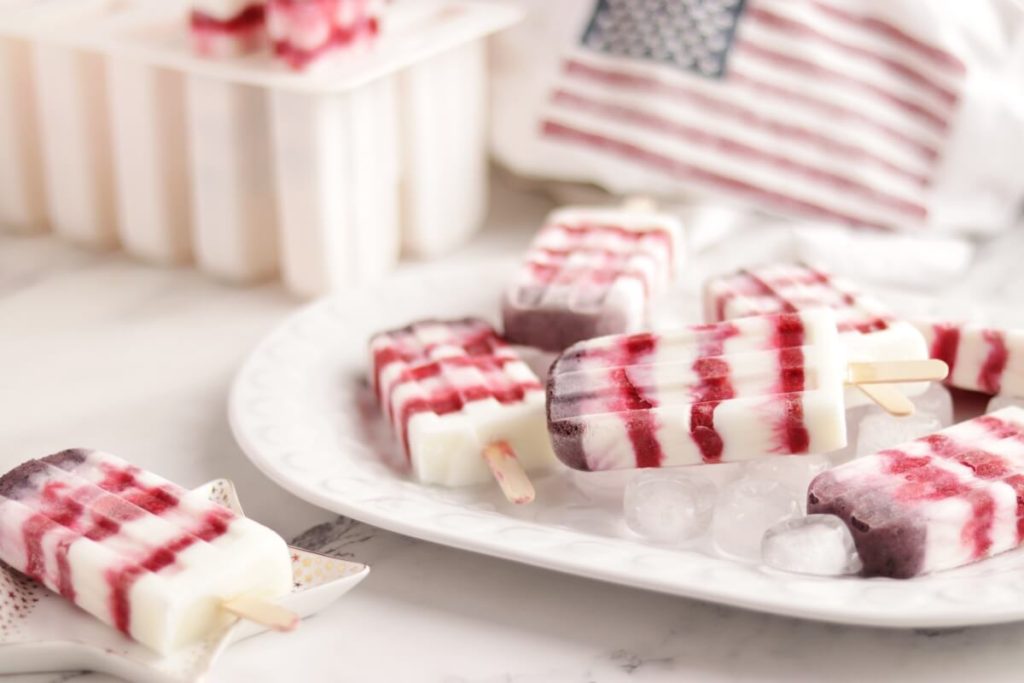 Ingredients for Red White and Blueberry Popsicles :
1 cup Blueberries
1 cup Greek yogurt
1 cup Raspberries