Top 10 Jello Recipes
Who doesn't love fresh and fruity jello on a hot summer day?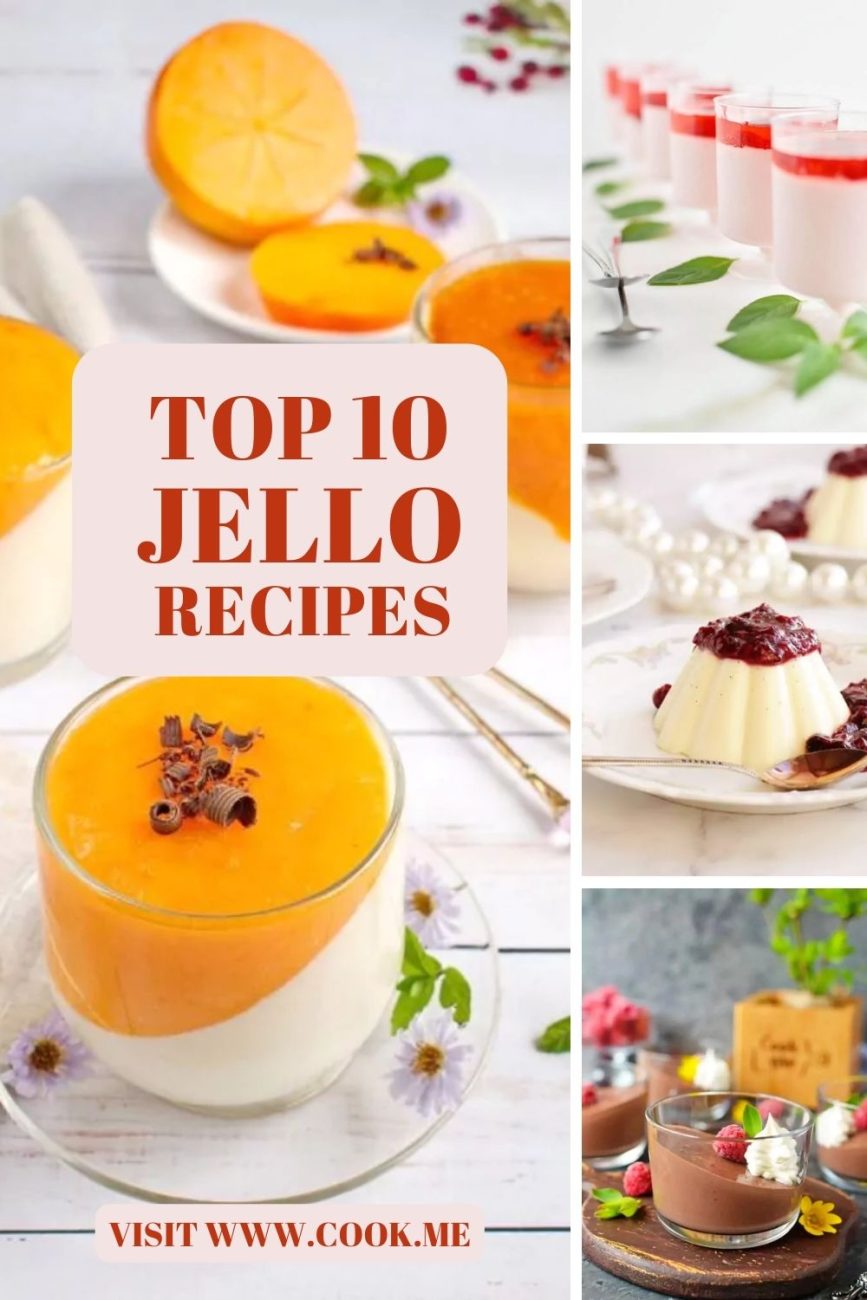 This Chocolate Jello is a delicious homemade jello recipe that you can whip up in just 10 minutes. This jello tastes just like a chocolate mousse, but it has the texture of jello. Kids and adults will love it in equal measure! To make this jello, start by blending sweetened…
Ingredients for Chocolate Jello:
1 cup Condensed milk
1 cup Evaporated milk
¾ cup Heavy whipping cream
3 tbsp Unsweetened cocoa powder
3 tbsp Gelatin
½ cup Water
This Peach Mousse is overfilled with a gentle peach taste – no wonder: my recipe demands more than one pound of fresh fruits, so it's beneficial to your health too! As for me, it is one of my top summer recipes. Puréed peaches keep the mousse flavorful, light and refreshing….
Ingredients for Peach Mousse :
FOR PEACH MOUSSE:
1 lb Peaches
2 tbsp Lemon juice
¼ cup Water
1 tbsp Gelatin
Granulated sugar
1 cup Heavy whipping cream

FOR PEACH MOUSSE TOPPING:
1 Peaches
1 tbsp Lemon juice
2 tbsp Granulated sugar
Fresh mint
This Greek Yogurt Raspberry Jello Dessert is a great sweet treat option to finish your dinner party with. Fresh and light, individual, pudding-like, mousse desserts with two layers of Greek yogurt and fresh raspberries, combined until smooth and topped with raspberry jello. Speaks to the hearts of adults and children…
Ingredients for Greek Yogurt Raspberry Jello Dessert:
1 lb plain Greek yogurt
1 (14 oz) can Condensed milk
16 oz Whipped cream
2 (6 oz) packs raspberry Jello
2 cups Water
12 oz Raspberries
This is one of my favorite April Fool's Recipe – A Glass of Beer which is actually solid and not liquid as you might expect! I love making these on the 1st of April each year to trick friends and family! It is always so funny to see the look…
Ingredients for April Fool's Recipe – A Glass of Beer:
4 cups Apple juice
4 tsp Gelatin
Japanese Milk Pudding is a really popular dessert in Japan. This Japanese milk pudding recipe is very easy to make and requires very few ingredients. You can serve them as they are or top with fruit or berries or toasted nuts and syrup. Serve them straight from the fridge for…
Ingredients for Japanese Milk Pudding:
500 ml Whole milk
50 ml Heavy cream
3 tbsp Granulated sugar
2½ tsp Gelatin
½ tsp Vanilla extract
Satisfy your sweet tooth without breaking your diet with these Yogurt Jello Bites! This homemade treat is low-carb, sugar-free, gluten-free, keto, and most importantly delicious. This recipe is super simple to prepare with just two ingredients: Greek yogurt and sugar-free Jello. I used strawberry sugar-free Jello, but of course, if…
Ingredients for Yogurt Jello Bites:
16 oz Greek yogurt
1 (0.3-ounce) packet Strawberry jello
Cheat's Raspberry Panna Cotta! It sounds fancy while being a breeze to make. And if you are into a mousse and pudding-like desserts then you are going to need this recipe. It uses only 3 simple ingredients, takes only 10 minutes to make, and is a perfect recipe to whip…
Ingredients for Cheat's Raspberry Panna Cotta:
135 g Raspberry jelly cubes
10 fl oz Double cream
10 fl oz Milk
I love the elegance of this Persimmon Panna Cotta and I think of this dessert as a fail safe perfect and ideal choice for dinner parties. Always smooth and creamy, served with persimmon fruit which when ripe is sweet and juicy with a delightful orange shade. I have no doubt…
Ingredients for Persimmon Panna Cotta:
400 ml Whipping cream
50 g Confectioners' sugar
2 drops Rum essence
15 g Agar-agar
2 big Persimmons
strips Dark chocolate
This Edible Juice is a hilarious prank to make this April fool's day. It is a great way to trick your friends or family into thinking that they are about to drink a cold glass of OJ from the refrigerator. Little will they realise that the "juice" is completely solid!…
Ingredients for Edible Juice:
2 sachets Gelatin
4 cups Orange juice
4 tsp Sugar
4 Drinking straws
Classic Italian Panna Cotta is one of those desserts which transports me to the Amalfi coast every time I have it. Panna cotta translates as "cooked cream". It is a simple dish made from a few ingredients: cream, sugar, and vanilla. Gelatine are added to the cooking process to ensure…
Ingredients for Classic Italian Panna Cotta:
FOR THE PANNA COTTA:
½ liter Heavy cream
100gr Sugar
100ml Milk
1 ½ tbsp Gelatin
1 Vanilla pod

FOR THE TOPPING:
⅓ cup Sugar
¼ cup Water
1 cup red Berries