Top 10 Keto Zucchini Recipes
The Best Keto Recipes Will Keep You Full and Help with Weight Loss.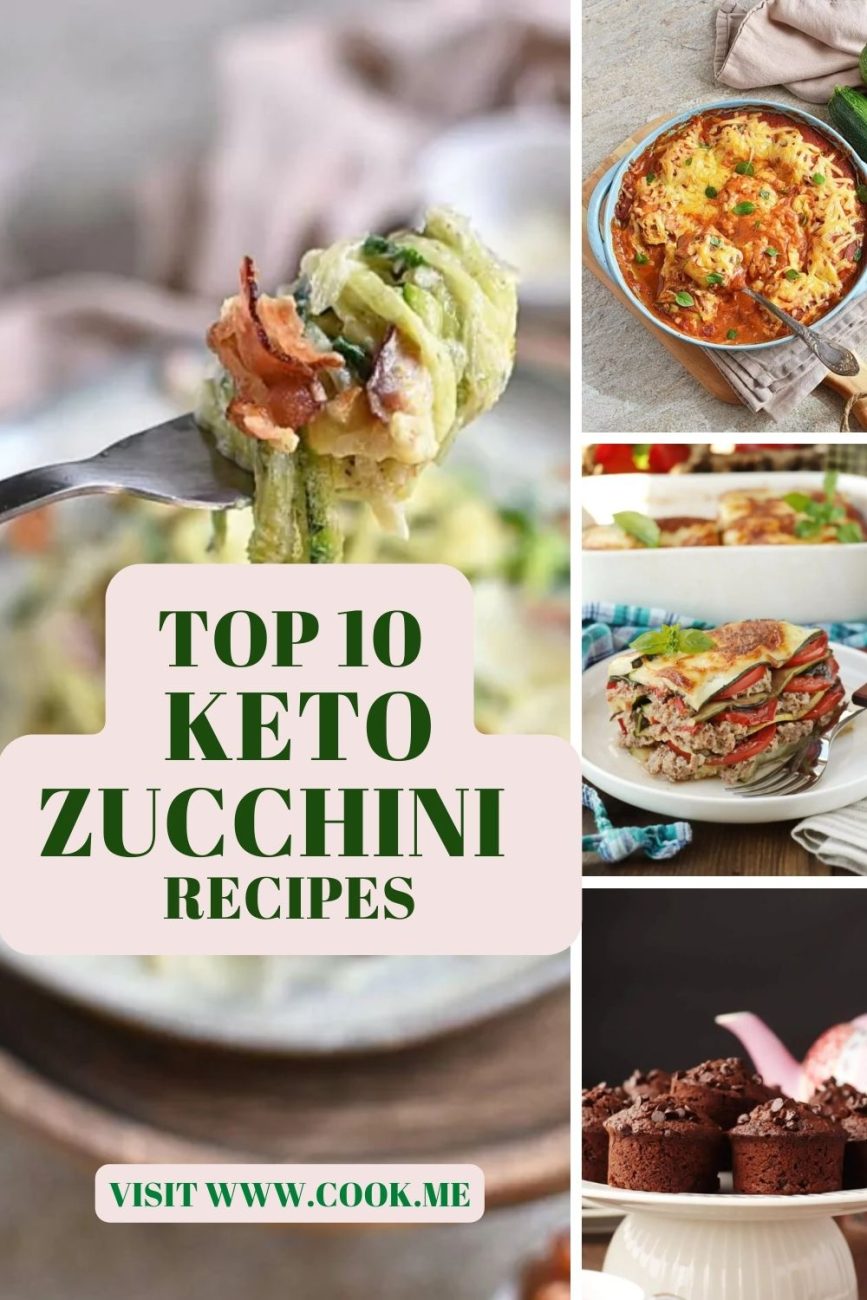 Looking for a low-carb recipe? Look no further! The Best Keto Zucchini Ravioli will keep you full and help with weight loss. This recipe is gluten-free, high in protein, and is made with simple ingredients. And most importantly, it's so delicious! In this recipe, guilt-free zucchini are sliced into strips…
Ingredients for Best Keto Zucchini Ravioli :
16 oz Ricotta cheese
½ cup Parmesan cheese
1 tbsp Basil
1 tsp Garlic Parsley Salt
2 Zucchini
25 oz Pasta sauce
1 cup Mozzarella
Keto Zoodle Alfredo with Bacon recipe, aka my new go-to spring weeknight meal, is an easy and delicious way to enjoy a classic Italian dish if you are keto. Flavorful and nutritious, the recipe calls for fewer than 10 ingredients and is ready in just 20 minutes. And here's how…
Ingredients for Keto Zoodle Alfredo with Bacon:
½ lb Bacon
1 Shallots
2 cloves Garlic
¼ cup White wine
1 ½ cups Heavy cream
½ cup Parmesan cheese
1 (16-oz) container Zoodles
Kosher Salt
Black pepper
I love making these Keto Zucchini Tortillas not only because they are keto-friendly but because they also taste great. And if using almond flour or gluten-free bread crumbs, these tortillas will fit a gluten-free diet too. This recipe has become my go-to when I am making tacos and need soft…
Ingredients for Keto Zucchini Tortillas:
1 lb Zucchini
2 Large eggs
½ cup Almond flour
½ cup Mozzarella
¼ tsp Onion powder
¼ tsp Garlic powder
¼ tsp Salt
This Zucchini Lasagna is my go-to recipe as soon as zucchini of all sizes overflow farmers' market stands and grocery stores. This recipe makes for an easy and fresh dish where the zucchini is the star. Besides, I like to keep the prep process extremely simple and use fresh tomato…
Ingredients for Keto Zucchini Lasagna:
1 lb Zucchini
1 ½ tsp Salt
1 ¼ lbs Lean ground beef
3 oz Cream Cheese
½ tsp Black pepper
1 tsp Olive oil
¾ lb Tomatoes
1 cup Basil
1 cup Mozzarella
I often make this Healthy Zucchini & Summer Squash Casserole when I have a lot of veggies hanging around in the crisper drawer and I am looking for something light and healthy. We also try to have a couple of meat free days per week and this recipe is a…
Ingredients for Healthy Zucchini & Summer Squash Casserole:
1 lb Summer squash
1 lb Zucchini
2½ tbsp Olive oil
1 tsp Salt
½ tsp Black pepper
⅓ cup Parmesan cheese
⅓ cup gluten-free Panko bread crumbs
¼ tsp Garlic powder
2 tbsp Parsley
I am always trying to reinvent recipes that are healthier and Keto friendly and these Zucchini Pizza Bites are just that. Using a base of large zucchini sliced rounds instead of a flour dough, already cuts the calories, majorly. I like to top mine with a bit of marinara sauce,…
Ingredients for Keto Gluten Free Zucchini Pizza Bites:
3 Zucchini
⅓ cup Marinara sauce
½ cup Mozzarella
¼ cup Pepperoni
1 tbsp Olive oil
1 tbsp Dried Italian seasoning
Salt
Black pepper
Using just 5 ingredients and perfect for breakfast, brunch or lunch, this Gluten Free Crustless Zucchini Quiche is fantastic! With layers of thinly sliced zucchini, cream sauce and shredded cheddar cheese, the flavors ooze out of this one. Baked in a hot oven until the top layer of cheese is…
Ingredients for Gluten Free Crustless Zucchini Quiche:
2 lbs Zucchini
2 cups Cheddar cheese
2 Eggs
1 ½ cup Milk
Salt
Black pepper
This Zucchini Pizza Casserole is a fantastic zucchini beef casserole which your whole family will love! It's so versatile too – you can easily sub in Italian sausage or ground turkey for the beef or make it vegetarian by skipping the meat and adding mushrooms, broccoli, or finely chopped cauliflower….
Ingredients for Zucchini Pizza Casserole:
4 cups Zucchini
½ tsp Salt
2 Large eggs
½ cup Parmesan cheese
2 cups Mozzarella
1 cup Cheddar cheese
1 lb Ground Beef
½ cup Onion
1 can (15 oz) Tomato sauce
1 Green pepper
Zucchini Pesto is a simple, healthy, and delicious recipe that will delight even those who don't do zucchini. Besides, this homemade pesto is one of the best ways to enjoy not only the bounty of summer zucchini but also garden-fresh basil. The best part though? This summery pesto is made…
Ingredients for Keto Zucchini Pesto:
5 oz Zucchini
1 cup Basil
3 cloves Garlic
½ cup Walnuts
2 tbsp Lemon juice
½ tsp Sea salt
3-4 tbsp Olive oil
These Low-Carb Chocolate Zucchini Muffins are a scrumptious and healthy dessert. This recipe is vegetarian and even happens to be gluten-free, grain-free, nut-free (since coconut is not actually a tree nut), dairy-free, refined sugar-free, and keto. Besides, these decadent muffins are veggie-packed and sweetened with low-carb sugar. For this recipe,…
Ingredients for Low-Carb Chocolate Zucchini Muffins:
5 oz Zucchini
¾ cup Coconut flour
½ cup Low-carb sugar
¼ cup Unsweetened cocoa powder
1 tbsp Baking powder
½ tsp Instant coffee granules
¼ tsp Xanthan gum
¼ tsp Salt
4 oz Coconut oil
1 oz Chocolate
6 Large eggs
½ tsp Vanilla
½ tsp Stevia
¼ cup Chocolate chips