Top 10 Kosher Recipes
Delicious Jewish Foods Everyone Should Learn To Cook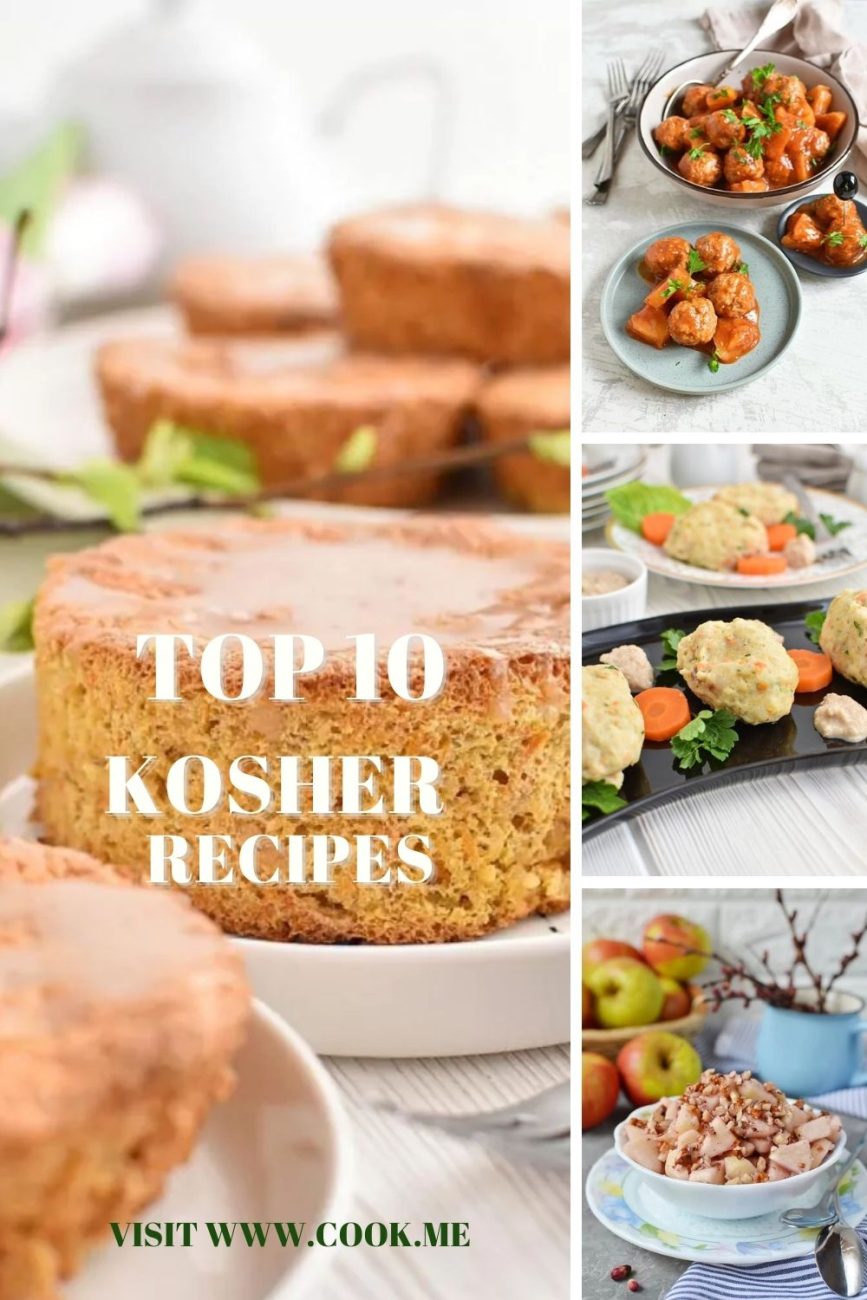 What is Ashkenazi Haroset? Best described as a sweet, loose, paste-like combination of fruit, spices, wine and matzah meal. Traditionally eaten at a Passover Seder meal to symbolize the clay – the work and the mortar of the slaves in Egypt. Every family has their own recipe and mine combines…
Ingredients for Ashkenazi Haroset:
1 tbsp Sugar
2-3 tbsp sweet Red wine
2 Apples
½ cup Walnuts
½ -1 tsp Cinnamon
These Mini Potato Kugels are traditionally eaten by Jewish people on Shabbat and other special religious festivals such as Passover and Hanukkah, although, in Israel, you can find them everyday! Originating from Jewish homes in Germany about 800 years ago, this combination of grated potato, onion, eggs and lots-of-oil gets…
Ingredients for Mini Potato Kugels:
2 tbsp Vegetable oil
8-10 Potatoes
2 Yellow onions
4 Eggs
⅓ cup Vegetable oil
1 tsp Salt
Black pepper
Are you in love with hummus as much as I am? Then you must try this incredible Israeli style Hummus Masabacha (Hummus with Whole Chickpeas) recipe. Found in almost all restaurants across Israel and definitely sold in every supermarket, I have found the perfect recipe to make your own. Not…
Ingredients for Hummus Masabacha:
½ pound Chickpeas
2 tsp Baking soda
2 tbsp Kosher Salt
1 Onion
1 stalk Celery
1 Carrots
2 cloves Garlic
2 Bay leaf
1 sprig Rosemary
1 – 1½ cups Tahini
⅓ cup Parsley
Olive oil
Most Jewish people will agree with me that Passover is no celebration without The Best Matzo Ball Soup. Some families wait all year for this speciality but with my Jewish friends, they serve it for all the big festivals and traditional or religious holidays. A chicken soup broth filled with…
Ingredients for The Best Matzo Ball Soup:
4 Large eggs
¼ cup Water
¼ cup Schmaltz
1 cup Matzo meal
⅛ – 1 tsp Baking powder
1 tsp Kosher Salt
Black pepper
3 quarts Chicken stock

FOR GARNISH:
1 Carrots
1 stick Celery
2 sprigs Dill
Gefilte Fish is a poached fish dish made from ground deboned fish. It is typically served as an appetizer around Passover. But you can feel free to make this Jewish classic at any time throughout the year.  It is really easy to make this dish too. Start by bringing fish…
Ingredients for Gefilte Fish:
2 tbsp Olive oil
1 Onion
2 Carrots
1 stalk Celery
3 lb Pike fillets
3 Large eggs
¼ cup Parsley
¾ cup Matzo meal
Kosher Salt
Black pepper
Have you ever visited Israel? You'll find The Best Shakshuka served in almost every single restaurant and enjoyed anytime of day for breakfast, lunch or dinner. Israelis love to soak up the tomato sauce with thick slices of white or pita bread and you bet the serving pan is wiped…
Ingredients for The Best Shakshuka:
1 Onion
1 Red bell pepper
4 cloves Garlic
2 tsp Ground paprika
1 tsp Cumin
¼ tsp Chili powder
1 can Tomatoes
6 Large eggs
Salt
Black pepper
1 bunch Cilantro
1 bunch Parsley
2 tbsp Vegetable oil
This Sweet Noodle Kugel is a great recipe for Passover. It is easy to prepare and once you have put it together, you only need to bake it in the oven for an hour and it is ready to serve. My family loves the sweet sauce combined with the pasta…
Ingredients for Sweet Noodle Kugel:
16 oz Wide Egg noodles
5 Large eggs
½ cup Butter
16 oz Sour cream
8 oz Cottage cheese
¾ cup Sugar
½ tsp Cinnamon
These Jewish Sweet & Sour Meatballs are the ultimate comfort food. Think tender and flavorful meatballs but made so much better with the addition of pineapple and chili sauce. The recipe is kosher, easy, and absolutely delicious. The combination of sweet and sour creates an amazing flavor profile that will…
Ingredients for Jewish Sweet & Sour Meatballs:
40 oz Can chopped pineapple
¾ cup Tomato sauce
¾ cup Ketchup
½ cup Cider vinegar
¼ cup Brown sugar
2 tbsp Tomato paste
1 tbsp Onion powder
¾ tsp Salt
¾ tsp Garlic powder
¾ lb lean Ground Beef
¾ lb Ground chicken
1 Large eggs
3-4 tbsp Matzo meal
1 tsp Ground paprika
¼ tsp Black pepper
1 pinch Cayenne pepper
One of my closest friends is allergic to gluten and as a result, I'm always on the lookout for delicious gluten free recipes like this Flourless Mini Carrot Cakes for Passover which is so delicious, you won't even know it is gluten free!  Start by separating the egg whites and yolks. Beat the yolks together with sugar and add lemon juice and zest, cinnamon, pumpkin pie spice, salt, and vanilla, almond flour and carrots. In a separate bowl, beat the egg whites and sugar together until stiff peaks form. Bake in ….
Ingredients for Flourless Mini Carrot Cakes for Passover:
4 Eggs
½ cup + 1 tbsp Sugar
½ Lemon
½ tsp Cinnamon
½ tsp Pumpkin pie spice
½ tsp Salt
1 tsp Vanilla
¾ cup Almond meal
1 ¼ cups Carrots

FOR THE VANILLA GLAZE:
2 tbsp Cream Cheese
¼ – ½ cup Powdered sugar
1 – 2 tsp Vanilla
pinch Cinnamon
This Flourless Walnut-Date Cake for Passover has all the tastiness of a yummy cake without the flour or gluten. According to Jewish traditions, Jewish people are prohibited from eating certain foods during the 8 days of Passover and flour is one of them. The idea is to commemorate the exodus…
Ingredients for Flourless Walnut-Date Cake :
3 cups Walnuts
¾ tsp Cinnamon
½ cup Sugar
4 Large eggs
2 tsp Orange zest
1 tsp Vanilla extract
1 pinch Kosher Salt
¾ cup Dates
Cooking spray

FOR THE GLAZE:
2 ounces Bittersweet chocolate
4 tbsp Margarine
1 tsp Honey
2 tbsp Walnuts