Top 10 Lent Recipes
That'll Make You Forget Meat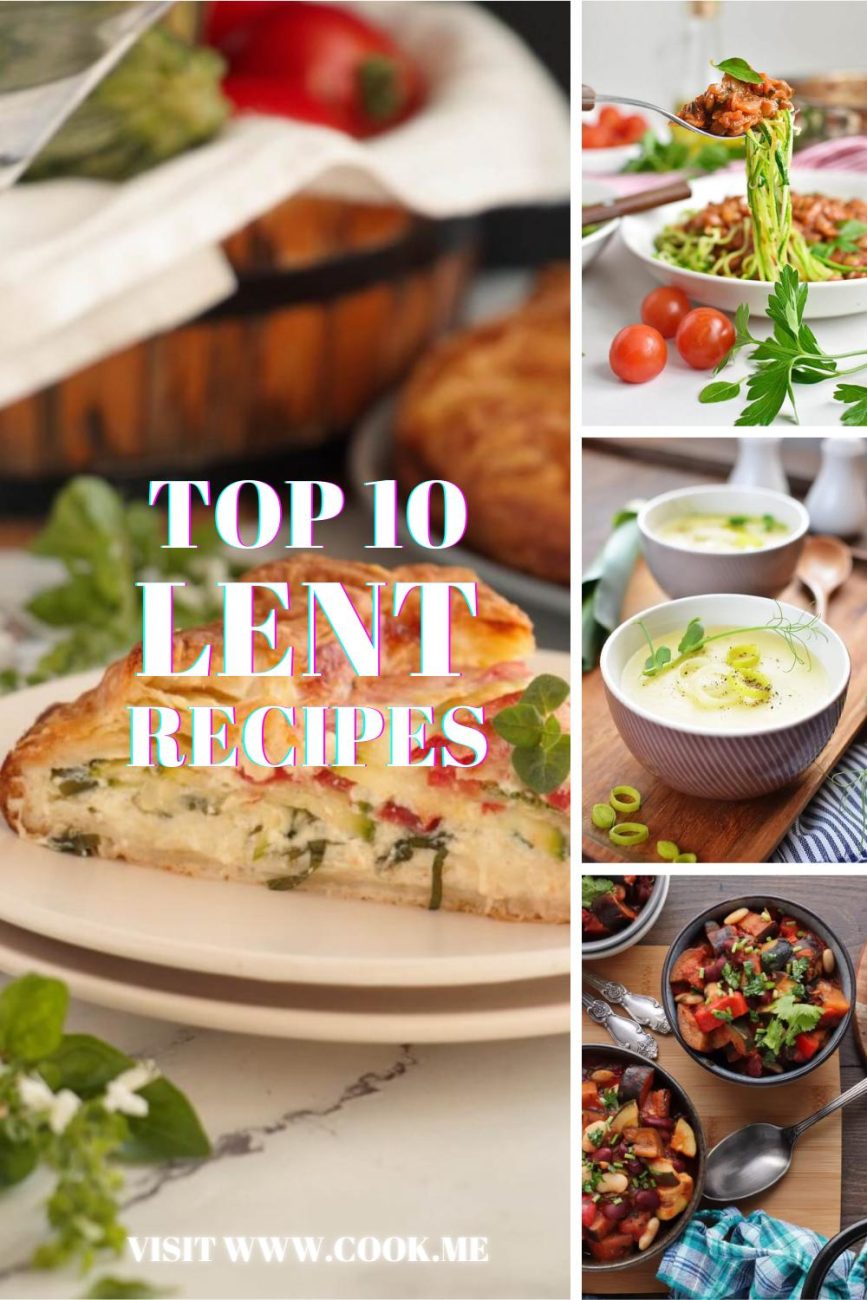 This Easy and Healthy Vegetable Fried Rice is exactly like the Asian inspired veg fried rice dish that you usually order from your local Chinese take-out and now you can make a healthier version, in your own home, with our, fresh and exciting recipe. Mixed rice, red bell pepper, cabbage,…
Ingredients for Easy and Healthy Vegetable Fried Rice:
1 cup Mixed rice
1¼ cup Water
1-2 tbsp Olive oil
½ Red bell pepper
½ cup Cabbage
2 Carrots
½ Onion
2 Eggs
3-4 tbsp Coconut aminos
Salt
Pepper
This is a 30 Minute Spicy Lentil Bolognese that will be putting in a regular appearance in your kitchen. It is super quick and easy to make. It's very filling too and completely vegan which makes it the number one summer dinner recipe in my kitchen. …
Ingredients for 30 Minute Spicy Lentil Bolognese:
2 cups Lentils
1 tbsp Olive oil
2 cloves Garlic
½ medium Onion
1 (15 oz) can Tomatoes
1-2 Green chili
1 (15 oz) Can crushed tomatoes
¼ cup Parsley
½ cup Basil
¼ tsp Black pepper
½ tsp Dried oregano
1 pinch Smoked Paprika
¼ tsp Chili powder
¼ tsp Red chili powder
2 Zucchini
This White Bean Soup with Escarole is so healthy and delicious and just what you need this Lent. Packed with ingredients to make this soup a full meal. Escarole, like spinach leaves, are extremely nutritious and add texture and flavor to this dish. Other ingredients include canned tomatoes, red pepper…
Ingredients for White Bean Soup with Escarole:
1 tsp Olive oil
1 Onion
5 cloves Garlic
3 cans Сan chicken broth
1 can Can chopped tomatoes
1/2 tsp Dried Italian seasoning
1/4 tsp Red pepper flakes
1 cup Whole wheat Orzo pasta
1 bunch Escarole
1 can (15 ounces) Cannellini
1/4 cup Parmesan cheese
This Caramelized Balsamic Goat Cheese Pasta is like no other! Italian spaghetti tossed in a mushroom and garlic and balsamic reduction sauce that is just unbelievable. Top with roasted beets, crumbled goat cheese and pomegranate arils for a gorgeous final touch. This dish is colorful and vibrant and paired with…
Ingredients for Caramelized Balsamic Goat Cheese Pasta:
4 tbsp Olive oil
6 Beets
1 tbsp Fresh thyme
Kosher Salt
Black pepper
1 pound Spaghetti
2 tbsp Butter
8 ounces Cremini mushrooms
4 cloves Garlic
1 cup Balsamic vinegar
2-3 tbsp Honey
½ tsp Crushed red pepper
½ cup Goat Cheese
Pomegranate seeds
This Zucchini, Tomato and Mozzarella Tart is one of my personal favorite recipes and a tart that you will find at many of my dinner parties. Simple prep with ready made puff pastry sheets, thawed and filled with delicious cheese, roasted veg and herb filling. I use a combination of…
Ingredients for Zucchini, Tomato and Mozzarella Tart:
½ of a 17.3-ounce package Frozen puff pastry
1½ cup Mozzarella
¾ cup Parmesan cheese
½ cup Basil
2 Green onion
1 tbsp Oregano
2 Zucchini
3 Plum tomato
2 Eggs
1 cup Half-and-half
¼ tsp Black pepper
This Cheddar Jack Potato Leek Soup is warm, cheesy and creamy and everything you need to get through this winter. This recipe takes just 30 minutes to prepare and uses an extremely simple list of ingredients. Cooking doesn't need to be complicated in order to taste good and this recipe…
Ingredients for Cheddar Jack Potato Leek Soup:
1½ lb. Potatoes
2 tbsp Butter
½ cup Leek
2 tbsp All-purpose flour
2 cups Vegetable broth
1 cup Half-and-half
1 cup Cheddar cheese
Kosher Salt
Black pepper
This Spicy Vegetarian Chili is the best choice for a cozy comfort dinner yet healthy. There isn't any meat in this spicy chili, but you won't miss it. It is made with two kinds of beans, eggplants, bell peppers, onions, tomatoes, zucchini, and jalapeños, of course. This chili is perfectly spiced, hearty and thick, and easy to make. You may vary the amount of jalapeños to suit your taste. …
Ingredients for Spicy Vegetarian Chili :
1 lb Eggplants
5 tbsp Olive oil
2 Yellow onions
3 cloves Garlic
2 Zucchini
2 Red bell pepper
1 Jalapeño pepper
1 (28-oz) can Plum tomato
1 tbsp Cumin
1-2 tbsp Chili powder
2 tsp Dried oregano
1 tsp Fennel seeds
1½ cups Kidney beans
1½ cups White beans
Zest of 1 Lemon
3 tbsp Lemon juice
1 tsp Coconut sugar
⅓ cup Cilantro
Kosher Salt
Black pepper
Who doesn't love buffalo wings and now with our Buffalo Cauliflower Wings even our vegetarians can enjoy this much-loved, messy finger food! Replace the milk and butter with vegan options and they can even be vegan too because nowadays there is a vegan substitute for almost everything! To make Buffalo…
Ingredients for Buffalo Cauliflower Wings:
1 head Cauliflower
1 cup All-purpose flour
1 cup Milk
½ tsp Garlic powder
½ tsp Kosher Salt
Black pepper
1 cup Hot sauce
4 tbsp Butter
FOR SERVING:
Ranch dressing
4 sticks Celery
Mediterranean Yogurt Flatbread with Crispy Eggplant. Sometimes the best things in life take that much more time and effort and that is the exact case with this delicious recipe. An extremely long name to an actually pretty simple recipe. ….
Ingredients for Mediterranean Yogurt Flatbread with Crispy Eggplant:
FOR THE EGGPLANT:
1 large Eggplants
Kosher Salt
Olive oil

FOR THE FLATBREAD:
1¼ cups All-purpose flour
1 cup Whole wheat flour
2 tsp Kosher Salt
1 tsp Baking powder
1 tsp Sugar
2 cloves Garlic
1 cup Plain yoghurt
Olive oil

FOR THE SHIRAZI SALAD:
1 medium English cucumber
2 Plum tomato
¼ cup Red onion
1 Lemon
1 tbsp Fresh mint
1 tbsp Fresh dill
Kosher Salt
Black pepper

FOR ASSEMBLING:
4 Large eggs
2 tbsp Olive oil
½ cup Labne
Tahini
Fresh dill
Your Meatless Monday just got so much better with our Brussels Sprouts and Grapes au Gratin. I first boil the halved Brussels sprouts until slightly softened then add them, with grapes, to a buttery cream sauce made from butter, arrowroot flour, milk, salt, pepper, and Swiss cheese. Top with sprinkles…
Ingredients for Brussels Sprouts and Grapes au Gratin:
1 lb Brussels sprouts
½ cup Red Grapes
1 tbsp Butter
2 tbsp Arrowroot starch
¾ cup Milk
¼ tsp Salt
¼ tsp Black pepper
1 cup Swiss cheese
¼ cup Parmesan cheese