Top 10 Meatball Recipes
Phenomenal, Feel-good Food Dinner Recipes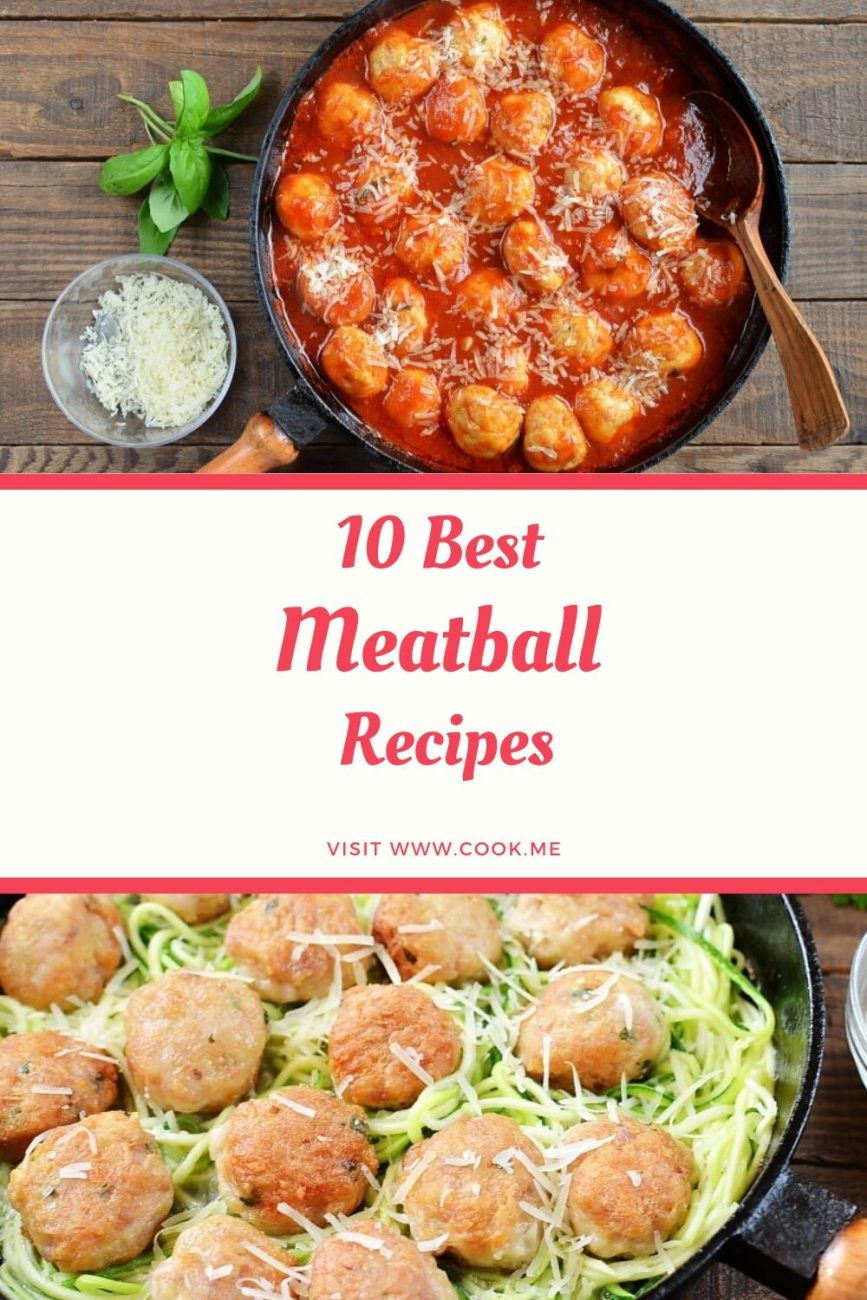 This Perfect Eggless Meatballs is the Best Meatball Recipe with no eggs you will find. I first made this Allergy-friendly recipe when one of my kid's friends came over for a playdate. She has an egg allergy and even though her mom said cooked eggs were fine, I wanted to be sure! The kids were demanding …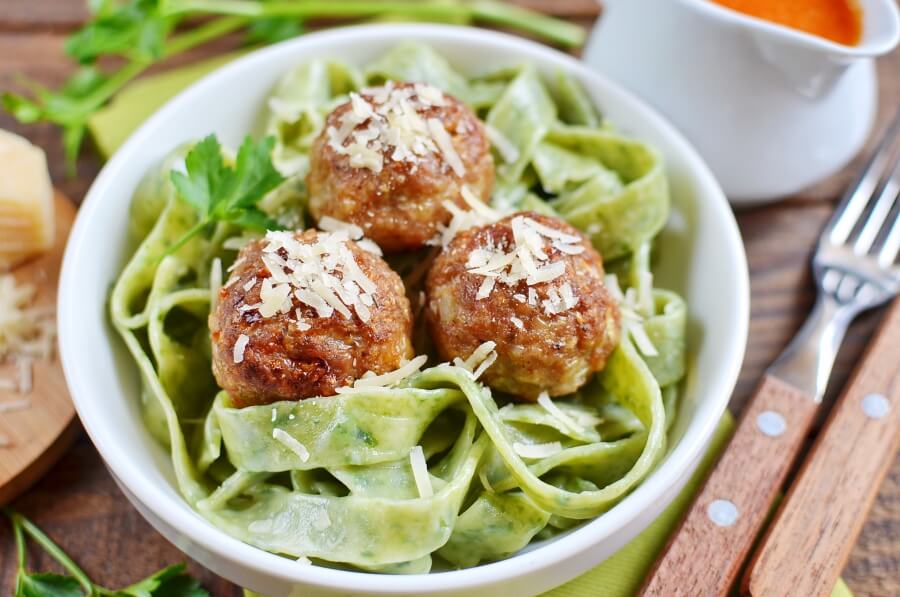 Ingredients for Perfect Eggless Meatballs:
1lb Ground Beef
1/4 cup Parmesan cheese
1/3 cup Milk
1 Onion
a dash of Hot sauce
1 1/2 tbsp Worcestershire sauce
1/2 cup Breadcrumbs
3/4 tsp Oregano
3/4 tsp Red pepper flakes
1 1/2 tsp Dried Italian seasoning
1/2 tsp Garlic salt
1/2 tsp Salt
These Keto Chicken Parmesan Meatballs are the perfect recipe for me to use to feed my family in accordance with my most favored Keto regime. The meatballs are made from ground chicken combined with almond flour, egg, Parmesan, fresh basil and garlic powder that get baked in the oven for…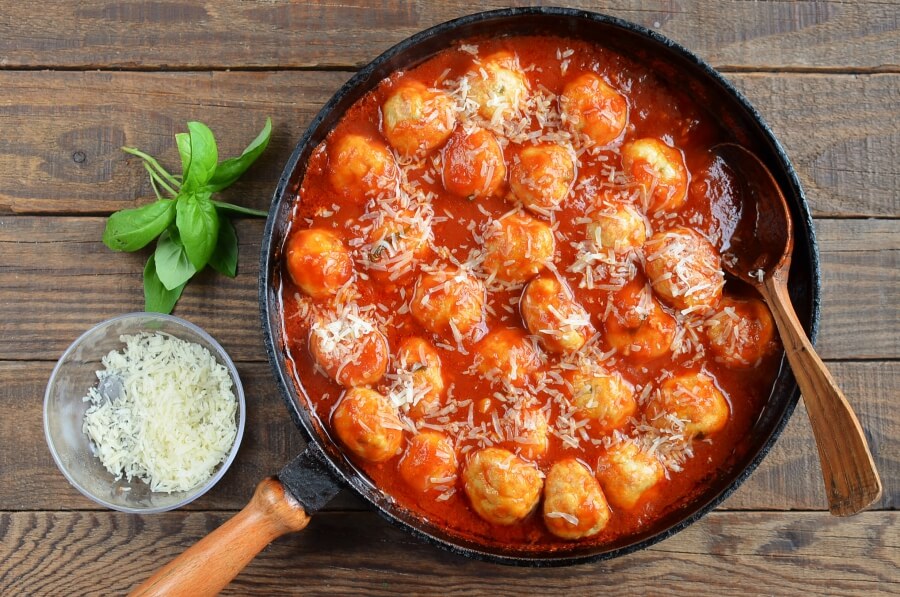 Ingredients for Keto Chicken Parmesan Meatballs:
1 lb Ground chicken
½ cup Almond flour
1 Eggs
⅓ cup Parmesan cheese
1 tbsp Basil
½ tsp Garlic powder

FOR THE SAUCE:
2 tsp Olive oil
3 cloves Garlic
1 28 oz Can crushed tomatoes
1 tbsp Basil
½ tsp Salt
These Garlic Butter Meatballs with Zoodles are a delicious way to serve ground chicken. I like to make this meatball dish with zoodles rather than spaghetti. What are zoodles you ask? Well, zoodles are noodles made from zucchini! They are a fresh and low carb alternative to pasta. I buy…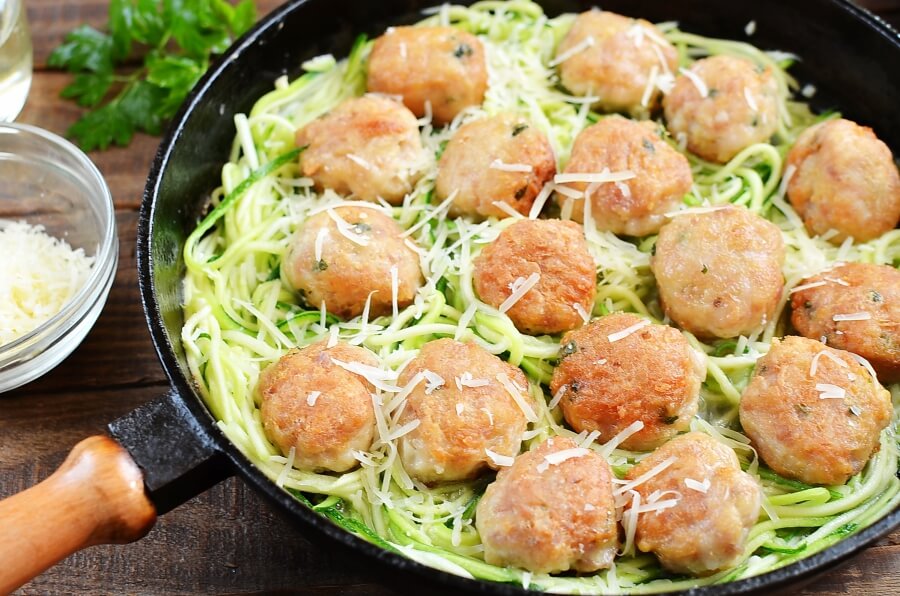 Ingredients for Garlic Butter Meatballs with Zoodles:
1 lb Ground chicken
5 cloves Garlic
1 Eggs
½ cup Parmesan cheese
2 tbsp Parsley
¼ tsp Red pepper
Kosher Salt
Black pepper
2 tbsp Olive oil
4 tbsp Butter
juice of ½ Lemon
1 lb Zoodles
My kids love these Honey Garlic Pork Meatballs and I know if they have any friends coming over, I have to make double the recipe because there are definitely never enough meatballs for more than 3 helpings! The team-up of honey and garlic giving these little morsels a perfect coating….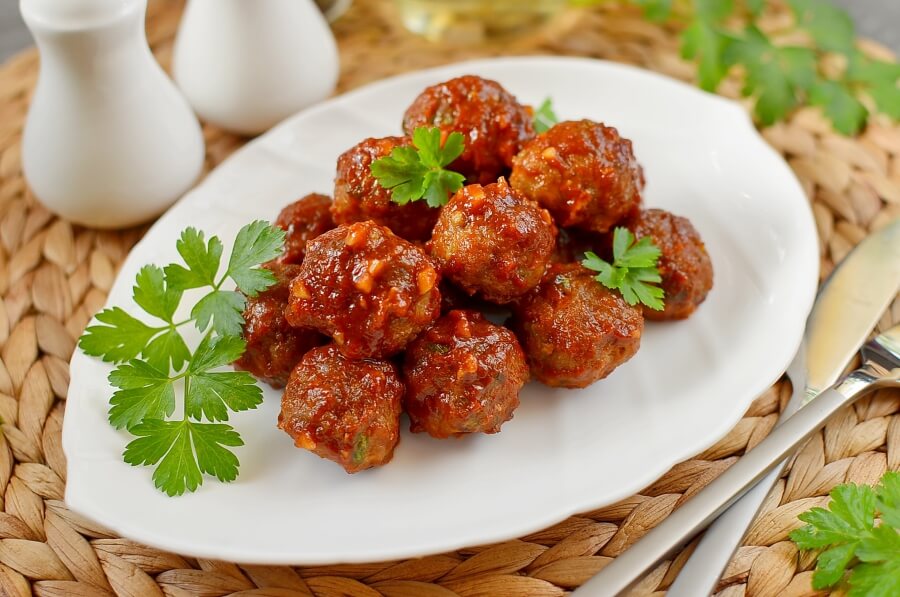 Ingredients for Honey Garlic Pork Meatballs:
1 pound Ground pork
1 Large eggs
¼ cup Bread crumbs
2 tbsp Cilantro
2 Green onion
4 cloves Garlic
1 scant tsp Salt
Black pepper
2 tsp Butter
½ cup Ketchup
¼ cup Honey
1½ tbsp Soy sauce
Sriracha sauce
Juicy Beef Meatballs in a garlicky tomato sauce, over a bed of pasta and topped with a good grating of parmesan – sounds pretty awesome right? Well here's my recipe for making those perfect meatballs – juicy, beefy and super tasty. I add a bit of pork mince to mine…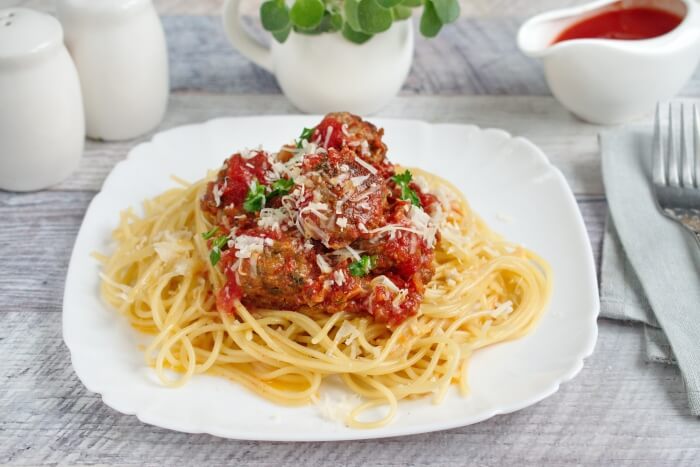 Ingredients for Juicy Beef Meatballs:
14oz Ground Beef
3oz Ground pork
1 Onion
2 cloves Garlic
1 cup Breadcrumbs
1/4 cup Parmesan cheese
1 Eggs
1/4 cup Parsley
3/4 tsp Salt
1/4 tsp Black pepper

FOR THE SAUCE:
24oz Pureed tomatoes
2 cloves Garlic
3/4 cup Onion
1/2 cup Water
1 tsp Red chili
3 tsp Oregano
1 tsp Salt
1/2 tsp Black pepper

TO SERVE:
4 portions Pasta
to taste Parmesan cheese
to taste Parsley
Meatball and Tomato Salad is the best healthier dinner replacement to spaghetti and meatballs. So if that's what the kids are having, then this is what you'll be having and you're not even missing out. This recipe has more nutrients and more flavor than pasta could wish to have! Pack…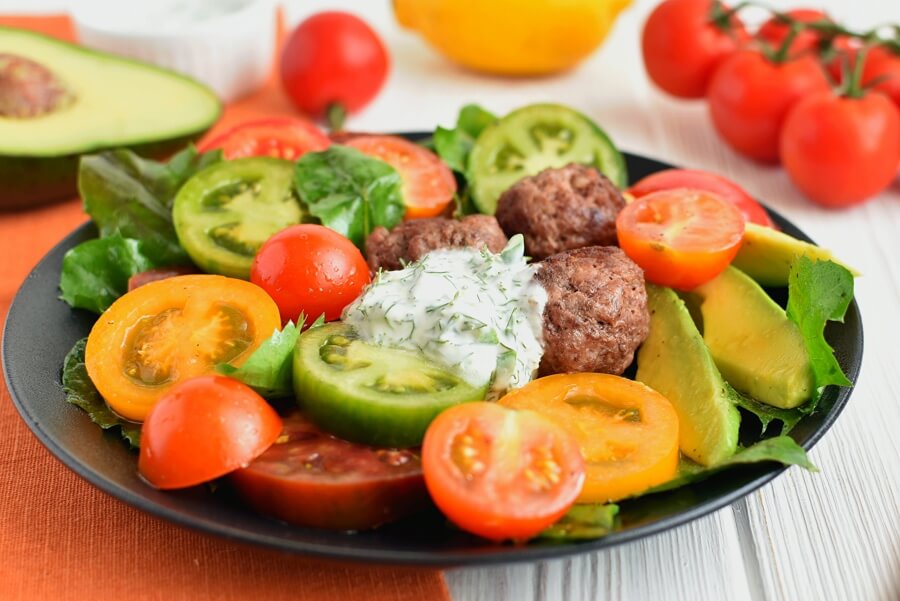 Ingredients for Meatball and Tomato Salad:
1 pound Lean ground sirloin
2 cups Heirloom tomatoes
1 ripe medium Avocado
1 tbsp fresh Chives
1 tbsp Fresh dill
4 cups Arugula
1 tsp Kosher Salt
1 tsp Black pepper
¼ cup Canola oil
1 tsp Lemon zest
2 tbsp Lemon juice
¼ cup plain 0% nonfat Greek yogurt
1 tbsp Water
These Chicken Pesto Meatballs are really quick and easy to make. They taste absolutely delicious too thanks to the addition of basil pesto. Pesto is the ultimate Italian ingredient, bursting with the flavor of fragrant basil and rich with olive oil and Parmesan cheese. I adore it! Start by cooking…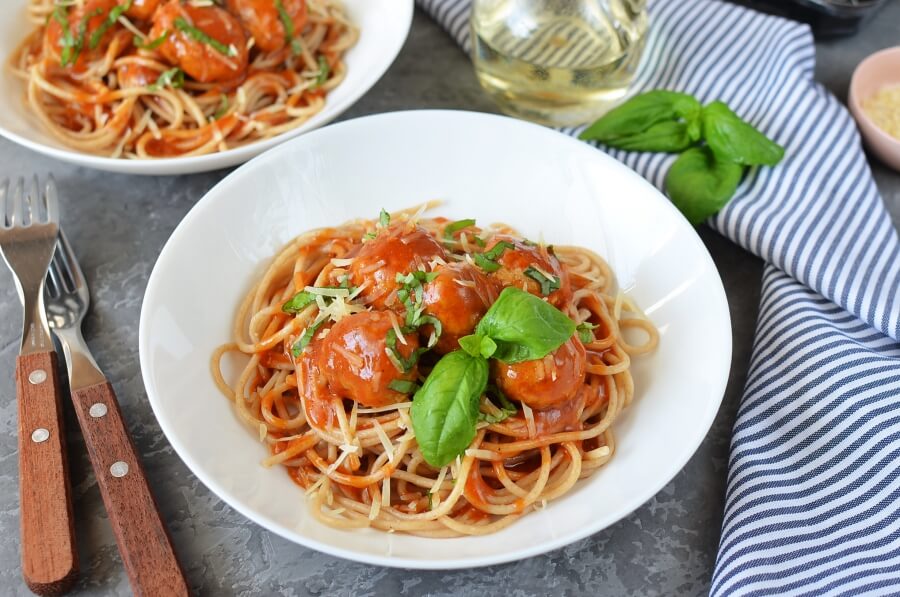 Ingredients for Chicken Pesto Meatballs:
6 oz Spaghetti
¼ cup Bread crumbs
2 tbsp Pesto
2 tbsp Parmesan cheese
1 tsp Garlic powder
1 lb Ground chicken
1 ½ cups Marinara sauce
¼ cup Water

TO GARNISH:
Freshly torn Basil
Parmesan cheese
I love taking these Perfect Meatball Sandwiches on any road trip. I pack up a few and we're set to go and drive for miles with these in hand. Everyone believes that their recipe for meatballs is the best, but I promise you will fall in love with these. Included…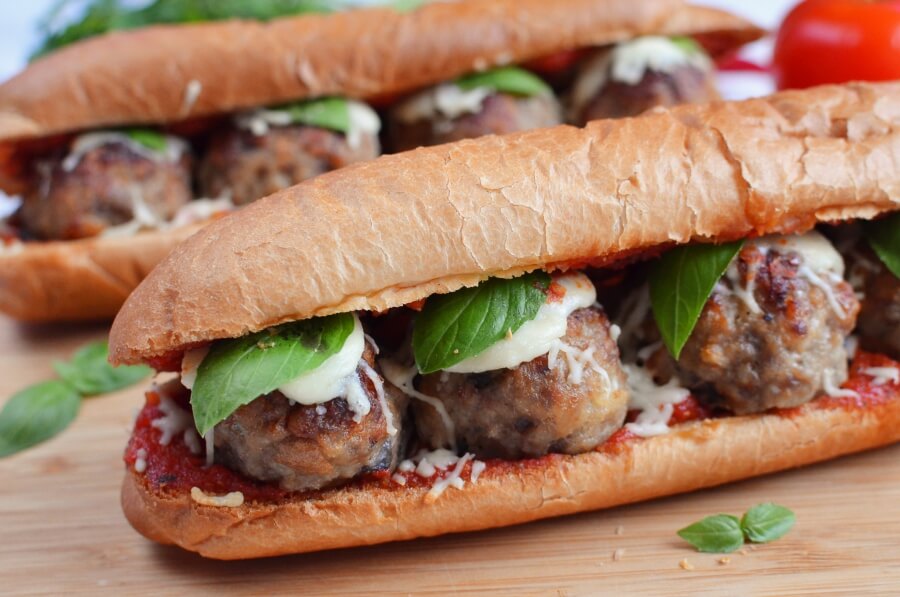 Ingredients for Perfect Meatball Sandwiches:
FOR THE MARINARA SAUCE:
1 (28-ounce) Can chopped tomatoes
¼ cup Olive oil
2 cloves Garlic
¼ cup Water
¼ tsp Salt
1½ tsp Sugar
¼ tsp Dried oregano
1 pinch Red pepper flakes
1 large sprig Basil

FOR THE MEATBALL SANDWICH:
4 French rolls
2 tsp Butter
1 tsp Garlic powder
12-16 Meatballs
1 cup Mozzarella
fresh Basil
A family favorite, these Chicken and Apple Meatballs are sweet and crunchy and all things juicy. Flavors and textures from grated apple and onions, minced garlic and fresh sage, give these meatballs a different type of delicious! Enjoy these protein balls with grilled string beans, drizzled with olive oil or…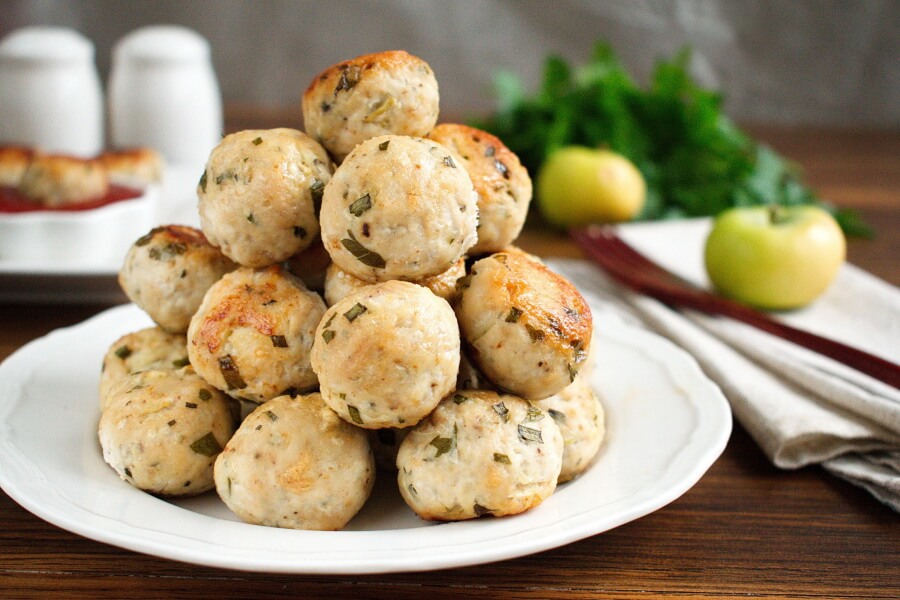 Ingredients for Chicken and Apple Meatballs:
1 lb Ground chicken
1 Apples
½ cup Onion
2 tsp Garlic
3 tbsp Sage
1-2 cups Panko breadcrumbs
Salt
Fresh Ground pepper
These Moroccan Turkey Meatballs with Citrus Couscous is your best bet on a dish that is fresh, filling and first-in-line to win any cooking competition. With flavors suited for a sophisticated palate to enjoy these Moroccan, gently spiced meatballs served on a bed orange zest and cinnamon couscous. Cooking this…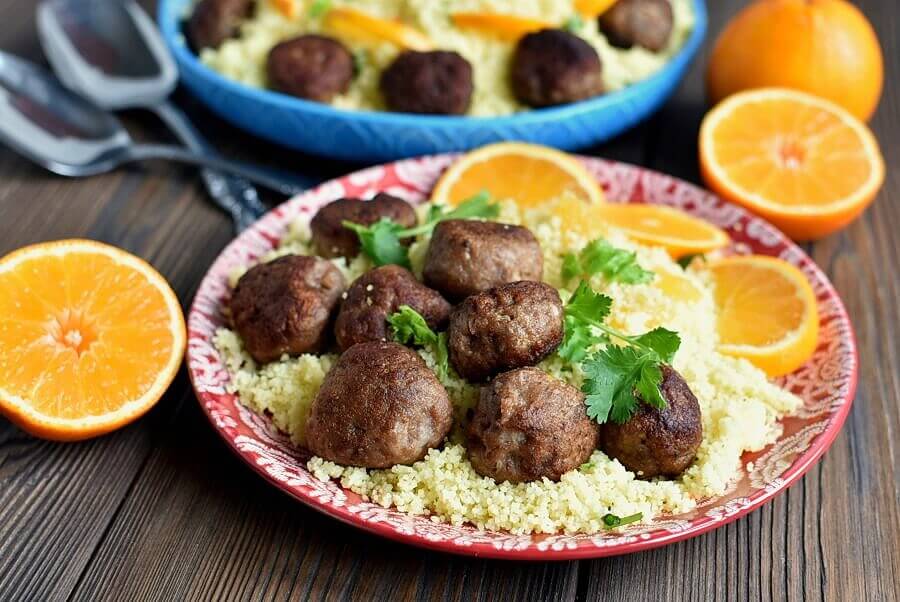 Ingredients for Moroccan Turkey Meatballs with Citrus Couscous:
500g Ground turkey
250g Couscous
1 Oranges
zest 1 Oranges
2 tsp Cumin
2 tsp Ground coriander
2 tsp Chili powder
1 tsp Cinnamon
1 Onion
250ml Chicken stock
2 tsp Olive oil
1 small bunch Coriander