Top 10 Mediterranean Recipes
Delicious and Healthy Mediterranean Foods Everyone Should Learn to Cook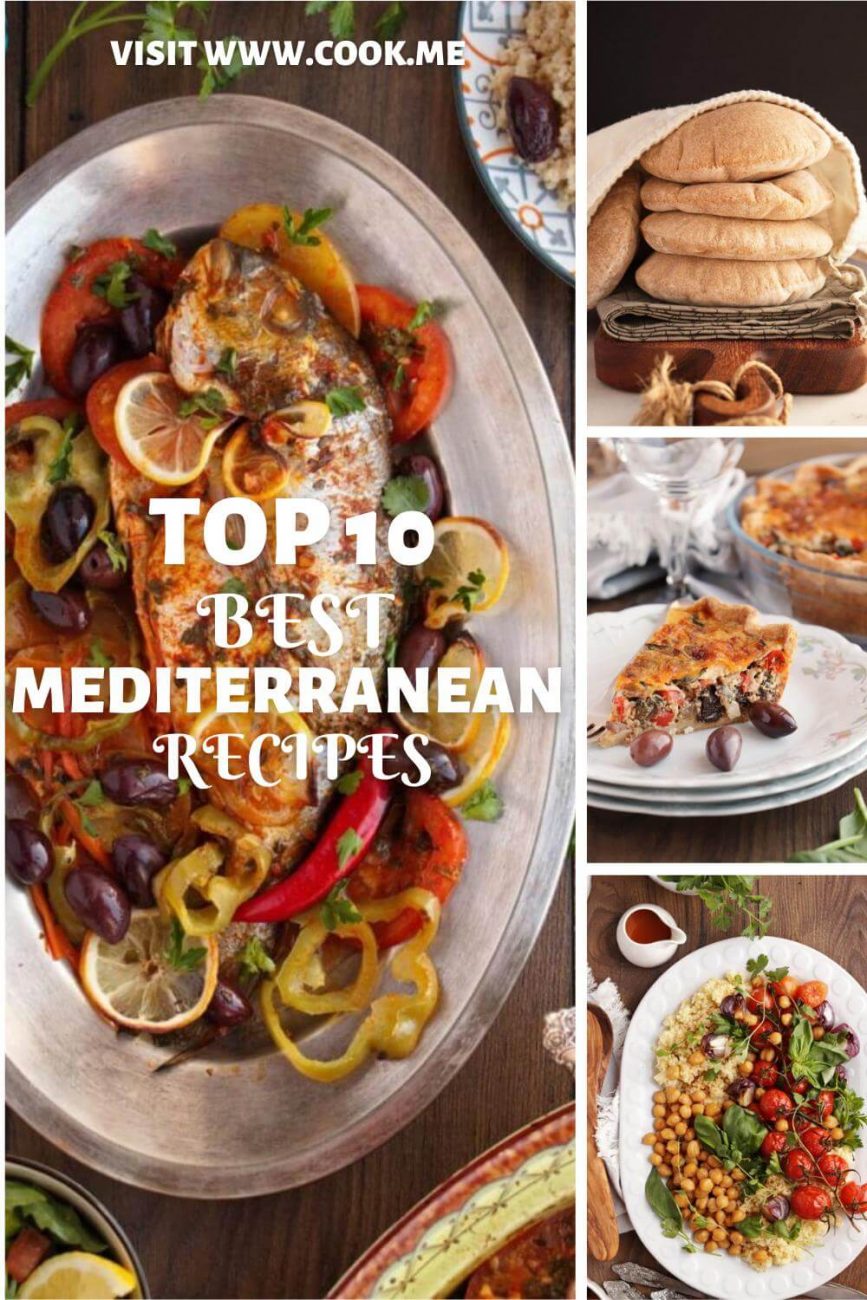 This Moroccan Baked Fish Tagine with Potatoes, Carrots, Tomatoes and Peppers has everything a baked fish should have. Cooked in a baking dish, I use 2 whole fish to feed my family, along with potato slices, tomato slices, green pepper rings and whole chilis and an absolute array of herbs and spices like garlic, paprika, cumin, cayenne pepper, ginger and my all time favorite cilantro!
Ingredients for Moroccan Baked Fish Tagine with Potatoes, Carrots, Tomatoes and Peppers:
1-2 whole Fish
2 Carrots
2 Potatoes
3 or 4 Tomatoes
2 Green bell pepper
1-2 Hot chilli pepper
1-2 Lemon
Salt
Ginger
Black pepper
1 handful Kalamata olives
2 tbsp Parsley

FOR THE CHERMOULA:
1 bunch Cilantro
4 cloves Garlic
2 tbsp Ground paprika
1 tbsp Cumin
1 tsp Salt
1 tsp Ginger
½ tsp Cayenne pepper
¼ tsp Saffron threads
3 tbsp Vegetable oil
2 tbsp Lemon juice
Mediterranean Vegetable Rice is such a quick and simple dinner recipe. I use the same pan to make this dish which cuts down on the number of pots and pans I need to wash up. I serve this rice dish with tapenade which I make by destoning and finely chopping olives. I mix the olives with vinegar and extra virgin olive oil.
Ingredients for Mediterranean Vegetable Rice:
300 g Basmati rice
1 Red onion
1 Zucchini
4 Tomatoes
4 tbsp Pesto
2 tbsp Olive oil
8 Black olives
½ tbsp White wine vinegar
½ tbsp Olive oil
4 sprigs Basil
½ x 125 g ball Mozzarella
Black pepper
I always ask what makes a salad so tasty and with this Grilled Lemon and Herb Mediterranean Chicken Salad, I'm pretty certain it's the tangy dressing drizzled over a Mediterranean chicken salad composed of lettuce leaves, cucumber, plum tomatoes, red onion slices, avocado slices and pitted olives. …
Ingredients for Grilled Lemon and Herb Mediterranean Chicken Salad:
FOR THE DRESSING:
2 tbsp Olive oil
1 Lemon
2 tbsp Water
2 tbsp Red wine vinegar
2 tbsp Parsley
2 tsp Dried basil
2 tsp Garlic
1 tsp Dried oregano
1 tsp Salt
Black pepper
1 pound Chicken thighs

FOR THE SALAD:
4 cups Romaine lettuce
1 Cucumber
2 Plum tomato
1 Red onion
1 Avocado
⅓ cup Kalamata olives
1 Lemon
I make this Whole Wheat Pita Bread recipe regularly when I feel like making healthy lunches or to accompany hummus or baba ganoush dips. You don't have to fear making your own pita bread – it's actually really simple and fun too! Plus, you get to enjoy the bread once it is cooked!
Ingredients for Whole Wheat Pita Bread:
3 cups Whole wheat flour
1¼ cup Water
½ tbsp Active dry yeast
1-1½ tbsp Olive oil
½ tbsp Salt
1 pinch Sugar
This Millet with Roasted Tomatoes and Chickpeas is vegan and gluten-free and everything that I personally look for in a healthy, nutritionally balanced and tasty dinner idea for me and my family.
Ingredients for Millet with Roasted Tomatoes and Chickpeas:
FOR THE ROASTED TOMATOES:
14 oz Cherry tomatoes
2 Red onion
1 tbsp Olive oil
1 dash Salt
1 dash Black pepper

FOR THE CREAMY CHICKPEAS:
14 oz Chickpeas

FOR THE CHICKPEA MARINADE:
4 tbsp Olive oil
1 tbsp Tamari sauce
2 tsp Apple cider vinegar
1 tsp Cumin
1 tsp Onion powder
½ tsp Garlic powder
½ tsp Ground paprika
½ tsp Coconut sugar
1 cup Cooking cream

FOR THE MILLET:
0,8 cups Millet
2,5 cups Water

TO SERVE:
Fresh herbs
This Moroccan Carrot Salad with Millet is colorful, fresh and vibrant and I think your sophisticated palate is going to love it! Millet is a world-grown whole grain and in this recipe I have added roasted carrots and red onion slices, almond slices, pomegranate seeds, minced parsley and cilantro tossed together with Moroccan spice blend such as Ras El Hanout and olive oil. The perfect side salad to enjoy with one of our stuffed chicken breast recipes.
Ingredients for Moroccan Carrot Salad with Millet:
½ pound Carrots
½ cup Red onion
1 tbsp Olive oil
2 tsp Ras El Hanout
½ cup Millet
¼ cup Almonds
¼ cup Pomegranate seeds
¼ cup Parsley
2 tbsp Cilantro
1 Lemon
2 tbsp Olive oil
I am trying to get my family to eat more vegetables and this Veggie Mediterranean Quiche has turned out to be a real winner in my home. I love it because it's so easy especially because I buy a prepared pie crust. This recipe uses sun-dried tomatoes. In the store, you can usually find two types of sun-dried tomatoes: dry ones or ones packed in olive oil.
Ingredients for Veggie Mediterranean Quiche:
½ cup Sun-dried tomatoes
1 Pie crust
2 tbsp Butter
1 Onion
2 cloves Garlic
1 Red bell pepper
2 cups Fresh spinach
¼ cup Kalamata olives
1 tsp Dried oregano
1 tbsp Parsley
⅓ cup Feta cheese
4 Large eggs
1 ¼ cup Milk
Salt
Black pepper
1 cup Cheddar cheese
Greek Baked Bonito With Herbs & Potatoes is inspired by a dish I ate in a taverna in Rhodes one evening. I was part of a group of 6 and the restaurant suggested that we share a whole fish between the table. I will never forget the simple yet exquisite flavors – a perfect mix of citrus lemon, pungent oregano and garlic baked inside the fish. Meals do not get much better than that one!
Ingredients for Greek Baked Bonito With Herbs & Potatoes:
1 (3 lb) Whole bonito
Sea salt
Black pepper
Greek Dried oregano
5-6 cloves Garlic
2 ½ lb Potatoes
½ cup Olive oil
2 lemons Lemon juice
1 ⅓ cups Water
Have you ever visited Israel? You'll find The Best Shakshuka served in almost every single restaurant and enjoyed anytime of day for breakfast, lunch or dinner. Israelis love to soak up the tomato sauce with thick slices of white or pita bread and you bet the serving pan is wiped clean. Every Israeli believes their recipe is the best one on the market but we promise you that ours really is The Best!
Ingredients for The Best Shakshuka:
1 Onion
1 Red bell pepper
4 cloves Garlic
2 tsp Ground paprika
1 tsp Cumin
¼ tsp Chili powder
1 can Tomatoes
6 Large eggs
Salt
Black pepper
1 bunch Cilantro
1 bunch Parsley
2 tbsp Vegetable oil
Mediterranean Chickpea Naan Wraps are one of my favorite weekday lunches. I love the combination of creamy chickpeas with fresh cucumber, tomato and red onion. And the best thing is that these wraps are super healthy too.
Ingredients for Mediterranean Chickpea Naan Wraps:
2 Naan wraps
1 15 oz can Chickpeas
2 tsp Olive oil
2 tsp Lemon juice
½ tbsp Nutritional yeast
½ tsp Sea salt
½ tsp Ground paprika
¼ tsp Black pepper
½ cup Romaine lettuce
4 Cherry tomatoes
¼ cup Red onion
¼ cup Cucumber
¼ cup Hummus