TOP 10 Microgreens Recipes
You can sprinkle some microgreens on a garnish ​in almost any dish.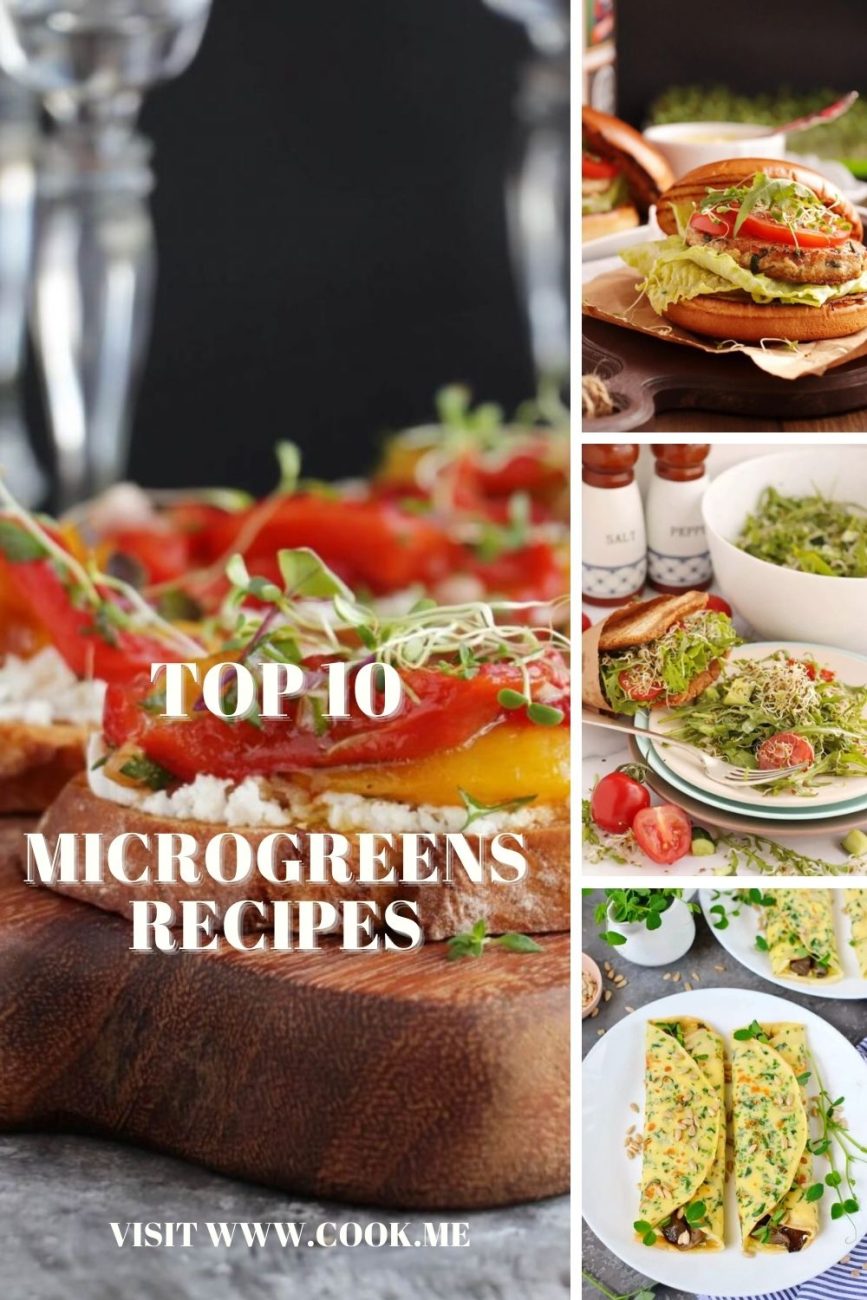 Chilled Green Pea Soup is a bright and quick recipe that is almost no-cook and can be whipped up in just 15 minutes. And if you are on the hunt for a new summer recipe to cool down on those hot days, look no further! This recipe is not only…
Ingredients for Chilled Green Pea Soup:
1 tbsp Olive oil
1 Yellow onions
½ tsp Fresh thyme
1 clove Garlic
½ tsp Turmeric
2 cups Vegetable stock
10 oz Frozen peas
1 tsp Salt
½ tsp Black pepper

FOR GARNISH:
Fresh dill
Pea shoots
4 Radishes
These rich and savory Pea Shoot Pancakes with Ricotta & Oyster Mushrooms are one of my favorite pea shoot recipes. Pea shoots are really easy to grow and even more delicious to eat. They can be used in salads or stir-fries or cooked into pancakes like this recipe. Added bonus:…
Ingredients for Pea Shoot Pancakes with Ricotta & Oyster Mushrooms:
FOR THE PANCAKE BATTER:
70 g Pea shoots
100 g Plain flour
2 Large eggs
125 ml Milk
25 ml Water

FOR FRYING:
Vegetable oil

FOR THE FILLING:
10 g Sunflower seeds
250 g Oyster mushrooms
1 tbsp Olive oil
250 g Ricotta cheese
This Pizza with Pesto, Mozzarella, and Arugula Microgreens is a delicious, healthy microgreen pizza with toppings such as arugula microgreens, lemon pesto, fresh mozzarella, fresh cherry tomatoes and prosciutto. This pizza recipe includes the ingredients and directions for the actual pizza dough so that you can create a perfect homemade…
Ingredients for Pizza with Pesto, Mozzarella, and Arugula Microgreens:
3 cups All-purpose flour
½ tsp Active dry yeast
Sea salt
1¼ cup Water

TOPPINGS:
6 tbsp Micro-arugula & lemon pesto
1 cup Mozzarella
1 cup Cherry tomatoes
4 oz Prosciutto
1 cup Microgreens
Black pepper
You'll think these Tangy Tuna Burgers are just a typical all-loving American burger, but they're not. Made with Asian-inspired ingredients and fresh tuna steaks instead of canned tuna, these burgers are the real deal. Combined and then grilled with garlic, ginger, soy sauce and some coriander leaves, which I love!…
Ingredients for Tangy Tuna Burgers:
200 g Tuna steaks
1 Garlic
1 knob Ginger root
1 tbsp Soy sauce
1 handful Coriander
1 tbsp Sunflower oil

TO SERVE:
2 Hamburger buns
Lettuce
1 Tomatoes
Arugula
2 tbsp Microgreens
This Healthy Vegan Quick Rocket Salad recipe is delicious. I use fresh Arugula leaves and the new health craze, alfalfa sprouts for the base, topped with cubed cucumbers and cherry tomatoes and tossed in a traditional olive oil and balsamic vinegar, Italian dressing. Lunch couldn't be tastier. Add it to…
Ingredients for Healthy Vegan Quick Rocket Salad:
4 cups Arugula
1 cup Alfalfa sprouts
⅓ Cucumber
4 Cherry tomatoes
2 tbsp Olive oil
1 tbsp Balsamic vinegar
Salt
Black pepper
I love to make this Tomato Egg Salad when I am working from home. It's a treat that I look forward to all morning until my lunch break when I can take a few minutes to switch off from work and to take a few moments of mindfulness as I…
Ingredients for Tomato Egg Salad:
3 Eggs
1 Tomatoes
handful of Basil
1 clove Garlic
Hot chilli pepper
½ tbsp Olive oil
Salt
Black pepper
handful of Sunflower sprouts
This Crunchy Munchy Sprouts Salad in Cabbage Cups recipe is beautifully designed sprout salad served inside stunning, dark purple cabbage leaves that represent cup-like shapes. The sprout salad compromises of blanched, moong sprouts tossed with salt, pepper and lemon juice, finely chopped green chilis, capsicum, tomatoes, cucumber and carrots and…
Ingredients for Crunchy Munchy Sprouts Salad in Cabbage Cups:
11 small Purple cabbage
1 cup Moong sprouts
Salt
White pepper
1 small Green chili
1 Capsicum
1 Tomatoes
1 Cucumber
1 Carrots
Lemon juice

FOR GARNISH:
Cilantro
As a self-appointed health guru, I have designed this Microgreens Salad with Roasted Chickpeas as part of our new quest to find an assortment of wonderful, healthy springtime salad recipes. This particular salad is a combination of Romaine lettuce, microgreens and radishes in a lime dressing and topped with roasted…
Ingredients for Microgreens Salad with Roasted Chickpeas:
1 pkg Microgreens
1 head Romaine lettuce
6 Radishes

FOR GARNISH:
Parmesan cheese
Chickpeas
Sea salt
Black pepper

FOR THE LIME DRESSING:
2 tbsp Lime juice
⅛ tsp Mustard powder
¼ tsp Salt
4 tbsp Olive oil
This Bruschetta with Roasted Peppers & Goat Cheese is a fantastic party snack that you can easily serve on a sharing platter. It's vegetarian (but not vegan!) so it will suit lots of your guests. Meat eaters will love it too! To make this recipe, start by toasting baguette in…
Ingredients for Bruschetta with Roasted Peppers & Goat Cheese:
1 Baguette
3 tbsp Olive oil
Kosher Salt
Black pepper
1½ tbsp Red wine vinegar
1 tbsp Honey
2 tsp Fresh thyme
1 pinch Red pepper flakes
Roasted peppers 1 16-oz jar
1 Shallots
2 tbsp Parsley
1 6-oz log Goat Cheese
Microgreens
Enter the Keto Strawberry Chicken Poppyseed Salad with fresh greens, red onions, and microgreens! It is so filling and healthy. This salad recipe takes inspiration from Panera's strawberry poppyseed salad with chicken. It, too, combines chicken, fresh berries, lettuce leaves, and poppyseed dressing, but it's keto and has no mayo….
Ingredients for Keto Strawberry Chicken Poppyseed Salad:
FOR SALAD:
6-8 cups Lettuce
3 Chicken Breast
⅓ cup Red onion
4 Strawberries
Microgreens

FOR DRESSING:
¼ cup White wine vinegar
½ tsp Salt
1 Shallots
1 tbsp Lemon juice
1 ½ tsp Dijon mustard
Monk fruit sweetener 1 ½ tsp
½ cup Olive oil
1 tbsp Poppy seeds