Top 10 Most Popular Keto Recipes
Quick Keto Recipes That Will Make Your Life «Way» Easier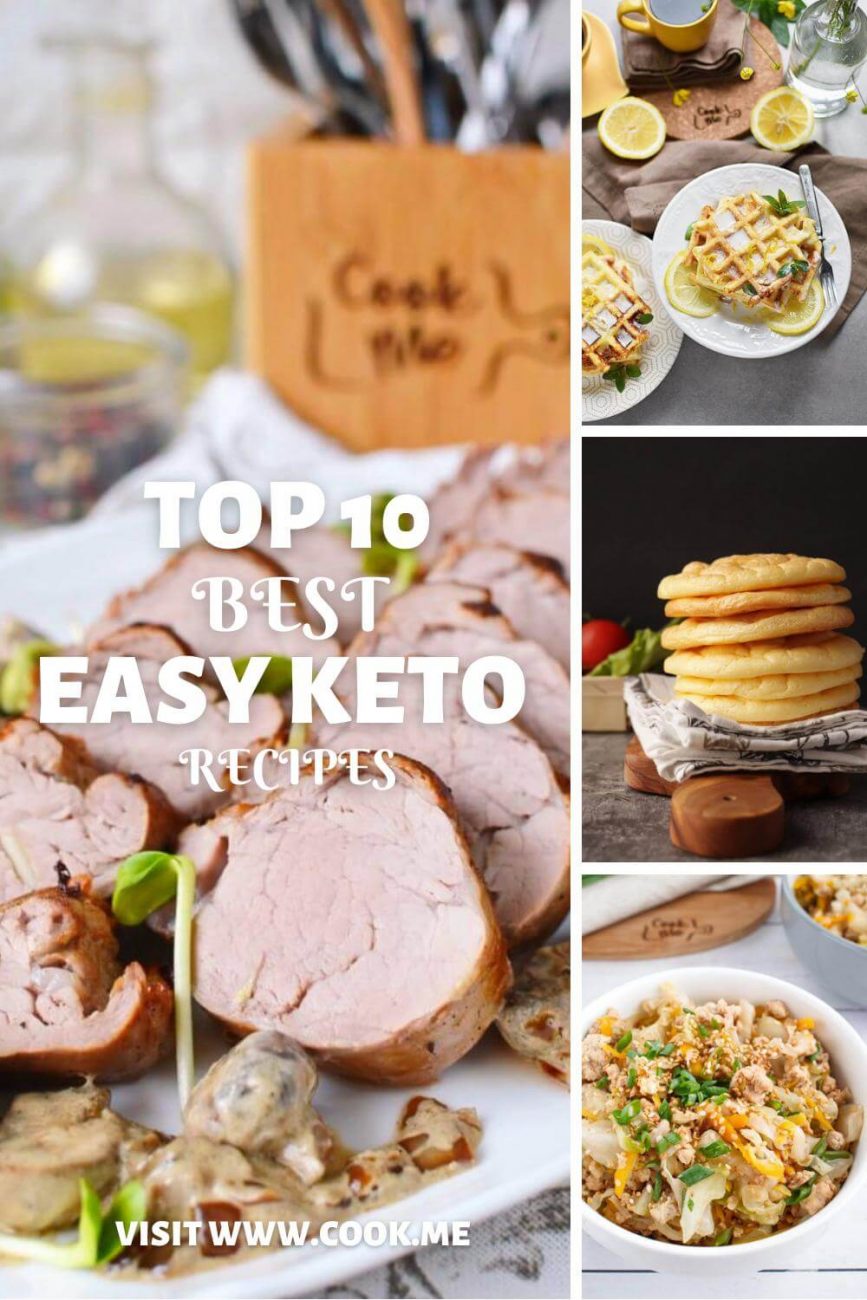 This Pork Tenderloin with Mushroom Sauce is one of my favorite family recipes not only because it is so simple to make, but it tastes absolutely delicious too! To make this recipe, start by seasoning and inserting slivers of garlic into slits in the pork. Brown the pork in a pan on all sides before transferring to the oven to cook….
Ingredients for Keto Pork Tenderloin with Mushroom Sauce:
2 lbs Pork tenderloin
1 Garlic clove
Salt
Black pepper
1 tbsp Olive oil

FOR MUSHROOM SAUCE:
1 tbsp Butter
½ cup Onion
2 cups Mushrooms
Salt
Black pepper
¼ cup Sour cream
These Buffalo Chicken Zucchini Boats are a delicious low-carb dish with a spicy kick. I often make this chicken and zucchini dish for dinner on a hot summer day. This protein-filled dish is low carb and only requires 4 ingredients. To make this recipe, cook the chicken until cooked through. Stir in the buffalo wing sauce.…
Ingredients for Buffalo Chicken Zucchini Boats:
4 medium Zucchini
1 lb Ground chicken
½ cup Buffalo wing sauce
1 cup Mozzarella
One of my favorite treats to get as take out is egg rolls, except they are not the healthiest option and that's why I love this Egg Roll in a Bowl recipe. Not only is this recipe full of flavor, it is gluten-free, dairy-free and keto-friendly too. Better yet, this healthy and low-carb meal will be ready in under 30 minutes, making it a perfect midweek meal!
Ingredients for Keto Egg Roll in a Bowl:
2 tbsp Olive oil
1 lb Ground turkey
1½ cups Sweet onions
1 cup Carrots
½ tsp Ginger
3 Garlic clove
¼ cup Chicken broth
5 cups Cabbage
2 tbsp gluten-free Soy sauce
2 tsp Apple cider vinegar
½ tsp Salt
¼ tsp Black pepper
1 tsp toasted Sesame oil
1 tbsp toasted Sesame seeds
1 tbsp Green onion
This is a fantastic Spicy Grilled Chicken Salad recipe for summer. I love this salad – it is one of my favorites. I think the secret to this salad's success is the delicious buffalo marinade that the chicken sits in for up to four hours. Marinating the chicken makes it tender and oozes flavor. ….
Ingredients for Spicy Grilled Chicken Salad:
FOR MARINADE:
4 tbsp Buffalo wing sauce
1 tbsp Honey
1 tbsp Lime juice
½ tsp Ground paprika
½ tsp onion powder Onion powder

FOR DRESSING:
1 cup Greek yogurt
1 tsp Garlic powder
1 tbsp Olive oil
1 tsp Fresh dill
1 tsp Parsley

FOR THE SALAD:
1 ½ lbs Chicken Breast
8 cups Baby spinach
1 Orange bell pepper
1 Cucumber
1 stalk Celery
½ Red onion
Salt
Black pepper
These Keto Lemon Cake Chaffles are a delicious, sweet, yet tangy low-carb brunch recipe. I love how easy these chaffles are and how tasty they turn out. Your whole family will love them if you try them! These chaffles couldn't be easier to make either. Simply mix all of the…
Ingredients for Keto Lemon Cake Chaffles:
1 tbsp Heavy whipping cream
1 tbsp Lakanto powdered sweetener
1 tbsp Coconut flour
1 Egg
1 tsp Lemon juice
FOR GLAZE:
2 tbsp Lakanto powdered sweetener
1-2 tsp Lemon juice
This recipe for Moroccan Kefta Kebab is inspired by a North African vacation I took about 10 years ago. These delicious ground meat skewers are packed full of flavors like cumin, paprika, minced onion, coriander, mint, and parsley. Serve these with salad and pita bread. To make these skewers, start…
Ingredients for Moroccan Kefta Kebab:
1 lb Ground Beef
3 oz Ground beef fat
1 Onion
2 tsp Ground paprika
1 tsp Cumin
1 tsp Salt
¼ tsp Black pepper
⅛ tsp Cayenne pepper
¼ cup Parsley
¼ cup Cilantro
1 tsp Cinnamon
1 tbsp Fresh mint
These Keto Spinach and Bacon Mini Quiches are a fantastic healthy, filling weekday lunch. Not only do these mini crustless quiches taste delicious, but they are so simple to make too. I love to add them to my lunchbox with a healthy salad.  To make these mini treats, simply combine…
Ingredients for Keto Spinach and Bacon Mini Quiches:
3 Eggs
2 tbsp Milk
1/2 cup Fresh spinach
1/2 cup Cheddar cheese
2 strips Bacon
dash Black pepper
This Meal-Prep Turkey Meatballs with Zoodles is one of my favorite healthy lunches to prepare in advance. I love to substitute spaghetti or traditional noodles with zucchini noodles or Zoodles, as I like to call them! To make this delicious lunch recipe, start by making and cooking the meatballs. While…
Ingredients for Meal-Prep Turkey Meatballs with Zoodles:
FOR MEATBALLS:
1 tbsp Olive oil
1 Sweet onion
2 cloves Garlic
¼ cup Parsley
3 tbsp Parmesan cheese
1 pound Ground turkey
¾ tsp Kosher Salt
½ tsp Black pepper
FOR SIDES:
3 lbs Zucchini
½ tsp Kosher Salt
2 cups Marinara sauce
Parmesan cheese
The Best Keto Cloud Bread Recipe is a super low-carb, protein-rich, and delicious substitute for regular bread. All you need is just a few simple ingredients: eggs, cream of tartar, cream cheese, and some seasonings to bring more flavor. And it's likely you already have all these ingredients in your…
Ingredients for The Best Keto Cloud Bread Recipe:
4 Large eggs
½ tsp Cream of tartar
2 oz Cream Cheese
1 tsp Italian herb seasoning
½ tsp Sea salt
¼ tsp Garlic powder
I love these Smoked Salmon Keto Mini Quiches. I regularly make a batch of them to have on standby when hunger pangs strike! These quiches taste amazing when served warm soon after cooking, or they keep really well stored in an air-tight container in the refrigerator too. They freeze well…
Ingredients for Smoked Salmon Keto Mini Quiches:
1 tsp Olive oil
2 oz Broccoli
2 tbsp Dill
5.3 oz fillet Hot Smoked salmon
½ cup Cheddar cheese
½ cup Feta cheese
2 tbsp Sunflower seeds
6 Large eggs
½ cup Almond milk
½ tsp Salt
¼ tsp Black pepper
1 pinch Smoked Paprika