TOP 10 Cozy Oatmeal Breakfast Recipes
Our Favorite Ways to Enjoy All Kinds of Oats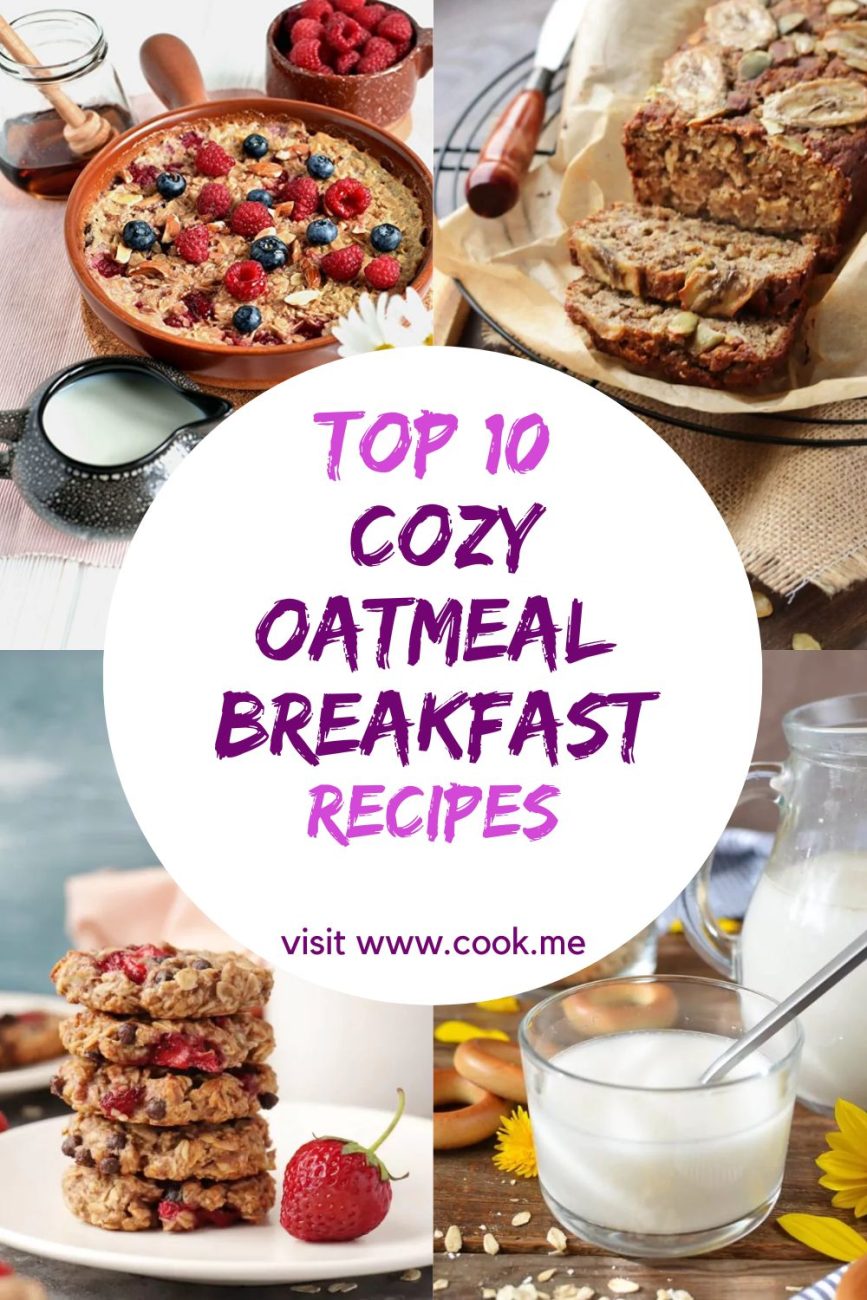 These Strawberry Chia Overnight Oats are a delicious make ahead protein-filled breakfast that will keep you going until lunchtime. These chia puddings are usually served cold, but if you prefer something warm in the mornings, you can warm them for about a minute in the microwave.
Ingredients for Strawberry Chia Overnight Oats :
½ cup Oats
½ cup Milk
¼ cup Greek yogurt
1 tsp Maple syrup
¼ tsp Vanilla extract
1½ tsp Chia seeds
¼ cup Strawberries
Strawberry Oatmeal Cookies made with in-season fresh strawberries and baked in less than 15 minutes. If you have ever wondered, "What can I use strawberries for?" – look no further than this easy cookie recipe! These cookies are soft, chewy, and boast a real strawberry flavor without any of that…
Ingredients for Strawberry Oatmeal Cookies:
2 cups Rolled oats
2 Bananas
½ cup Almond butter
¼ cup Strawberries
¼ cup Chocolate chips
This Vegan Banana Bread Baked Oatmeal is a perfect brunch recipe. As well as being full of healthy, wholesome and filling ingredients like banana, rolled oats, and flaxseed, this baked oatmeal is gluten-free too.  To make this recipe, start by combining banana and wet ingredients. Add the dry ingredients and…
Ingredients for Vegan Banana Bread Baked Oatmeal:
2 Bananas
2 ½ cups Non-dairy milk
¼ cup Maple syrup
1 tsp Vanilla extract
2 ½ cups Rolled oats
2 tbsp Ground flaxseed
½ tsp Cinnamon
1 tsp Baking powder
¼ tsp Sea salt
½ cup Walnuts
Tropical Coconut Granola is a sweet, crunchy, and full of flavor treat, which is great to pair with milk, yogurt, and fruit. What I love most about homemade granola is that it is versatile and pantry-friendly. It is perfect for using up all the stray nuts and dried fruits left…
Ingredients for Tropical Coconut Granola:
3 cups Oatmeal
¾ cup Almonds
6 tbsp Honey
5 tbsp Coconut oil
6 tbsp Coconut sugar
1 tsp Vanilla extract
1 pinch Salt
½ cup Coconut flakes
½ cup Raisins
This Skinny No-Bake Strawberry Cheesecake Tart is perfect for all of your summer backyard parties. Lightly sweetened with maple syrup and loaded with fresh strawberries, this dessert is simple, delicious and low-calorie to boot. Bonus? This cheesecake tart doesn't require any cooking, which means you don't even have to turn…
Ingredients for Skinny No-Bake Strawberry Cheesecake Tart :
FOR TART SHELL:
¼ cup Coconut oil
6 Dates
2 cups Rolled oats
2 tbsp Chia seeds

FOR FILLING:
8 oz Cream Cheese
7 oz Greek yogurt
¼ cup Maple syrup

FOR TOPPING:
12 oz Strawberries
Fresh thyme
Snacks don't get much easier than these Easy Chewy Granola Bars! Dairy-free, sugar-free, vegetarian-friendly, and totally delicious. These homemade bars are packed with old-fashioned oats, coconut flakes, almonds, dried cranberries, peanut butter, and natural honey. They require zero cooking or baking. Plus, they taste so much better than the store-bought…
Ingredients for Easy Chewy Granola Bars:
2 cups Oats
½ cup Chocolate chips
½ cup Coconut flakes
½ cup Almonds
½ cup Cranberries
1 cup Peanut butter
½ cup Honey
If you've been following my recipe choices, you'll notice I lean towards healthier choices and so it's just a right fit for me to include this Vegan Oat Milk recipe, for you all to stock up in your own fridges. Using a handful of pantry ingredients, in just 30 minutes you'll have nut free and dairy free milk to replace local, store-bought milk substitutes, because everyone knows, homemade is always better. …
Ingredients for Vegan Oat Milk:
1/2 cup Rolled oats
3-4 cups Water
1/2 tsp Vanilla extract
1-2 tbsp Maple syrup
1 pinch Sea salt
Looking for a healthy treat the whole family will love? Give this Gluten Free Banana Oat Bread recipe a go! Your family won't believe it is not only gluten-free but also without using any oil, butter, or refined sugar. Moreover, this healthy banana bread is protein-packed – thanks to Greek…
Ingredients for Gluten Free Banana Oat Bread:
120 g Rolled oats
120 g Almond flour
30 g Pumpkin seeds
25 g Ground flaxseed
20 g Hemp hearts
2 tsp Baking soda
1 tsp Cinnamon
½ tsp Salt
160 g Greek yogurt
3 Eggs
7 tbsp Honey
2 Bananas

FOR DECORATION:
1 Bananas
This Vegan Raspberry Almond Baked Oatmeal is a healthy and wholesome breakfast option. I don't know about you, but I find breakfast can be the most challenging meal of the day. This is for a few reasons. I don't really like traditional breakfast dishes and because I'm often rushing in the mornings, I don't have much time to prepare. Enter this raspberry and almond baked oatmeal. ….
Ingredients for Vegan Raspberry Almond Baked Oatmeal:
1½ cups Rolled oats
1 tsp Ground ginger
½ tsp Salt
¼ cup Almonds
2 cups Almond milk
¼ cup Maple syrup
2 tbsp Olive oil
1 tsp Vanilla
1 cup fresh Raspberries
I love to make a batch of these Strawberry Oatmeal Muffins as a special breakfast treat. They are a great breakfast to have when you are in a hurry or they are a healthy and nutritious snack to beat hunger pangs. To make these muffins, start by mixing wet ingredients together well. Combine the dry ingredients in a large bowl and toss the strawberries in flour in a small bowl. …
Ingredients for Strawberry Oatmeal Muffins:
1 cup quick-cooking Oats
½ cup Brown sugar
1 cup Greek yogurt
⅓ cup Vegetable oil
1 Eggs
1 cup All-purpose flour
½ tsp Salt
1 tsp Baking powder
½ tsp Baking soda
1 cup Strawberries