TOP 10 Party Appetizers & Snacks
Easy Finger Food Ideas for Your Next Big Party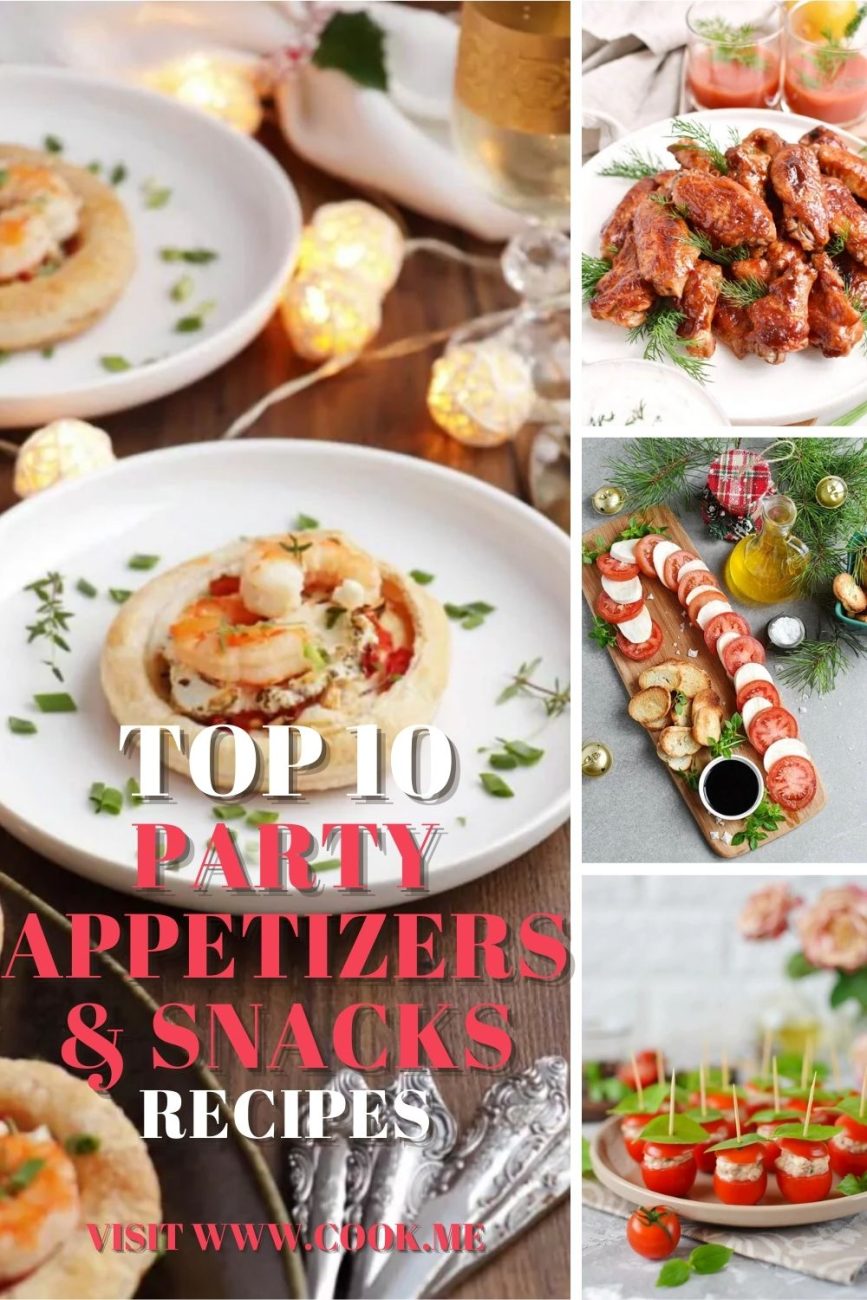 Candy Cane Caprese Board is a fun appetizer idea for a Christmas party and if you want to get creative without too much fuss. Made with just a few simple ingredients plus mozzarella cheese and fresh basil, this recipe comes together in a snap and will still impress your guests….
Ingredients for Candy Cane Caprese Board:
16-oz (about 11-12 slices) Mozzarella
3 Tomatoes
2 tbsp Balsamic glaze

FOR SPRINKLING:
Sea salt

FOR DRIZZLING:
Olive oil

FOR GARNISH:
Basil
Baguette
These Tuna Mozzarella Stuffed Cherry Tomatoes are a fantastic summer appetizer. They look really impressive, and they taste absolutely delicious too! You will need 16 toothpicks to assemble these little canapes. To make these stuffed tomatoes, start by combining parsley, oil, drained tuna, fresh mozzarella and mayo and blend until…
Ingredients for Tuna Mozzarella Stuffed Cherry Tomatoes:
16 Cherry tomatoes
2-3 tbsp Parsley
1 tsp Olive oil
2 small cans Can of tuna
4 tsp Mayonaise
½ small fresh ball Mozzarella
16 leaves Basil
16 Toothpick
These Mushroom Pizza Rolls are a fantastic way to involve your kids in the cooking process. They will love rolling up their sleeves to get stuck into making these delicious pizza rolls. They are a tasty snack or can be served as part of a main meal if you prefer!…
Ingredients for Mushroom Pizza Rolls:
¾ cup Water
2 tsp Active dry yeast
2 tsp Honey
2 ½ cups All-purpose flour
2 tbsp Mushrooms
1 tsp Parsley
1 tsp Sea salt
½ tsp Garlic powder
5 to 6 tbsp Water
Olive oil
⅓ cup Pizza sauce
1 cup Mozzarella
1 cup Mushrooms

TO BRUSH ROLLS:
Olive oil

FOR SERVING:
Pizza sauce
These Cheesy Mushroom Gougeres are a fantastic snack. A gougere is a French baked savory pastry made of choux dough mixed with cheese. These delicious mushroom cheese puffs make the best party food! Start by sauteing mushrooms. Make a warm dough by combining water, milk, butter, and salt. Bring to…
Ingredients for Cheesy Mushroom Gougeres:
8 oz Mushrooms
1 tbsp Olive oil
½ tsp Thyme
½ cup Milk
4 tbsp Unsalted butter
¼ tsp Kosher Salt
1 cup All-purpose flour
4 Large eggs
8 oz Mozzarella
½ tsp Black pepper
Make this old-school Million Dollar Deviled Eggs recipe at your next dinner party and wow your family and guests. I am a huge fan of deviled eggs, and this recipe is the best I have ever tried. The key ingredient that makes this recipe so fabulous is very simple, and…
Ingredients for Million Dollar Deviled Eggs:
12 Eggs
¼ cup Mayonnaise
1 tbsp Butter
2 tsp Mustard
2 tsp Sweet gherkin pickle juice
1 tsp Sugar
⅛ tsp Salt
⅛ tsp Black pepper
dash Tabasco sauce
Ground paprika
pieces of Bacon
This Spinach and Feta Tarte Soleil is an easy and impressive appetizer that can be whipped up in less than one hour, and no fancy ingredients are required. Though this recipe is French-inspired, it's actually a pull-apart puff pastry with a savory spinach and feta filling that is super easy…
Ingredients for Spinach and Feta Tarte Soleil:
2 (10-oz) packages Spinach
2 Scallions
2 tbsp Dill
2½ oz Feta cheese
2 cloves Garlic
1 tbsp Lemon zest
Kosher Salt
¼ tsp Black pepper
1 (17.3-oz) package Frozen puff pastry
1 tbsp All-purpose flour
1 Eggs
If you love cheese, you will adore this Baked Brie in a Sourdough Bread Bowl recipe. This is a simple yet very decadent and impressive dish that your guests will adore. My advice – do not make this for 2 people unless you fancy a challenge!!! To make this baked…
Ingredients for Baked Brie in a Sourdough Bread Bowl:
1 White French bread
1 tbsp Olive oil
13-oz wheel Brie
2 tbsp Brown sugar
2 ½ tsp White wine
1 tbsp Rosemary
One of my favorite lunchtime, party recipes is this Pear and Blue Cheese Savory Galette and the best part is, with its beautiful, rustic look, this recipe doesn't need perfection in detail, the perfection is in the filling flavor. A whole-wheat shortcrust pastry enfolding caramelized sweet onions and Dijon mustard…
Ingredients for Pear and Blue Cheese Savory Galette:
FOR SHORTCRUST PASTRY:
½ cup Unsalted butter
1½ cups Whole-wheat pastry flour
¼ tsp Kosher Salt
1 Eggs
1 tbsp Water

FOR ONIONS:
1 tbsp Olive oil
1 tbsp Butter
1 pound Sweet onions
½ tsp Kosher Salt
1 tbsp Water
1 tbsp Dijon mustard
1 tbsp Milk
Sea salt

FOR PEAR AND BLUE CHEESE TOPPING:
½ cup Blue cheese
1 pound Pears
1 handful Arugula
⅓ cup Hazelnuts
Bloody Mary Wings combine two of my favorite things – chicken wings and Bloody Marys! Because the Bloody Mary is the classic brunch cocktail of vodka, tomato juice, Worcestershire sauce and hot sauce such as Tabasco. I tend to make these when I have a crowd….
Ingredients for Bloody Mary Wings:
FOR THE WINGS:
3 lb Chicken wings
1 tbsp Vegetable oil
Celery salt
Black pepper
3 cups Tomato juice
⅔ cup Vodka
¾ cup Brown sugar
⅓ cup Hot sauce
1 tbsp Horseradish
1 tbsp Worcestershire sauce
1 Lemon
Kosher Salt
Black pepper

FOR THE DIP:
⅔ cup Sour cream
2 tsp Horseradish
2 tsp Dill
I think the thing I love most about these scrumptious Shrimp and Goat Cheese Tarts are not just their 'out of this world' flavor but the fact that in just 25 minutes I can feed 10 people, if not more! That is why this recipe is a great choice for when you're hosting bigger…
Ingredients for Shrimp and Goat Cheese Tarts:
2 sheets (1 package) Frozen puff pastry
4 ounces Goat Cheese
1 cup Cherry tomatoes
½ tbsp Fresh thyme
20 Shrimp
½ cup Green onion