TOP 10 Potato Casserole Recipes
The Perfect Accompaniment to a Special Dinner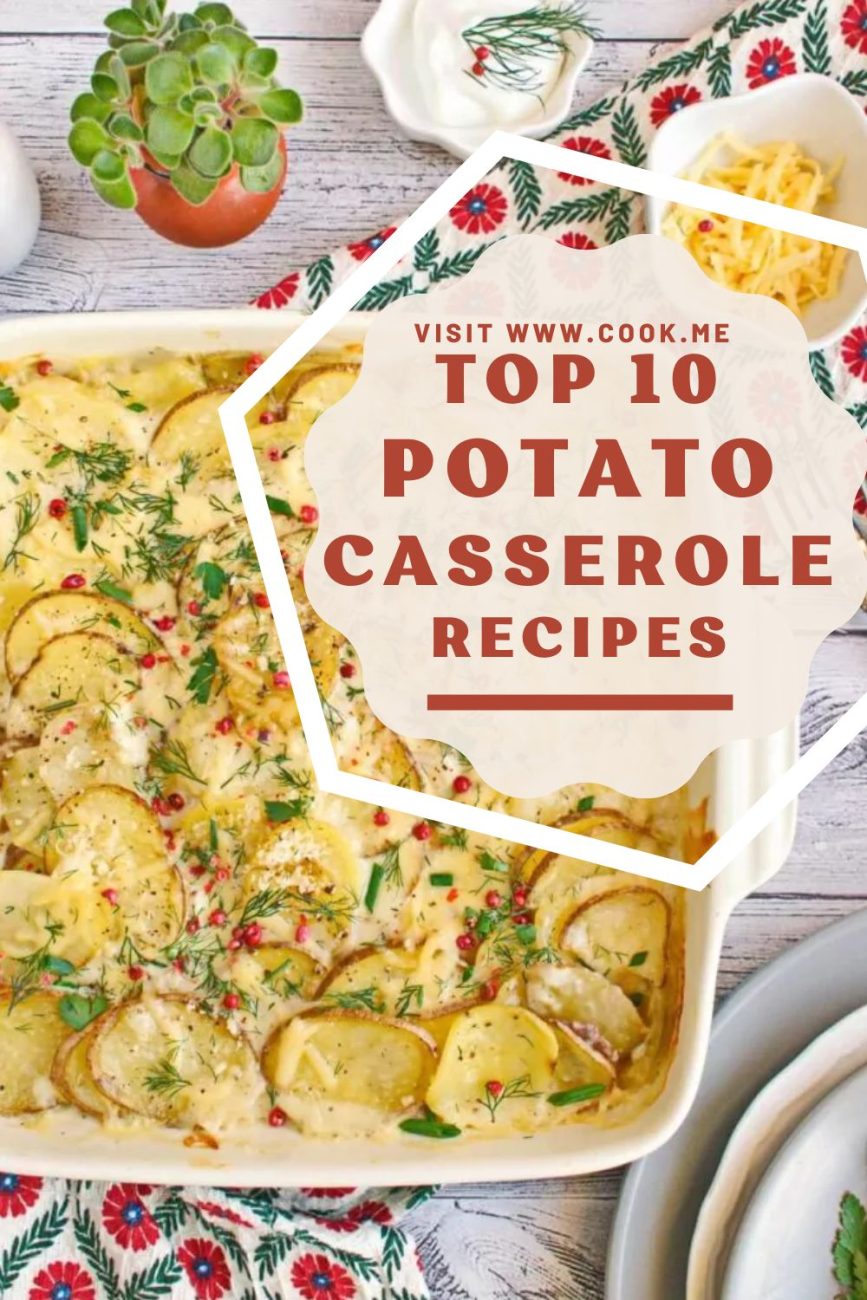 This Creamy Ham and Potatoes au Gratin is a decadent side dish that is a perfect accompaniment to a special meal – be it Thanksgiving, Christmas, or a special occasion like a birthday or anniversary. Start by layering potatoes in a dish with ham, peas and onions. Make a creamy…
Ingredients for Creamy Ham and Potatoes au Gratin:
3 lbs Potatoes
2 cups Ham
1 cup Frozen peas
1 cup Onion
1 cup Cheddar cheese
1 tsp Parsley

FOR SAUCE:
2 tbsp Butter
1 tbsp Garlic
2 tbsp All-purpose flour
1 cup Milk
½ cup Chicken broth
1 tsp Dried Italian seasoning
1 cup Cheddar cheese
Salt
Black pepper
Ingredients for Famous Crispy Potato Casserole:
3 lb Potatoes
2 tsp Dried thyme
2 tsp Sea salt
1 tsp Black pepper
1 tbsp Garlic powder
1 tsp Onion powder
scant ½ cup Olive oil
1 Yellow onions
6 Garlic clove
Ingredients for Au Gratin Potato Casserole:
1 (32-oz) package Southern-style hash browns
1 (16-oz) container Sour cream
2 cups (8 oz) Cheddar cheese
1 (10¾-oz) can Cream of mushroom soup
1 Onion
¼ tsp Black pepper
2 cups Crushed cornflakes
¼ cup Butter
Vegan Potato Bake (Potatoes au Gratin) not only makes a hearty main or side dish for your holiday dinner, but it is also great for your weeknight dinner. Besides, this satisfying dish is really easy to master. Furthermore, this recipe doesn't contain fancy ingredients and is ready in about an…
Ingredients for Vegan Potato Bake (Potatoes au Gratin):
FOR POTATOES AND ZUCCHINI:
1 tbsp Olive oil
7 oz Mushrooms
1 Onion
3 cloves Garlic
2 lbs Potatoes
1 Zucchini

FOR CASHEW SAUCE:
1 cup Cashews
1 cup Vegetable broth
1 cup Non-dairy milk
½ tsp Salt
Black pepper
4 tbsp Nutritional yeast

OPTIONAL TOPPINGS:
4 tbsp Vegan Cheese
Green onion
This Chicken & Veggie Casserole is a perfect dish to make when you fancy some comfort food. A rich creamy recipe that is jam-packed with vegetables and chicken topped with delicious cheesy potatoes. To make this delicious casserole, start by cooking chicken in a pan. Boil potato slices until tender….
Ingredients for Chicken & Veggie Casserole:
2 Chicken Breast
½ cup Corn kernels
½ cup Green peas
½ cup Carrots
½ cup Bell pepper
1½ cup Heavy cream
2 Potatoes
1½ cups Cheese
Salt
Black pepper
2 tbsp Olive oil
1 tbsp Seven spice
½ tbsp Garlic powder
½ tbsp Onion powder
I love to make Easy Leftover Chicken and Potato Casserole the day after I make a roast chicken dinner. This dish is delicious topped with a cup of shredded Cheddar cheese, crunchy buttered bread crumbs, or crumbled fried onions. To make this delicious meal, start by cooking mushrooms and onions…
Ingredients for Easy Leftover Chicken and Potato Casserole:
3 tbsp Butter
8 oz Mushrooms
1 cup Onion
2 tbsp All-purpose flour
1 cup Milk
Black pepper
Kosher Salt
2 cups Potatoes
2 cups Chicken

FOR CHEESE TOPPING:
1 cup Cheddar cheese

FOR BREAD CRUMB TOPPING (OPTIONAL):
1 cup Bread crumbs
2 tbsp Butter
This Sweet Potato Crunch Casserole recipe is extra special because it has the creaminess of sweet potato but is crunchy thanks to a pecan nut topping. Pecans are my favorite nuts – as well as being delicious and buttery, they are a great source of protein and fiber. They are…
Ingredients for Sweet Potato Crunch Casserole:
2 cans Sweet potatoes
1 cup Brown sugar
1/2 cup Butter
1/2 cup Milk
2 Eggs
1 tsp Salt
1 tsp Vanilla extract
1/2 tsp Cinnamon
1 cup Pecans
1 cup Brown sugar
1/3 cup Butter
1 cup All-purpose flour
This Loaded Mashed Potato Casserole with Bacon is a showstopper that might just steal the thunder from your turkey this Christmas. I am always on the lookout for new Christmas side dish recipes and this is one of the tastiest ones I've come across. Try it this year – I…
Ingredients for Loaded Mashed Potato Casserole with Bacon:
2 tsp Olive oil
½ Yellow onions
Water
3 lb Potatoes
3 tbsp Unsalted butter
2 tbsp Cream Cheese
½ cup Milk
¾ tsp Kosher Salt
½ tsp Black pepper
2 strips Bacon
1 tbsp Rosemary
½ cup Parmesan cheese
This Sweet Potato Gratin is a firm favorite at Thanksgiving in my house. It is so simple to prepare – I usually prepare it in advance and simply bake it in the oven just before I want to serve it.  For this recipe, I start by making a sauce from…
Ingredients for Sweet Potato Gratin:
1 tsp Unsalted butter
1 cup Half-and-half cream
2 Garlic clove
1 tbsp Fresh thyme
1 tsp Kosher Salt
1/2 tsp Black pepper
⅛ tsp Ground nutmeg
2¾ lbs Sweet potatoes
½ cup Parmesan cheese
These Simple Au Gratin Potatoes are the perfect side for any menu. It's creamy and cheesy and so tasty! The prep time is quick and easy, so you don't need to spend hours in the kitchen, pop it in the oven for a good hour, to an hour and a…
Ingredients for Simple Au Gratin Potatoes:
5 cups Potatoes
½ cup Onion
1 cup Cheddar cheese
3 tbsp Butter
3 tbsp All-purpose flour
2 cups Milk
1½ tsp Salt
⅛ tsp Ground pepper