Top 10 Easy Quinoa Recipes
How to Turn Quinoa Into a Delicious, Satisfying Meal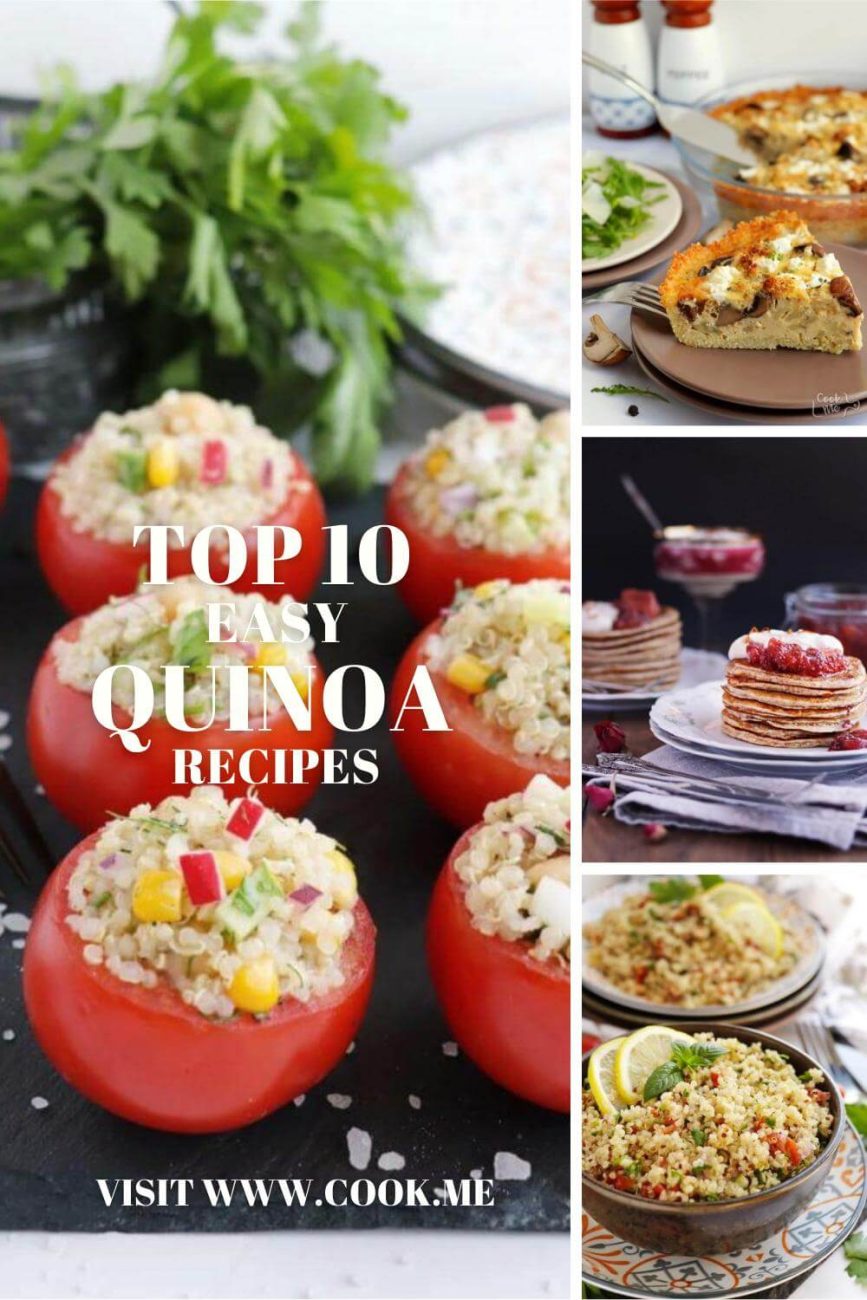 Have you ever tried salad for breakfast? I hadn't before I made this delicious Kale Breakfast Salad with Quinoa & Strawberries. It tastes so good, I think breakfast salads are going to become my new thing! They are healthy, taste delicious and are super quick to whip up. To make…

Ingredients for Kale Breakfast Salad with Quinoa & Strawberries:
1 tsp Garlic
1 pinch Salt
1 tbsp Olive oil
2 tsp Red wine vinegar
1 pinch Ground pepper
3 cups Baby kale

FOR THE TOPPING
½ cup Quinoa
½ cup Strawberries
1 tbsp Pepitas
These Coconut Quinoa Pancakes are a delicious way to start your day! They are loosely based on a quinoa and coconut pancakes specialty which my local cafe had on one weekend. I loved them so much on Saturday, I went back on Sunday to have them again! Then they never appeared on the menu again, ….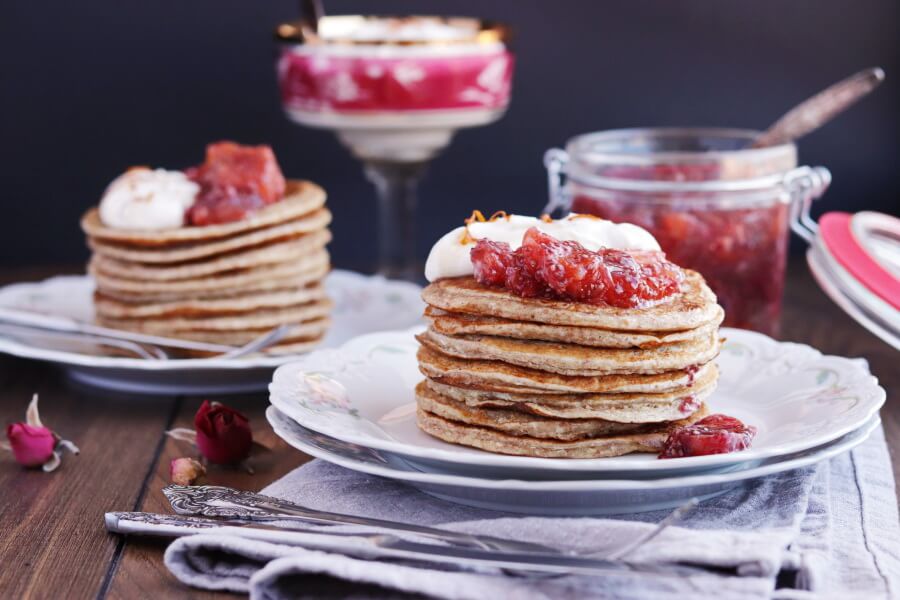 Ingredients for Coconut Quinoa Pancakes:
1 cup Milk
1 Eggs
2 tsp Vanilla extract
½ cup Quinoa
1½ cups Whole wheat flour
2 tsp Baking powder
½ tsp Salt
¾ cup Shredded coconut
Cooking spray
This Quinoa and Chickpea Stuffed Tomatoes recipe is your next vegan and gluten free 'must-try' recipe! A fresh design of quinoa salad with chickpeas, cucumbers, corn, red onion, garlic and fresh herbs, stuffed inside large, juicy tomatoes, it's a summer dream! Enjoy it as a meal on it's own or…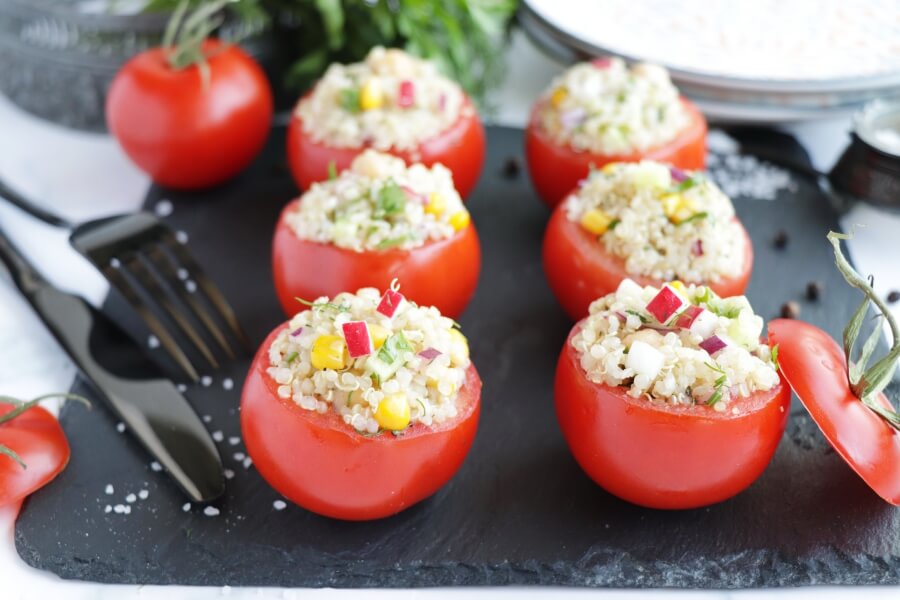 Ingredients for Quinoa and Chickpea Stuffed Tomatoes:
FOR THE TOMATOES:
½ cup Quinoa
1 (15 ounce) can Chickpeas
8 large Tomatoes
½ cup small Cucumber
½ cup Corn kernels
¼ cup Red onion
2 small Radishes
1 clove Garlic
1 tbsp Fresh dill
1 tbsp fresh Parsley
½ Lemon
Salt
Black pepper

FOR THE DRESSING:
1 tbsp plus 1 tsp Olive oil
2 tsp Red wine vinegar
½ tsp Dijon mustard
¼ tsp Salt
⅛ tsp Black pepper
¼ tsp Dried oregano
I cannot get enough of this Roasted Cauliflower, Mushroom and Goat Cheese Quiche with Quinoa Crust! It is a flavor sensation and it's a brilliant recipe to make if you are entertaining at lunchtime. The cauliflower, mushroom and goat cheese combination is sublime in this quiche and the pièce de…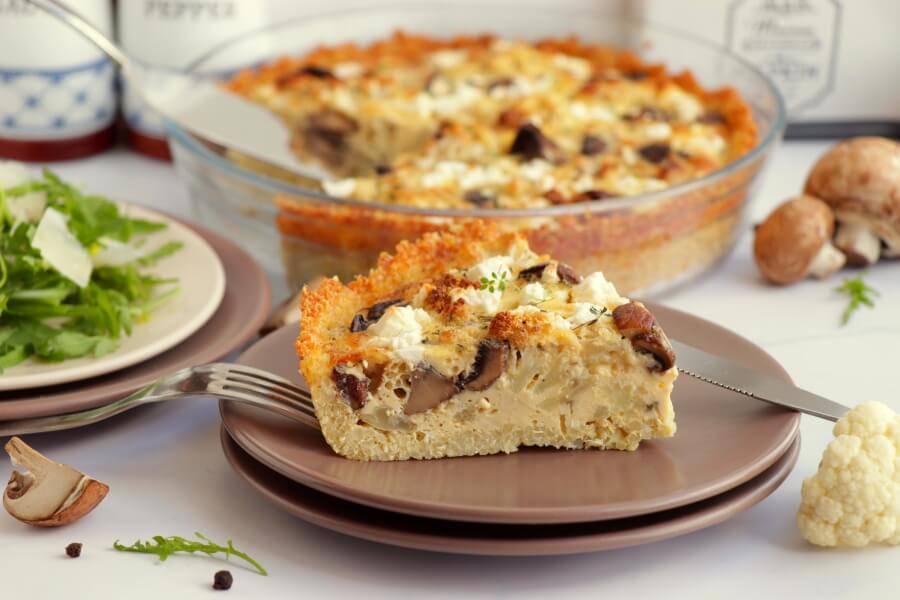 Ingredients for Roasted Cauliflower, Mushroom and Goat Cheese Quiche with Quinoa Crust:
FOR THE QUINOA CRUST
1/2 cup Quinoa
1 cup Water
1 Eggs
1/4 cup Parmesan cheese

FOR THE QUICHE
1/2 medium head Cauliflower
8 ounces Mushrooms
1 tbsp Olive oil
Salt
Black pepper
5 Eggs
1/2 cup Milk
1/2 tsp Dried thyme
4 ounces Goat Cheese
These Grilled Zucchini Boats are a fantastic low carb, gluten free, vegetarian meal that can easily be made vegan by omitting feta cheese. These zucchini boats are healthy and stuffed with quinoa, olives, tomatoes and feta cheese. To make this recipe, start by cooking and cooling quinoa. Grill zucchini before…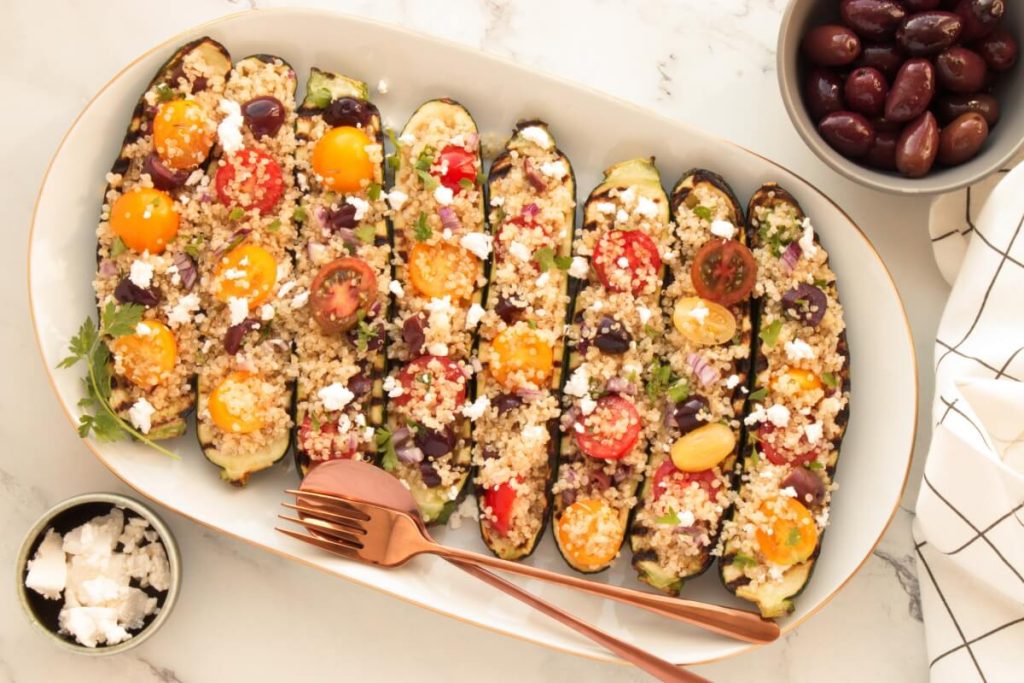 Ingredients for Grilled Zucchini Boats:
½ cup Quinoa
1 cup Water
4 Zucchini
1 tbsp Olive oil
1 tbsp Lemon juice
½ tsp Dried oregano
⅛ tsp Kosher Salt
1 cup Cherry tomatoes
½ cup Kalamata olives
¼ cup Red onion
1 tbsp Parsley
¼ cup Feta cheese
The name Quinoa Unstuffed Peppers may sound confusing but there is nothing confusing about how good this Israeli inspired dish really is. Instead of the usual, more common recipe, of giant red and green peppers stuffed with a rice and ground meat mixture, I have unstuffed the peppers, chopped them…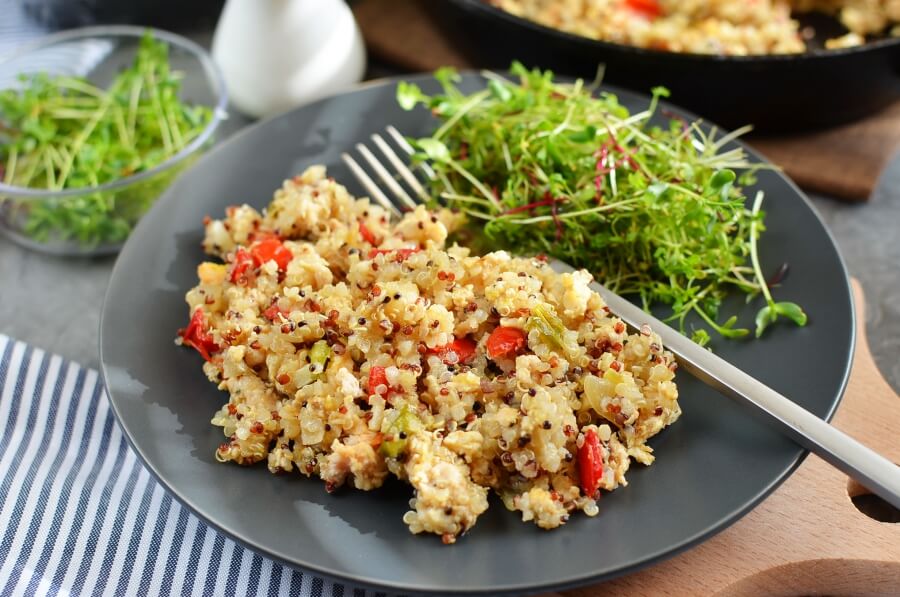 Ingredients for Quinoa Unstuffed Peppers:
1½ cup Vegetable stock
¾ cup Quinoa
1 pound Italian sausage
1 Red pepper
1 Green pepper
¾ cup Onion
1 clove Garlic
¼ tsp Garam masala
¼ tsp Black pepper
⅛ tsp Salt
These Herbed Cauliflower and Quinoa Meatballs are a hearty and filling vegetarian recipe for the university loved meatball replacement. No one will even notice the difference. Prepare them with a tomato based sauce and served over spaghetti, this recipe has quickly become a popular favorite even among my non-vegetarian friends…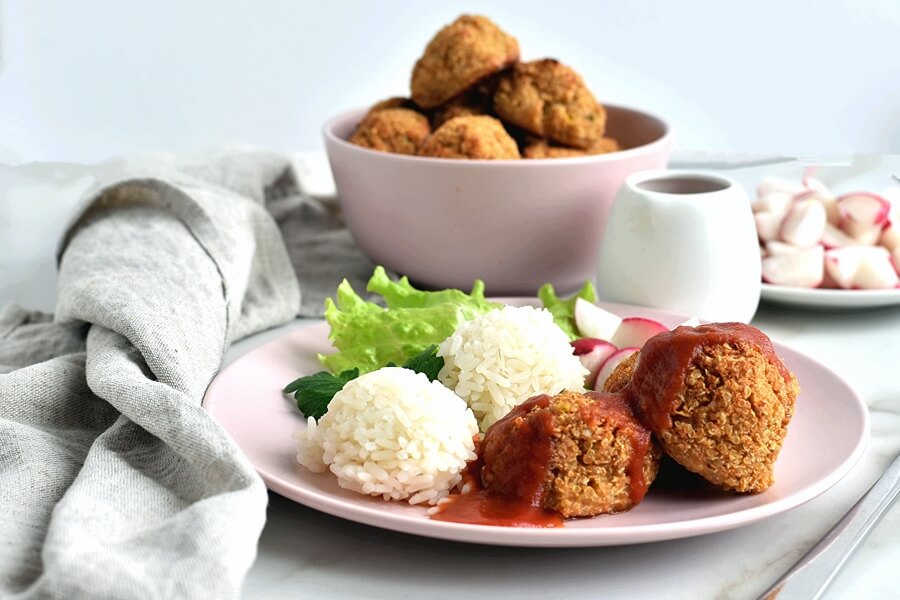 Ingredients for Herbed Cauliflower and Quinoa Meatballs :
3 cups Cauliflower rice
1 cup Quinoa
¼ cup Panko crumbs
2 Eggs
2 cloves Garlic
1 tbsp Thyme
1 tsp Red pepper flakes
½ tsp Sea salt
½ tsp Black pepper
This Southwest Quinoa Salad is deliciously tasty and really easy to make. With Mexican inspired ingredients of black beans, bell peppers, corn, cilantro, red onions, jalapeño chili and garlic chopped up and tossed in a flavorsome dressing made from limes, olive oil, cumin, chili powder, salt and black pepper. Colorful,…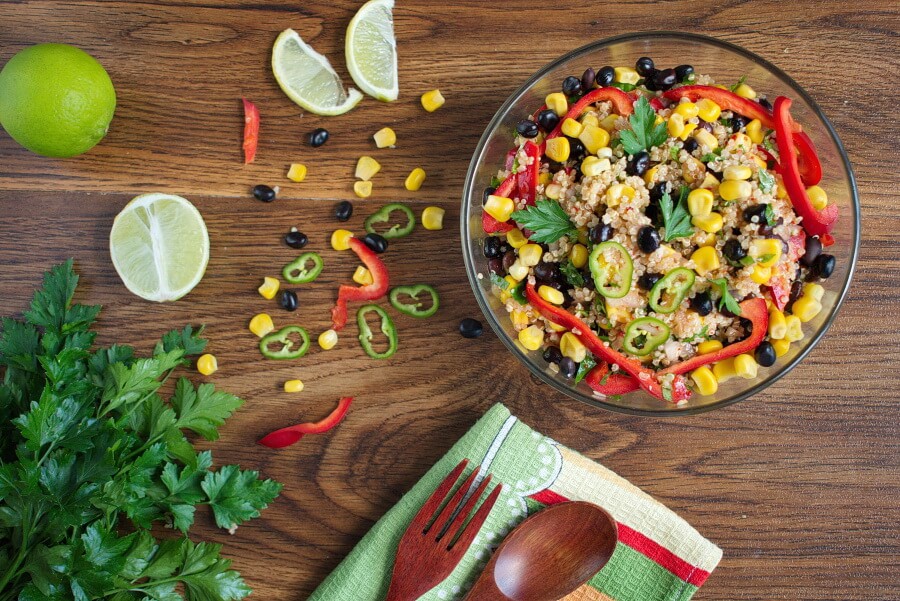 Ingredients for Southwest Quinoa Salad:
1 cup Quinoa
14 oz (can) Black beans
2 Bell pepper
1 cup Corn
1 bunch Cilantro
¼ cup Red onion
1 Jalapeño pepper
1 clove Garlic
Juice of 2 large Lime
¼ cup Olive oil
1 tsp Cumin
1 tsp Chili powder
½–¾ tsp Salt
Black pepper
You are going to love this Summer Greek Quinoa Salad. Whether you're looking for that cool, summer, detox salad or just want to feel like you are actually in Greece, then you have to try this awesome salad. Another vibrant colorful salad consisting of quinoa, arugula, sweet nectarines, cucumber, tomatoes…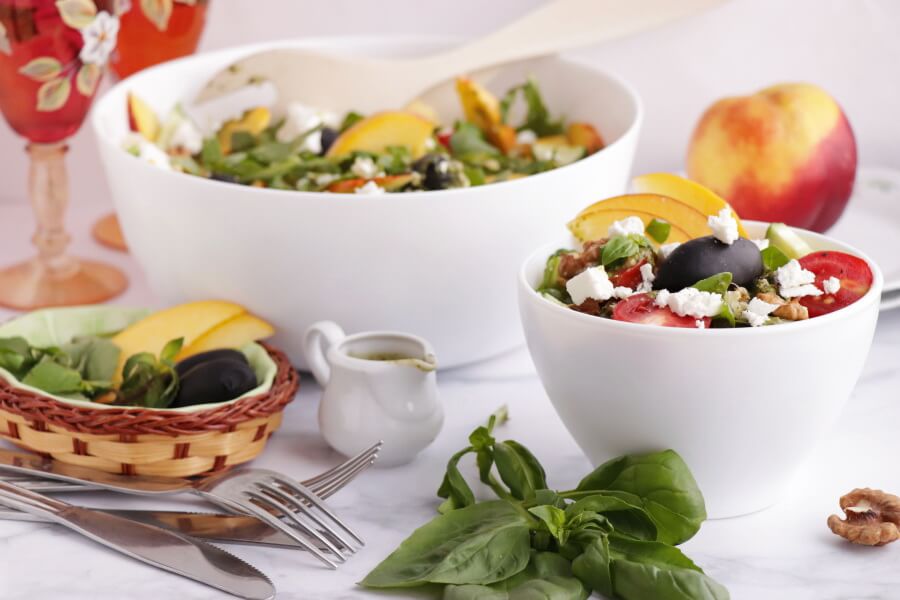 Ingredients for Summer Greek Quinoa Salad:
1 cup Quinoa
2 cups Arugula
2 Nectarines
2 cups Cucumber
1 cup Cherry tomatoes
1 cup black Olives
Fresh mint
fresh Basil
¼ cup Walnuts
¼ cup Feta cheese
Herbed lemon vinaigrette
And I've done it again, these Lemon Chickpea & Quinoa Jar Salads came top in the category for The Best Salad in a Jar – self-proclaimed! Served in a mason jar, making it the perfect choice for brunch table designs or mini health cafes, if you happen to be opening…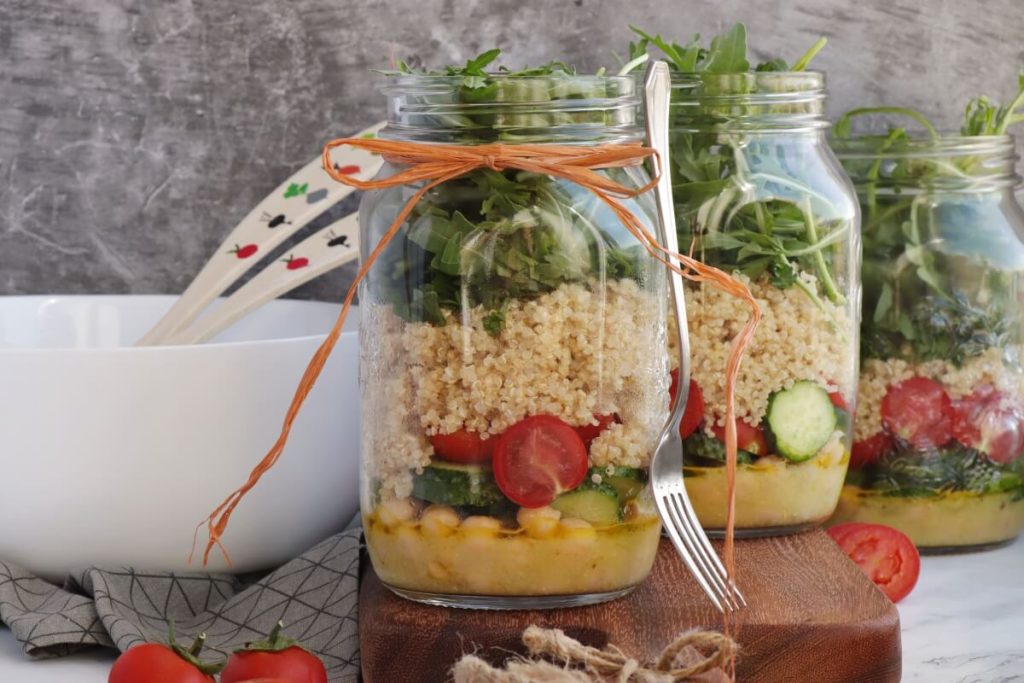 Ingredients for Lemon Chickpea & Quinoa Jar Salads:
FOR THE SALAD
1 cup Quinoa
1 13.5-oz can Chickpeas
2 Cucumbers
1 pint Cherry tomatoes
½ cup Parsley
5 ounces Arugula

FOR THE LEMON DRESSING
2 Lemon
¼ cup Olive oil
1 tbsp Honey
1 tsp Garlic powder
2 tsp Dijon mustard
Salt
Black pepper