Top 10 Roasted Vegetable Recipes
Check out all our best ideas for what to do with roasted vegetables.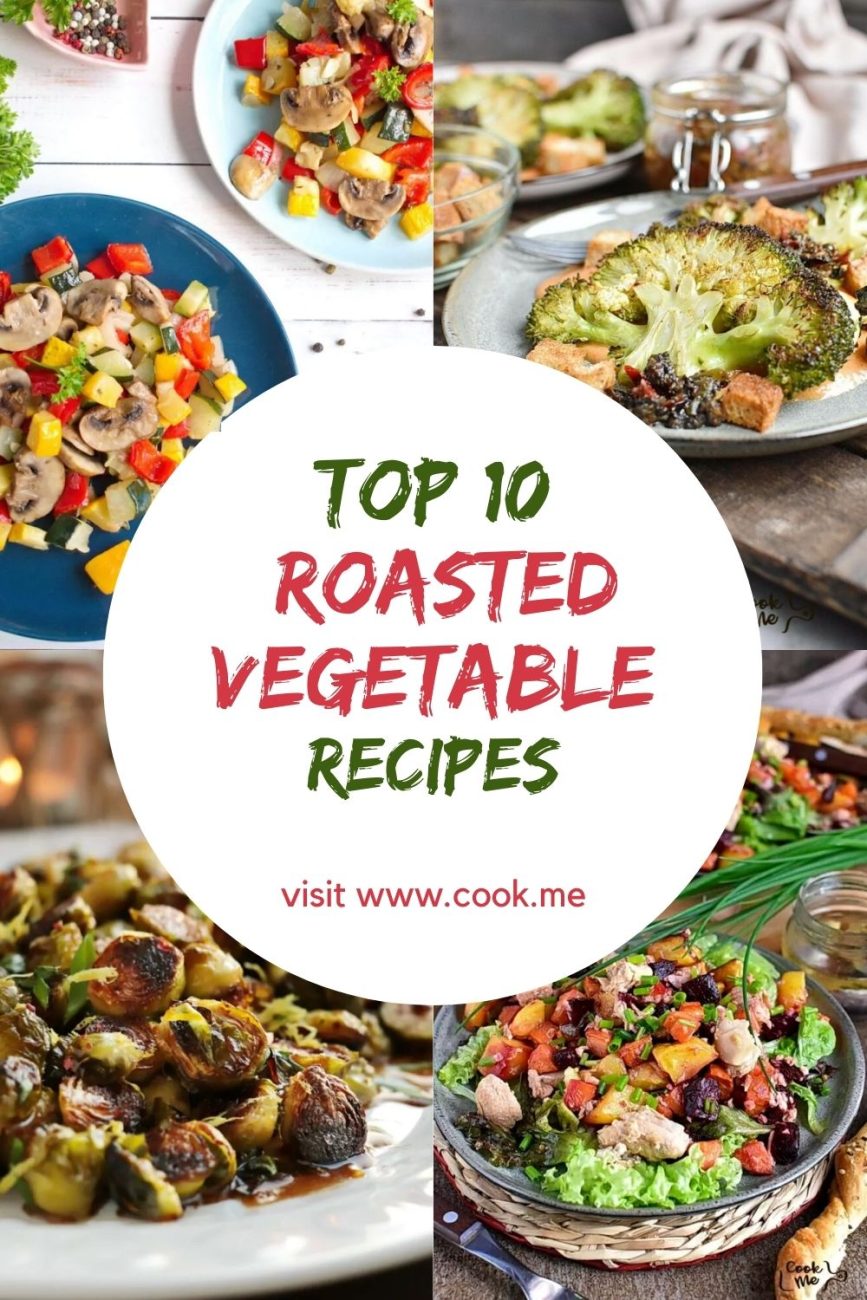 Looking for new Brussels sprout recipes? Serve these Roasted Brussels Sprouts drizzled with warm honey glaze as a Thanksgiving side dish this year. This easy vegetarian side dish is so flavorful, deliciously crisp and will wow your friends and family this season! This is a handy side dish that you…
Ingredients for Roasted Brussels Sprouts:
1 ½ lbs Brussels sprouts
¼ cup Olive oil
½ tsp Kosher Salt
Black pepper
¼ cup Honey
⅓ cup Sherry vinegar
¾ tsp Red pepper flakes
3 tbsp Unsalted butter
3 Scallions
1 tsp Lemon zest
This Crisp Polenta with Roasted Cherry Tomatoes tastes incredible and makes for an elegant vegetarian side dish. Fried polenta squares sprinkled with goat cheese and topped with roasted cherry tomatoes. Roasting cherry tomatoes until they burst condenses their flavor and brings forward their sweetness. Fresh goat cheese adds tang and…
…
Ingredients for Crisp Polenta with Roasted Cherry Tomatoes:
4 ¼ cups Water
3 ¼ tbsp Olive oil
½ lb Instant polenta
Kosher Salt
Black pepper
12 oz Cherry tomatoes
4 sprigs Fresh thyme
2 oz Goat Cheese
This Roasted Baby Zucchini recipe is an incredible, healthy Mediterranean-style side dish and one of the best ways to enjoy zucchini. And if you are looking for a simple and quick recipe to share with friends and family, this recipe is a breeze to make, and it tastes great too….
Ingredients for Roasted Baby Zucchini:
1 lb Baby zucchini
1 tbsp Olive oil
¼ tsp Salt
¼ tsp Black pepper
½ cup Labneh
1 tbsp Fresh mint
1 tsp Lemon zest
1 tsp Lemon juice
Sumac
Aleppo pepper
Enter these Roasted Broccoli Steaks with Tomato Butter! It's the ultimate vegetarian dish for Thanksgiving dinner! It offers simple ingredients, minimal prep, and maximum flavor. I cook a variety of dishes for Thanksgiving dinner, and vegetarian dishes are among the most popular at my family reunions. So if you have…
Ingredients for Roasted Broccoli Steaks with Tomato Butter:
2 oz Bread
6 tbsp Olive oil
2 tsp Kosher Salt
1 ¾ tsp Black pepper
2 heads Broccoli
2 cups Cherry tomatoes
1 Red onion
4-8 tbsp Vegetable stock
2 tbsp Unsalted butter
¼ cup Tapenade
This terrific Roasted Beet Pesto is a healthy and delicious recipe that will delight even those who rarely eat beets. So, if you love pesto on anything and everything, give this fall-inspired recipe a try! This homemade pesto recipe uses oven-roasted beets, toasted walnuts, garlic, lemon juice, Parmesan cheese, and…
Ingredients for Roasted Beet Pesto:
1 cup Beets
½ cup Walnuts
½ cup +1 tbsp Olive oil
3 cloves Garlic
½ cup Parmesan cheese
2 tbsp Lemon juice
Salt
Black pepper
Roasted Balsamic Radicchio with Pancetta and Walnuts is a delicious Italian-style side dish that will delight radicchio lovers. Though radicchio is a bitter vegetable, its bitterness mellows when roasted or grilled. I like to drizzle a bit of high-quality balsamic vinegar and honey over roasted radicchio, which tones down its…
Ingredients for Roasted Balsamic Radicchio with Pancetta and Walnuts:
3 heads Radicchio
2 tbsp Olive oil
1 tbsp Fresh thyme
½ tsp Kosher Salt
½ tsp Black pepper
2 oz Pancetta
1 Shallots
¼ cup Walnuts
1 tbsp Balsamic vinegar
1 tbsp Honey
few sprigs Fresh thyme
These Italian Oven-Roasted Vegetables are a delicious side dish that I love to make to accompany grilled meat or to use in wraps and sandwiches. This dish uses a variety of summer vegetables which you will find at your local grocery store or farmer's market. To make these oven roasted…
Ingredients for Italian Oven-Roasted Vegetables:
1 medium Zucchini
1 medium Summer squash
1 small Onion
1 cup Red bell pepper
1 cup Mushrooms
3 tbsp Olive oil
¾ tsp Salt
¼ tsp Black pepper
1 ½ tsp Italian herb seasoning
Parsley
Roasted Cauliflower and Potato Salad is a fresh take on classic potato salad made healthier. Oven-roasted cauliflower florets and baby potatoes tossed in a creamy tarragon-tahini dressing and mixed with peppery arugula. This recipe comes together quickly and delivers a delicious side dish perfect for summer picnics and BBQs. First…
Ingredients for Roasted Cauliflower and Potato Salad:
1 ½ lbs Potatoes
1 head Cauliflower
3 tbsp Olive oil
¾ tsp Kosher Salt
¾ tsp Ground coriander
½ tsp Cumin
½ tsp Black pepper
1 cup Arugula

FOR TARRAGON-TAHINI DRESSING:
3 tbsp Tahini
2 tbsp Lemon juice
1 tbsp Tarragon
1 tsp Garlic
¼ tsp Kosher Salt
¼ tsp Black pepper
2 tbsp Water
Looking for a hearty dinner salad for two? Enter this amazing Salmon & Roasted Vegetable Salad recipe! It's a mix of root veggies roasted until deliciously caramelized, tossed with salmon and scallions, and served over the mixed salad greens, then drizzled with anchovy mustard vinaigrette. It's such a great combination…
Ingredients for Salmon & Roasted Vegetable Salad:
3 cups Root vegetables
2 tbsp Olive oil
1/4 tsp Black pepper
1/4 tsp Salt
1 tbsp Sherry vinegar
1/2 tbsp Garlic
1 tsp Wholegrain mustard
1 tsp Anchovy
4 cups Mixed greens
1 (6- to 7-oz) can Salmon
1 Scallions
This Sweet Potato Bowl promises a hint of healthiness and makes for a beautiful vegan-friendly meal. Roasted sweet potatoes and broccoli keep this recipe healthy, and beet hummus makes it extra delicious. I like to add crispy tofu for some plant-based protein, but feel free to substitute your favorite proteins…
Ingredients for Sweet Potato Bowl:
2 Sweet potatoes
1 head Broccoli
2 tbsp Olive oil

FOR BEET HUMMUS:
1 cup Chickpeas
6 oz Beets
1 clove Garlic
½ Lemon
4 tbsp Tahini
2 tbsp Water
1 tbsp Soy sauce
Salt

FOR CRISPY TOFU:
8 oz Tofu
2 tbsp Coconut oil

FOR SERVING:
4 tsp Sesame seeds