Top 10 Roll & Bun Recipes
From Sweet to Savory to Herbed, We Have All Types of Rolls & Buns to Make for Dinner Tonight.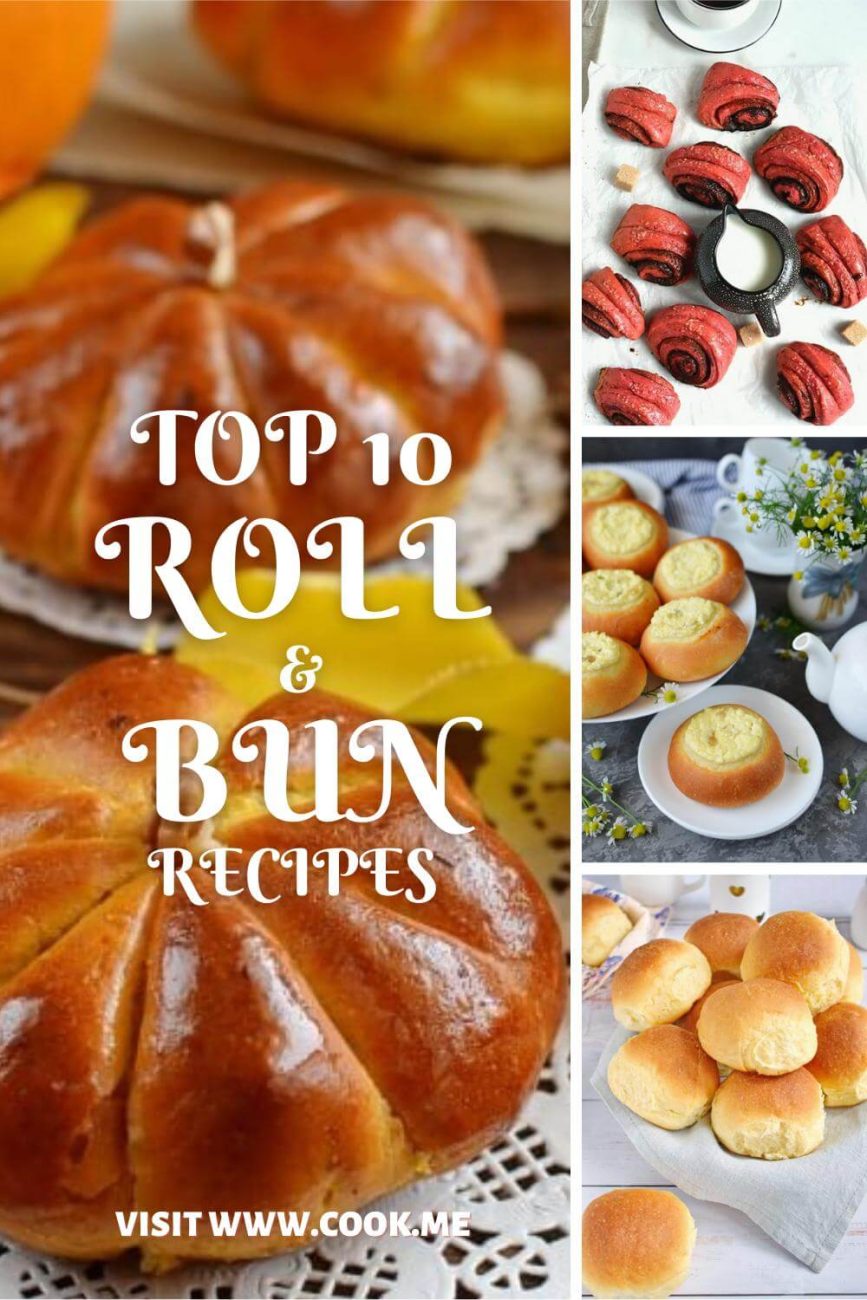 These Buttery Fluffy Cornmeal Dinner Rolls are a great accompaniment for stews and soups. I make a batch of these every Thanksgiving and they always go down a treat because they are so light and fluffy. They're easy to make too, which is always helpful at this time of year!…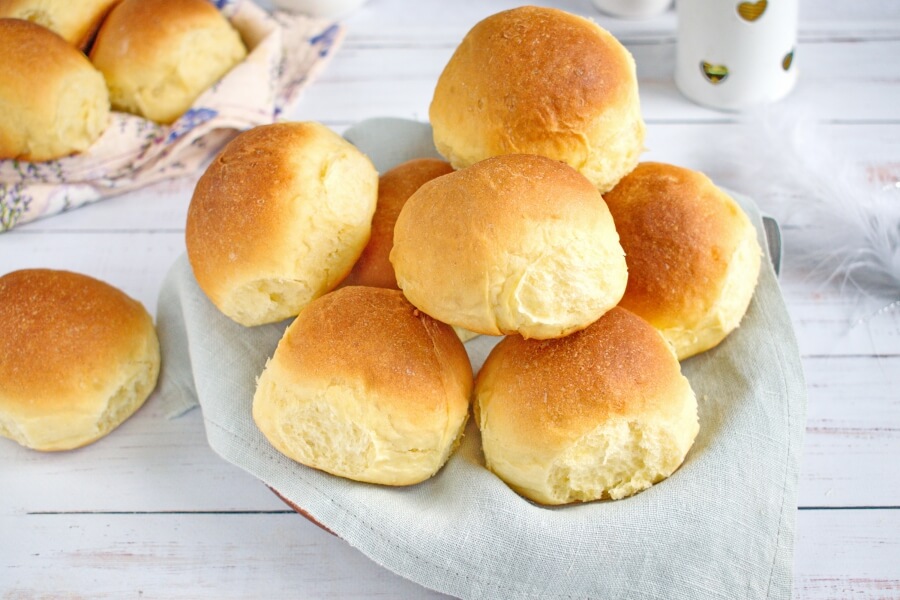 Ingredients for Buttery Fluffy Cornmeal Dinner Rolls:
2 cups Milk
⅔ cup Yellow cornmeal
1 ½ tbsp Instant yeast
½ cup (1 stick) Butter
⅓ cup Granulated sugar
1 tsp Salt
3 Large eggs
6 – 6-1/2 cups All-purpose flour
With these The Ultimate Dinner Rolls you no longer have to be intimidated or shy to bake your own bread. A fun baking experience that can be very impressive too. Dinner rolls are famously known to be soft and buttery on the outside with a chewy crust on the outer…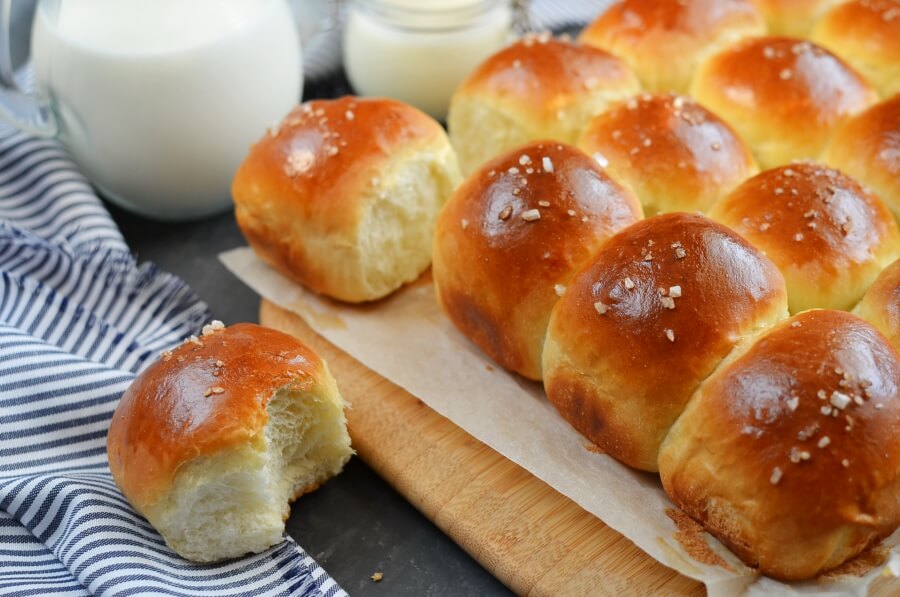 Ingredients for The Ultimate Dinner Rolls :
1 cup Whole milk
½ cup Water
¼ cup (½ stick) Unsalted butter
¼ cup Sugar
2¼ tsp (1 packet) Active dry yeast
4 cups All-purpose flour
1½ tsp Kosher Salt
2 Large eggs
Neutral oil
Sea salt
These Cloverleaf Herb Dinner Rolls are small and cute shaped dinner rolls filled with a mix of different herbs and seasonings such as dill weed, dried thyme, dried basil and onion powder. Packed with herbal flavors that you can serve as a perfectly delicious accompaniment with your first course, soup…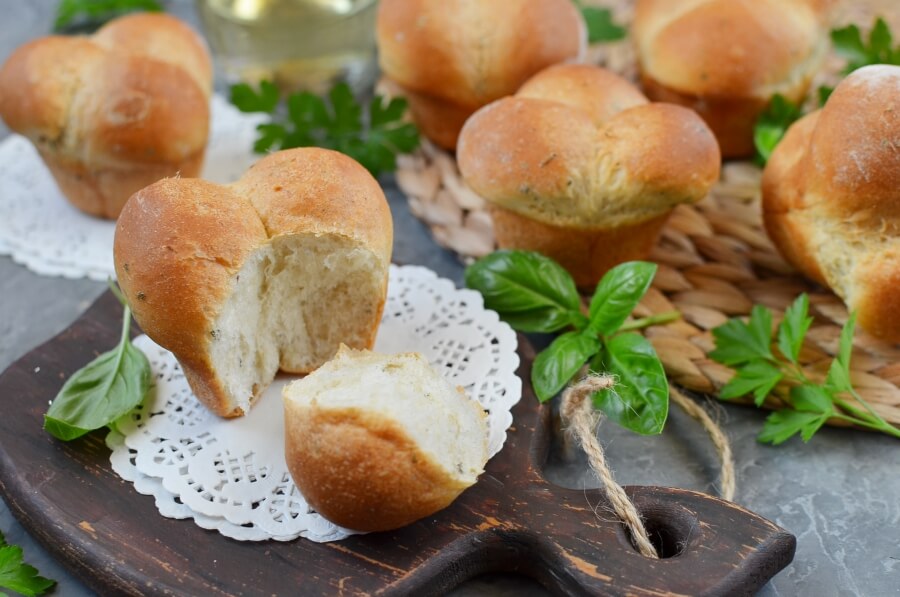 Ingredients for Cloverleaf Herb Dinner Rolls:
2 packages (¼ ounce each) Active dry yeast
2¾ cups Water
⅓ cup Vegetable oil
¼ cup Honey
1 tbsp Salt
2 tsp Dill weed
2 tsp Dried thyme
2 tsp Dried basil
1 tsp Onion powder
1 Large eggs
4 cups Whole wheat flour
4 – 4½ cups All-purpose flour
Homemade Hoagie Rolls are a scrumptious, long, flat and crusty roll. The name was given to this type of sandwich by Italian Navy Yard workers that worked down at the Hog in Philadelphia. Regardless of the weird and wonderful name, the sandwiches have a sublime taste. Nothing beats the fresh…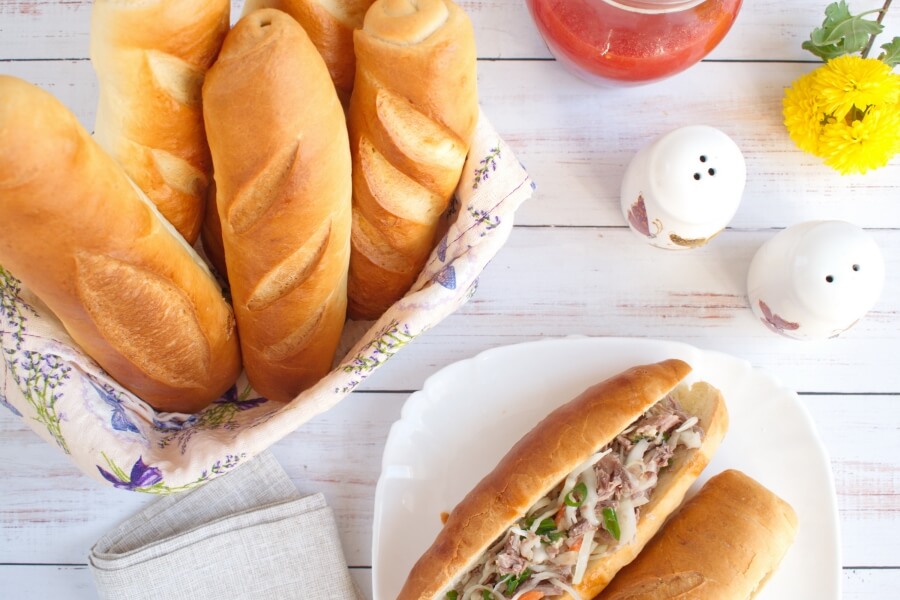 Ingredients for Homemade Hoagie Rolls:
1 cup Water
1 tbsp Active dry yeast
1 ½ tbsp Sugar
¾ cup Milk
1 Large eggs
3 tbsp Olive oil
5 ¼ cups Bread flour
2 tsp Salt
1 Egg whites
These Cinnamon Beet Rolls are a delicious take on the traditional Scandavian cinnamon roll that we have all grown to love. Who can resist the smell of these buns in a warm kitchen on a cold day? In this recipe I combine cinnamon, yeasty dough and a brown sugar filling with beets to create a pink version of ….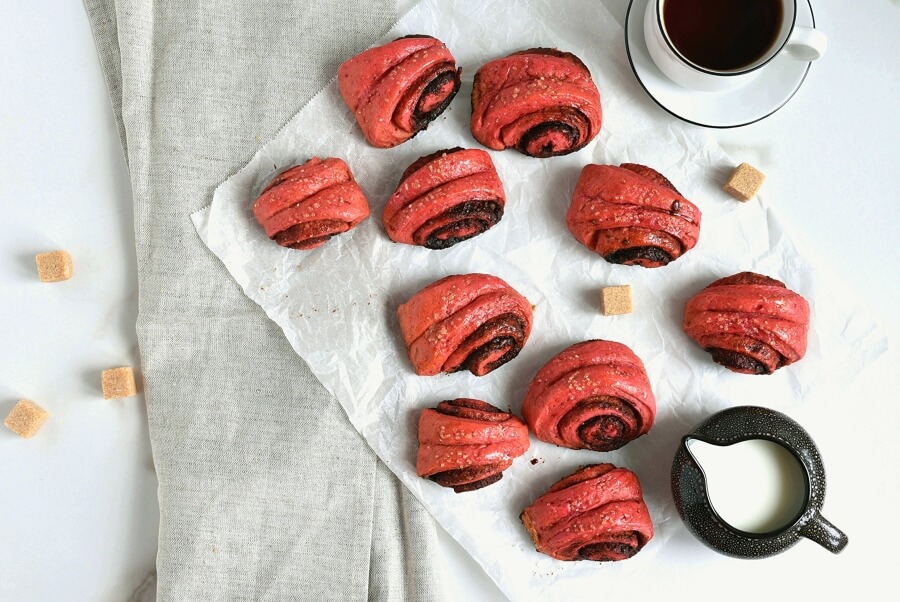 Ingredients for Cinnamon Beet Rolls:
FOR THE DOUGH:
4 ½ tsp (2 ¼ oz packets) Active dry yeast
¼ cup Water
1 tsp Cane sugar
1 cup Beets
1 Eggs
1 cup Buttermilk
½ cup Cane sugar
¼ cup Butter
1 tbsp Orange zest
1 ¼ tsp Sea salt
3 ½ cups Whole wheat flour
2 ½ cups Spelt flour
1-2 tbsp Turbinado sugar
1 Eggs

FOR THE FILLING:
¾ cup Muscovado sugar
1 tbsp Cinnamon
¼ tsp Ginger
6 tbsp Butter
Beware, this recipe makes the most Buttery Brioche Hamburger Buns you will ever taste and I warn you – there is no going back to store bought buns after you try this one! These buns are great with all types of burger – beef, lamb, chicken and veggie! Just try…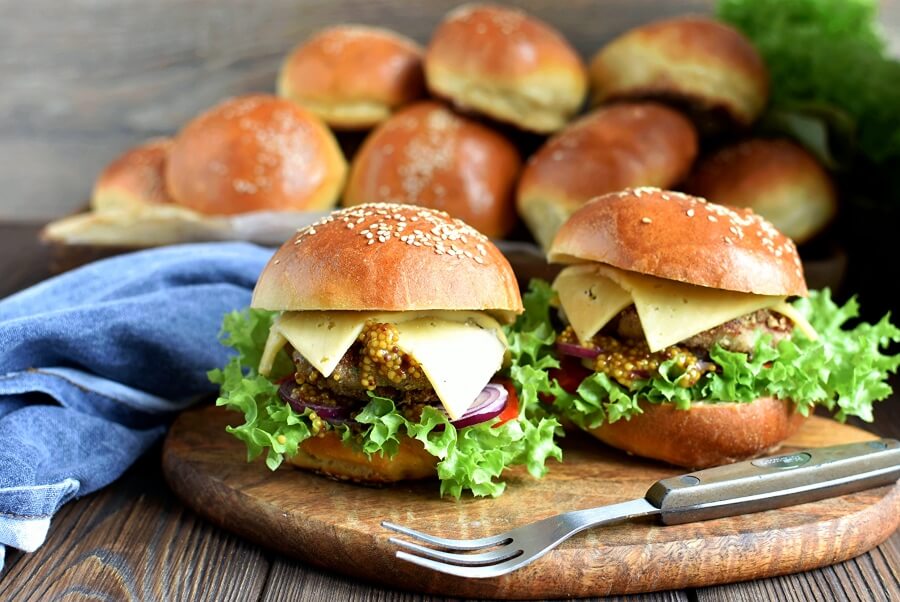 Ingredients for Buttery Brioche Hamburger Buns:
FOR THE STARTER:
⅔ cup Milk
2 ¼ tsp Active dry yeast
3/4 cup All-purpose flour
3 tbsp Sugar

FOR THE DOUGH:
3 cups plus 2 tbsp All-purpose flour
1 ½ tsp Salt
4 Large eggs
8 tbsp Butter
1 tsp Vegetable oil

FOR THE EGG WASH:
1 Large egg
1 tbsp Water
Is there a food that screams Easter more than Hot Cross Buns? Hot Cross Buns are a delicious seasonal treat which taste absolutely fantastic slathered with butter. Make a batch of these buns this year and watch them disappear before they've even cooled down!  Start by making the hot cross…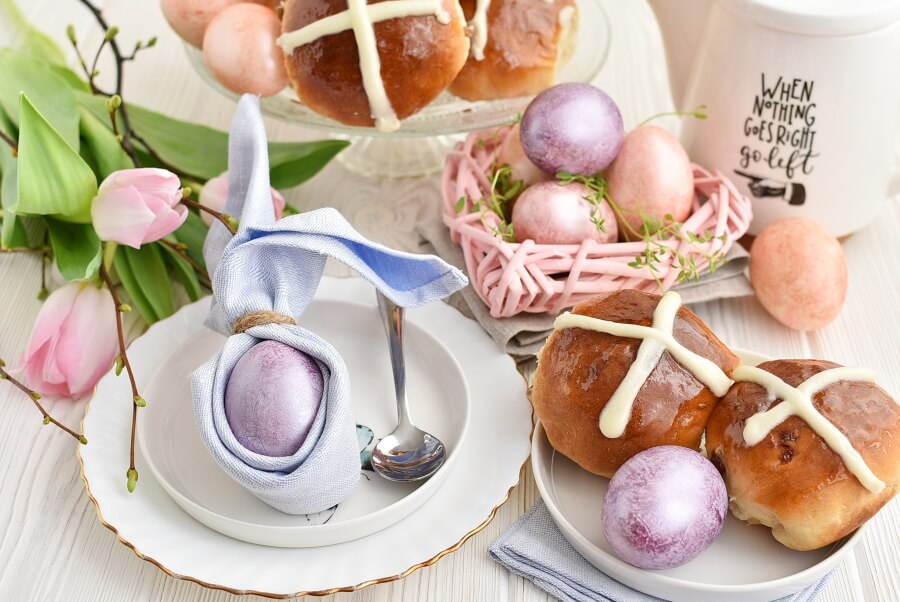 Ingredients for Hot Cross Buns:
FOR HOT CROSS BUNS:
1 ½ cups lukewarm Milk
½ cup Sugar
1 tbsp Active dry yeast
4 ½ cups All-purpose flour
½ tsp Salt
½ tsp Ground nutmeg
2 Eggs
4 tbsp (½ stick) Unsalted butter
1 cup Raisins

FOR SYRUP GLAZE:
¼ cup Sugar
¼ cup Water

FOR CREAM CHEESE ICING:
½ cup Icing sugar
2 tbsp Cream Cheese
1 tbsp Unsalted butter
1 tsp Vanilla extract
½ tbsp Water
In my house, we call these Russian Cream Cheese Vatrushka Buns "inside out buns". They get this name because the filling is on the outside rather than hidden away in the center! You can make a slightly sweeter filling by adding raisins. If you add raisins, you need to soak…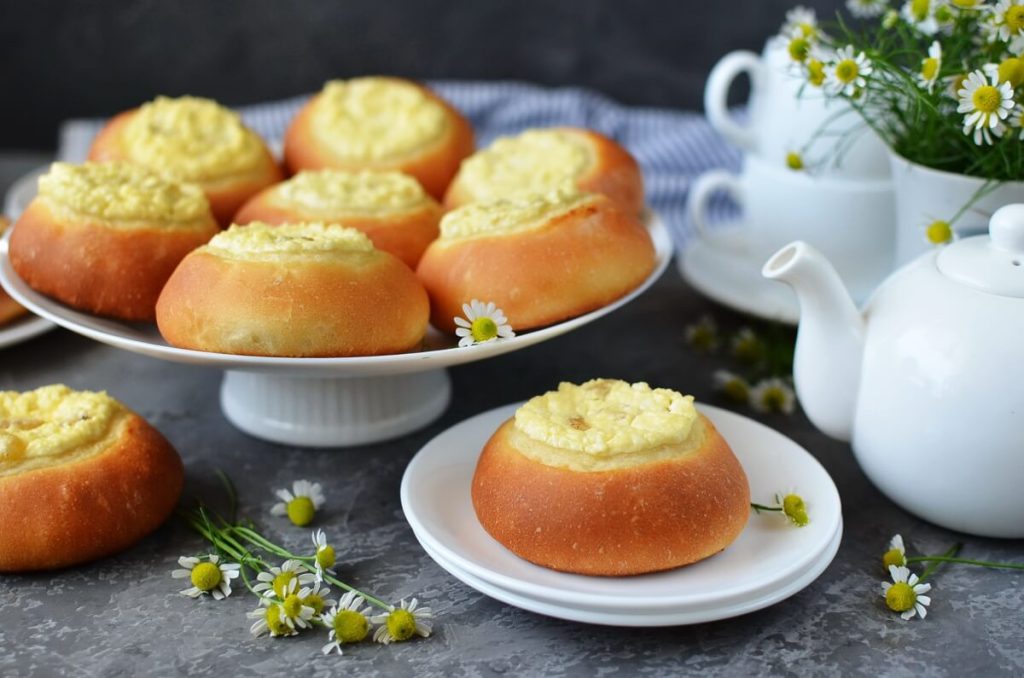 Ingredients for Russian Cream Cheese Vatrushka Buns:
FOR THE BUNS:
3 Eggs
½ cup Sugar
1½ tbsp Yeast
2 cups Milk
1 tsp Salt
2 tbsp Mayonnaise
3 tbsp Olive oil
5 cups All-purpose flour

FOR THE FILLING:
16 oz Cream Cheese
16 oz Farmer's cheese
2 Eggs
½ cup Sugar
1 cup Golden raisins
These Cream Cheese Stuffed Pumpkin Dinner Rolls are totally scrumptious and delicious and something you need to try this Fall season. Follow our recipe to make the best homemade mini pumpkin bread rolls made from pumpkin puree, pumpkin pie spice, yeast, milk, a bit of sugar, butter and all-purpose flour….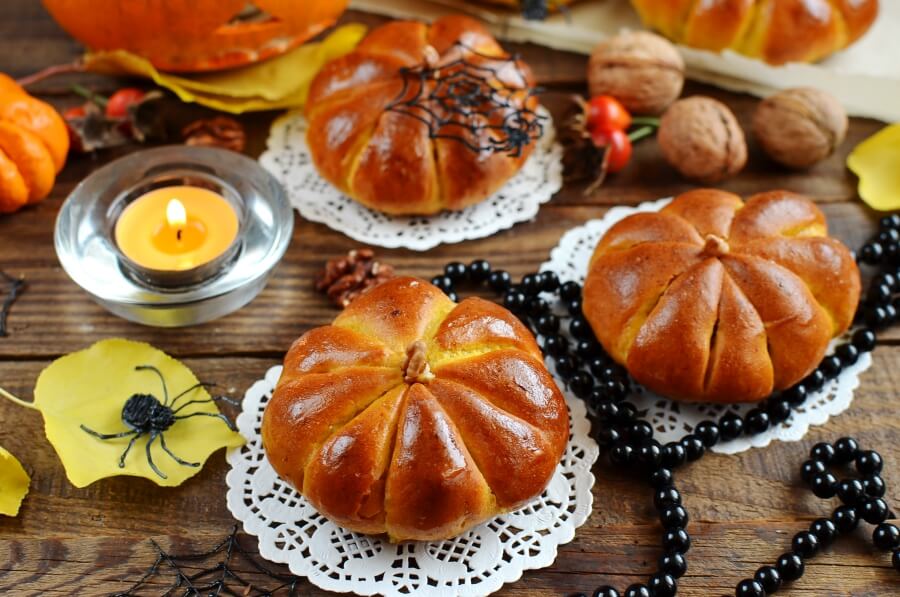 Ingredients for Cream Cheese Stuffed Pumpkin Dinner Rolls:
1 cup Pumpkin
2 tsp Pumpkin pie spice
1 pack Active dry yeast
½ cup Whole milk
1 tsp Granulated sugar
⅓ cup Granulated sugar
4 tbsp Butter
1½ tsp Kosher Salt
2 Eggs
4 cups All-purpose flour
8 ounces Cream Cheese
20 Walnuts
⅓ cup Butter
These Easter Bunny Rolls are so cute! You won't be able to resist making these this Easter! These is a really easy bread roll recipe which doesn't require much effort on your part as long as you have a stand mixer with a dough attachment! …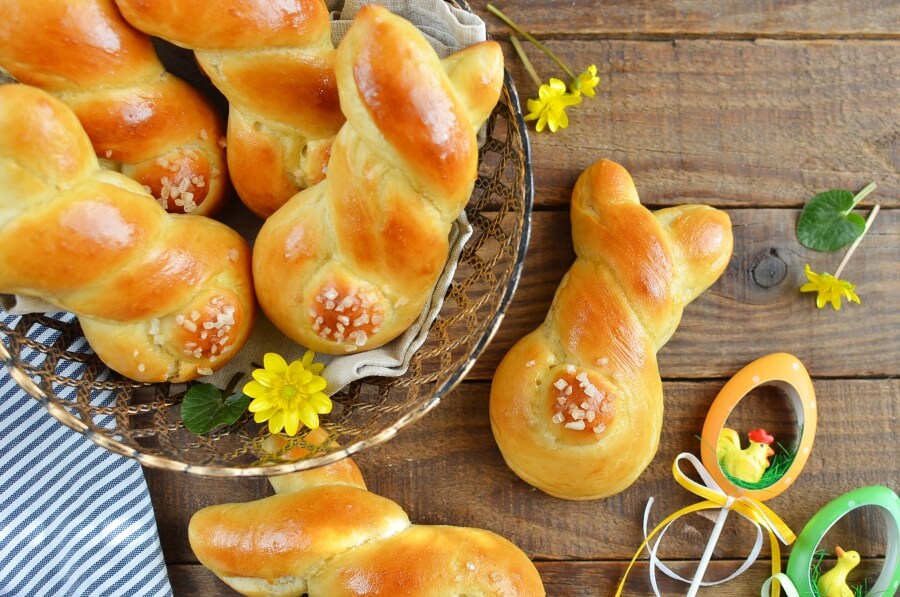 Ingredients for Easter Bunny Rolls:
3 cups All-purpose flour
2 ½ tsp Active dry yeast
1 cup warm Water
1 tbsp Sugar
1 tsp Salt
¼ cup Vegetable oil
1 Eggs
1 tbsp Sea salt
2 tbsp Butter