TOP 10 Spring Dessert Recipes
Light-Textured, Brightly Flavored and Sophisticated Desserts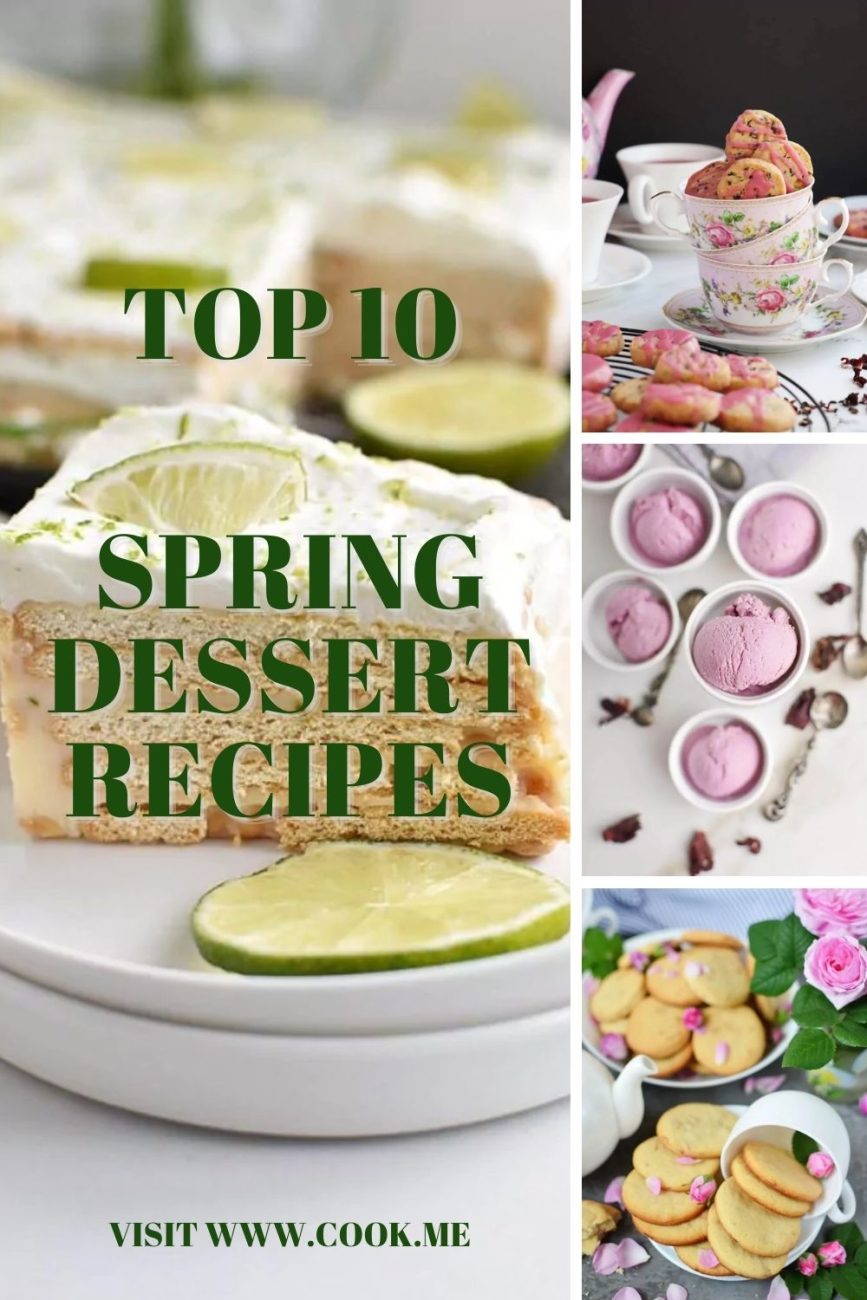 This Lemon-Hibiscus Frozen Custard is a super sophisticated dessert to make for those long hot summer days. Hibiscus is a flower which creates a delicious tangy tea drink when infused with hot water. In this recipe, hibiscus is the star of the show!  If you follow the instructions properly, there…
Ingredients for Lemon-Hibiscus Frozen Custard:
3 tbsp Dried hibiscus flowers
2½ cups Heavy cream
2 tbsp Lemon zest
½ cup plus 2 tbsp Sugar
¼ tsp Kosher Salt
6 large Egg yolks
¼ cup Lemon juice
This Key Lime Icebox Cake is a super impressive looking dessert, yet it is really easy to make and requires no cooking! My family loves the flavor of Key lime. More aromatic and flavorsome than the usual Persian limes, is it any wonder Key limes are used to make delicious…
Ingredients for Key Lime Icebox Cake:
¾ cup Granulated sugar
¼ cup Cornstarch
⅛ tsp Kosher Salt
4 Egg yolks
2 cups Half-and-half
3 tbsp Butter
2 tbsp Key Lime zest
½ cup Key Lime juice
45 squares Graham cracker
1 cup Whipping cream
¼ cup Powdered sugar
Have you ever tried cooking with rose petals? I don't think many people associate roses with food but I actually love the subtle flavor that rose petals bring to these Rose Petal Cookies. I like to think that this recipe is a gateway to cooking with rose petals. I think…
Ingredients for Rose Petal Cookies:
14 tbsp Sugar
12 tbsp Unsalted butter
2 Eggs
½ tsp Rose water
1½ tbsp dried Rose petals
2½ cups All-purpose flour
1 tsp Baking powder
1 pinch Salt
These Glazed Hibiscus Shortbread Cookies will quickly become your new favorite cookie treat, this springtime. Cookie dough spiced with ground cinnamon, vanilla extract and dried hibiscus flowers for the perfect shortbread cookie and decorated with drizzles of dips of a set glaze, infused with hibiscus tea, a fresh and herbal…
Ingredients for Glazed Hibiscus Shortbread Cookies:
FOR THE HIBISCUS SHORTBREAD COOKIES:
2 cups All-purpose flour
1 tsp Sea salt
1 tsp Cinnamon
1 cup Unsalted butter
½ cup Granulated sugar
1 tsp Vanilla extract
½ cup Dried hibiscus flowers

FOR THE HIBISCUS TEA GLAZE:
1½ cups Powdered sugar
2 tbsp Dried hibiscus flowers
½ cup Water
I love this Strawberry Shortcake Cobbler. Not only does it taste fantastic, it's quicker and easier than making a pie (it tastes better than pie too in my opinion!). The beauty of a cobbler is that there is no bottom crust – just a crisp shortbread biscuity topping with a…
Ingredients for Strawberry Shortcake Cobbler:
FOR THE STRAWBERRY FILLING:
2 lbs Strawberries
1/4 cup Granulated sugar
of 1 orange Orange zest
a pinch Salt
2 tbsp Tapioca flour

FOR THE SHORTCAKE TOPPING:
1 ½ cup All-purpose flour
¼ cup Granulated sugar
1 tsp Baking powder
¼ tsp Baking soda
¼ tsp Kosher Salt
⅓ cup Butter
½ cup Greek yogurt
3 tbsp Milk
1 Large eggs
½ tsp Vanilla extract
to taste Turbinado sugar

FOR THE ORANGE WHIPPED CREAM:
1 cup Heavy whipping cream
¼ cup Granulated sugar
½ tsp Orange extract
Rhubarb fans love the intense tart flavor from this pink ingredient. I absolutely adore it because for me, rhubarb marks springtime and I start dreaming of long the summer days ahead! Did you know that rhubarb is actually a vegetable, not a fruit? I found that out on a recent…
Ingredients for Rhubarb Torte:
FOR THE BASE:
1 cup All-purpose flour
2 tbsp Sugar
1/3 cup Butter

FOR THE TORTE FILLING:
1 1/4 cups Sugar
2 1/2 cups Rhubarb
2 tbsp All-purpose flour
1/3 cup Milk
3 Egg yolks
This Grasshopper Ice Cream Pie is inspired by the famous grasshopper cocktail which is minty, creamy, and green! This is a healthy take on a mint chocolate ice cream pie. It substitutes some of the cream with nonfat yogurt and uses canola oil instead of butter to make the crust….
Ingredients for Grasshopper Ice Cream Pie:
2 ¼ cups Chocolate snap cookies
1-2 tbsp Canola oil
¾ cup Heavy cream
⅓ cup Sugar
1 cup Greek yogurt
¼ tsp Peppermint extract
2-4 drops Natural green food dye
Lemon-Pineapple Poke Cake is mouth-wateringly delicious and easy to make with just eight ingredients. It is sweet, lemony, moist, and topped with a generous spread of whipped topping. Pineapple and lemon complement each other in this festive yet simple cake. With pretty lemon slices and fresh mint leaves for garnish,…
Ingredients for Lemon-Pineapple Poke Cake:
1 box Lemon supreme cake mix
3 Large eggs
⅓ cup Butter
1 cup Milk
1 (14-oz) can Condensed milk
1 (20-oz) can Can chopped pineapple
16 oz Whipped topping

FOR GARNISH, OPTIONAL:
Lemon
Fresh mint
Creamy Strawberry and Yogurt Dessert combines fresh fruit, cream cheese, Greek yogurt, whipped topping, and granola for a tasty and refreshing parfait that is easy to make. This treat has three delicious layers, and each of them plays a key role in making a downright addictive dessert recipe. First, you…
Ingredients for Creamy Strawberry and Yogurt Dessert:
2 cups Strawberries
1 tsp Stevia
½ cup Cream Cheese
1 cup Greek yogurt
½ cup Whipped topping
½ tsp Vanilla extract
½ cup Granola
2 squares Milk chocolate
I'm really loving jar puddings and desserts as a new design for serving your guests and this No Bake Key Lime Pie in a Jar once again, never fails. This recipe prepares 4 jars, filled with layers of graham crackers and butter, kind of like a crumbly cake base and…
Ingredients for No Bake Key Lime Pie in a Jar:
1 package Graham crackers
2 tbsp Butter
1 (8-oz) package Cream Cheese
½ can (around 7 oz) Condensed milk
½ cup Greek yogurt
Key lime juice
4 tbsp Whipped topping
4 slice of Lime
Four 1/2 pint sized Mason jars