Top 10 St Patrick's Day Recipes
Best Traditional and Fresh St Patrick's Day Food Ideas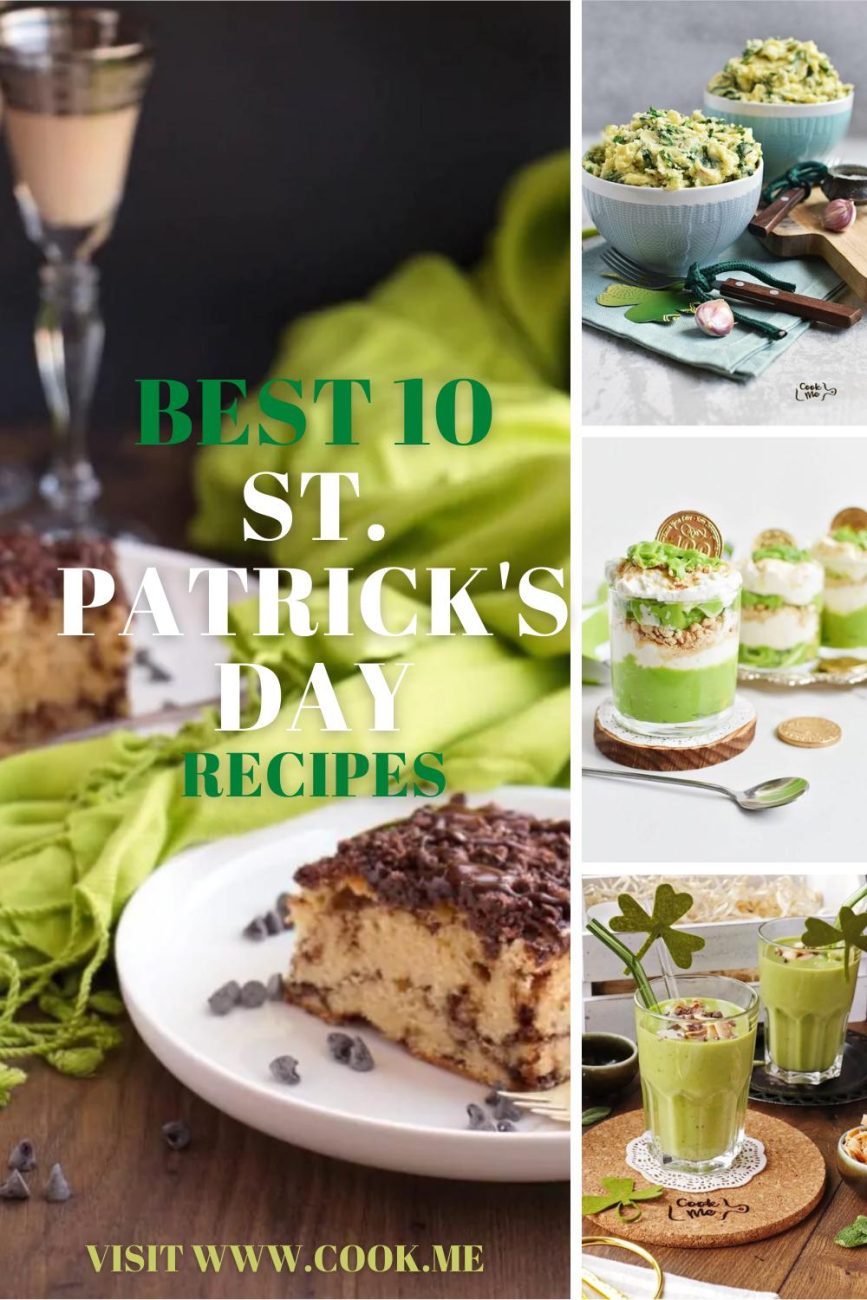 If you are researching original Irish cuisine in preparation for St. Patrick's Day, then this traditional Irish Blaas recipe is for you! These blaas are white bread rolls that are super soft on the inside and crusty on the outside. They taste great on their own but traditionally are served…
Ingredients for Irish Blaas:
1½ cups Water
1 tbsp Sugar
1 package Active dry yeast
1 tsp Salt
½ cup Butter
4 cups Bread flour
¾ cup Bread flour
The star of this hearty Guinness Beef Stew is Guinness, an Irish dry stout and the most well-known stout beer. This dish is not difficult to prepare, but it cannot be rushed. It's all about cooking low and slow. The alcohol evaporates as the stew simmers, and the end result…
Ingredients for Guinness Beef Stew:
3 lbs Beef Chuck Roast
Sea salt
Black pepper
3 tbsp Olive oil
1 Onion
4 cloves Garlic
¼ cup All-purpose flour
1 (12-oz) bottle Guinness beer
4 cups Beef stock
3 Carrots
1 ½ lbs Potatoes
3 tbsp Tomato paste
1 Bay leaf
2 tsp Worcestershire sauce
1 tsp Dried thyme
This easy Colcannon Irish Mashed Potatoes with Kale recipe combines two staples of Irish cuisine: potatoes and kale into a delicious and filling dish. And it's not only for St. Patrick's Day. It's pretty perfect any time of the year and my family really loves it.   This version of…
Ingredients for Colcannon Irish Mashed Potatoes with Kale:
5-6 Potatoes
4 cups Water
1 tbsp Olive oil
100 g, 4 leaves Kale
1 tbsp Leek
3 Green onion
1 pinch Ground nutmeg
1 clove Garlic
40 g Butter
50 ml Milk
2 tsp Salt
1 tsp Black pepper
1 tbsp Olive oil
Get into the spirit of St. Patrick's Day with these Fluffy Matcha Lemon Muffins! These muffins are soft, fluffy (hence the name), and packed with matcha and lemon flavor. Besides, they are so easy and quick to make. Ready in under 30 minutes, with only 8 minutes of prep time,…
Ingredients for Fluffy Matcha Lemon Muffins:
1¾ cups All-purpose flour
1 tbsp Baking powder
1¼ tbsp Matcha powder
½ tsp Salt
¾ cup Sugar
¾ cup Almond milk
2 tsp Vanilla extract
¼ cup Vegetable oil
¼ cup Lemon juice
½ tsp Lemon zest

FOR LEMON DRIZZLE:
½ cup Confectioners' sugar
1-2 tbsp Lemon juice
I am a huge fan of liquor in baking and this Baileys Chocolate Coffee Cake recipe is one of my first choices. Made with a dense, moist cake batter with a layer of coffee, cocoa and granulated sugar and covered in a coffee and melted chocolate topping. If the Bailey's…
Ingredients for Baileys Chocolate Coffee Cake:
FOR THE FILLING:
½ cup Brown sugar
1½ tsp Cocoa powder
½ tsp Espresso powder

FOR THE CAKE:
¾ cup (1½ sticks) Butter
1 cup Granulated sugar
⅓ cup Brown sugar
2 tsp Baking powder
3 Large eggs
⅔ cup Sour cream
1 cup Whole milk
¼ cup Baileys
3 cups All-purpose flour

FOR THE TOPPING:
¾ cup Granulated sugar
¾ cup All-purpose flour
2 tsp Cocoa powder
¾ tsp Espresso powder
1 pinch Kosher Salt
4 tbsp Butter
½ cup Chocolate chips
Does this Guinness Chocolate Puddings recipe contain actual Guinness as one of the ingredients? I'm so happy to share with you that, yes, they do and we are all so excited about it. The addition of alcohol to these chocolate puddings makes them the perfect winter dessert to serve and…
Ingredients for Guinness Chocolate Puddings:
150 g Unsalted butter
200 g Dark chocolate
90 g Golden Caster sugar
3 Large eggs
90 ml Guinness
Heavy whipping cream
This Grasshopper Ice Cream Pie is inspired by the famous grasshopper cocktail which is minty, creamy, and green! This is a healthy take on a mint chocolate ice cream pie. It substitutes some of the cream with nonfat yogurt and uses canola oil instead of butter to make the crust….
Ingredients for Grasshopper Ice Cream Pie:
2 ¼ cups Chocolate snap cookies
1-2 tbsp Canola oil
¾ cup Heavy cream
⅓ cup Sugar
1 cup Greek yogurt
¼ tsp Peppermint extract
2-4 drops Natural green food dye
Celebrate St. Patrick's Day with this delicious Vegan Minty Shamrock Smoothie! It is packed full of healthy ingredients like spinach, bananas, plant-based milk, yogurt, and protein powder for extra protein. I also like to add fresh mint for freshness and top with cocoa nibs and baked coconut flakes with salt…
Ingredients for Vegan Minty Shamrock Smoothie:
FOR SMOOTHIE:
1 cup Baby spinach
10 leaves Fresh mint
1 cup Almond milk
2 Bananas
⅓ cup Vegan Yogurt
1 scoop Protein powder
½ tsp Vanilla extract

OPTIONAL TOPPINGS:
Cacao nibs
Coconut flakes
These Guacamole Cups for St. Patrick's Day will be the biggest hit of your party. They are delicious, they are a breeze to make, and they are green! I love guacamole and chips but wanted to make them a little easier to serve for a party. So these cups are…
Ingredients for Guacamole Cups for St. Patrick's Day:
24 Wonton wraps
8 oz Guacamole
These St Patrick's Day Green Trifles look exactly like the little Irish mascot used to symbolize St Patrick's Day in Ireland, however, we enjoy them in our home more than just once a year! This recipe is so simple to follow and worth every calorie-filled bite! Made with layers of whipping cream, vanilla pudding and crunchy graham crumbs and topped with gold coins, …
Ingredients for St. Patrick's Day Green Trifle:
1 cup Whipping cream
2 tbsp Powdered sugar
1 tsp Vanilla extract
1 package Instant vanilla pudding mix
6-8 drops Green Food coloring
1 cup Graham crackers or Oreo cookies
Gold foiled coins