TOP 10 Stuffed Bell Pepper Recipes
Cozy Stuffed Peppers Don't Have to Be Boring!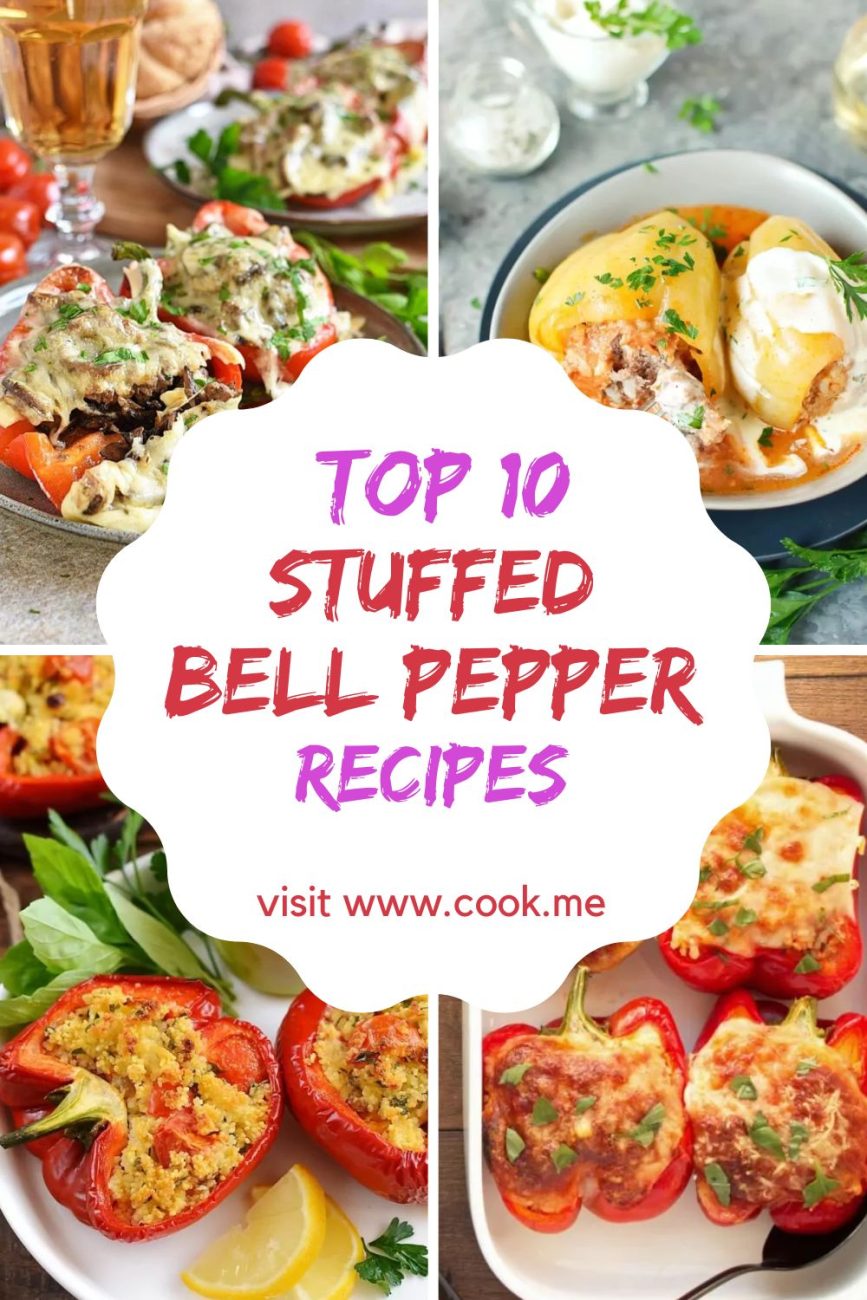 Skip the hoagie roll and have your Philly over roasted bell peppers. These Cheesesteak Stuffed Peppers make for a delicious low-carb spin on the famous Philly cheesesteak. It's an easy recipe and will take about half an hour of your time.  To make these, start by roasting the peppers. In…
Ingredients for Cheesesteak Stuffed Peppers:
2 Bell pepper
1 tbsp Vegetable oil
½ Onion
8 oz Cremini mushrooms
Kosher Salt
Black pepper
12 oz Beef sirloin steak
1 tsp Dried Italian seasoning
8 slices Provolone cheese

FOR GARNISH:
Parsley
Ingredients for Vegetarian Stuffed Peppers:
FOR PEPPERS:
4 Red bell pepper
1 tbsp Olive oil
Salt
Black pepper

FOR FILLING AND TOPPING:
½ cup Brown rice
2 tbsp Olive oil
1 Yellow onions
½ tsp Salt
1 pint (2 cups) Cherry tomatoes
½ cup Cilantro
4 cloves Garlic
1 ½ tsp Chili powder
1 tsp Cumin
1 can (1 ½ cups) Pinto beans
Black pepper
1 tbsp Lime juice
4 oz (about 1 cup) Vegetarian Mozzarella

FOR OPTIONAL GARNISHES:
Pesto
Avocado
Salsa
vegan Sour cream
Bell Pepper Mini Meatloaf is a twist on the classic American staple. In this recipe, bell pepper rings are stuffed with a delicious meatloaf mixture, and then baked to perfection. This mixture is packed with peppers and onions, flavored with thyme, garlic, and Worcestershire sauce, and topped with gooey cheese….
Ingredients for Bell Pepper Mini Meatloaf:
3 Bell pepper
1 lb Ground beef
¼ cup Breadcrumbs
1 Eggs
1 tsp Worcestershire sauce
½ Onion
½ tsp Fresh thyme
1 clove Garlic
1 tbsp Tomato paste
Kosher Salt
Black pepper
¼ cup Ketchup
1 tbsp Brown sugar
2 cups Monterey Jack cheese
1 tbsp Parsley
There are all kinds of ways to stuff peppers and these Mexican Stuffed Peppers are my personal top choice. I stuff large bell peppers with ground chicken or turkey combined with some ground chili powder, ground cumin, garlic powder, salt, black pepper, diced tomatoes, cooked rice or other grain and…
Ingredients for Mexican Stuffed Peppers:
4 Bell pepper
2 tsp Olive oil
1 pound Ground chicken
1 tbsp Chili powder
1 tsp Cumin
1 tsp Garlic powder
½ tsp Kosher Salt
¼ tsp Black pepper
1 can (14 ounces) Diced tomatoes
1½ cups Brown rice
1¼ cup Cheese

FOR SERVING:
Cilantro
Salsa
Sour cream
Lime juice
Dinner literally couldn't get easier than these awesome Creamy Chicken Stuffed Peppers. I'm not the biggest veggie fan so a great way to hide the flavors is to stuff them inside creamy, cheesy recipes like this one. I stuff halved bell peppers with shredded chicken and spinach, cream cheese, Cheddar…
Ingredients for Creamy Chicken Stuffed Peppers:
4 Bell pepper
1 (8-oz) block Cream Cheese
½ cup Sour cream
3 cups Chicken
1 (10-oz) package Spinach
2 cups Cheddar cheese
2 Green onion
½ tsp Ground paprika
Kosher Salt
Black pepper
These Italian Stuffed Peppers are a super recipe to have on stand by. They are very versatile too. You can use cooked brown rice for the filling or if you prefer, you could use farro, quinoa or low carb cauliflower rice. I use ground chicken or turkey but you could…
Ingredients for Italian Stuffed Peppers:
4 Red bell pepper
2 tsp Olive oil
1 lb Ground chicken
2 tsp Dried Italian seasoning
1 tsp Garlic powder
½ tsp Kosher Salt
¼ tsp Red pepper flakes
1 (15-oz) Can chopped tomatoes
1½ cups Brown rice
1 cup Mozzarella
½ cup Parmesan cheese
2 tbsp Basil
I call this recipe Unstuffed Peppers because it has all the elements of traditional stuffed peppers, but without the hassle of stuffing the actual vegetables! In fact, because the ingredients aren't jammed into a pepper, this dish cooks way faster than the usual stuffed pepper recipes. This will be on…
Ingredients for Unstuffed Peppers:
1 cup Instant rice
1 lb Ground beef
2 Bell pepper
½ cup Onion
1 jar (26 oz) Marinara sauce
1½ tsp Seasoning
½ cup Italian cheese blend
½ cup Bread crumbs
1 tbsp Olive oil
This Moroccan inspired Gremolata Couscous-Stuffed Peppers recipe is a perfect dinner option for something fresh and healthy. Using parsley, lemon zest and garlic to make a Gremolata herb mix for flavoring the couscous stuffing with and mixed with raisins and chopped tomato salad served inside large red roasted peppers, in…
Ingredients for Gremolata Couscous-Stuffed Peppers:
small bunch Parsley
zest and juice of 1 Lemon
2 cloves Garlic
85g Couscous
2 tbsp Raisins
2 Red pepper
50ml hot Vegetable stock
1 tsp Honey
150ml Yogurt
2 Tomatoes
1 tbsp Olive oil
Salt
Black pepper
Originating in Romania and enjoyed all across the Mediterranean and Middle East, these Romanian Stuffed Peppers (Ardei Umpluti) are, in one word, unbelievable. Preferably use medium, colorful peppers to stuff with ground pork, uncooked rice, chopped onion, some egg, fresh dill, fresh parsley, salt and pepper. Over a low heat,…
Ingredients for Romanian Stuffed Peppers (Ardei Umpluti):
FOR THE PEPPERS:
8 medium Bell pepper
1½ lbs Ground pork
½ cup White rice
1 Onion
1 Eggs
¼ cup Fresh dill
¼ cup Parsley
½ tsp Salt
¼ tsp Black pepper

FOR THE SAUCE:
2 cups Tomato puree
½ cup Sour cream
2 cups Water
½ tsp Salt
¼ tsp Black pepper
Mediterranean Stuffed Peppers might just be my most cooked recipe this year. I've made them so many times and each time I try a different flavor combination. As soon as I hit this mix, I knew it was the one! I think the addition of feta cheese really elevates the…
Ingredients for Mediterranean Stuffed Peppers:
2 large Red bell pepper
2 large Yellow bell pepper
1 lb Ground turkey
1 tbsp Garlic
¾ tsp Salt
¼ tsp Black pepper
1 cup garlic Pasta sauce
¾ cup Chickpeas
1 jar (6 oz) Artichoke hearts
¾ cup Mozzarella
1 package (4 oz) Feta cheese
2 cups Plum Tomatoes
⅓ cup Basil