Top 10 Traditional Russian Recipes
Discover Authentic Russian Cuisine with Our Collection of Recipes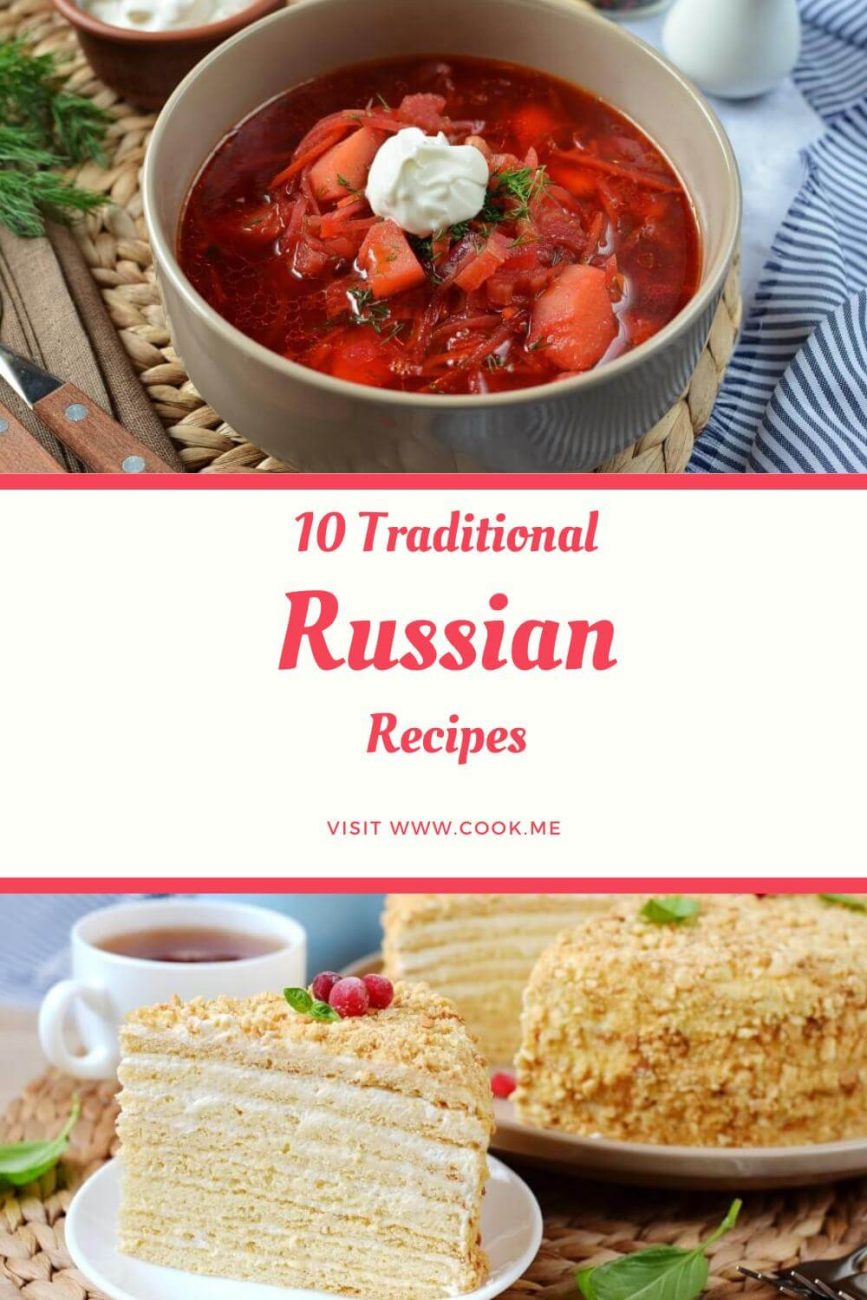 This Beef Stroganoff recipe takes a bit of preparation and time, but it makes the best home cooked stroganoff I've ever tasted! Beef stroganoff has its origins in Russia, but it has become popular all around the world and it is not hard to see why! It is a decadent…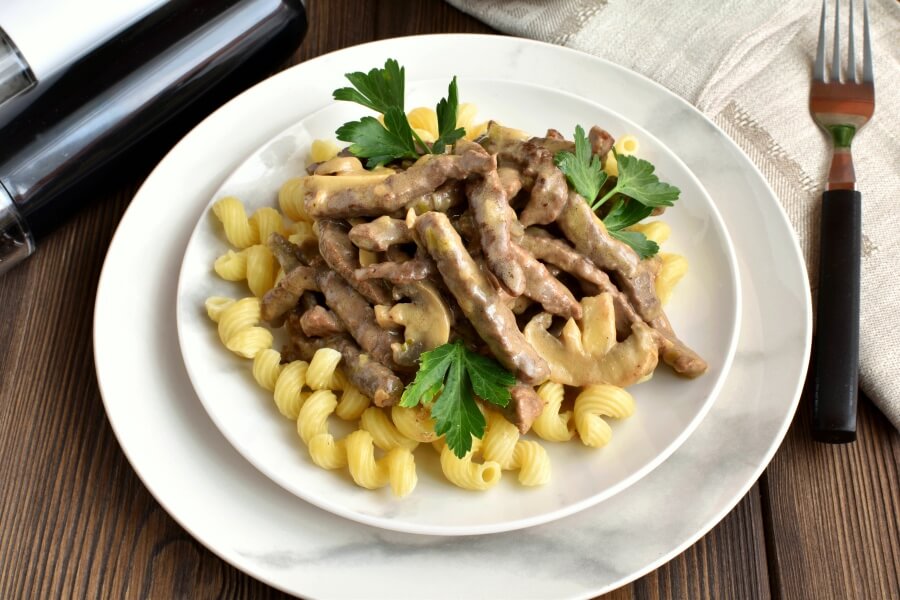 Ingredients for Beef Stroganoff recipe:
2 pounds Beef
1/2 tsp Salt
1/2 tsp Black pepper
4 oz Butter
4 Green onion
4 tbsp All-purpose flour
10,5 oz Beef broth
1 tbsp Mustard
6 oz Mushrooms
1/3 cup Sour cream
1/3 cup White wine
If you're looking to cook something a little outside the box, try this Halupki recipe and you won't be disappointed! Halu-what now I hear you say? Halupki, also known as Holubky (Stuffed Cabbage Rolls), is a dish from the Slovak region of Eastern Europe. The Halupkis, which are rolled cabbage…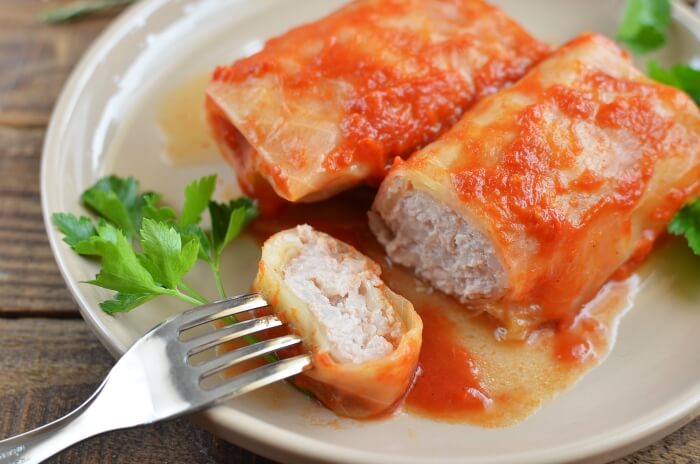 Ingredients for Authentic Halupki:
1 1/2lbs Ground Beef
1 1/2lbs Ground pork
1 Cabbage
1 1/2 cups White rice
28oz Can crushed tomatoes
1/4 cup Onion
2 Eggs
1/2 tsp Garlic powder
1/4 cup White vinegar
2 2/3 tbsp Sugar
2 tbsp Parsley
3/4 tsp Salt
1/2 tsp Black pepper
to cover Water
Shuba (Fur Coat Salad) is a layered salad whose primary ingredient is herring. In Russian, shuba is a fur or fur-lined overcoat or cloak. So this dish is known as herring under a fur coat! It consists of layers of diced pickled herring, grated boiled vegetables, chopped onions and mayonnaise….

Ingredients for Shuba (Fur Coat Salad):
3 Potatoes
3 Beets
3 Carrots
1 Onion
1 lb Herring
1 cup Mayonnaise
Classic Borscht Recipe (Beet Soup) is a vibrant soup with origins in Eastern Europe. It is made from beetroots which give it a bright red color. It's like a bright bowl of fun in a bowl! This recipe uses zazharka which is like a mirepoix, a slow cooked mixture of…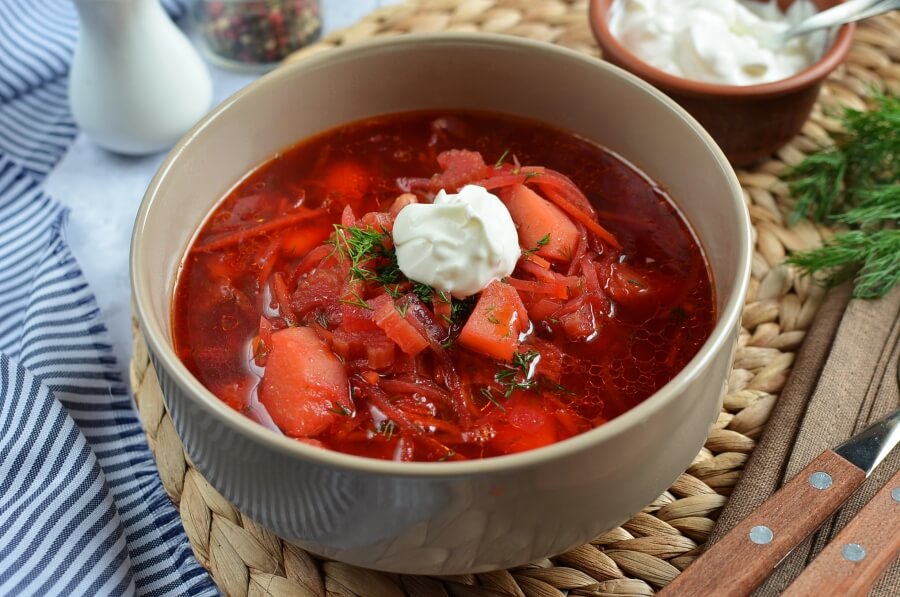 Ingredients for Classic Borscht Recipe (Beet Soup):
FOR THE BORSCHT:
3 Beets
2 tbsp Olive oil
4 cups Chicken broth
6 cups Water
3 Potatoes
2 Carrots

FOR THE ZAZHARKA:
2 ribs Celery
1 Red bell pepper
1 Onion
2 tbsp Olive oil
4 tbsp Ketchup

ADDITIONAL FLAVORINGS:
1 can White beans
2 Bay leaf
2-3 tbsp White vinegar
1 tsp Sea salt
¼ tsp Black pepper
1 clove Garlic
3 tbsp Dill
Feel no guilt with this Russian inspired Okroshka, most commonly described as a light and cool, cold Summer soup. Using a sour cream base seasoned with salt and vinegar and filled with chopped dill, green onion and diced ham, cooked potatoes, hard-boiled eggs and cucumbers for some crunch. It's absolutely…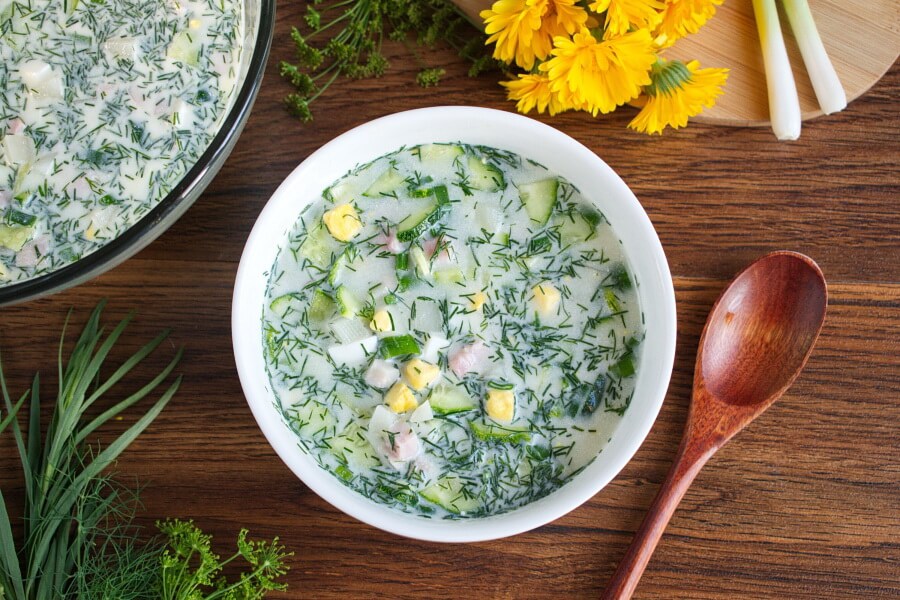 Ingredients for Okroshka – Russian Summer Soup:
8 cups cold Water
⅓ cup Sour cream
3 tbsp White vinegar
2 tsp Salt
3 tbsp Dill
½ cup Green onion
½ lb Ham
5 medium Potatoes
3 Eggs
4 Cucumbers
Mimosa Salad is a layered salad which can be found on our table during celebrations and occasions like Easter or Christmas. Mimosa salad got its name because it resembles yellow spring mimosa flowers. The mimosa flower effect is achieved by crumbling boiled egg yolk on the surface of the layered…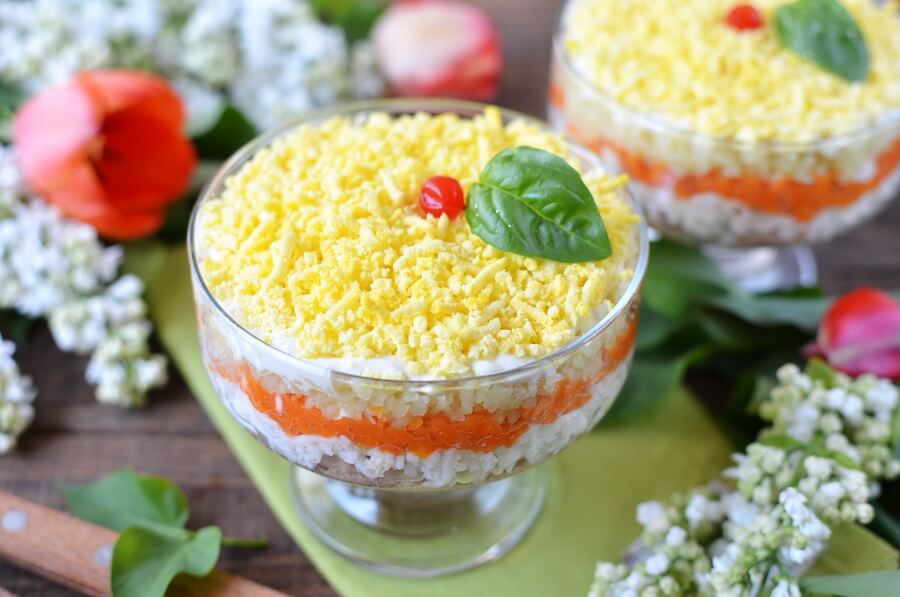 Ingredients for Mimosa Salad:
2 Potatoes
2 Carrots
4 Eggs
1/2 Onion
8 ounce Can of tuna
1 tablespoon Mayonaise
These Crispy Potato Pancakes, also known as latkes (or draniki), are delicious served with a big dollop of creme fraiche or sour cream and a spoonful of apple sauce. You can eat them as a sweet or savory dish and experiment with different toppings – sugar and cinnamon is also a favorite…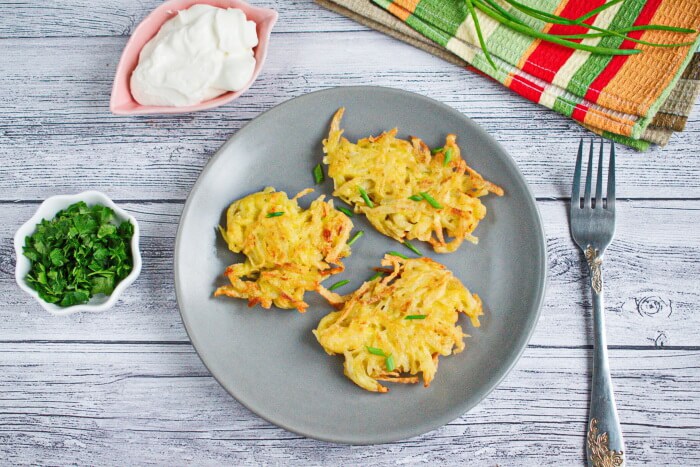 Ingredients for Crispy Potato Pancakes:
4 Potatoes
1 Onion
2 tbsp Wheat flour
1 Eggs
2 cups Vegetable oil
1/2 tsp Black pepper
1 tsp Salt
This Pierogi (Vareniki) recipe is one of my favorite recipes to make when I want to get other people involved in the cooking process. As you probably know, pierogi are delicious filled dumplings popular in Central and Eastern European countries. A traditional pierogi recipe is made by wrapping a savory…
Ingredients for Cheesy Potato Pierogi (Vareniki):
FOR THE POTATO FILLING:
2 lbs russet Potatoes
½ tsp Salt
2 tbsp Butter
2 oz Cream Cheese
¾ cup Mozzarella

FOR THE PIEROGI DOUGH:

1 cup Water
¼ cup Whole milk
2 tbsp Sour cream
1 Large eggs
1 tsp Salt
4 cups All-purpose flour

FOR THE TOPPINGS:
4 oz Bacon
2 tbsp Butter

TO SERVE:
Sour cream
A traditional Ukrainian and Russian baked pancake, these Eastern European Cherry Cheese Blintzes have travelled the world and are now enjoyed by everyone, with love at first bite! Prepared with a soft crepe-like pancake, stuffed with a sweet cream cheese filling and folded into a perfect personal package, making the…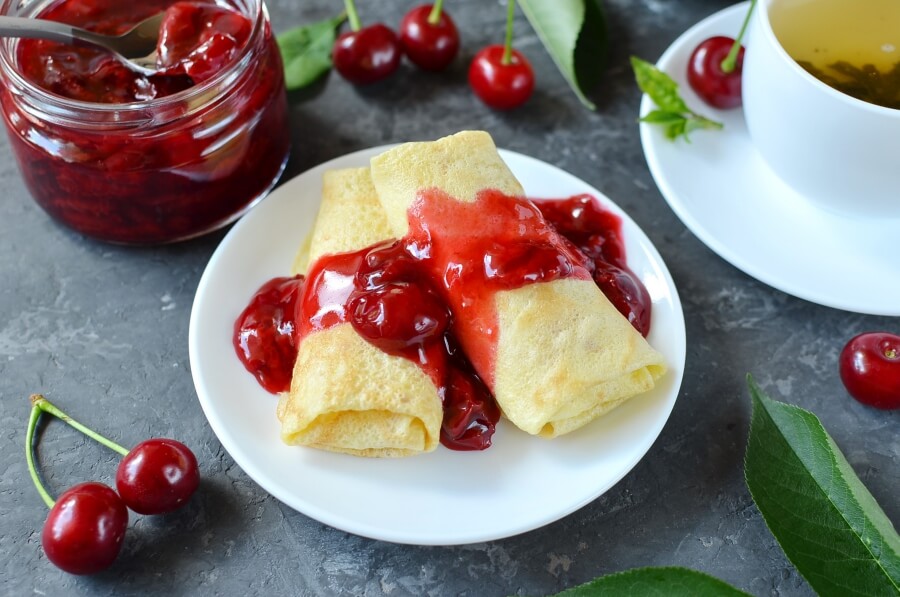 Ingredients for Cherry Cheese Blintzes:
FOR THE BLINTZES:
1½ cups Milk
3 large Eggs
2 tbsp Butter
⅔ cup All-purpose flour
½ tsp Salt

FOR THE FILLING:
1 cup Cottage cheese
3 ounces Cream Cheese
¼ cup Sugar
½ tsp Vanilla extract

FOR THE CHERRY SAUCE:
1 pound fresh Cherries
⅔ cup plus 1 tbsp Water
¼ cup Sugar
1 tbsp Cornstarch
Medovik is a Russian Honey Cake which consists of several layers of a honey flavored sponge cake with a sour cream filling, decorated with breadcrumbs and topped with fresh berries. The cake's main ingredient is honey which gives it an amazing flavor. To make this cake, I start with a…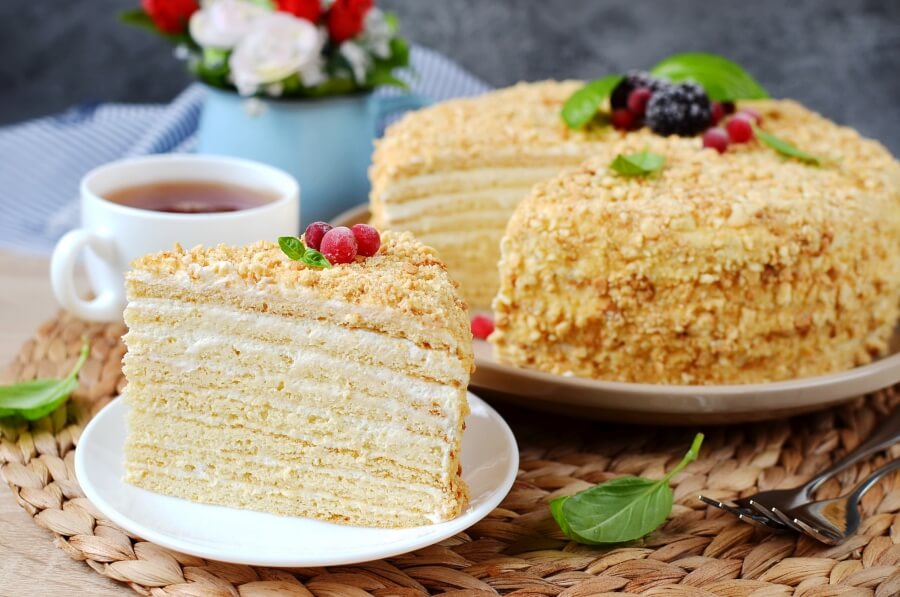 Ingredients for Russian Honey Cake (Medovik):
4 tbsp Honey
¾ cup Granulated sugar
2 tbsp Unsalted butter
3 Large eggs
1 tsp Baking soda
3 cups All-purpose flour

FOR THE SOUR CREAM FROSTING:
32 oz Sour cream
2 cups Powdered sugar
1 cup Heavy whipping cream