Top 10 Ukrainian Recipes
Discover Authentic Ukrainian Cuisine with Our Collection of Recipes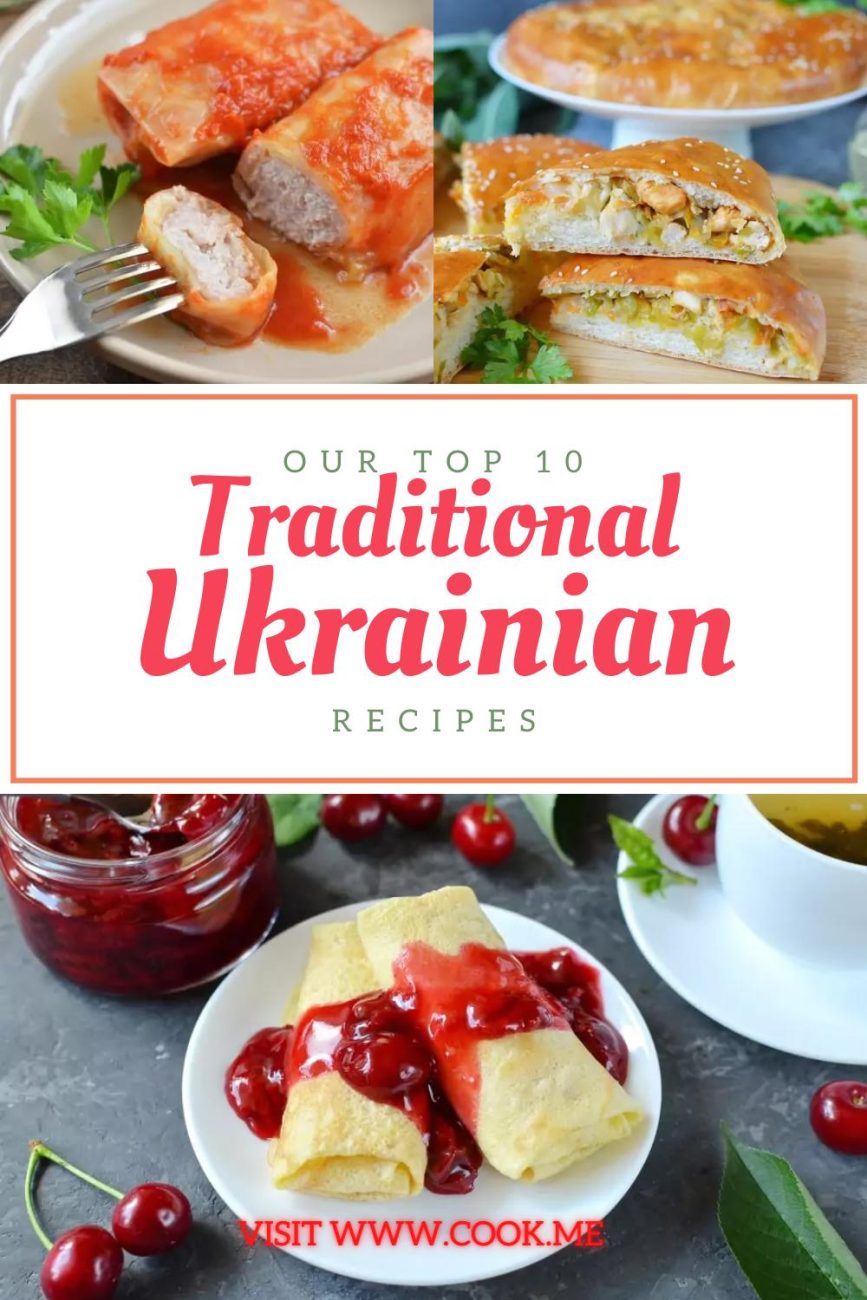 These Syrniki: Ukrainian Cheese Pancakes make for a delicious breakfast or dessert that feels comforting and satisfying. Farmer's cheese is the main ingredient in this recipe. Though mild in flavor, it is packed with protein and calcium to help keep you feeling full longer and energized for a productive day….
Ingredients for Syrniki: Ukrainian Cheese Pancakes:
1 lb Farmer's cheese
2 Eggs
½ + ⅓ cup All-purpose flour
¼ cup Sugar
½ tsp Salt
½ cup Raisins

FOR FRYING:
6-8 tbsp Vegetable oil
People often think of vareniki or pierogi as a savory dish, but these Vareniki (Pierogi) with Cherries are one of the most delicious sweet treats I can think of! I've made these dumplings for a light dessert at dinner parties and people adore them! I really advise that you put vareniki with cherries on your next party menu. …
Ingredients for Vareniki (Pierogi) with Cherries:
1 lb + 12 oz Cherries
1 cup Sugar
2 cups All-purpose flour
¼ tsp Salt
¾ cup + 1 tbsp Water
A traditional Ukrainian baked pancake, these Eastern European Cherry Cheese Blintzes have travelled the world and are now enjoyed by everyone, with love at first bite! Prepared with a soft crepe-like pancake, stuffed with a sweet cream cheese filling and folded into a perfect personal package, making the…
Ingredients for Cherry Cheese Blintzes:
FOR THE BLINTZES:
1½ cups Milk
3 large Eggs
2 tbsp Butter
⅔ cup All-purpose flour
½ tsp Salt

FOR THE FILLING:
1 cup Cottage cheese
3 ounces Cream Cheese
¼ cup Sugar
½ tsp Vanilla extract

FOR THE CHERRY SAUCE:
1 pound fresh Cherries
⅔ cup plus 1 tbsp Water
¼ cup Sugar
1 tbsp Cornstarch
This Ukrainian Split Pea Soup is a delicious combination of tender split peas, smoked beef bone, and vegetables. It is packed full of flavor and is a hearty and filling soup to have after a long walk on the beach or in the woods! Start by sauteing onion, carrots, and…
Ingredients for Ukrainian Split Pea Soup:
2 cups Yellow split peas
1-2 lbs Beef bones
1 Onion
2 Carrots
3 stalks Celery
1 tbsp Nut oil
8 cups Water
2 Bay leaf
5 Black peppercorns
1 tsp Salt
Black pepper
1 tsp Smoked Paprika
Green onion
Lazy Cabbage Rolls are my simple take on stuffed cabbage rolls. Stuffed cabbage is common in Eastern Europe and it is a great way to use nutrient-rich cabbage in your meals. Cabbage has so many health benefits and it is a great source of vitamins too. I love exploring cabbage…
Ingredients for Lazy Cabbage Rolls:
FOR THE CABBAGE ROLLS:
4 cups White rice
½ Cabbage
1 lb Ground pork
1 lb Ground turkey
1 Onion
2 Large eggs
Seasoning
Salt
Black pepper
2 tbsp Parsley

FOR THE SAUCE:
1 tbsp Olive oil
3 tbsp Butter
1 Carrots
2 cups Marinara sauce
3 cups Water
If you're looking to cook something a little outside the box, try this Halupki recipe and you won't be disappointed! Halu-what now I hear you say? Halupki, also known as Holubtsi (Stuffed Cabbage Rolls), is a dish from the Slovak region of Eastern Europe.
Ingredients for Authentic Halupki:
1 1/2lbs Ground Beef
1 1/2lbs Ground pork
1 Cabbage
1 1/2 cups White rice
28oz Can crushed tomatoes
1/4 cup Onion
2 Eggs
1/2 tsp Garlic powder
1/4 cup White vinegar
2 2/3 tbsp Sugar
2 tbsp Parsley
3/4 tsp Salt
1/2 tsp Black pepper
I love this recipe for Ukrainian Dumplings aka Galushki which is one of my mother's specialties. I am so happy to share this family favorite with you today. Galushki is like the Ukrainian version of gnocchi – a type of potato pasta dumpling. Yum!
Ingredients for Ukrainian Dumplings aka Galushki:
FOR THE DUMPLINGS:
5 cups All-purpose flour
4 Eggs
1 cup Water
150 g Butter

FOR THE TOPPING:
1 lb Mushrooms
1 Onion
1 cup Bacon
3 tbsp Butter
Olive oil
Salt
Black pepper
This Chicken Cabbage Savory Pirog is such a classic. I love to make this Chicken Cabbage Savory Pie about once a month. It always goes down a treat. A pirog is a baked pie which is made from dough, filled with a savory filling. Pirogs are common in Ukrainian cuisine and can often be found on the table at celebrations.
Ingredients for Chicken Cabbage Savory Pirog:
FOR THE DOUGH:
2 tbsp Mayonnaise
1 tsp Olive oil
1 tsp Salt
⅓ cup Milk
⅓ cup Water
1½ tsp Active dry yeast
1½ tsp Granulated sugar
2 cups All-purpose flour

FOR THE SAVORY FILLING:
¾ lb Chicken thighs
1 tsp Olive oil
½ Onion
3 tbsp Butter
3 cups Cabbage
2 Carrots
2 cloves Garlic
1/4 cup Water
1½ tsp Ketchup
1½ tsp Sour cream
3 tbsp Fresh herbs

FOR EGG WASH:
1 tsp Water
1 Eggs

FOR SPRINKLE:
½ tsp Sesame seeds
This Beet Kvass is a delicious Ukrainian probiotic drink. It is made simply with beets, sea salt and water. Beet Kvass contains healthy probiotics and can help boost immunity. This probiotic drink tastes slightly sweet, yet salty and tangy at the same time. It takes just 10 minutes to prepare but you will need to allow 2 weeks for fermentation. …
Ingredients for Beet Kvass:
2 Beets
3 cups Water
1 heaping tbsp Sea salt

OPTIONAL EXTRAS:
1 tbsp Pickling spices
This Ukrainian Apple Cake (Yabluchnyk) recipe is a family old recipe passed down through the generations. We're not exactly sure where it originated in our family, but we love it! You can use any fruit in the center, such as peaches, plums and even berries.
Ingredients for Ukrainian Apple Cake (Yabluchnyk):
FOR THE CAKE:
3-4 Apples
1 1/2 cups All-purpose flour
1/4 cup Sugar
1/4 tsp Salt
2 tsp Baking powder
1/2 cup Butter
1 Eggs
1/3 cup Cream

FOR STREUSEL TOPPING:
2 tbsp Butter
1/2 cup Brown sugar
2 tbsp All-purpose flour
2 tsp Cinnamon