TOP 10 Vegan Zucchini Recipes
The Best Zucchini Recipes Will Keep You Full and Healthy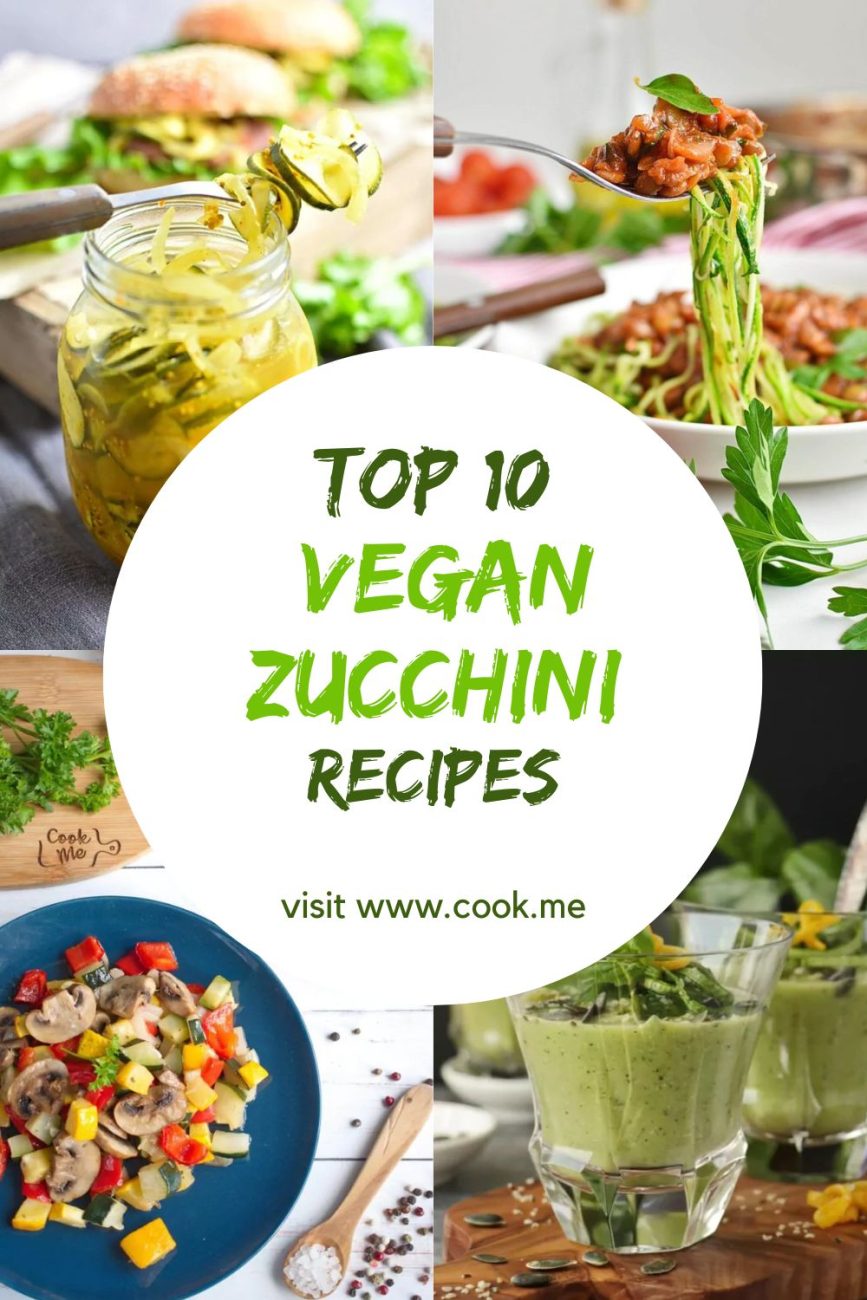 This Chilled Zucchini Basil Soup is not only paleo and vegan but also delicious. Light and creamy, it is perfect for the warm-weather months. Zucchini, garlic, celery, and basil: simple seasonal ingredients for an epic summer soup experience. The most important thing here is to chill the soup before serving…
Ingredients for Chilled Zucchini Basil Soup:
1 ½ tbsp Olive oil
1 clove Garlic
2 Zucchini
1 stalk Celery
¼ tsp Sea salt
1 ½ cups Water
8-10 leaves Basil
1 strip Lemon peel
¼ cup Pumpkin seeds
½ tbsp Hemp hearts
Black pepper
Looking for vegan comfort food? We've got you covered! Here is the Best Vegan Ratatouille recipe you've ever tasted. It's got all the fresh veggies and herbs, but some vegan cheese makes it a total comfort food. This delicious French-inspired veggie stew recipe couldn't be easier to make. First, prepare…
Ingredients for Best Vegan Ratatouille:
1-2 tbsp Olive oil
1 Onion
3 cloves Garlic
1 tbsp Tomato paste
17.6 oz Tomato passata
1 tbsp Italian herb seasoning
1 Zucchini
1 Eggplants
3 Tomatoes
1 cup Vegan Mozzarella
1 cup Vegan Cheese
Salt
Black pepper

FOR GARNISH:
Vegan Parmesan cheese
Basil
This is a 30 Minute Spicy Lentil Bolognese that will be putting in a regular appearance in your kitchen. It is super quick and easy to make. It's very filling too and completely vegan which makes it the number one summer dinner recipe in my kitchen.  To make this bolognese,…
Ingredients for 30 Minute Spicy Lentil Bolognese:
2 cups Lentils
1 tbsp Olive oil
2 cloves Garlic
½ medium Onion
1 (15 oz) can Tomatoes
1-2 Green chili
1 (15 oz) Can crushed tomatoes
¼ cup Parsley
½ cup Basil
¼ tsp Black pepper
½ tsp Dried oregano
1 pinch Smoked Paprika
¼ tsp Chili powder
¼ tsp Red chili powder
2 Zucchini
This recipe is so easy to make and worth every calorie that you save, these Low Carb Zucchini Pasta are the best secret to enjoying the taste of Italian pasta but without all the carbohydrates. If you're looking to cut back, then I would definitely suggest adding these to your…
Ingredients for Low Carb Zucchini Pasta:
2 Zucchini
1 tbsp Olive oil
¼ cup Water
Salt
Black pepper
In some ways, this recipe should be called Zucchini and Chilli Jam because zucchinis are a large part of the recipe too! At the end of every summer, when I visit my parents' house I leave with a large bag of home grown veggies and there are always a few…
Ingredients for Zucchini and Chilli Jam:
4 medium Zucchini
1 lb Tomatoes
1 lb Sugar
9 fl oz Red wine vinegar
thumb sized lump of Ginger
1 bulb of Garlic
8 fresh Hot chilli pepper
These Italian Oven-Roasted Vegetables are a delicious side dish that I love to make to accompany grilled meat or to use in wraps and sandwiches. This dish uses a variety of summer vegetables which you will find at your local grocery store or farmer's market. To make these oven roasted…
Ingredients for Italian Oven-Roasted Vegetables:
1 medium Zucchini
1 medium Summer squash
1 small Onion
1 cup Red bell pepper
1 cup Mushrooms
3 tbsp Olive oil
¾ tsp Salt
¼ tsp Black pepper
1 ½ tsp Italian herb seasoning
Parsley
These Veggie Kebabs are a perfect barbecue dish this summer. A delicious combination of my favorite veggies: mushrooms, zucchini, and garlic. Just remember, if you are using wooden skewers, soak them in water for at least 30 minutes before you assemble the kebabs! To make these vegetarian kebabs, start by…
Ingredients for  Veggie Kebabs:
2 Zucchini
1 (10-oz) package Mushrooms
1 Red onion
2 Lemon
3 tbsp Olive oil
1 clove Garlic
1 tsp Fresh thyme
pinch Red pepper flakes
Kosher Salt
Black pepper
Zucchini Pesto is a simple, healthy, and delicious recipe that will delight even those who don't do zucchini. Besides, this homemade pesto is one of the best ways to enjoy not only the bounty of summer zucchini but also garden-fresh basil. The best part though? This summery pesto is made…
Ingredients for Zucchini Pesto:
5 oz Zucchini
1 cup Basil
3 cloves Garlic
½ cup Walnuts
2 tbsp Lemon juice
½ tsp Sea salt
3-4 tbsp Olive oil
These Sweet and Spicy Zucchini Refrigerator Pickles are surprisingly good! They give regular pickles a good run for their money! The pickling liquid for these pickles is delicious – sweet with a hint of spice and a yellow tinge thanks to turmeric.  Start by marinating zucchini and onion in brine. Combine vinegar, sugar,…
Ingredients for Sweet and Spicy Zucchini Refrigerator Pickles:
½ cup Water
2 tbsp + ½ tsp Kosher Salt
1 (about 1 pound) Zucchini
1 Yellow onions
3 Ice cubes
2 cups (478 ml) Apple cider vinegar
1 cup (200 g) Granulated sugar
1 ½ tsp Mustard powder
1 ½ tsp Mustard seed
¾ tsp Turmeric
½ tsp Red pepper flakes
This Rainbow Pad Thai Zoodle Salad is super healthy and bursting with vibrant vegetables, fruits, and herbs. Creamy cashew butter and tamarind paste with toasted sesame oil and lime juice give this dish its classic Thai flavors. And if you like pad Thai noodles and are looking for a fresh low-carb salad, this delicious zoodle salad will just fit the bill. Featuring an abundance of textures and flavors, this recipe is also light in fat plus naturally gluten-free.
Ingredients for Rainbow Pad Thai Zoodle Salad:
PAD THAI DRESSING:
¼ cup Lime juice
1 tbsp Ginger
1 clove Garlic
½ tsp Sesame oil
¼ cup Coconut aminos
1 tsp Tamarind paste
1 tsp Maple syrup
⅓ cup Avocado oil
¼ cup Peanut butter

SALAD INGREDIENTS:
1 ½ lbs Zucchini
1 (8 oz) Cucumber
1 cup Carrots
2 cups Purple cabbage
½ cup Green onion
1 ½ cups (10 oz) Mango
2 cups Red bell pepper
1 Avocado

GARNISHES:
½ cup Cashews
¼ cup Cilantro