TOP 10 Winter Soup Recipes
Soups That Are Sure to Warm You Right Up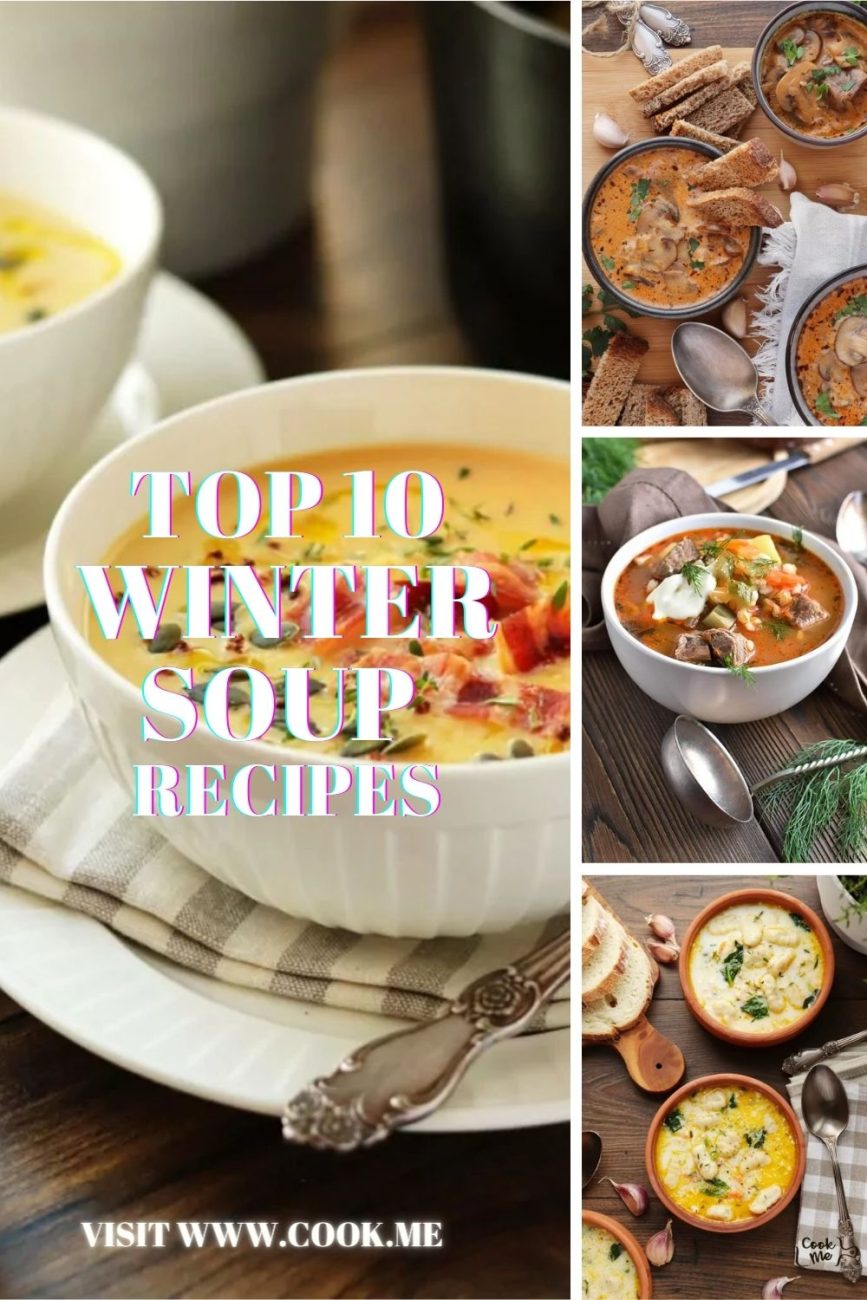 This Olive Garden Chicken Gnocchi Soup is a soul-satisfying meal to enjoy as the temperature dips this season. Just four easy steps, simple ingredients, and one pot deliver a creamy, winter comfort food at its best. This hearty soup is loaded with healthy vegetables, chicken, and potato gnocchi. Serve sprinkled…
Ingredients for Olive Garden Chicken Gnocchi Soup:
1 tbsp Olive oil
½ White onion
1 stalk Celery
½ cup Carrots
2 tsp Garlic
4 Chicken Breast
4 cups Chicken broth
Salt
Black pepper
1 tsp Fresh thyme
16 oz Potato Gnocchi
2 cups Half-and-half
1 cup Fresh spinach
I love this Instant Pot Beef Barley and Mushroom Soup. It is quite a similar recipe to another beef and barley soup I make in my Instant Pot, but this one showcases mushrooms, which ups the flavor in my opinion! This soup is a great recipe to feed a crowd….
Ingredients for Instant Pot Beef Barley and Mushroom Soup:
2 tbsp Olive oil
1 ½-2 lb Stewing beef
1 Onion
4 cloves Garlic
10 Cremini mushrooms
1 tbsp Balsamic vinegar
12 oz Potatoes
2 Carrots
2 ribs Celery
⅔ cup Pearl barley
½ tsp Dried rosemary
½ tsp Dried thyme
4 cups Beef broth
2 cups Water
Salt
Black pepper
Travel through cooking with this Creamy Hungarian Mushroom Soup. This easy-to-prepare soup is so flavorful and so creamy. Mushrooms, sautéed in butter with onions and garlic, a splash of soy sauce, a little mushroom powder, and high-quality sweet paprika make this dish full of umami flavor. Sweet paprika is one…
Ingredients for Creamy Hungarian Mushroom Soup:
4 tbsp Salted butter
1 ½ cups White onion
1 lb Mushrooms
2 tsp Dill weed
1 tsp Dried thyme
1 tbsp Sweet paprika
2 cloves Garlic
1 tsp Dried Mushroom Powder
2 ½ cups Chicken stock
2 tbsp Soy sauce
1 tbsp Lemon juice
1 cup Half-and-half
3 tbsp All-purpose flour
⅓ cup Crème fraîche
3 tbsp Parsley
Supergreen Mushroom and Orzo Soup – is a flavorful comforting soup packed full of healthy green vegetables. I believe in balance and deliciousness, and this green soup really hits the spot. The base of this recipe is a vegetable broth though you could just as easily use chicken broth. I…
Ingredients for Supergreen Mushroom and Orzo Soup:
2 tbsp Olive oil
1 ¼ cups Celery
4 oz Shallots
3 cloves Garlic
¼ tsp Kosher Salt
8 cups Vegetable broth
3 cups Fresh Broccoli
3 cups Fresh spinach
1 cup White mushrooms
1 cup Orzo pasta

FOR SERVING:
Pesto
This Roasted Pumpkin Soup with Bacon and Thyme recipe is one of the best comfort soup recipes to cook in December. It is so deliciously creamy due to the roasted pumpkin and some heavy cream. And if you are craving cozy and creamy soup to impress the whole family, this…
Ingredients for Roasted Pumpkin Soup with Bacon and Thyme:
3 oz Pumpkin
1 tbsp Olive oil
4 oz Smoked Bacon
1 tbsp Honey
4 sprigs Fresh thyme
2 tbsp Olive oil
1 White onion
1 clove Garlic
¼ tsp White pepper
½ tsp Cinnamon
¼ tsp Nutmeg
⅛ tsp Cayenne pepper
3 cups Vegetable broth
½ cup Heavy whipping cream
Kosher Salt

FOR GARNISH:
6 tsp Pumpkin seeds
This Ukrainian Split Pea Soup is a delicious combination of tender split peas, smoked beef bone, and vegetables. It is packed full of flavor and is a hearty and filling soup to have after a long walk on the beach or in the woods! Start by sauteing onion, carrots, and…
Ingredients for Ukrainian Split Pea Soup:
2 cups Yellow split peas
1-2 lbs Beef bones
1 Onion
2 Carrots
3 stalks Celery
1 tbsp Nut oil
8 cups Water
2 Bay leaf
5 Black peppercorns
1 tsp Salt
Black pepper
1 tsp Smoked Paprika
Green onion
I call this the Instant Pot Zuppa Toscana as I use an Instant Pot for this recipe – it is so easy! Tuscan soup is a favorite nourishing meal in my house. I love it – it's hearty, tasty and full of flavor.  To make this soup, start by browning…
Ingredients for Instant Pot Zuppa Toscana:
1 lb Italian sausage
8 slices Bacon
1 Yellow onions
2 cloves Garlic
2 tbsp Cornstarch
32 oz Chicken stock
4 Potatoes
1 cup Heavy cream
½ bunch Kale
Salt
Black pepper
pinch Red pepper flakes
This flavorful Tahini-Carrot Soup with Pistachios is super creamy, smooth, and delicious without any milk. So, what is the secret to this creamy and smooth texture without any milk or cream? It is tahini! Besides, the earthy flavor of tahini balances the sweet flavor of carrots and makes them taste…
Ingredients for Tahini-Carrot Soup with Pistachios:
1 tbsp Olive oil
1 Yellow onions
½ tsp Kosher Salt
½ tsp Smoked Paprika
¼ tsp Turmeric
2 cloves Garlic
1 lb Carrots
3 cups Vegetable broth
3 tbsp Tahini
8 tsp Tahini Sauce
6 tbsp Pistachio nuts
2 tsp Oregano
Some evenings I don't have the time to prepare long, thought out dinners and this Rassolnik (Beef, Barley and Pickle Soup), a traditional Russian soup, originating almost over 500 years ago, is a wonderful and easy way to get in all your vegetables and nutrients. I begin in the afternoon…
Ingredients for Rassolnik – Beef, Barley and Pickle Soup:
12 cups Water
1 lb Lean beef
1/2 cup Pearl barley
½ tbsp Salt
3 Potatoes
1 Carrots
6 baby Pickles
4 tbsp Olive oil
1 Carrots
1 Onion
2 sticks Celery
1 tbsp Tomato paste
2 tbsp Dill
2 Bay leaf
½ tsp Black pepper

TO SERVE:
Sour cream
extra Dill
This Winter Potato and Leek Soup is a broth-based soup with a chicken broth combined with half-and-half to fill out the heartiness in your bowls. Quite often we assume that a broth-based soups can be less filling however, in this recipe, our winter soup is thick, hearty and delicious. With…
Ingredients for Winter Potato and Leek Soup:
2 tbsp Butter
2 Leek
½ cup Onion
6 Potatoes
4 cups Chicken broth
1 cup Half-and-half
4 ounces Cheddar cheese
1 tbsp Parsley
1 tsp Garlic powder
Salt
Black pepper