TOP 10 Gluten Free 4th of July Recipes
The Best Gluten-Free Dishes for the Most Delicious Independence Day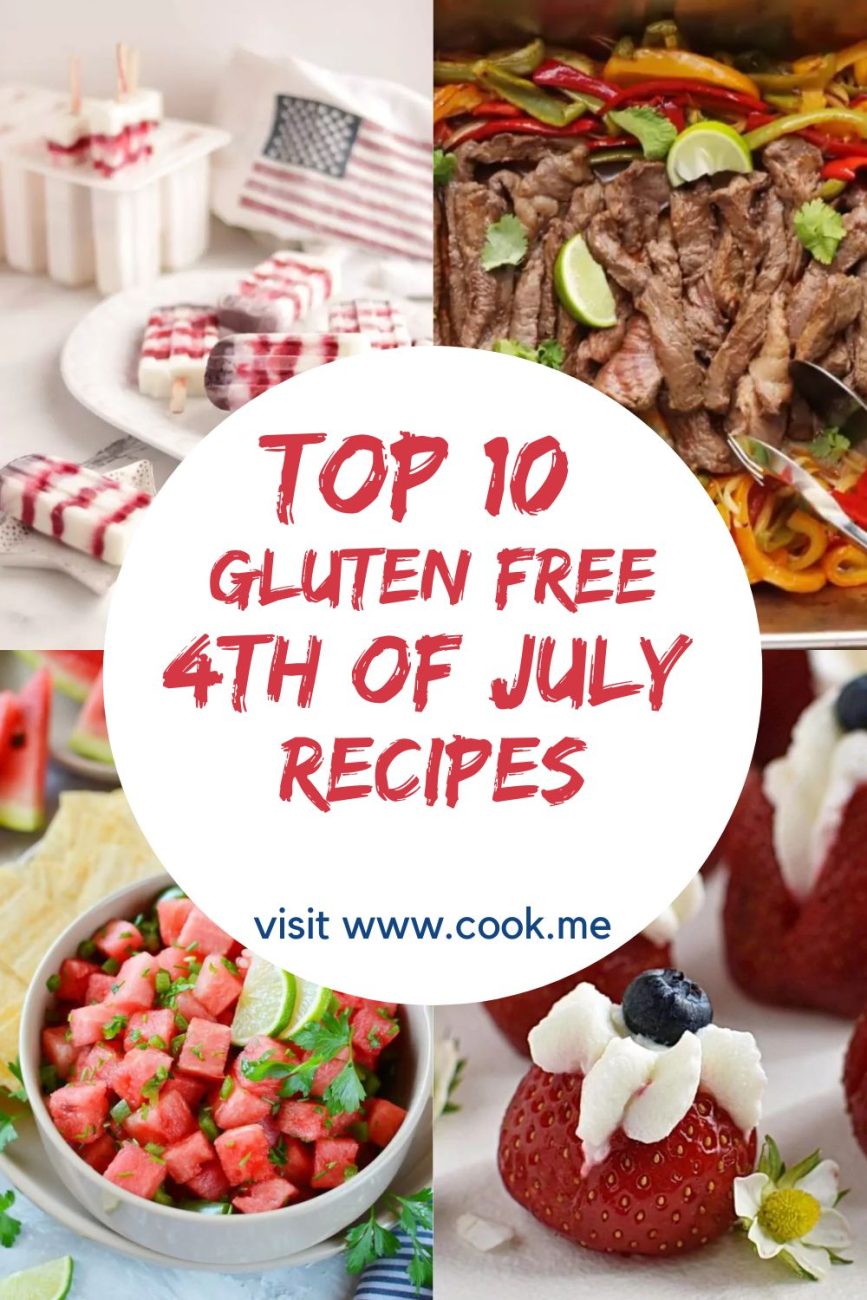 This Watermelon Fire and Ice Salsa is a fantastic addition to your next BBQ. I love the combination of cool, refreshing watermelon and hot jalapeno pepper. It is the perfect mix of hot and cool at the same time. Every mouthful is a surprise! To make this salsa, combine watermelon,…
Ingredients for Watermelon Fire and Ice Salsa:
3 cups Watermelon
½ cup Green bell pepper
2 tbsp Lime juice
2 tbsp Cilantro
1 tbsp Green onion
1 tbsp Jalapeño pepper
½ tsp Garlic salt
Some days a burger is the only option for dinner but I don't always feel like eating lots of bread. My solution to this problem – Best Gluten Free Iceburgers! Iceburgers consist of juicy ground beef burgers, bacon, red onion, cheddar cheese and tomato. All the usual burger ingredients with…
Ingredients for Best Gluten Free Iceburgers:
1 large Iceberg lettuce
4 slices Bacon
1 Red onion
1 lb Ground Beef
Kosher Salt
Black pepper
4 slices Cheddar cheese
1 Tomatoes
4 tbsp Mayonnaise
Looking for the quickest and tastiest pork chop marinade? Look no further than this Great Pork Chop Marinade! We love a good pork chop in this house, and I am always looking for new ways to cook it. And I have to admit this marinade ensures juicy and tender meat every time. With loads of flavor, it's a pork chop lover's dream—whether seared on the grill or in the pan, which is how I usually cook it. …
Ingredients for Great Pork Chop Marinade:
⅓ cup Soy sauce
2 tbsp Brown sugar
2 tsp Worcestershire sauce
1 tsp Dijon mustard
2 cloves Garlic
¼ tsp Black pepper
4 Pork chops
1 tbsp Vegetable oil
Another fun activity to do with your kids – these Watermelon, Mozzarella and Prosciutto Skewers are a great summer afternoon snack. A flavorful balance of sweet and juicy watermelon squares, salty mozzarella cheese balls, cool cucumber slices and delicate slices of prosciutto. You can make them fun or classy and everyone will enjoy them. Pair these with a delicious glass of prosecco and have the best summer, garden parties! …
Ingredients for Watermelon, Mozzarella and Prosciutto Skewers:
20 small fresh balls Mozzarella
20 (about 1-inch square) chunks Watermelon
20 (½-inch thick) slices Cucumber
20 thin slices Prosciutto
fresh Basil
Balsamic glaze
Wooden skewers or toothpicks
This Balsamic Grilled Chicken Strawberry Caprese Salad is a delicious twist on a classic Italian salad – the caprese. I love the combination of strawberry with creamy mozzarella and sweet yet tangy balsamic grilled chicken. You will love this recipe if you try it! It's so easy to prepare too….
Ingredients for Balsamic Grilled Chicken Strawberry Caprese Salad:
⅓ cup Olive oil
⅓ cup Balsamic vinegar
1 tbsp Dijon mustard
1 tbsp Agave syrup
2 cloves Garlic
½ tsp Black pepper
1 tsp Salt
1 lb Chicken Breast

FOR SALAD:
2 cups Strawberries
8 oz Mozzarella
1 Avocado
4 cups Romaine lettuce
2 tbsp Basil
Sheet Pan Steak Fajitas is a fast and easy dinner idea for hungry, busy people. This flavorful dish is definitely one of my personal favorites when I need a simple yet vibrant weeknight meal for the whole family. This one-pan dinner is healthy and loaded up with multicolored bell peppers…
Ingredients for Sheet Pan Steak Fajitas:
2 tbsp Olive oil
1 tsp Cumin
¾ tsp Kosher Salt
½ tsp Chipotle chili powder
½ tsp Black pepper
12 oz Fajita steak
2 (8-oz) packages Bell pepper
1 ½ cups Yellow onions
Cooking spray
¼ cup Cilantro
1 Lime
½ cup Sour cream
1 tbsp Lime juice
¼ tsp Red pepper
8 Corn tortillas
These popsicles are super easy to make too. Start by blending the raspberries until you have a puree. Repeat with the blueberries. If the blueberry puree is too purple, add a couple of drops of blue coloring. Layer the purees and yogurt into popsicle molds, freezing between layers to ensure the colors don't bleed into each other. It's ok if they blend a little bit! Un-mold and enjoy! …
Ingredients for Red White and Blueberry Popsicles:
1 cup Blueberries
1 cup Greek yogurt
1 cup Raspberries
This Grilled Chicken Salad with Raspberry is not only healthy, it is really simple to make too. It is jam packed with amazing ingredients like mix greens, tomatoes, berries, toasted nuts, feta cheese and it is topped off with a delicious creamy yet healthy poppyseed dressing. To make this salad,…
Ingredients for Grilled Chicken Salad with Raspberry:
FOR THE HEALTHY POPPYSEED DRESSING:
½ cup Plain yogurt
1 tbsp Maple syrup
1 tsp Rice vinegar
1 tsp Dijon mustard
1 tbsp Poppy seeds
1 tsp Onion powder
½ tsp Salt
Black pepper

FOR THE GRILLED CHICKEN BREAST:
large Chicken Breast
1 tbsp Olive oil
½ Lemon
1 clove Garlic
1 tsp Dried oregano
¼ tsp Salt
¼ tsp Black pepper

FOR THE GRILLED CHICKEN SALAD:
Mixed greens
1 cup Raspberries
1 cup Grape tomatoes
¼ cup Feta cheese
½ cup Nuts
⅓ cup Red onion
Looking for an easy and delicious no-bake summer treat? These Red White and Blue Cheesecake Stuffed Strawberries check all the above boxes. Fresh strawberries stuffed with sweet vanilla-flavored cream cheese filling and garnished with blueberries. These luscious strawberries make for an easy and elegant dessert that's perfect for the upcoming…
Ingredients for Red White and Blue Cheesecake Stuffed Strawberries:
8 oz Cream Cheese
⅓ cup Powdered sugar
1 tsp Vanilla extract
24 Strawberries
24 Blueberries
Looking for a booze-free beverage to sit with by the pool this summer? This Virgin Strawberry Mojito is just it! A refreshing mix of juicy strawberries, fresh lime juice, and mint, sweetened with agave syrup and topped with sparkling water, makes for a perfect drink to enjoy on a hot…
Ingredients for Virgin Strawberry Mojito:
1 Lime
½ cup Strawberries
10 leaves Fresh mint
½ tbsp Agave syrup
1 cup Sparkling Water

FOR SERVING:
Ice cubes